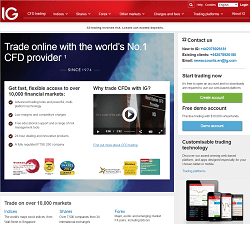 Binary options are a kind of spread betting, a way to earn money investing on the movement of a market.
Binary options are simply yes/no questions about where a certain market is heading; essentially you'll bet that a market will be above a predetermined price at a set time.
Depending on where you think the price is going, you'll either buy or sell the option.
Binary options allow you to make a simple yes/no decision about the direction a market is going in a given time frame and earn a payout if you're right by even the smallest amount.
Spread betting with binary options is a fantastic way to make money by betting on market movements.
There are many exchanges were you can trade binary options, but for U.S. customers it's important to find an exchange that can legally accept U.S. clients.
This review will examine Ig.com an exchange legally authorized to accept U.S. customers, and the world's leading platform for spread betting market movements with binary options.

About IG Group (ig.com)
Stuart Wheeler founded IG Group in 1974 under the name IG Index, and they functioned as a spread betting service that allowed clients to trade gold prices without having to buy actually buy the metal.
By 2000 the company was renamed IG Group plc and was first listed on the London Stock Exchange.
In 2005 IG Group purchased Hedge Street a U.S. company that provided financial derivatives trading services. They renamed the company the North American Derivatives Exchange (NADEX) which now handles binary options spread betting for the U.S. market.
Top Features of ig.com
Ig.com has some great features that make betting on binary options on their platform an absolute pleasure.
A Customizable Layout
Ig.com has an amazing customizable layout that allows traders change the user interface around according to their individual preferences.
Some things you can change:
Move windows to where they work best for you
Turn tab windows on or off
Save your layouts
Edit columns
More advanced traders can even choose to add DMA prices, trailing stops and multiple deal tickets!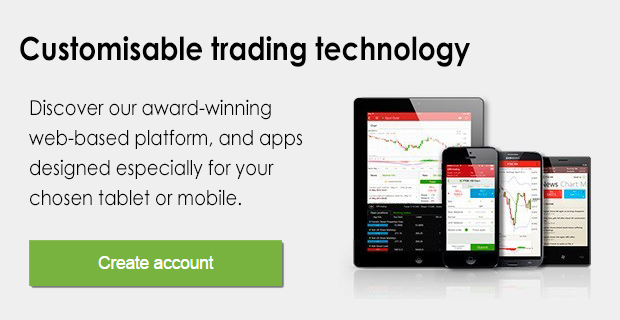 Trading can require endless hours of staring at a monitor waiting for price movements, or to keep track of changing market conditions.
Ig.com has monitoring tools that can unchain you from the screen:
Set stops and limits to automatically close your positions.
"Tear-off " prices, tickets and charts you can view after closing the main platform.
Receive notice of your price alerts by email or SMS once your price is reached.
Fully integrated free charts to help you build trading alerts.
Ig.com is remarkably easy to navigate with their simple to use market finder. Quickly search any asset you're interested in or browse through the full range of options.

Great Tools and Analysis
Reuters News is completely integrated into the platform providing real-time newsflashes and information about international shares with no delay.
Clients can use ig.com's Autochartist to automatically keep track of the markets and get valuable alerts when chart patterns indicate a dealing opportunity.
They offer great free integrated charts for effective analysis. You can launch live charts for all ig.com's markets with easy access to a variety of popular indicators.
From your charts you can:
Place trades.
Attach stops.
Set limits.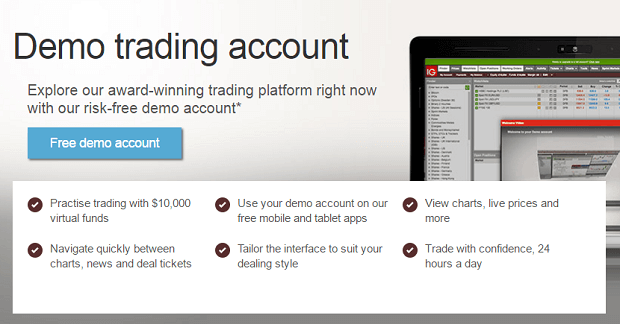 Ig.com Prices
Ig.com is very affordable to use and they provide a long list of transaction services for free:
Account setup.
Electronic check setup.
Electronic check deposit.
Electronic withdrawal.
You'll only pay a small fee for wire withdrawal and returned deposits. Ig.com offers really low transaction costs compared to comparable services. You'll trade more and pay less of your money out in fees with ig.com.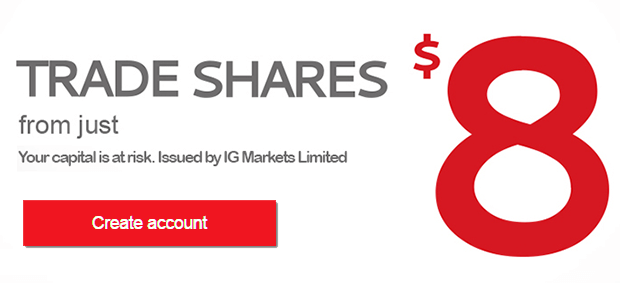 Fees for contracts traded per order are incredibly economical:
For the first 10 contracts pay only $0.90 in fees per side, capped at just $9.00.
The 11th contract and above will have no fees.
Fees for trade ends are just as affordable:
$0.90 settlement fee when the trade ends in the money.
No settlement fee if the trade ends out of the money.
And just a $0.90 trading fee if you exit before expiration.
With ig.com you only pay a trading fee on each side of a trade once to open it and only once to close it.
Whether your trade is profitable at expiration or you exit beforehand, you'll only pay the small $0.90 settlement fee. Ig.com let's you keep more of your money!

Membership Fees, Transaction Fees and Your Initial Deposit
Ig.com won't charge you a membership fee to join the exchange as a Direct Trading Member!
Get started without needing a large fund behind you; ig.com Direct Trading Members are required to make an initial deposit of only $250.00, with no minimum balance required after that!
With ig.com there are no fees charged for orders to be placed, cancelled or amended.
For a Market Makers membership ig.com won't charge a membership fee either, but there are important differences in the transaction fees, settlement fees and minimum balance requirements.

Here's the breakdown:
Like the Direct Trading Member there are no transaction fees for orders placed, cancelled and amended .
Non-intermediated Market Makers are charged a settlement fee of $0.50 per contract, and per side for each trade executed.
Ig.com will not charge a settlement fee exceeding the settlement payout.
Minimum balance requirement is $500,000.00 and keep a minimum balance of $250,000.00 to collateralize executed trades.
A Futures Commission Merchant (FCM) member account doesn't pay a membership fee, but does:
Need to make a first deposit of at least $100,000.00 and keep a minimum balance of uncommitted funds totaling $50,000.00.
Incur an Exchange trading fee per contact and side of $0.35 for each of the first 10 lots traded, and no charge for the 11th lot and up.
FCM members will only have to pay $0.35 for each lot that was settled in the money. Ig.com holds to their policy of not charging a settlement fee that exceeds the payout for FCM members.
Ig.com is a great place for Futures Commission Merchants to save big on transaction fees!

Criticism of Ig.com
Ig.com offers an incredible service that let's people enjoy the benefits of trading without the high risk of losing much more money than you put in on a bad bet.
Within less than hour you can win a binary option on the ig.com platform. There is nothing to criticize ig.com about.
Ig.com has made a lucrative trading platform available in the U.S. market with their North American subsidiary NADEX. I am completely impressed by the amazing analytical tools you're provided free of charge by the exchange.
While some people have an issue with the fact that this betting on market movements rather than investing, I don't see the problem. Any investment is a bet that the value of it will increase over time. Ig.com just reduces the time you have to wait and let's you bet on the markets with minimal amounts of cash.
They've made joining the exchange and making well-educated bets on market movements incredibly easy.
If you make full use of the tools provided on the website, research using the real-time news integrated with the platform and practice common sense decision making, you can win repeated pay-outs.
Ig.com is a way to make money trading the markets without needing massive amounts of capital.
Customer Support
Ig.com provides first class customer support for any issues that may come up in the course of trading on their platform.
Whether it's a question about the fee schedule, account discrepancies, your 1099-b or an explanation of how certain processes or tools work, ig.com can help.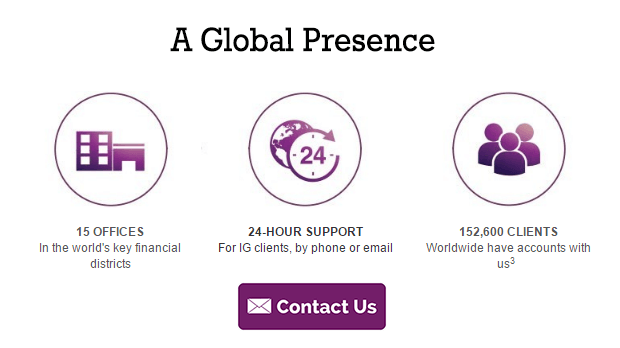 A knowledgeable staff of customer service representatives will be available to help you when you need it.
I've found them to be respectful, well spoken and diligent in solving any issues or answering questions that I may have.
Final Thoughts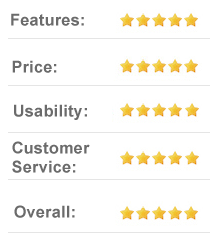 Ig.com is an amazing opportunity to make money trading the markets. It doesn't get simpler or more direct than spread betting on binary options.
You only need to do your research diligently and learn market patterns for your bet to consistently win payouts. Since the spread bets can be as short as minutes in duration, you'll have lots of opportunity in your day to come out ahead if you make a couple of bad bets.
You're provided an earnings statement appropriate for your tax locality at the end of the year so your tax preparer can easily incorporate all the income you've earned using ig.com's exchange.
Ig.com is an incredible chance to make money on the market without the risk of losing your shirt. Unlike directly investing in the market; your losses are limited when you spread bet binary options with ig.com!
I don't think anyone who is interested in making money with the markets should pass up the opportunity to win at spread betting binary options with a fantastic exchange like ig.com.