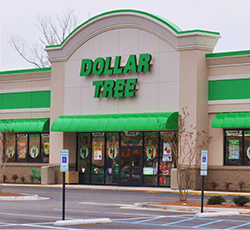 A dollar today will get you much less than a dollar ten years ago, and even less so than twenty years ago.
In fact, it's hard to find much of anything in stores these days you can purchase for just a buck. Unless, of course, that store is Dollar Tree, where the tagline says it all – Everything's $1.

About Dollar Tree
Dollar Tree is an American chain of discount variety stores. Founders Macon Brock, Ray Compton, and Doug Perry built the company on a single-price-point strategy. Since its humble beginning in 1953, it has become a Fortune 500 Company with over $8.6 billion in annual revenue. Dollar Tree, Inc. now operates over 13,600 stores with headquarters in Chesapeake, VA.
Each Dollar Tree store carries deeply discounted items from a variety of departments. These include housewares, cleaning supplies, stationery, food, health and beauty, seasonal décor, and much more. Products found in Dollar Tree are from national, regional, and private-label brands.
According to their website, you can find "everything you need for every day, every holiday, every occasion…and every single item is only $1 (or less)!"
Dollar Tree's growth has allowed it to expand to new markets by acquiring competing companies. Some of the company's more notable acquisitions include Dollar Express in 2000 and, most recently, Family Dollar in 2014.
In July 2014, Dollar Tree purchased Dollar Family for $8.5 billion. In doing so, the company also acquired Family Dollar's $1 billion debt. Dollar General outbid Dollar Tree by more than $1 billion. However, Family Dollar declined Dollar Tree's bid due to concerns over antitrust issues.
In 2010, Dollar Tree acquired the Canadian chain Dollar Giant for $52 million. Dollar Tree has since rebranded all Dollar Giant locations, making these 85 stores Dollar Tree's first retail locations outside of the United States.
Dollar Tree's prices initially targeted lower-income households. However, it has also become popular with more affluent shoppers.

Top Features of Dollar Tree
Low price point, variety, and convenience are a few of our favorite features of Dollar Tree.
The single-price-point strategy is the best feature this extreme discount chain has to offer. There are some items, including books, office supplies, and toys to name a few, that you won't find for a better price at any other dollar store.
Another of our favorite features of Dollar Tree is the vast selection of everyday items. From health and beauty to pet supplies and auto care – you can find it all at your local Dollar Tree, or online at DollarTree.com. Nothing beats the convenience of shopping for everything you need in a single place.

Speaking of convenience, that's a third perk for Dollar Tree shoppers. With over 13,600 stores in the continental United States, chances are there's one within driving distance of wherever you are. The online Dollar Tree store locator makes it easy to find the nearest location. If by some chance there is not a brick and mortar store close to you, don't give up hope yet.
Dollar Tree's easy-to-navigate website has an expansive array of items. You can place an order online and have it delivered straight to your home without ever stepping foot into a store. In addition to the items you would normally find in stores, you'll also find links to several other helpful resources.

The Catalog Quick Order allows you to enter an SKU from the Dollar Tree catalog to quickly find your favorite items. You can add up to 20 SKUs at a time to expedite the ordering process.
Businesses can purchase all their products in a single location with the Shop by Business function. There you will find Dollar Tree's complimentary Business Toolkit, which includes their online catalog, order in bulk feature, and allows companies to track their purchases.
Returning business owners will find the Easy Repeat Order feature handy. Dollar Tree also provides information for tax-exempt organizations to place tax-free orders online.
The industries of focus for Dollar Tree's Shop by Business feature are:
Restaurants, Bars, and Hospitality
Weddings, Catering, and Events
Floral Supplies
Religious and Nonprofit Organizations
Care Facilities
Cleaning Services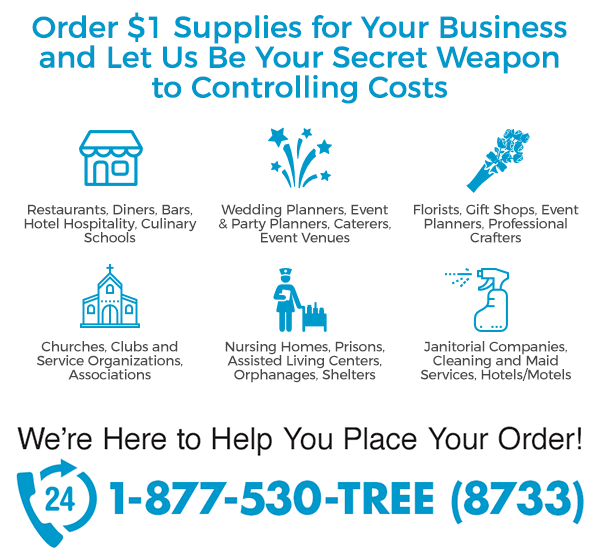 For inspiration on all things DIY and Crafts, head over to the Dollar Tree blog. There you'll find articles with creative ideas for gifts, décor, and fun crafts for every season. The blog also features special sections for teachers, business, gifts, and wedding décor.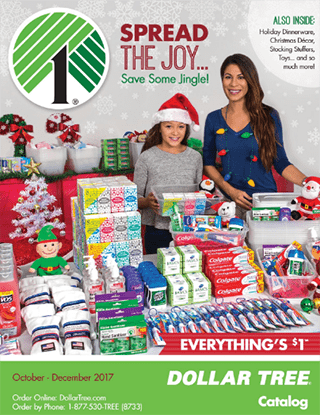 Dollar Tree's online catalog is another great source for inspiration. The catalog is split by department, with special sections dedicated to seasonal items, like back to school, Halloween, and dorm essentials.
For those who prefer to do their shopping from home but have trouble navigating the online platform, Dollar Tree also has 24-hour support for customers to order by phone.
One unique feature Dollar Tree recently unraveled is the Dollar Tree Arcade. Featured on the homepage, the Dollar Store Arcade is full of quizzes, puzzles, and arcade games to keep you entertained for hours. Our favorite is the classic game of chess, but you might be more into Disco Bowling or Monster Manor.
If Dollar Tree is your preferred place to shop, then you might benefit from their exclusive program, Value Seekers Club. Loyalty members receive access to exclusive content and perks.
Dollar Tree Prices
The prices, as we've mentioned, are one of the greatest features of shopping at Dollar Tree. Unlike other dollar stores, Dollar Tree is a single-price-point system — Everything's $1 (or less)!
You may have wondered before how Dollar Tree and other extreme discount stores can sell at such low prices. One factor that contributes to the company's price advantage is that they have a limited number of SKUs. That is why you will usually find a random assortment of items rather than full sets.
Dollar Tree also purchases large quantities of items at a time. This allows them to receive bulk pricing, which in turn allows them to sell products more cheaply than other stores.

Downsides Of Dollar Tree
In our experience, the biggest downsides to shopping at Dollar Tree concern quality of certain items, the disarray of some brick and mortar stores, and a lack of online support.
While Dollar Tree has a lot to offer, inconsistent inventory can make it difficult to find exactly what you need. There are some items, like office and cleaning supplies, that you can reliably find at almost any Dollar Tree. Others, however, such as toys, books, and CDs, vary from store to store.
Depending on what you're shopping for, this can make planning your trips to Dollar Tree a bit of a nuisance.
Another concern we have is the quality of certain items. There have been reports online of shoppers who purchased blank CDs, got sick from eating bad steak, and batteries that only lasted a few hours. The worst we've experienced here was pens that didn't write.
If you frequent your local Dollar Tree, you may have noticed some of the item sizes are smaller than what you would usually find in stores. To circumvent this drawback, you can shop from the Bonus Buys section of the website. Here you'll find larger sizes of the same products for the same price of $1.
Our final downside to Dollar Tree is the lack of online customer support. While the FAQ section is robust, there is no live chat function or quick way to chat with customer support. In order to connect with the company, you have to submit a Customer Help Form.
The Customer Help Form requires you to answer a few generic questions about your need and choose a store location near you. You can then provide more details about your suggestion, complaint, or compliment.

Customer Support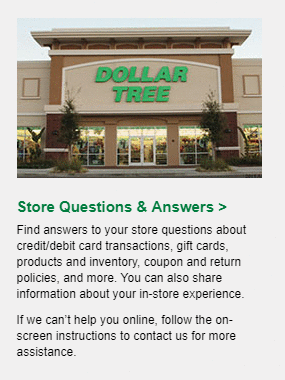 Dollar Tree is somewhat lacking in the way of online customer support.
There is no live chat feature. However, the website does include a robust FAQ section. The FAQ houses three main sections: Store Question Topics, Online Q&A, and Company Q &A. Under each topic is a list of subtopics, each with their own specific questions.
Questions covered by the FAQ include everything from coupons to online privacy. We've yet to conjure up a question that we couldn't easily answer here.
If you're having trouble finding the items you need or have a question about a certain product, don't worry. You're not alone. In addition to the FAQs, Dollar Tree provides phone support for online shoppers. Any time of day, you can call in and place an order with a representative. Phone support is available 24 hours a day, so there's always someone to help you with your purchases.
Final Thoughts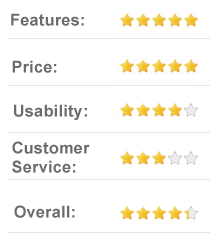 When it comes to finding a good deal, Dollar Tree is one of our go-to stores. It's a one-stop-shop for everyday items like office supplies, decorations, and kitchenware. The website is easy to navigate and provides a plethora of resources for individual shoppers as well as business owners.
Dollar Tree has some of the best deals on knick-knacks, snacks, and all things crafts and DIY. We recommend keeping an eye out for quality. However, when everything is $1, you can't go wrong.