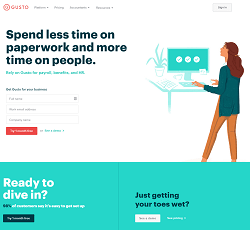 Starting your own business seems simple if you've never tried it. You're struck with inspiration one day, and soon that inspiration takes shape into a dream. Soon that dream begins to take form as reality, and you're learning what you need to do to put it into practice. You need a brilliant product idea, some elbow grease, and a can-do spirit. Beyond those ingredients, it's all profit and trendy, casual offices, right?
Not quite. There are many facets the inspired entrepreneur needs to consider when founding your company. Your business needs an office to house it and equipment to function. You need a website and social media accounts so that the public knows your company exists. And if you want any employees at your company beyond yourself, you need a payroll system to compensate them. People have to work to live, even if they live to work!
Payroll is an understandably touchy subject, with very little margin for error. There are many factors that go into running a payroll department smoothly. If you don't have accounting experience, and don't have time to learn, an outside service can be a godsend. Does this mean you need to hire an accountant? Not necessarily! Did you know that there exists an interface to take care of your employees' payroll and other benefits? Let us gladly introduce you to Gusto.com.

About Gusto.com
Gusto is a company offering flexible, modern payroll and human resources services for small businesses. It got its start as ZenPayroll in December of 2012, as part of Y Combinator's Winter 2012 batch of funded startups. At the time, it was one of the largest launches that Y Combinator had ever seen.
ZenPayroll grew rapidly after its launch. It started with support for Florida, Texas, and New York state, expanding to all 50 states by 2015. At the same time, the company changed its name to Gusto.
Today, Gusto has grown far beyond its humble beginnings. Its services include support for all 50 states. In addition to payroll, Gusto's software also supports employee leave scheduling, tax withholding, and medical insurance plans. To support its continued growth, Gusto opened a second office in Denver in 2015.

Services Offered
Gusto still offers its comprehensive payroll service, and so much more. Primarily, Gusto's lauded payroll service includes more features than ever. Employees are notified of payments via email, and you can customize these emails to suit your business. Payroll can also be set up to run automatically each week, without a need for direct input from you. When you're worrying about the ins and outs of your business, Gusto can take this one task off of your plate.
Perhaps most importantly, Gusto offers automatic tax withholding. Navigating the tax code is, at best, a chore, and at worst, confusing for any employee or employer. Gusto has built-in tax information for U.S. federal, state, and local tax requirements. Each time payroll is run, Gusto's software automatically withholds taxes and files with the government. This eliminates a lot of number-crunching for you and your employees. When tax season arrives in April, both you and your work force can breathe a sigh of relief, knowing that their taxes are handled by experts.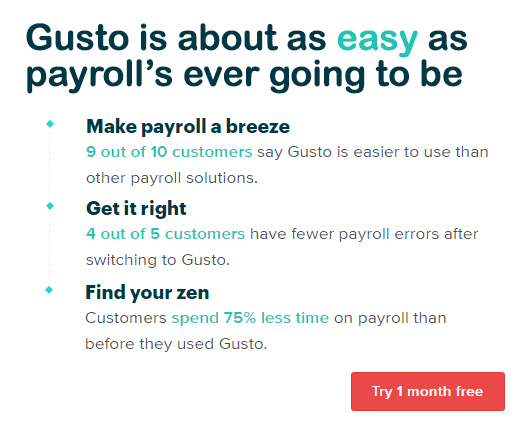 Gusto understands that small businesses require flexibility in employee structures. New hires can be classified as either full employees or contractors. Employees listed as contractors will receive a 1099 and be counted separately for tax purposes.
Each new hire means a lot of paperwork for your company. Gusto covers the heavy lifting to make the hiring process smoother. Gusto takes in employee data and processes W-4s and other documents. New hires are also automatically reported to the government, as per protocol. You can allow employees to enter their own information, or reserve that right for yourself.
At no extra charge, employee payroll plans also include options for 401(k) retirement plans. This is a great incentive for any prospective employee of yours. Gusto offers multiple customizable plans, with some of the lowest fees in the industry. And, since this service is also handled by Gusto, all investment changes automatically sync with payroll.

Employees can also use Gusto to request time off. Once submitted, leave requests appear as notifications on your Gusto dashboard. From there, you can approve requests, and even add a personalized message to your employees. You can also track requests, time off taken, and paid time off accrued through Gusto's interface.
In addition, Gusto can also be used to manage employee health benefits. Gusto's interface allows you to browse for available plans and choose the best options for your workers. Whether it's PPO or EPO, Gusto has you covered. Once plans are in place, employees simply login to the same system they use for payroll and leave to choose and manage health plans. Health benefits are available in 17 states at the moment, with more being rolled out in the near future.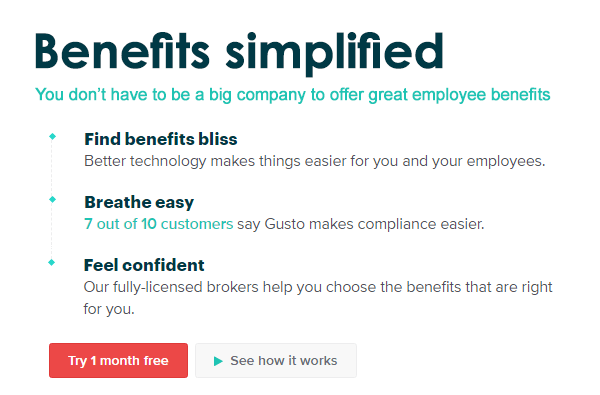 All of these features are housed in an easy to use interface. Gusto provides a cloud-based interface for account managers, with a more limited version for employees. We found the user interface to be clean, simple, and user-friendly. Features are clearly laid out on the left side of the screen. It even features helpful reminders for time-sensitive tasks. It's really hard to overstate the convenience of having so many important HR functions in one central location. Having such an efficient service lets you focus on the primary concerns of your business.
To further automate your business processes and eliminate headaches, Gusto integrates seamlessly with some of your favorite small business software. At the moment, Gusto supports a dozen other programs, including Xero and QuickBooks for bookkeeping, and Ximble for employee time tracking. They've also partnered with Capital One Spark Business, to provide banking solutions for small businesses.

Pricing
Gusto offers a simple price structure. Your account will cost $39 per month, with an additional $6 per person on your payroll. This fee covers the full suite of services. There are no additional fees for extra features. We found that Gusto's prices are among the lowest in the industry. Other services, such as Intuit and ADP, charge far more per month for similar services. At the moment, Gusto is offering a one-month free trial. You can opt out at any time during your month-long trial, and test out some of the excellent features we have described to decide if Gusto suits your company's needs.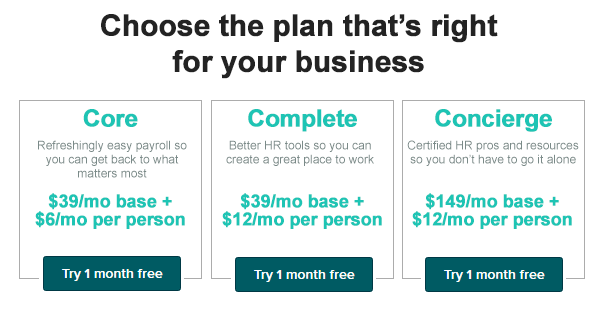 Downsides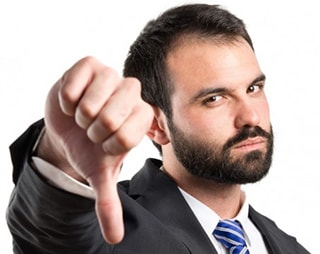 While we were thoroughly impressed with Gusto, we did come across a couple of minor issues. The first of these is their customer support. Their help center is limited, especially in regard to software errors. While they do have a support number, it is only manned during standard business hours. Considering the fact that payroll mistakes and the like aren't noted until after business hours, this could potentially be a minor inconvenience.
The second issue we discovered was a limited selection of reports. Gusto offers fewer reports than its competitors, with less customization available. This is admittedly a minor issue, but potentially a very frustrating one.

Final Thoughts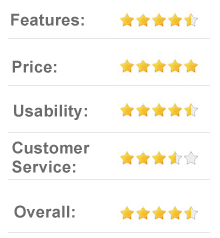 Overall, we were very pleased with Gusto and the services it provides. The slick, modern interface provides a convenient location for managing payroll, health benefits, and employee leave. In our experience, this convenience is the biggest advantage to using Gusto. These combined features make managing employee affairs infinitely easier. The myriad of features and integrated support for additional bookkeeping software cover all of the most difficult tasks associated with payroll and HR.
We weren't the only ones to enjoy Gusto's services. Gusto has also received very positive reviews from big names such as PC Mag and Finances Online.
Gusto is an excellent choice for small businesses that don't have the time or skillset to handle payroll in-house. While we did find some issues, they didn't take away from the many positive features of Gusto. If you want to try the interface before signing up, Gusto offers a free interactive demo on their website. You can run payroll, approve or decline time off requests, and many other tasks in a controlled environment. The fluid interface and bright design are what you can expect if you upgrade to the real version.
Running a small business is a serious challenge at the best of times. Margins are often thin, and you can't afford to experiment with services that could cost you money. That being said, we can still recommend Gusto to any small business owner who needs a helping hand managing their finances.