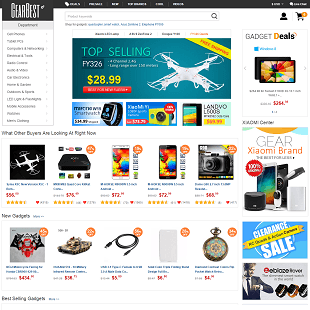 Gearbest.com is an online gadget and electronics deal store, offering good quality products, highly responsive customer service, and a remarkable range of goods to choose from.
It wasn't so long ago that consumers interested in electronics goods would saddle up and head for Radio Shack or Best Buy. With the advent of online sales, newcomer electronics retailers who are hungrier for your business have sprung up. One of the hungriest of these is GearBest.com, a company that states bluntly on its website that it intends to become "the premier online electronics seller." The route the firm plans to follow toward this goal includes providing the broadest selection of electronic gadgets, wedded to a pleasant, seamless, and intuitive shopping experience assisted by solid customer service.

About GearBest
We've taken a close look at the company, and have concluded that they take their plans seriously, and have constructed an organization that offers an impressive array of electronics products, over 50,000 products are currently listed, in fact, and that conducts its selling and shipping operation with a high degree of consumer responsiveness.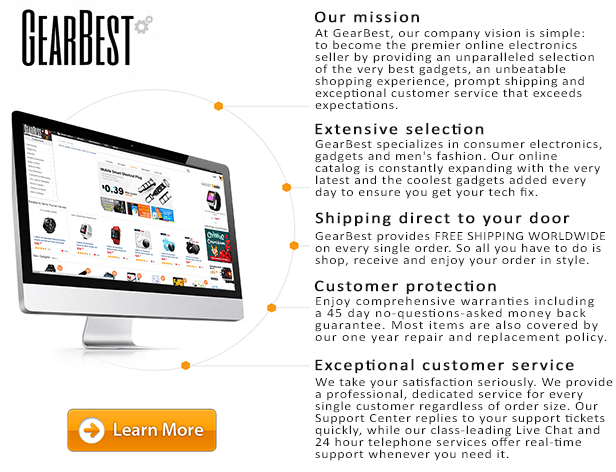 The firm is following a customer-centric business model, and specialized in consumer electronics, gadgets, and men's fashions. Their online catalog is immense, and growing, focused always on securing those low-cost, good quality gadgets that are trending and popular, to ensure that its customers get their ongoing tech fix from them, and don't begin straying to other suppliers.

Featured Products
GearBest have nearly everything, but the company is particularly proud of their popular trending gadgets, and our review indicates that they have every reason to be proud. One of the currently hot items are quadcopters, or multi-rotor, remote controlled drones, some of which can hold cameras, permitting their owners to capture airborne pictures and video of the world around them.
Once you get done playing with your drone, the firm has on offer a knitted luminous fingertip glove, whose fingertips in fact are luminous, and a utility solar-powered hat complete with its own mini air fan, allowing you to transfer the heat of the sun into a fan that will cool the sweat from your brow. They also have virtual reality 3D glasses with an elastic band, and a wireless doorbell chime with 52 ringtones and four volume selections. That last one comes with an adhesive for the doorbell, and an indoor chime component that is simply plugged into a socket.

The firm divides its product categories into cell phones, tablets, computers, electronic tools, radio-controlled devices, automotive accessories, home & garden, outdoor and sports, LED lighting, mobile devices and watches. That is a very wide spectrum, but when we looked into the categories, the goods offered within each were very extensive as well. The company has clearly dedicated substantial resources to sourcing a remarkable broad array of items, and the convenience that this offers customers cannot be overstated.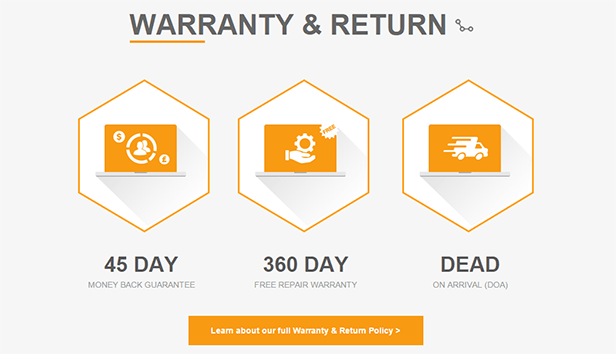 We're also going to mention their affiliate program, which permits website operators to post banner ads and other forms of advertising on their sites, and share in a percentage of any sales made to customers who purchase at GearBest.com through the affiliate's site. This is a nice way for the world of private contracts to form a web of relationships that, together, can compete with Google Ads. It's also a nice offering to know about in case you are operating a site, and are unsure of how to generate revenue from it. We believe any site operator would be most pleased to direct his or her readers or visitors to this company, based on its solid service, and its range and quality of goods.

Prices
We have to select those quadcopters for our pricing evaluation. In doing so, we find that the firm has a Cheerson CX-10 portable 6-axis gyro RC Quadcopeter with nightlight on sale for $24.37, down from a bit over $40.00. They also have a PadMore quadcopter for $26.87, similarly on sale. The more expensive models run up to $150.00. Our examination of competing sites failed to turn up any that were selling comparable multi-rotor copters for prices this low. And as a result, we are very willing to give the company high marks for keeping its prices low.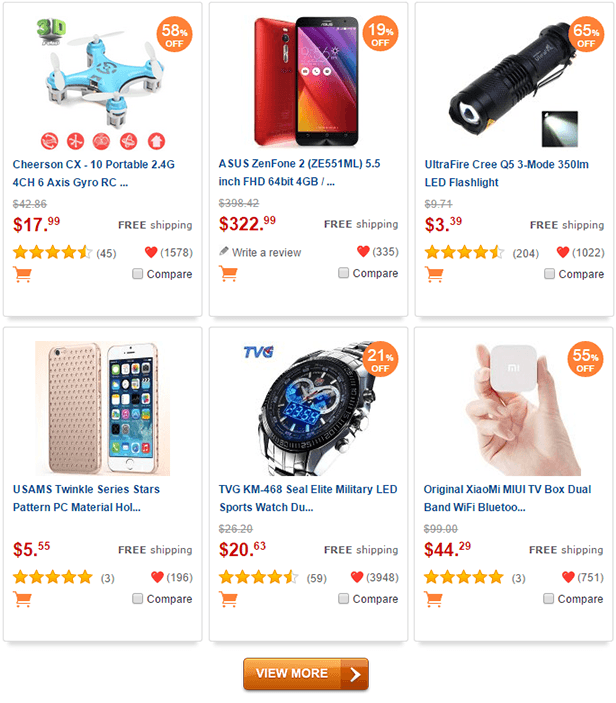 Customer Service
The firm dedicates a great deal of resources to ensuring that they can respond fully to their customers' individual needs, whether that involves questions or concerns over purchasing, shipping, product quality, returns and refunds, or any other issues.
The firm's support center is staffed sufficiently to respond promptly to every support ticket, and they also maintain 24-hour telephone service and live chat for real-time support whenever needed.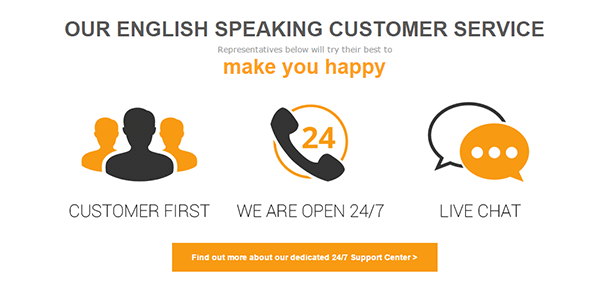 We also consider their impressive search engine to constitute a form of customer service. After performing these evaluations and reviews on numerous online stores, we have come to appreciate the critical value of a search engine that takes you to where you want to go, showing you items that are responsive to your search, and narrowing the search down appropriately. GearBest passed our test on this factor with flying colors.
They offer safe and secure payment options that include all the usual credit and debit card suspects, but also include PayPal and wire transfer. Their free shipping policy is possibly the key deal-maker for this company, when you consider how much that will save across multiple orders – or even one order that is a particularly heavy one.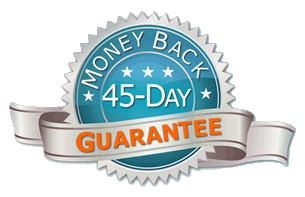 As for guarantees, they have one, permitting a full money-back refund of your payment within 45 days of purchase if not satisfied, and requiring only the return shipment of the products. They also offer a surprisingly generous 360-day free repair warranty, provided you can establish that the damage was not due to normal wear and tear, but was in fact a legitimate equipment failure.

And they even have a special category called "DOA," meaning of course dead on arrival, a state no purchaser of electronics wants to confront upon opening their anticipated new gadget. These items warrant immediate replacement or refund, and we consider that a highly useful policy, especially for purchasers of electronics, which are subject to multiple causes of failure.
The firm's shipping options include DHL, EMS, and FedEx, and numerous options are offered, the slowest of which is free of charge (well, with the charge built into the price of the products, but with prices this low, we can offer no objection.

Complaints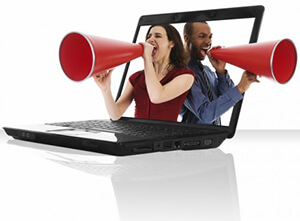 There have been a few complaints about the firm, most related to the speed, or lack of speed, of their shipping. A larger number of commenters stated that, while delivery did indeed take some time, it was worth it to enjoy the advantages of free shipping. The commenters provided a broad consensus that the company honored its commitments when it came to returns and refunds, including immediate replacement of the occasional dead on arrival electronic product.
Of course, with rather relaxed shipping speeds, the term "immediate" can mean a week or two, especially when you factor in the time return shipping requires. In any event, we found far more praise than complaints.

Final Thoughts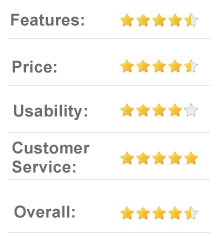 We are very glad to see competition heating up in the online retail space for consumer electronics, and GearBest is a firm that has emerged from this competition offering good quality products, highly responsive customer service, and a remarkable range of goods to choose from. Their emphasis on trending items makes them a compelling site to visit to see what's hot and new, both for consumers who like to follow trends, and for the parents of children who are, as well all know, quite susceptible to trends as well. Our conclusion is that we can recommend this company without hesitation.