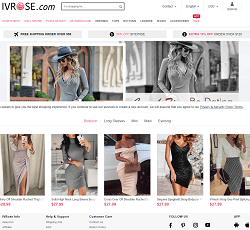 IVRose (ivrose.com) is a two-year-old retail e-commerce store for women that provides a wide variety of fashion-forward, cute clothing and accessories at a discount. Sales can be up to 90% off and they offer free shipping worldwide!
Be aware, however, you get what you pay for. The site has a very large selection in each of their main categories – new products, IVRose exclusive products, dresses, tops, bottoms, swimwear, lingerie, shoes and accessories including jewelry, bags and more.
They offer a selection of over 100,000 products and more than 500 daily new additions. A category of the site includes all of the most popular items purchased by customers. They also have the option to share your favorite styles with friends on social media. IVRose is active on various social media channels (Facebook, Instagram, Pinterest, and YouTube) where they post exclusive discounts, trending styles and their newest products.

Top Products
Looking at the website's trending products, long and mini dresses are very popular and offer significant discount prices. There are also some rompers, pantsuits and flare pants ordered frequently. Positive reviews are mainly about the shoes, from stiletto-style heels, sandals, casual but stylish tennis shoes, and more.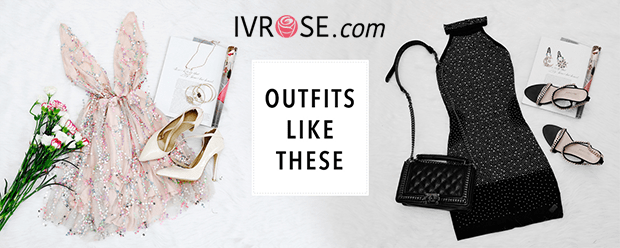 If purchasing from the US, the US Warehouse category will provide faster shipping, as products are already within the country. All other products ship from China and can take significantly longer to arrive.

Prices
As mentioned, prices are very competitive and there are frequent sales with major discounts – 50% off shoes, to 90% off holiday and special event products. The IVRose Facebook and Instagram accounts constantly share sales and special promotions. They boast that their products are 50-80% cheaper than any local retail options.
Prices Range From: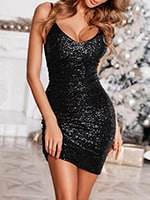 Dresses
$15 to $63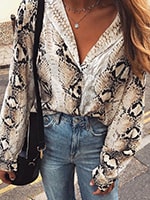 Tops
$12 to $61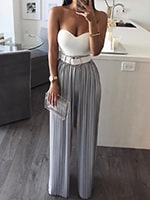 Bottoms
$15 to $58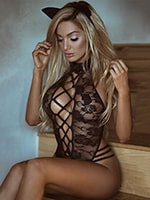 Lingerie
$9 to $36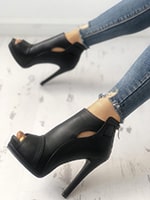 Shoes
$24 to $83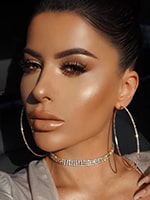 Accessories
$6 to $47

Lastly, secure payment methods are available through PayPal and major credit cards. When you sign up for their newsletter, you will also receive various bonuses!
Return Policy and Shipping
The official return policy is limited to 30 days from receiving your items, for a refund or exchange. Items in the following categories are not eligible for return:
You will have to ask for the return address from customer service, as the address provided on the website does not accept returns. Shipping fees and insurance are not refundable. Orders are generally processed within 3-7 business days, and shipping will range from three to 25 days depending on the destination.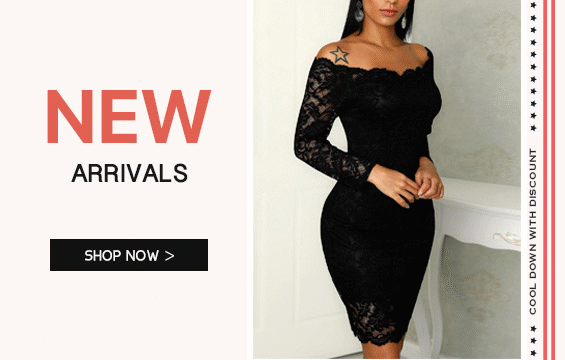 Affiliates, Bloggers and Drop Shipping
Do you enjoy the products or think you can market them effectively? You can become an affiliate marketer or join their blogger program. The affiliate program offers:
15% commission
Weekly coupons, text links, banner ads, etc
And more
Free shipping worldwide
Mobile optimization

The blogger program has certain eligibility requirements to join, such as 500 or more social media or blog followers. IVRose will provide the rewards and they just ask that you include their website homepage or product link in your social posts.
They will use your posts for commercials unless you specifically request that they not do this. You may choose which products you'd like to promote, and they will send them to you for free, so you can create your own photos and marketing materials.
Wholesaling and Drop Shipping
To become a wholesaler, IVRose lists many benefits of working with them, including access to two million registered customers and extra discounts on large purchase orders over $1000. If you're interested in drop shipping, the ability to run a business without buying inventory can be a great way for a startup to get off the ground. IVYRose offers professional customer service for you, a data feed for product descriptions, and special prices only for drop shippers.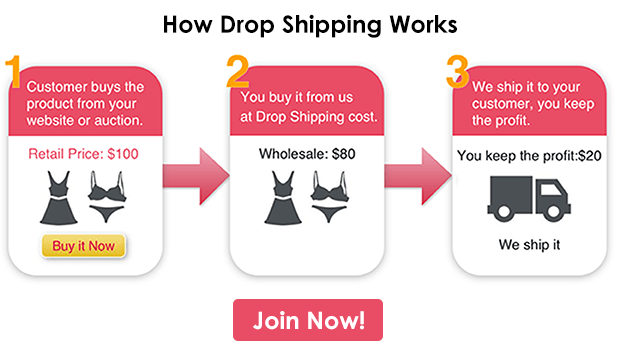 Customer Support
The website offers pre-purchase customer support. You may message them using Facebook messenger, leave a message with their website tool, or at the right times, there is a live chat option. If you run into any issues after purchase, you can submit a ticket and they claim they will respond within 24 hours. They also have a WhatsApp contact number which also claims a 24 hour response time.

Criticisms of IVRose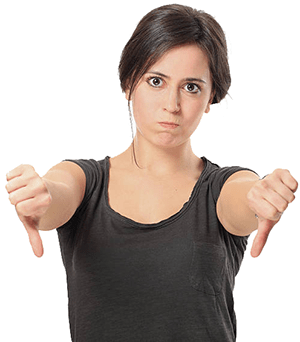 There have been many negative reviews recently. Various review websites have complaints, mainly about product quality. One review claims the site uses photos from larger retail websites as their own and the clothing that arrived in their package did not look the same. From faded coloring to ill-fitting sizes and products that don't resemble the photos, customers have not been happy with the majority of their purchases.
There have been a few complaints about clothing arriving with holes, thin see-through material, and being unable to wear the clothing one time. While the pricing is very cheap, many have complained that the quality is so low that it wasn't even good enough to donate.
Getting a refund has been very difficult if not impossible for many customers. They do not pay for return shipping, and it can cost more than the product to ship it back to the company. The best anyone has been able to get is either in-store credit for half the cost of their defective clothing or the option to keep the clothing and receive a 10-40% refund.
Reviews.co.uk
There are over 60 reviews, and 90% are one star, with only five higher than this. There are many comments written by verified reviewers, who classify IVRose as a scam.
BBB.com
The Better Business Bureau rates companies based on 13 factors, including business type and age, transparency, number of complaints filed against the business, the responses provided by the business, and whether or not the responses satisfied the customer. IVRose has been given an "F" which is the lowest possible rating. There are two customer complaints present that have not been resolved which is what has caused such a low score.
Trustpilot.com
TrustPilot gives IVRose a TrustScore of 2.7 out of 10. There is a note on this review profile from Trustpilot themselves from May 2, 2018 warning that their custom software detected a large number of fake reviews, which have since been removed. Other than this, there are many recent one-star reviews complaining about how cheap the material is and how inaccurate the coloring is compared to photos.
Some have said they've purchased better items from eBay. One customer bought a dress for a wedding, and when she sat down in the car the strap broke. A few buyers warn to stay away and not purchase at all. The customer support has not been helpful, and many people throw their clothes in the trash without wearing at all.
SiteJabber.com
There are over 260 one-star reviews and 180 higher than this. Many of these higher reviews seem questionable in their integrity (they sound like bots or fake reviews, which was also suggested by some of the one-star reviewers).
PissedConsumer.com
An average 1.2 review score, with over 110 reviews, a total of $630 claimed losses, and zero issues resolved. These reviews include the same types of complaints as the other sites, some customers calling the company a scam. Many buyers have posted questions and the company has not taken the time to answer any.
Complaintsboard.com
Similar complaints here, all very negative. Various buyers have not received a tracking number as promised by the company, and months later are still waiting for their purchases. In these cases, customer service does not stay in touch or does not respond at all to the support tickets and messages.
Those that do receive clothing hardly see any resemblance between what they expected from photos, and there was even a complaint about a pair of shorts smelling bad.
A group of people who have been scammed by IVRose setup a website simply for the purpose of warning others not to purchase from them (ivrose.uk). They go so far as to say the company is selling fraudulent goods with false advertising. This is in line with the complaints from the reviews.
Products come in separate packages and shipping can take two to over three weeks in some cases. A few customers did not receive their orders and had a lot of trouble getting in touch with customer support.
Most businesses profiles on Facebook have a section with reviews. Older comments about the company have mentioned bad reviews on the Facebook page, but currently, the ability to leave reviews has been completely removed, as well as any evidence of the bad reviews.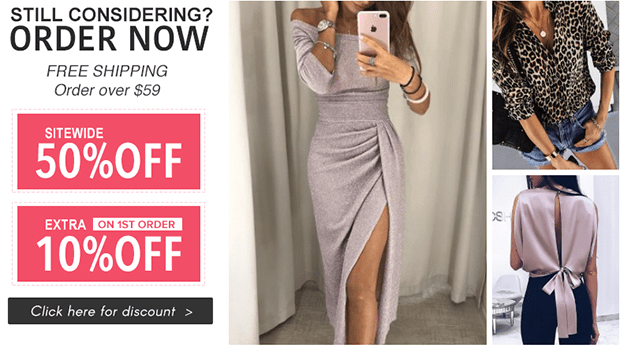 Final Thoughts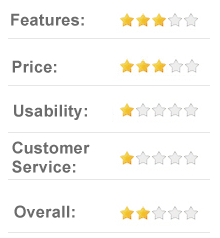 Overall, the products featured on the IVRose website are well-liked by customers. Social media sites such as Facebook and Instagram feature many nice-looking clothing, shoes, and accessories coupled with high discounts and consistent new sales.
There are a lot of fans on their official social media profiles. But there are many complaints and poor reviews about the quality of material, holes in clothing, missing orders, lack of refunds, and more. Buyer beware when shopping with this company.