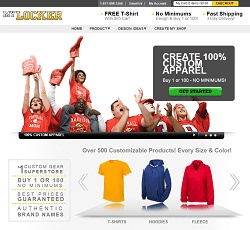 New printing technology makes it possible for properly equipped companies to make custom designed apparel and accessories at extremely low prices. The technology makes it so easy, that a number of companies have started ecommerce sites where customers can submit their designs and receive their orders in the mail within a few days.
MyLocker is one of the most prominent U.S.-based companies following this business plan. If you're interested in buying apparel with custom logos, you should learn more about MyLocker.


About MyLocker
MyLocker didn't get its start as an online store selling custom t-shirts, pants, and accessories. The company began purely by happenstance. After a friend asked the founders to help him make custom blankets for a business opportunity, they visited a fleece supplier to find the right materials. While browsing the warehouse, the founders of MyLocker spotted several thermal insulated pizza carriers. They wondered whether they could use similar material to make insulated coats that would protect people from cold weather.
They started by making the coats by hand. People seemed to like them, so they eventually developed a way to make them faster. They also branched out to sell custom blankets.
After buying equipment to mass produce their products, the business owners realized that they could make a wider range of options. Luckily, this was around the time that ecommerce started to become a reliable way for consumers to purchase products online.
Today, MyLocker makes custom clothing and accessories for individuals and groups. They print designs for schools, sports teams, and other organizations. If you need to purchase similar apparel, you should consider using MyLocker.net. The company has a strong following of over 110,000 customers.

Top Features of MyLocker
Plenty of companies will print custom shirts for their customers. MyLocker, however, takes this a step further by giving its customers access to online design tools. Customers don't have to pay designers to make logos for their shirts. Instead, they can use the graphics provided by MyLocker's website. You can make an attractive logo within a few minutes, even if you don't have any experience with graphic design.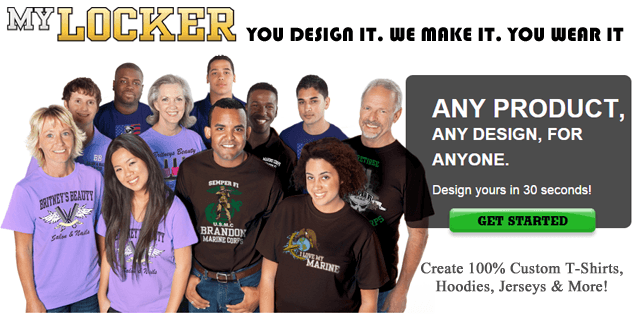 When you visit the Design Idea section of MyLocker's website, you start building your design by choosing a general category, such as the type of sport your team plays or the type of business that you work for. Each category has several images that you can use to make a professional logo. The platform also lets you customize some aspects of the design. You can, for instance, add the name of your sports team. It's a very handy feature that makes MyLocker easy to use.
The quick turnaround is another strong feature. MyLocker gets most of its orders in the mail within two business days. Since shipping usually takes about three days, you can expect to receive your custom order in a week or less.
Criticisms of MyLocker
The Better Business Bureau gives MyLocker a B rating on its F through A scale. At the time of this review's writing, the company had eight closed complaints against it. Only five are from the last 12 months.
The BBB doesn't provide many details about these complaints, but it's easy enough to make some educated guesses based on the provided information. Most of the complaints were caused by problems with MyLocker products or services. It seems likely that a few customers received merchandise that did not meet their standards. One customer complained about a billing issue. This person probably received an inaccurate invoice that asked him or her to pay a higher price than originally quoted.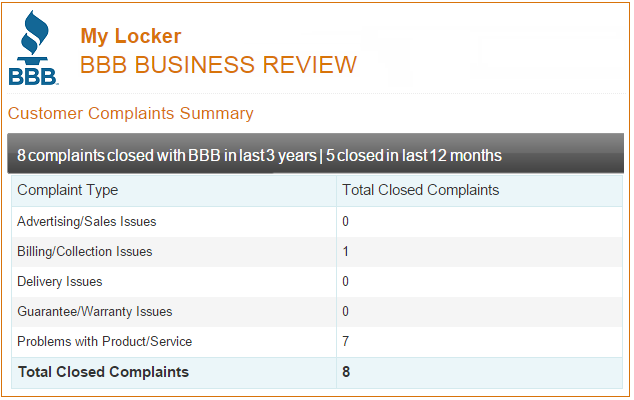 Some people may read this and immediately assume that MyLocker tried to rip off these customers. That does not seem likely. Four complaints within a 12-year period is actually quite low. No company can get everything perfect 100% of the time.
It's also possible that a few people filed complaints because they are impossible to please. We all know a couple people who are always dissatisfied with the services and products they get. In at least one review on the BBB website, a customer complains that MyLocker does not offer next day service because doing so would make prices higher. This seems like a rather ridiculous complaint since the company's website makes no mention of next day service. Most customers would applaud MyLocker for making a decision that helps keep products affordable.
These criticisms do exist, so you should consider them before placing an order with MyLocker. When you look at the competition, though, you probably won't find a company with a better record.

MyLocker Customer Service
Customer can contact MyLocker representatives via phone Monday through Friday from 8AM to 6:30PM EST. Customers can also send questions to the company's email address (contact@mylocker.net).

MyLocker maintains active profiles on several social media platforms, including Facebook, Twitter, and Google Plus. Most customers get quick replies by calling or sending emails. If you do not get a timely response, sending a message through social media may get the business's attention. No business wants other customers to see that they have dropped the ball on someone else's order, so they will likely fix the problem as quickly as possible.
Frequently Asked Questions About MyLocker
Q: What payment options does MyLocker accept?
A: MyLocker accepts major credit cards, including Visa, MasterCard, and American Express.
Q: Will MyLocker accept school purchase orders?
A: MyLocker will accept school purchase orders for bulk shipments, as long as the order is placed by an authorized school. Schools should contact the company to get more information about payment options.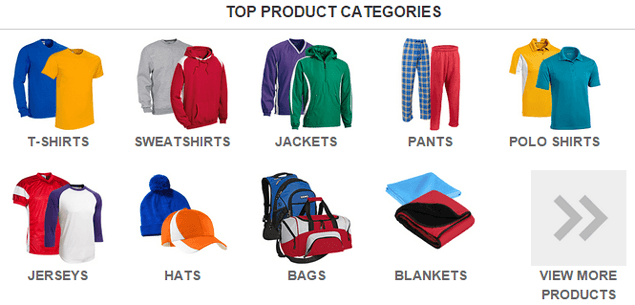 Q: How long does it take MyLocker to make and ship its products?
A: In most cases, MyLocker ships custom orders within two business days. A large or complicated order, however, may take up to five days. Expect delivery to take between two and eight days depending on location and shipping method.
Q: Can customers get discounts by placing bulk orders?
A: Yes, the larger your order is, the less money you pay per item. Customers with registered accounts get an extra 12% off their wholesale orders.
Pros of Buying From MyLocker
MyLocker does not have a minimum order requirement
Website offers logo design assistance and templates
Wide variety of products, including t-shirts, bags, blankets, and pants
Gives the option to purchase wholesale products
Cons of Buying From MyLocker
Customer service only available during business hours
Conclusion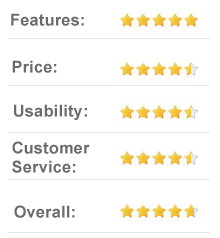 MyLocker quickly made a name for itself by using new technology to mass produce clothing and accessories with custom designs. The company has a history of using emerging technology to make products and services more useful and affordable for its customers.
Today, MyLocker is still one of the best custom printers. Its online design service is extremely easy to use. Practically anyone with even the most basic computer experience can create a unique design within minutes. Few companies have invested the time and money into making design that easy. Many custom printers require customers to submit their own designs. MyLocker is smart enough to know that customers do not want the extra expense and hassle that comes with making original designs. The online design tool is the perfect solution.
There are a few complaints about MyLocker, but they are understandable. Mistakes happen in every business. Overall, this is one of the best resources for people who want to purchase quality apparel and accessories at affordable prices. If you need custom designs for your team, business, or school, you should definitely visit MyLicker.nte to determine whether MyLocker has the right services for you.