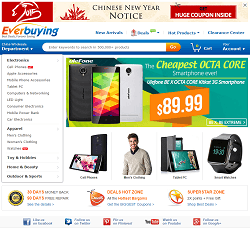 The Internet has made it easier for people all over the world to communicate with each other. Many companies use the technology to connect with customers in foreign countries. This is a great opportunity for businesses and customers. Businesses benefit by expanding their audiences and selling more products. Customers benefit because they get to purchase items at significantly discounted prices.
China has become one of the most influential players in the global marketplace. Companies located in China often have access to low-priced materials and labor. This makes it nearly impossible for companies located in North America and Europe to match their prices.
Everbuying is one of the most popular ecommerce companies based in China. It has a wide range of products that it sells at affordable prices. Since there are several Chinese companies with similar products and services, though, you should learn more about Everbuying before placing an order. In most cases, customers all over the world find that they get satisfying products and services from Everbuying. Still, it is always smart to make an informed purchase by comparing your options.

About Everbuying
Everbuying was founded in 2006 to create a marketplace for global consumers. The company offers a wide range of products, including clothing, electronics, toys, beauty supplies, and sports equipment. Most of the products sold at Everbuying.net are manufactured in China. This helps keeps prices as low as possible so the company can compete within the global marketplace.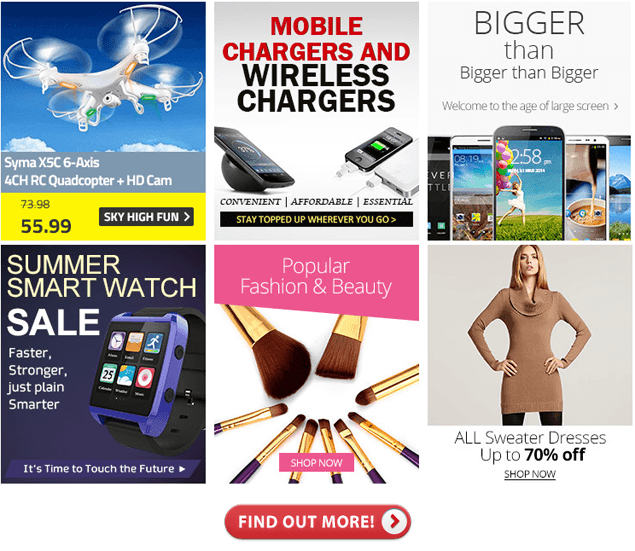 Just because Everbuying gets most of its products from China does not mean that the rest of the world cannot take advantage of high-quality items sold at extremely affordable prices. The company has customers in over 200 countries.
Best Features of Everbuying
The best part of using Everbuying.net is that you get reliable products at extremely affordable prices.
The company also offers several options that makes it a customer-friendly service. Customers, for instance, can choose to pay for their purchases with credit cards, PayPal, Western Union, or bank transfers. This makes it easy for customers all over the world to choose payment options that match their regional preferences and security concerns.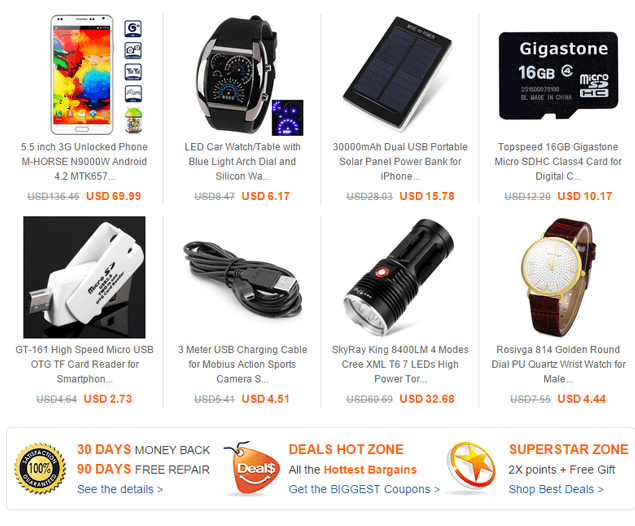 Everbuying has an online clearance center where customers can buy items at even bigger discounts. If you want to find a quirky item at a cheap price, the clearance center will give you plenty of options.
Criticisms of Everbuying
Everbuying ships all of its products from warehouses located in China. This can cause lengthy shipping times. The company provides some shipping estimates to help customers plan their purchases.
Customers in the United States and Australia should expect shipping to take between seven and 14 business days.
Customers in most European countries should expect to receive their packages within seven to 20 days.
Customers in South America often have to wait as long as 30 business days to get their packages.
Unfortunately, Everbuying cannot guarantee that packages will arrive according to these estimates. Several factors can make shipping more lengthy. Public holidays, for instance, can add several days to a package's journey. Some countries also have strict customs regulations that can delay shipments for days.
While Everbuying does its best to satisfy its customers, the company cannot do much about delayed shipping. Once a package leaves the warehouse, Everbuying has no control over it.

Everbuying Customer Service
Customers can contact Everbuying via the company's email address (support@everbuying.net) or phone (530-758-3758). Everbuying also has a webpage where customers can submit help tickets. Expect the company to reply to help tickets within one working day.
The Everbuying website has a Live Chat feature that can put you in direct contact with customer service representatives.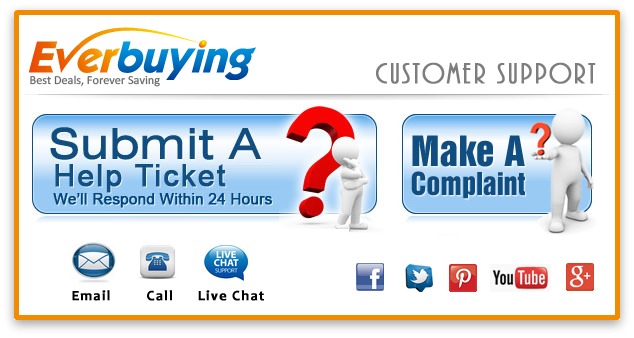 Most customers say that Everbuying returns messages quickly. If you have difficulty reaching customer service, you may want to try contacting them through the company's social media profiles. It maintains active profiles on Twitter, Facebook, YouTube, and Google Plus. Contacting companies publicly via social media often puts more pressure on them to offer satisfying answers. Considering that most customers say they get quick, useful support from Everbuying, though, it is unlikely that you will need to take this route.
Everbuying offers a warranty with all of the products it sells. If you receive the wrong item, or a damaged item, you can contact the company for a refund or replacement. Even though the company inspects all packages before they leave the warehouse, damages can happen during transit. Everbuying tries to find a fair solution that will satisfy customers when this happens.
Frequently Asked Questions About Everbuying
Q: What are EB Points?
A: Everbuying gives customers points for completing certain tasks. Becoming a member, for instance, gives you 100 EB Points. Placing an order earns you one EB Point per dollar spent. You can also earn EB Points by writing product reviews and participating in other reward programs.
After earning EB Points, you can use them to save money on future purchases. 50 EB Points is equal to $1. The more points you accumulate, the less real money you spend on your orders.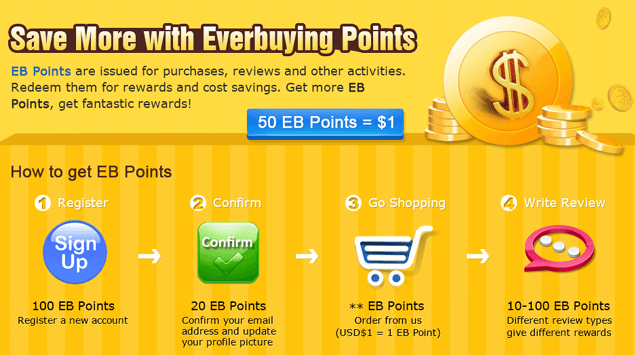 Q: Who pays the shipping costs when returning items?
A: Everbuying will refund or replace items that are under warranty. Customers, however, must pay to ship items back to the factory in China. Everbuying pays the shipping costs when sending a replacement to you.
Q: What do I do if I receive the wrong item?
A: If you receive the wrong item, Everbuying will replace or refund it for you. Before this can happen, though, you must prove that you received the incorrect item. Customers can usually satisfy this by taking a picture of the item, package, and labels. This will help customer service determine how to solve the problem.

Q: How do I know when my order has shipped?
A: Most orders ship within one business day of payment. You can track your order online to see where it is. In some cases, you may need to be at home to sign for your package. Keep an eye on the package's process so you can get it as soon as possible.
Pros of Buying From
Everbuying
Low prices on a wide range of consumer goods
Reliable customer services
Plenty of payment and shipping options
Cons of Buying From Everbuying
Shipping delays are common between China and other countries
Conclusion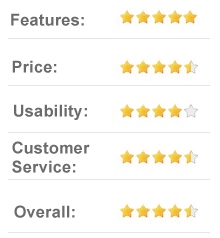 Everbuying.net has a strong reputation for giving its customers access to low-priced, high-quality consumer goods. It is one of the most reputable ecommerce companies based in China. A quick look at online customer reviews shows that nearly all of them are satisfied with the services and products that they get from Everbuying.
Having access to such a large inventory of low-priced items is a great advantage for global consumers. Everbuying's location in China, however, raises concerns about timeliness. If you need an item soon, then Everbuying is probably not the right option for you. Then again, none of the ecommerce businesses located in Asia will meet your needs if you expect to receive your order within a week.
If you are primarily interested in getting great items at low prices, then Everbuying is a good resource for you. Understand, though, that it may take several weeks to get your delivery. Many people find that the delay is worth it.
Overall, this is a great company that serves thousands of people all over the world. It has strong customer services, a big catalog of well made items, and extremely affordable prices that few companies can match. It is a good option for anyone who wants to save money but doesn't mind waiting a while for their order to arrive.