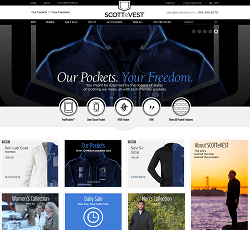 As mobile devices become increasingly more important to modern life, people will need to find comfortable, secure ways to carry gadgets everywhere they go. Most people solve this problem by carrying devices in purses or bags. But that isn't always a convenient option.
Scottevest designs clothing and accessories that help integrate mobile devices into everyday life. It is a truly unique business making products unlike those found in most stores. If you want to carry all of your mobile devices in a comfortable, secure way that gives you easy access, you may want to explore some of the clothing made by Scottevest.

About Scottevest
Scottevest was founded in 2000 by Scott Jordan. The company's first product looked like a fisherman's vest, but it had high-tech features that made it useful for urban life. The company started in Chicago but currently has its headquarters in Ketchum, Idaho.
Over the years, Scottevest has developed several intriguing clothing concepts, including a pair or boxer shorts with a pocket designed for carrying a smartphone. The company also developed a jacket that makes air travel easier. Since airlines often place weight restrictions on luggage, Scottevest made a jacket that had up to 42 pockets specially designed to carry items for travel. By placing the pockets strategically, Scottevest found that it could make travel easy and comfortable. The jacket has a slim appearance and distributes weight evenly so that it looks like a normal jacket even when its pockets are full.
The company has recently become interested in designing clothes that let wearers organize wires as well as devices. Recent designs even incorporate small solar panels for charging devices throughout the day and pockets that prevent hackers from swiping information from mobile devices.

As the product line expands, the company has become increasingly high tech. It currently offers a shirt that includes a wearable battery that can recharge Google Glass when it runs low on power during the day. Not many companies have such a dedicated commitment to making technology fit seamlessly into daily life. That makes it an excellent resource for people who love the latest devices. Clothing from Scottevest, however, are also comfortable and useful enough to match the needs of regular people who just want an easy, safe way to use smartphones while out and about in the world.

Best Features of Scottevest
Perhaps the best feature of Scottevest is that the company has managed to create innovative clothing without charging outrageous prices. Customers can buy puffer jackets with 19 pockets for less than $200. A travel vest with RFID protection and 26 pockets costs less than $150. Even a high-tech trench coat with 19 pockets only costs $200.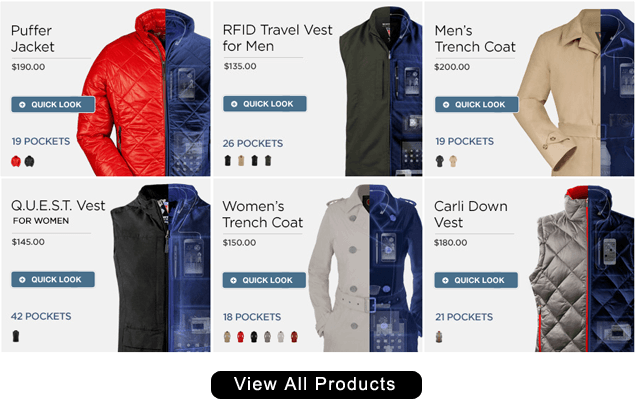 Scottevest has managed to make these innovative clothes without getting too lost in functionality. Each item is just as aesthetically pleasing as it is functional. Few people would ever suspect that the coats, vests, and sweatshirts are specially designed for the needs of modern people who want to carry mobile devices without lugging around a bag full of chords.
Despite Scottevest's affordable prices, the website often has sales where shoppers can buy popular items at half price. A daily sale gives shoppers limited time to take advantage of one item a discounted price. The item changes regularly, so fans will need to check often to make sure they get the gear they want at the lowest prices possible.
Criticisms of Scottevest
When Scott Jordan appeared on the television show Shark Tank, some of the judges criticized the aesthetics of his vest. Some people may not like how the vest looks. That is true of every article of clothing. Some people will like it while others will not.
Since Scottevest sells a wide range of clothing designed for men and women, it is likely that shoppers will find some designs that they want to wear. If it isn't your style, then it just isn't your style. You can still take advantage of the functionality if you want to stay comfortable and secure during a trip.
Scottevest Customer Services
Scottevest has great customer services. You can contact customer service via Live Chat just by visiting the company's website. If you want to speak to someone in person, you can request a call from customer service. They usually get to your question quickly. You can even direct questions to Scott Jordan, the CEO of Scottevest. Call him at 08-471-5706 if you have questions about any of the products.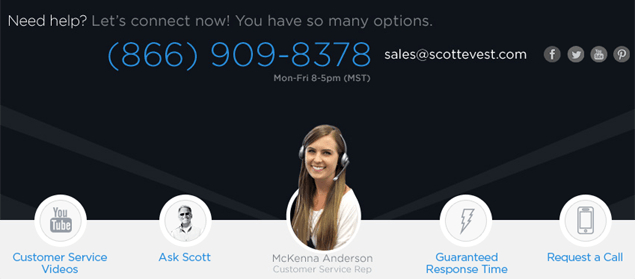 The company maintains active accounts on several social media sites, including Facebook, Twitter, and Google Plus.
Customers can also use the website's lengthy FAQ and tutorial sections to find answers to common questions and concerns.
Frequently Asked Questions About Scottevest
Q: How much does shipping cost?
A: Shoppers pay the actual cost of shipping. The company's website can help you determine how much shipping will cost.
Q: How long does it take to receive an order?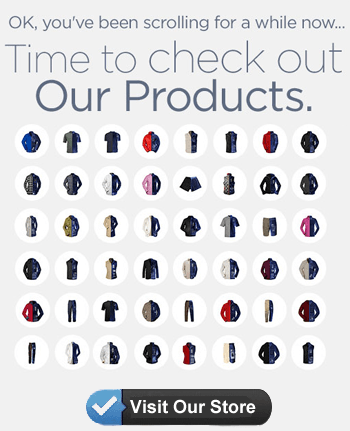 A: Scottevest ships orders Monday through Friday. The amount of time it takes an order to reach you depends on the delivery method you choose. UPS Ground usually takes one to five business days. Next Day Air should arrive the day after you place your order.
Q: Does Scottevest accept international orders?
A: Yes, Scottevest ships to most countries. Visit the company's website to find out whether it ships to your country.
Q: Can I buy Scottevest clothing in stores?
A: Some stores sell Scottevest products. Visit the company's website to use its store locator.
Q: What payment options does Scottevest accept?
A: Scottevest accepts Visa, American Express, and MasterCard credit cards. You can also pay with an Amazon or PayPal account. If you use an Amazon account, however, you cannot take advantage of promo codes.
Q: How do I know I successfully completed my order?
A: You should get an order confirmation within seconds of completing your order. If you do not receive it, or you see any errors, contact Scottevest customer service via email or telephone to resolve the problem.

Pros of Buying from Scottevest
Inventive designs for modern living
Plenty of pockets for storing mobile devices
Solar power strips for charging devices
Excellent customer service
Help choosing the items that fit your lifestyle best
Affordable prices
Cons of Buying from Scottevest
Some people don't like the clothing's aesthetics
Limited number of products
Conclusion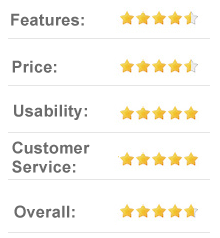 There aren't many companies pushing the boundaries of technology and fashion like Scottevest. The ability to integrate clothing and mobile devices will only become more important as smartphones, tablets, and other gadgets become necessary parts of our lives. Scottevest is on the frontier, leading the way for other companies that will eventually realize that modern people need new solutions that will make communication and travel easier.
It is possible that you will not like how Scottevest clothes look. The company only makes a handful of products, so you have a limited option when it comes to aesthetics. Hopefully, Scottevest will add to its collection as more people realize they want the advantages that its clothing offers. You may want to purchase one or two pieces for practically purposes. If you really do not like the way the clothes look, though, you should consider whether you really want to buy them. They are one of a kind, but they are not for everyone.
Scottevest is an exciting company doing something new with clothing. Its products are great for travelers and people who want to stay in touch at all times.