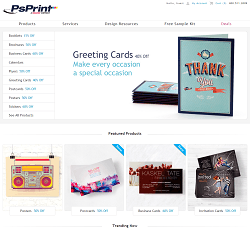 A vibrant, professionally printed card or poster can attract customers and help a business to market itself effectively. Professional printing and graphic design services often cost more than a customer is ideally willing to pay.
PsPrint.com is dedicated to working with customers to provide professional, high quality prints at an affordable price. Guests can find help designing and creating anything from personalized business cards to custom coasters.

About PsPrint.com
PsPrint.com first began 25 years ago and has since grown to become a leading online printing agency. The company has served over 750,000 customers across the United States to date. The PsPrint website's intuitive, user-friendly interface and a team of expert graphic designers make it easy to design personalized printed media. PsPrint.com delivers cheap products quickly without sacrificing quality.
PsPrint is proud of the eco-friendly policies that the company adheres to. Customers can choose from a variety of recycled paper stock and colorful soy based inks. All ink used by PsPrint.com is made from soy, which is more environmentally friendly than traditional petroleum based inks. The company owns three eco-friendly printing facilities located in New Jersey, Chicago and the San Francisco area. Orders are always printed and delivered from the nearest facility to cut back on both carbon emissions and shipping costs.
There are a number of services that PsPrint.com offers to its guests. Customers are able to add unique flair to every project by using PsPrint's many printing services, including:
No matter what project a customer is working on, PsPrint.com can help to ensure that the end result looks clean and professional. From calendars to business pamphlets, PsPrint.com can help both amateur designers and small companies to bring ideas to life on printed paper.
The Best Features of PsPrint.com
The products and services offered by PsPrint.com are both affordable and reliable. An expert team of graphic designers can help customers to quickly personalize and print their own brochure, invitation or other printed product. Customers can order the free PsPrint sample kit to see examples of the premium paper stock and printed products sold by PsPrint.com. The kit also includes a PsPrint Paper Sample Guide and other helpful information to help a customer get started creating prints.
PsPrint.com offers inexpensive products and services to shoppers across the United States. The company offers all customers a Low Price Guarantee, which promises that PsPrint will always provide the lowest price and the highest quality. If a customer finds a lower advertised price for a product with similar printing and finishing options within 7 days of placing an order, the company promises to refund the difference.
PsPrint.com is confident that they offer the best value when it comes to custom printed products, but still offers customers additional discounts. Frequent deals and promotions help shoppers to save even more on every order. First time customers can also save 25% on PsPrint graphic design services.
Guests are able to access a variety of free design resources through PsPrint.com that can help them create a unique and attractive final print. Customers can find all sorts of handy tools and educational resources for help with print design, including:
Layout Guidelines


Download files that show you the dimensions, layout, bleed, safety zone, border requirements and any folding or mailing guidelines for all products.
File Setup

Learn how to edit, prepare and upload image files.
Online Design Templates


Discover an entire gallery of free, handmade print design templates that you can choose from, order and easily customize.
Online Tutorials


Find easy to follow guides and instructional videos on how to make the most out of the services that PsPrint.com has to offer.
Ideas & Inspirations

Read tips and ideas on how to improve design work and market to a target audience.
PsPrint Blog

Read interesting articles and keep up with the latest popular design trends.
PsPrint.com visitors can find more inspirational articles and website news posted to one of PsPrint's social media pages. Customers are able to follow the company on Facebook, Twitter, Pinterestst, YouTube and Google+. PsPrint.com provides customers with archives full of ideas, inspiration and information to help make their next product a success.

Criticism of PsPrint.com
Once an order has been confirmed, it is difficult to cancel. A customer's credit card is charged as soon as the confirmation button is pressed. If the PsPrint team has not yet completed any design work, it is possible to contact customer support for a refund. Customers are charged a $15 cancellation fee for any processed refunds.
PsPrint.com has a 30-day return policy on all purchases, but customers are not always able to get a full refund on a purchase. Some customers may only receive a partial refund. When PsPrint.com processes a return, any shipping, postage or processing costs are not refunded. If a customer decides to return an order, he or she will lose money in the process.
PsPrint.com Customer Support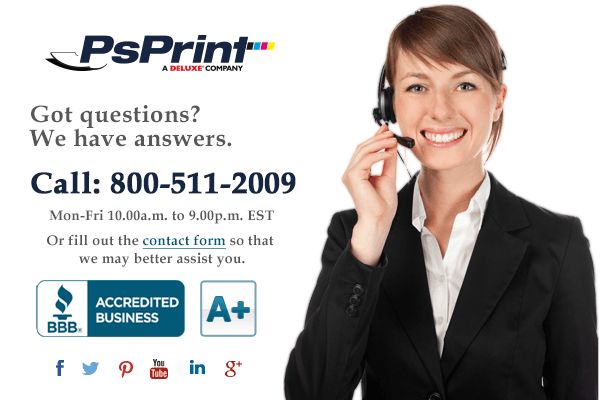 The PsPrint.com customer support department can be reached on business days from 10.00a.m. to 9.00p.m. EST by calling 800-511-2009. Customer service is unavailable during weekends and holidays. For questions or comments that are not urgent, guests can contact a PsPrint representative using a webform.
Frequently Asked Questions

Pros of PsPrint.com
Free sample kit
Low price guarantee
Deals and discounts
25% graphic design services for first time customers
Design tools and educational resources
Social media presence
Cons of PsPrint.com
Difficult to cancel an order
Cancellation fee
Hard to get a full refund
Why Should I Use PsPrint.com?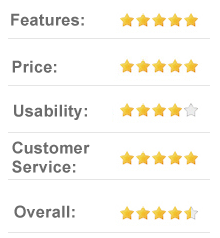 The team of graphic design experts at PsPrint.com provides high quality, professional printing services to customers across the United States. PsPrint makes it easy to customize your own brochure, calendar, or other printed product. The company is proud to implement eco-friendly policies such as using soy-based ink and recycled paper stock. Customers that shop with PsPrint.com are not only saving money, but also helping to protect the environment.
PsPrint.com is the ideal destination for small businesses looking to produce professional grade prints at an affordable rate. The state-of-the-art printing presses used at all PsPrint facilities ensure a fast turnaround without sacrificing quality. Businesses can receive their orders quickly so that any marketing plans are kept on schedule.
A small business without an in-house graphic designer can take advantage of the PsPrint design service and hire an experienced and affordable artist to help create an appealing logo, business card or brochure. Businesses can also take advantage of the PsPrint mailing service to quickly and effortlessly deliver materials to their clients.
PsPrint.com helps customers to create and print unique designs. The company produces professional looking and eco-friendly products for anyone from amateur hobbyists to small businesses. No matter what you're looking to print, PsPrint.com can help you to create your vision.