About Charge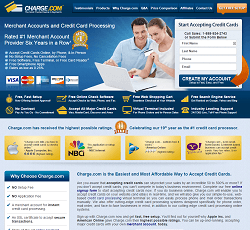 The emergence of the Internet has made it easy for almost anyone to set-up a website and sell goods to the masses. While the process of setting up a small business can be overwhelming, setting up the credit card payment processing shouldn't have to be. There are a number of online companies that specialize in credit card payment processing. Once such company is Charge.com. In business for nearly two decades, Charge.com is one of the top companies in this category that helps online retailers boost sales by working with them to implement credit card payment processing software.
In today's age, it's a no brainer that you will need to accept credit cards if you want to do business, whether online or at a brick and mortar store. Charge.com can help you become a credit card merchant in no time. The company offers a plethora of key services that will be sure to help boost revenue for your business. There is also no limit to the types of businesses that Charge.com will service. Some sample categories that Charge.com has helped in the past includes:
Home-Based
Retail Business
Online Business
Restaurants

Thousands of business put their trust in the Charge.com software knowing that it has been around awhile and was at the forefront of the digital boom of the 1990s. So what can you expect from the company these days? Does this old dog need to learn some new tricks or have they evolved as time goes by? Let's delve into some of the key features that make Charge.com a credit card merchant worth checking out.
Top Features Of Charge.com
Charge offers a wide range of credit card processing solutions to help any business grow, whether large or small. The company is always on the cutting edge of what is necessary to stay competitive in the credit card services category and boasts state-of-the-art software.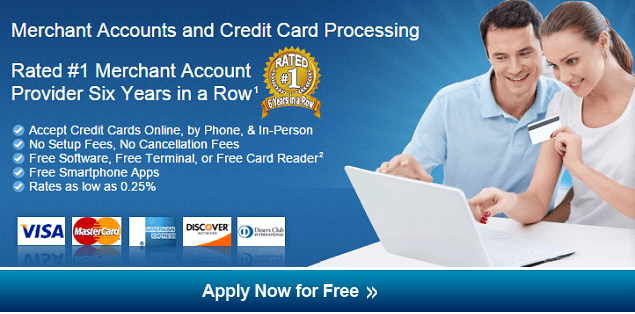 The first great feature of Charge.com is that it does not charge an application fee or start-up costs. Charge waives the bank application fee, whereas other companies may charge up to $250 just to review your application. Additionally, a 98% approval rating means most businesses can begin accepting credit cards in a matter of days, which really can come in handy if you're under a time crunch. Not only that, but once the system is up and running, you will see the funds from your customer's purchases within 2-3 days in your bank account. Now that's some fast cash!
When using the Charge.com software the ways in which your business will accept payments will really be limitless. Use of the service will allow you to accept checks from customers by phone, fax or online at no cost. Other companies charge up to $300.00 or more to set up this service. Charge.com will set up the service absolutely free, just for applying. Imagine never having to wait to receive checks from customers through the mail. This is the perfect complement to your credit card merchant account because it will allow you to get impulse sales by both credit card and check.

Since the majority of companies that use Charge.com operate completely on the Internet, the company offers processing software that is also Internet compatible. This is the most popular choice of their merchants, and it also has the lowest price. This is the option for any business that has a website on the Internet. It is the most powerful and flexible method of credit card processing available anywhere. It enables both automated processing for online orders and manual processing of e-mail, telephone, faxed, mail order, and face-to-face sales.
Internet Process Software allows any website to automatically process credit card orders securely whenever your customers enter them and the best part is that the service is available 24/7. It works automatically, without the business owner having to do anything. After a customer submits payment information, his/her credit card will be charged within a few seconds automatically after a transaction. The system will then alert the seller by sending an email with all of the consumer's information so the order can be filled. If you are not selling something that needs to be shipped (such as information, password access, digital file, etc), your site can deliver it immediately when your customer's credit card is approved.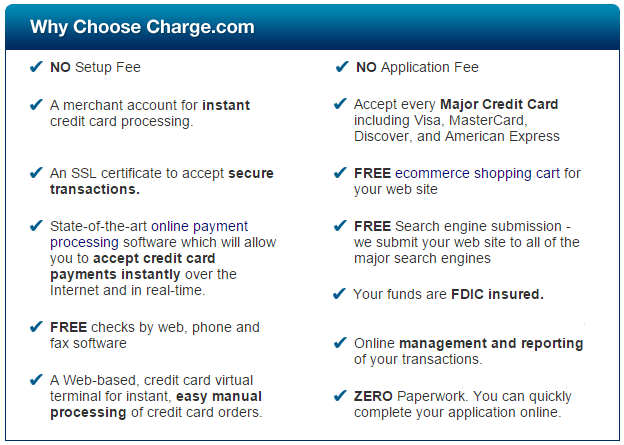 The last major feature that is worth pointing out is the Electronic Keypad Terminal. This is the best choice for businesses that sell mostly face-to-face to their customers and can swipe the customer's credit card through the terminal. The electric keypad is a physical machine that works when a credit card is swiped through the machine. This is ideal for businesses such as retail brick and mortar stores, professional offices, restaurants, hotels, and government agencies. You can qualify for a lower discount rate if at least 90% of your sales are swiped through the terminal. A built-in printer is available for a small additional charge.
Charge.com Prices
For first time users, there are no additional start-up costs to use the Charge.com service. However, there are monthly fees to utilize the service. Charge has competitive monthly costs that include a $10 statement fee, a $16.95 payment gateway fee and a $25 monthly minimum. There is a 2.25% discount rate with a $0.25 transaction fee. There is also a $25 chargeback fee, a $0.25 voice authorization fee and a $0.05 address verification fee. Compared to other credit card processers in the space, these rates are fairly reasonable. There company also offers a referral program, where you can receive additional discounts for getting other businesses to utilize the service.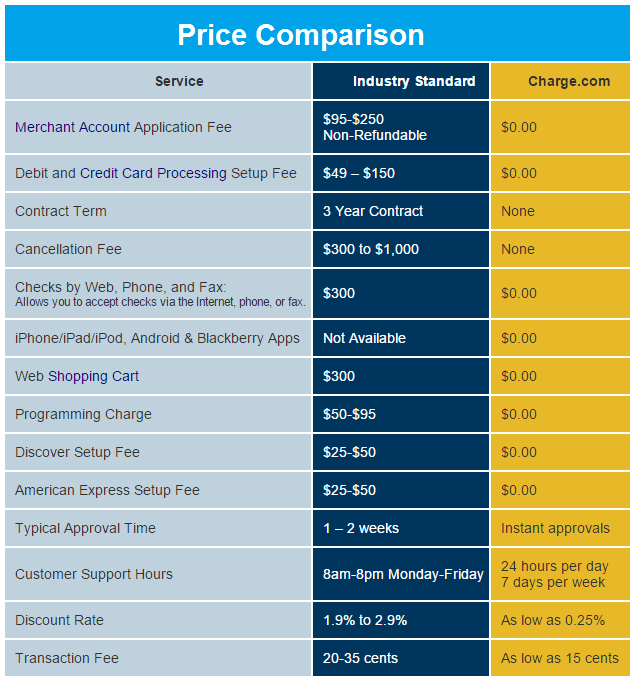 Criticism Of Charge.com
Charge.com has been around for almost twenty years and as such as garnered quite a few complaints from customers over the years. The biggest complaint has been by customers who say that the complete costs to use the service were not made completely clear up front. Apparently if you end the relationship before 36 months, you could pay an early termination fee of $300 or $495. There are also reports that the company charges a $185 annual PCI compliance fee.
The other complaints have been with regards to the actual software that Charge.com uses. Some consumers have noted that the electronic keypads malfunction after only a month of use, while other consumers have said that the online processing functions take longer than 2-3 days to deliver funds.
Customer Support
Charge.com makes it very easy for those who use the service to get in touch with the customer support team. Customer support is available 24/7 by way of e-mail, phone or live chat. This is actually much better than most of the competition in the space. The general consensus on blogs and forums from past customers is that the support is great and the professionals are very polite during the approval process, but afterward they leave a lot to be desired in after-sales service and help with chargebacks.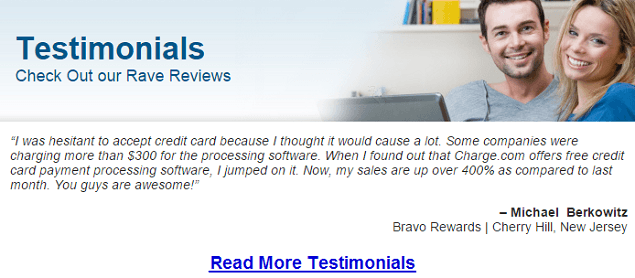 Final Thoughts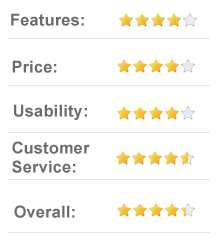 Don't lose another sale because your small business does not take credit cards. Online and mail-order businesses that don't offer shoppers a credit card payment option lose over 80% of their impulse sales. These days, having the right credit card software is really a must in order to see your business grow.
Whether you operate a business solely on the Internet or have a retail store or restaurant that simply needs a new credit card system, Charge.com can go to work for you. Not only is the software first-rate and state-of-the-art, but the company stands by its products and has been the #1 leader in the credit card processing industry for nearly two decades. So if you're in search of the right software to make your business boom, look no further than Charge.com today! You'll be saying Cha-Ching before you know it!