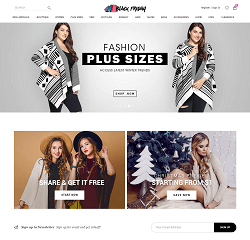 Many online clothing stores focus only on clothes, with possibly a few accessories in the mix. Not many of them include a variety of clothing and accessory options for both men and women.
Rose Wholesale is one that offers an assortment of options. Women's clothing, men's clothing, wigs, watches, shoes, and more are found online through this international store.

About Rosewholesale.com
Rose Wholesale has a goal of providing high quality products at competitive prices. The site has been up for a few years, since 2013. All new sign-ups receive a 10% discount, while many discounted sale prices are also available on the site. A boutique section that allows customers to share items with others and receive a free product is included.
Registered members earn points simply for logging in. One reward point is given for the first day sign-in. Two points are given on the second day, with four points earned on day three. By the fourth day, six points are given. On day five, eight points are given, with another ten awarded on day six. Ten points are given every day after that when members sign in, as long as it is consecutive. Once a day is missed, the process starts back over at one point. Fifty R points earns the member $1 off their purchase price. Points are also awarded for writing reviews and ordering products.
Top Products of Rosewholesale.com
Each day, a selection of new arrivals are added to the site. The products included always vary, but they are each unique items at excellent prices. Women's clothes are most commonly seen, with a focus on dresses, but men's clothing is also added periodically. Customers are able to browse items by release date, allowing them to see what was added for a specific date within the last ten days.
Rose Wholesale features an abundance of fashion accessories for both men and women. Wigs and hair accessories are two of the top items. Short styles, long curls, and even unique colors are available, including a long, shaggy pink wig. Blonde, brunette, red, and black wigs are seen most often. The other hair accessories range from headbands to hair pins, as well as barrettes, feathers, and bows.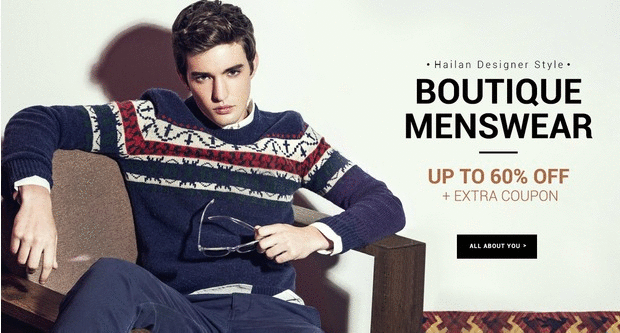 A unique collection of socks are also available on Rose Wholesale. Knitted stockings, leg warmers, boot cuffs, and socks with cute patterns are all included. There is a larger variety available for women, but men have different options available as well.
With an assortment of socks, also comes a variety of shoes. Gladiator sandals, studded heels, pointed toe flats, boots, and stilettos are just a few of the options. There are also sneakers and boots for men.

A clearance section is also available on the site, with average discounts of 50% off. This section offers an ideal way to find items at even more affordable prices. Discounts can range from 25% to 70%, depending on the length of time the products have been available on clearance. Older items are discounted at higher prices as newer products are added.
Bags are also a top item sold at Rose Wholesale. Some men's bags are included, such as messenger bags and backpacks. Women's bags include shoulder bags, crossbodies, clutches, backpacks, totes, wallets, and even cosmetic bags for makeup. There are a variety of styles, some including zippers, strings, pouches, pockets, or handles. There is also a large color assortment, ensuring there is a bag to match any outfit.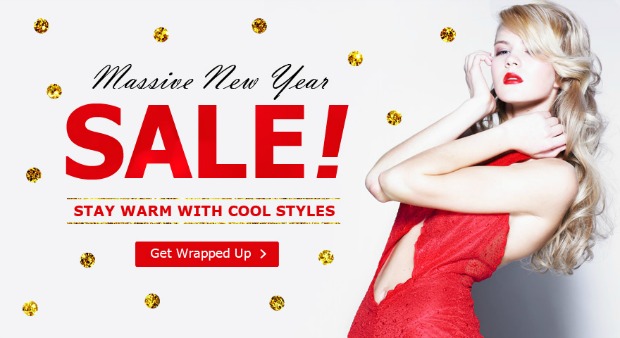 Kid's clothes are also featured. The selection is smaller, but there are some nice options available for both girls and boys. T-shirts, dresses, sweaters, jackets, holiday outfits, sports suits, and swimwear is all included. Many are available in kid's sizes 6 through 10, but there are a few options for babies and toddlers as well.
Rose Wholesale Prices
There is no fee for creating an account or ordering from Rose Wholesale. The only amount due is for the products that are being purchased. Prices vary a great deal, depending on the types of items being bought, and the quantity of each item.
There are four main shipping options available. Flat rate shipping typically takes weeks to arrive, but only costs $3.31. It can take 25 days at most. Priority Direct Mail takes less time, and costs $5.29. It is only available in some instances. Standard shipping usually arrives in 6 to 10 days after the order has been processed. Customers can pay $10 for this option. Expedited shipping, which costs $14.15, only takes 3 to 7 days to arrive.
Bulk order discounts are available on many of the products. Single customers are not all that purchase from this shop. Many boutiques or other online stores will purchase their clothing at a discount from Rose Wholesale, and sell it themselves. Ordering at least 2 of the same items will earn a small discount, while ordering more than 10 is an even better deal. Ordering 50 or more of the same item receives the largest discount reward.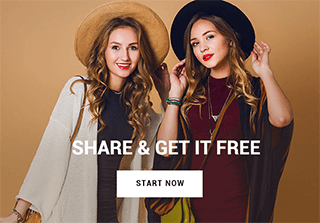 There are four separate payment options available on Rose Wholesale. Many people choose to pay either with a credit card, or through paypal. These are the safest methods to use. The site is fully PayPal-verified.
A wire transfer is also an available option. Customers choosing this method must note their order number, total amount, transaction number, and wire transfer date. This information must be provided to Rose Wholesale so the order can go through properly.
The final option is to use Western Union. A 5% discount is applied to all purchases using this method. Customer support must first be contacted in order to complete a purchase this way. After paying, the customer must submit details of the order to the company. The details include the sender's name, total amount, sender's address, shipping address, and the 10 digit control number.

Downside of Rosewholesale.com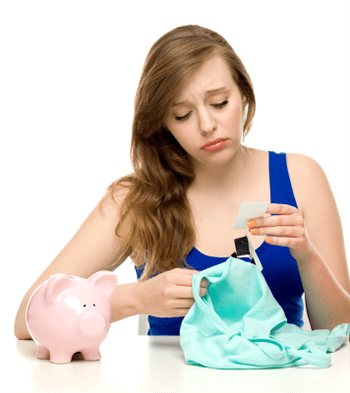 One of the major downsides that people report after making a purchase from Rosewholesale.com is the fact that clothes are smaller than anticipated. Many say they order their original size that they would get from other stores, only to have it fit at least one size too small. In some cases, it seems to be even two sizes too small. Since Rose Wholesale is an international shop, sizes are not completely the same in every country. There are going to be variations between what is purchased from a U.S. shop, and what is purchased online. Customers should purchase a size or two larger when ordering in order to receive an item that will fit appropriately.
Because of the international aspect, shipping can take quite a while. This has been a main downside for many customers. For a higher price, people are able to have expedited shipping that will arrive within just a few days. Without paying for the higher price, however, a 25-day wait may be possible. Shipments come from China, as indicated in the Terms and Conditions, and this is the reason for the lengthier shipping schedules.

Customer Support
There are three main support options when trying to contact Rose Wholesale. Customers can use the live chat feature during the day if they wish to speak to a representative immediately This option is available pre-sale in order to have important questions answered about the products. Customers should enter their name, email address, and question in the text box and click the pink "Submit" button in order to place their inquiry and receive feedback shortly.
Once a purchase has been made, customers can submit a support ticket in order to find out further information about their order. A representative will respond within 24 hours. The first step is to select the type of question, such as whether it is an inquiry on a placed order, question about an order already shipped, a return request, payment issue, account problem, or website feedback. People must sign in with an account in order to submit a request. It is best to attach a picture of the item received in order to specify exactly what is being asked.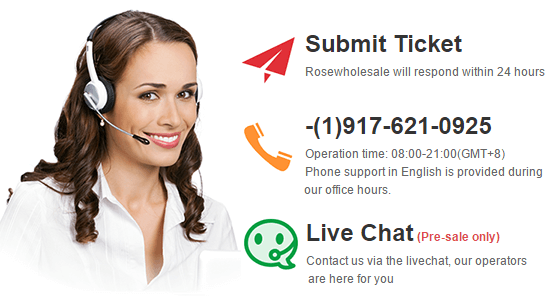 There is also a telephone number where support can be reached. United States customers are the only ones who have access to this hotline, as phone support is in English. It is available from 08:00 to 21:00 GMT+8. Customers can call -(1)917-621-0925 during this timeframe to speak to a representative.
Those that would like to reach out to Rose Wholesale through social media can do so. There is a Facebook page for the site where customers are able to message the company and receive information. It also allows people to receive access to additional special deals and see new products.
Final Thoughts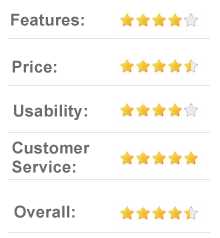 Rose Wholesale is an ideal site for people looking to purchase in bulk. Discounts are added to those who purchase this way, even when there are already discounts on the items.
A large variety of clothing and accessories are available, ensuring every customer can find the fashion items they are looking to obtain.