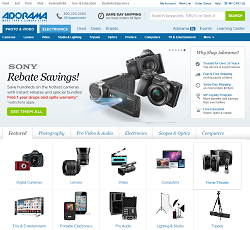 The hardest part of being an aspiring photographer is finding high quality information and equipment to learn and practice with.
Professionals desire a likeminded community to share ideas and techniques, service each other's tools, and refer clients around.
This is why Adorama is "More Than a Camera Store." In addition to having a huge inventory encompassing anything related to photography and videography, they are a full-service shop, footage developer, leader in education, swap meet, and much more.

About Adorama.com
Adorama began as a physical storefront in New York City. Through its 30 year illustrious career, it has developed into the digital realm to become the top website for consumer and professional electronics for imaging purposes. This statement is justified by its inclusion into certain prestigious lists, such as the Forbes Best of the Web, Consumer Reports Top 5 Electronics Retailers, and more. It's even the official retailer for the NY Giants sports team.
It's best not to think of Adorama.com as just a retailer. They are a full-service destination for the entire industry. If you want to sell your used equipment, restore and reprint a photo album from your grandmother's wedding, rent a camera for a weekend movie shoot, or learn the conventional methods to produce top quality footage, it can all be done from this one website.
Top Feature of Adorama
The surface level of Adorama is straight forward and doesn't need explaining. You can purchase great equipment from top brands at the most reasonable prices. But to leave it at that would be doing you and Adorama both a great disservice because this website is so much more.
Sometimes you don't need to purchase a certain piece of equipment just for a one-time use. The Adorama Rental Company (ARC) will let you borrow as little as one item or rent an entire studio so you can use or test out specific equipment without committing to purchasing it first. Every piece is inspected after each use to ensure your rental will function properly and you can even be taught to use it if you're in town. Otherwise it can be shipped to you anywhere in the United States.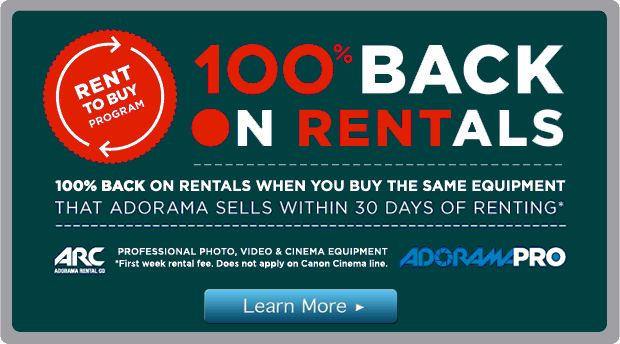 The Adorama Used and Trade program allows you to sell your equipment or trade in for an upgrade. This removes a ton of hassle for me as I constantly become interested in a new model and don't want to deal with personally selling the last piece. You can also purchase these refurbished items at a discount as well, good as new.

Having equipment and clients is no good without being able to show off your portfolio and skill level. AdoramaPix provides the finest quality photo books and individual prints, created by professionals. This in-house image development building can take any custom design of your creation (or provide templates) and send you sample photobooks or portfolio binders so you can more easily close deals with clients and build trust with them.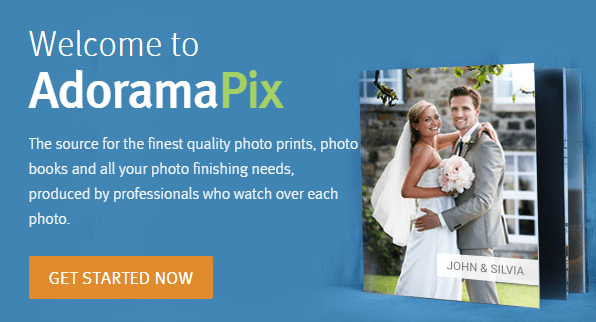 The Adorama Learning Center is where I spend the large majority of my online time. They've essentially created a huge database of video tutorials, interactive instruction, and product reviews all through what they call Adorama TV. It's free and always available with new episodes being launched daily. If you prefer to learn in person, you can meet and enjoy workshops with professionals on any topic at the New York City store location.
Adorama Prices
The typical prices are good enough on Adorama that nobody else can compete well enough to justify having me shop anywhere else. Most of the time, I can find what I want used and refurbished. If not, I always check through the specials and open box deals to see what kind of discount I can snag there.

Remember too, anything related to video and picture photography is available, meaning you can buy televisions, computers, home theater equipment and even office supplies from them at equally low prices. It's convenient for me to order all I need or want at once from one company and have it all arrive together from one warehouse than to spend an entire evening driving around to different stores hoping they have what I need.
It's worth mentioning that if you're a government employee, educational employee, or student, you can receive discounts on individual purchases or bulk purchases for your office or students. The same goes for corporate purchases in terms of bulk orders.

Criticism of Adorama.com
There are two main categories of complaints that you'll find surrounding Adorama, some of which are legitimate and some that are unfair to the company. You'll find as many top quality reviews as negatives, but let's take a deeper look at the typical complaints.
Like most large companies with sizeable inventories, they have to rely on computer tracking and notifications. There are negative reviews floating around where an Adorama employee always responds explaining it was a glitch in this tracking system. Some people, for instance, didn't receive back order emails during the Cyber Monday mad-rush of purchasing. Some people didn't receive their shipping confirmations or other notifications. This is an inconvenience but hardly justifies a zero or one-star review.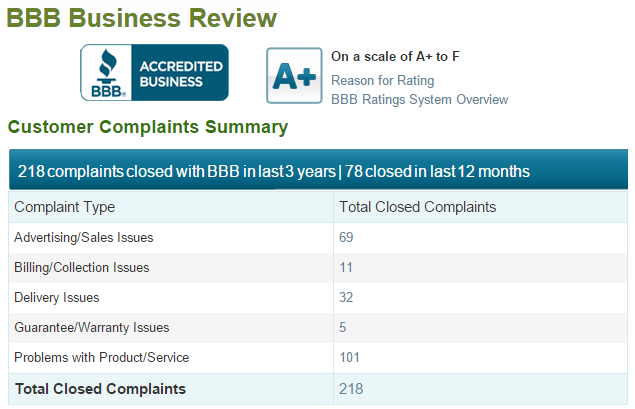 The unfair complaints have to do with the return policy that these reviewers obviously aren't reading. Some items can't be returned to the retailer but must be returned to the manufacturer after being opened, such as laptops and tablets, for example. I don't know why this is the case but it's the same at any online store I've ever shopped at and comes as no surprise to most people. Again, this doesn't justify the ferociously negative reviews floating around either.
As I read negative reviews, I try to see how much emotion is pouring through them and if they are overly negative about typical issues. Every company is going to encounter small issues. This is why every company has a customer support department. Because things happen when performing thousands of transactions per day. It's unfortunate when it happens to us, but it's a numbers game. Thankfully, Adorama's support is considered legendary among all industries.
Customer Support
The customer support with Adorama is incredible. They have phone lines, email accounts, and departments for any group that could need help, such as government employees seeking bids on orders, law enforcement, and more. Every one of the main features above, including the photo laboratory, the rental department, the used and refurbished department, and so many more all have their own support teams.

Every team has a toll free number, local number, fax number, email addresses, and operating hours listed for easy access. Most of the time it's not even necessary because you can look at the FAQ's and other pages that provide all of the information you could need. Needless to say, customer support simply isn't a problem with this company. I order with complete trust and peace about the entire process. I'm comfortable knowing they have dedicated support teams like this, but it says even more that I've never had to contact them even through dozens of transactions with them.
Final Thoughts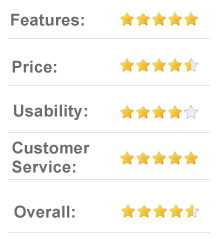 As a hobbyist, Adorama.com is my absolute favorite and most frequented website online. It's not just about buying and selling, although they are the only place I'll consider for that. I appreciate Adorama TV and the Learning Center, which helps me refine my craft. I very well could become good enough to go professional and full-time just from using Adorama.com. Support the home team, the guys who are on our side, and do all of your shopping at Adorama.