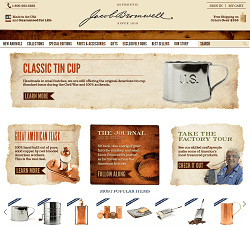 My brother-in-law is an American History buff, which makes gift-giving both easy and complicated. It's easy to shop for him because he generally likes anything related to American history.
However, shopping for him is also complicated because actual, bona-fide pieces of American history are hard to find. Plus, anything remotely rare is usually very expensive.
Fortunately, my search for the perfect Christmas gift led me to JacobBromwell.com, a site which features all sorts of interesting objects related to American history. I didn't just find the perfect gift for my brother-in-law; I found a variety of cool gifts for others, too. (I even picked up a cool Tin Cup for myself!)
Check out my full review below:

About JacobBromwell.com
Jacob Bromwell is the country's oldest manufacturer of kitchenware and housewares. Established in 1819, their products are exceptionally high-quality, and made with great pride right here in the U.S. Their experience working with tin and stainless steel is impossible to beat.
Jacob Bromwell was a real person, and he founded the Bromwell Brush and Wire Goods Company in 1819. For about 100 years, the company operated from a six-story warehouse in Cincinnati where they made a variety of household items. Some of their most popular products were their Original Popcorn Popper, their Classic Tin Cup and their All-American Flour Shifter. In fact, they actually invented the flour sifter, and the original design is still used today.
In 1923, the company was split into two parts. The fireplace aspects of the business were sold to a family in Cincinnati, where fireplaces are still sold today at a store called Bromwell's, which sits in the original Brush and Wire Goods factory location. While I'm sure this is a fine location, they are actually now completely separate from the second part of the company, JacobBromwell.com.
Renamed after the founder, JacobBromwell.com remains dedicated to producing kitchenware and similar household goods. Their logo is the actual signature of Mr. Bromwell, and all the products are based around the man's personal story. Today, they operate out of two manufacturing facilities – one in Indiana and another in Vermont. From there, they sell products all over the world.

Fascinating Features about Jacob Bromwell
Every product is made with 100% authentic materials. This includes tin, aluminum, copper, wood, iron, leather and stainless steel. Every material is sourced domestically. While it does add a bit to the cost, the end result is products made in the most authentic, historically-accurate way possible.

Several pieces of machinery from the early days of the Bromwell Brush and Wire Goods Company are now part of the permanent collection in The Baltimore Museum of History.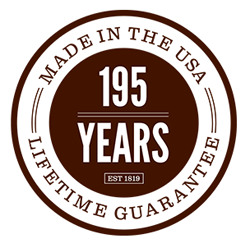 All products are made in the U.S.A. While the products could be slightly cheaper if they were made in a foreign country, the quality would also be at risk. In order to ensure their wares are exactly as they were almost 200 years ago, Jacob Bromwell only hires skilled American artisans.
Any of their copper products can be engraved before they're shipped to you. Copper products previously purchased can be sent into Jacob Bromwell for engraving, although you'll be charged $200 per item. All products are engraved in Times New Roman unless another font is requested (and approved) beforehand.
People all over the world enjoy Jacob Bromwell products. The customer base includes hunters, fishers and other outdoorsman. Chefs and anyone who takes cooking seriously often use Jacob Bromwell in the kitchen, too. History buffs, celebrities and even Hollywood set designers are also fans of these timeless products.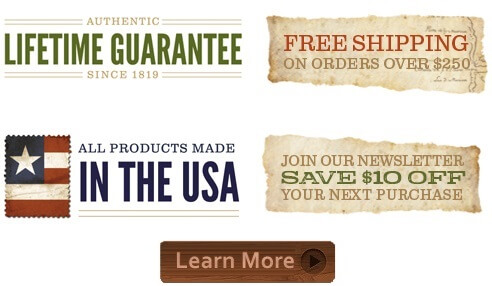 JacobBromwell.com Prices
The products from Jacob Bromwell are definitely high-end, and the prices do reflect that. Their original flour sifter is $85. Their world-famous Original Popcorn Popper is $124. The Classic Tin Cup is $75. Now, to me, these are certainly higher prices than I normally pay for kitchenware. But the kitchenware I buy doesn't typically last a lifetime, while Jacob Bromwell products will.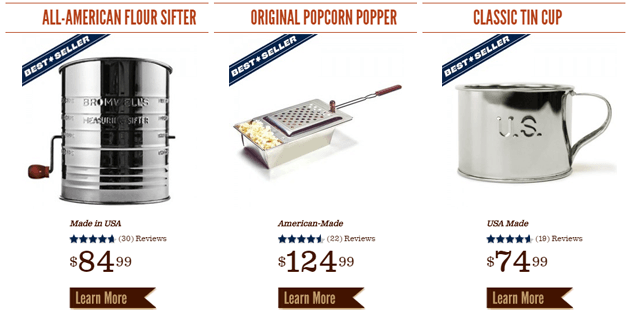 There are some savings to be had. They offer monthly deals in their e-newsletter. They also have free shipping on orders over $250.
Customer Support
This is a company which clearly takes pride in their products. That pride extends to every aspect of each product's sale, including shopping, ordering and shipping. Their customer service department is open 24 hours a day, all year long, including holidays.
For copper products, they offer free repairs. Requesting a repair is done via a quick online form found on their website.
Their shipping policies are very customer-friendly. They're firmly opposed to up-charging when it comes to shipping rates. In other words, they only charge true shipping costs. Whatever UPS, USPS or FedEx charges to ship your items is what you pay. I found this to be a refreshing change from the many vague "shipping" charges I've paid to other online retailers over the years.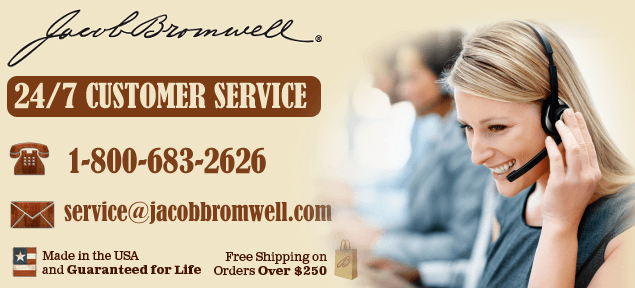 Once an order is submitted, the process moves fast. If you have a copper product, you'll have about two or three days to make any changes, such as alterations to any engraving. For a non-copper product, there's generally no time to process any changes. If you order a product you don't want, however, you can return it. All the instructions for returns are on their website.
Ordering by phone or online are the two main methods used, since Jacob Bromwell doesn't operate any brick-and-mortar stores themselves. The do license their products to 200 retailers throughout the U.S. and the world. They're highly selective when it comes to what retailers they allow to sell their goods.

Criticisms of Jacob Bromwell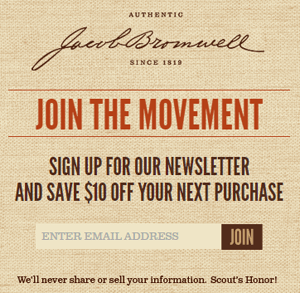 This selectivity also indirectly leads to the source of most of the criticism I found online. Basically, people have found Jacob Bromwell products through unauthorized sellers, and aren't happy with the results. I found an entire forum dedicated to people who bought what they thought were Jacob Bromwell Tin Cups for a dollar apiece. The cups turned out to be incredibly poor quality. Whether they were actual Jacob Bromwell products or not, I can't say, but they definitely weren't being sold through the proper channels.
While I understand why so many people might have been excited about such a great deal, it's unlikely you'll find the classic Tin Cup for a dollar when it normally retails for around seventy-five. Unscrupulous retailers definitely use the Jacob Bromwell name to take advantage. The best way to prevent this is to only order online from the JacobBromwell.com site. If you find products in an actual store, double-check the Jacob Bromwell website in order to confirm that the retailer is an official seller.
Final Thoughts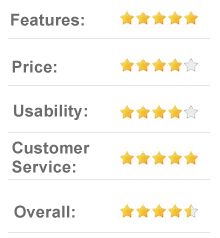 Jacob Bromwell has turned me into an American History buff just like my brother-in-law. Since I found this site, I've ordered three Tin Cups, a Flour Sifter (for my brother-in-law) and a set of Frontier Frying Pans. Each order arrived without any problems, and the quality of the products couldn't be higher.
From an online marketing standpoint, JacobBromwell.com is also very high quality. The design of the site is warm and compliments their overall aesthetic. Plus, there is plenty of information beyond product descriptions. You'll learn some fun bits of history related to each item. If you want to know absolutely everything, there's even a free e-book you can download detailing the history of the company.
Whether you're looking for high quality kitchenware suitable for daily use, or if you're just looking for a unique gift of pure Americana, Jacob Bromwell is where you should go. The products are excellent, and the entire online store is easy to navigate. I give Jacob Bromwell my highest – and most patriotic – recommendation.