AdultFriendFinder.com Review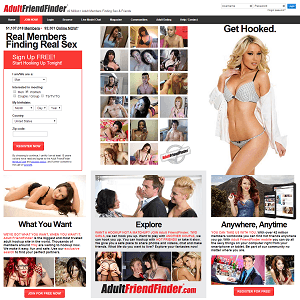 There truly is a dating site for every specific niche. While some people use online dating to find relationships that will hopefully lead to marriage, there are some people who are not yet interested to settle down or launch into a relationship. Instead these types of people are more interested in finding other adults to fool around with.
The emergence of the Internet has made it much easier for people to search for friends with benefits and more adult types of activities have become more easily accessible to the common person. AdultFriendFinder.com is a site that allows one to peruse a different type of relationship.
About AdultFriendFinder.com
The AdultFriendFinder dating site was one of the first adult dating website and still remains one of the best adult-themed dating sites because of its interactive features and increasingly large member base. Owned and operated by Penthouse (yes, the adult magazine) it serves as a community where people can make new friends, find the hottest singles, wildest couples and sexiest groups. The site is easily accessible and caters to a every type of sexual being, while focusing mainly on more sexual or casual encounters. Whether one is straight, gay, looking for sexy women or men, one will find anything and everything he/she wants on the site.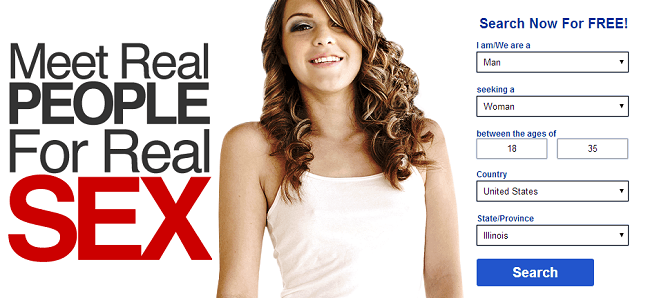 To begin, a free trial account can give one a basic idea of what AdultFriendFinder offers, and whether or not it has the sort of content and features that you want from a dating website. If you're looking to meet other horny, sex-obsessed people in your immediate vicinity who probably don't need to even know your real name, this is the kind of place where like-minded, sex-hungry humans congregate.

Top Features
To its credit, AdultFriendFinder has a few strong features going for it. First off, although the activities that one is searching for may be a bit dirty, the overall design and structure of the site is fairly clean and sleek. Upon visit to the website, one is able to seamlessly browse many profiles. The search functionality is truly comprehensive, and is great at pinpointing and delivering the specific thing you are looking for at the site. Instead of getting a hundred results, only a dozen of which are really appropriate, this site gets you to all the results more efficiently.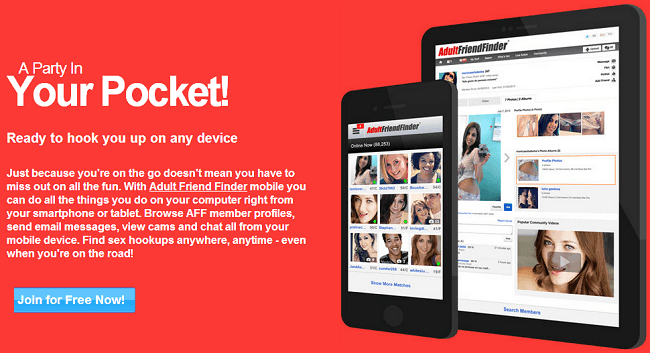 AdultFriendFinder offers a matching system for every fantasy, sexual want and gender you can imagine, including groups, swingers, exhibitionism, cross dressers, BDSM and email or phone fantasies. Additional search functions include: geographic location, gender, sexual orientation, sexual preferences, and what you personally have to offer (i.e. you are a bisexual couple or a heterosexual male). Combining this effective database dissemination with the truly staggering amount of people supposedly using AdultFriendFinder, and you've got a quality hookup site.
In addition, for paying members the site provides comprehensive access to the site, with features like live cams, chat rooms, user blogs, forums, instant messaging, and email. All of these features allow users to interact and get to know other members of the community, making it easier, quicker and a much more efficient way to meet up with like-minded singles. In addition, the camera chat feature helps verify that the profile matches up with who is really behind the profile. Since the video camera does not lie, it helps give one more peace of mind that the person is legit prior to meeting up in person.

AdultFriendFinder really knows how to connect people looking for sexual escapades. The site has numerous free chat rooms are usually teeming with people looking to meet up for adult dating, as opposed to many pay-per-use sites where the chat rooms are normally empty. In addition, some of AdultFriendFinder's chat rooms are freely accessible by any member, regardless of their status and payment history.
AdultFriendFinder Prices/Costs
When it comes to cost, AdultFriendFinder does not break the bank, but still requires one to shell out some cash in order to fully receive all of the capabilities of the site. In order to motivate users to try the site, the website offers free registration and membership to all of its users, but limits contact (no sending emails or instant messages) and searches (only a certain number of people returned per search, with no options available to edit search terms). Some lucky members whose demographic information is favorable and rare to AdultFriendfinder may find themselves with free access to the site, but this is becoming more and more rare.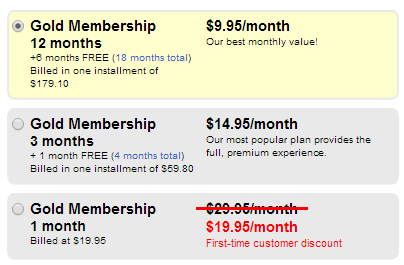 For a smaller monthly fee, Silver ($20 USD) and Gold ($30 USD) members get their profiles moved to the top of the search lists, as well as access to all of AdultFriendFinder's services which include: messaging, blogs, video chat and access to an electronic magazine. Gold members have the additional features of added storage space, as well as keyword-based searches for members across the entire network.

Criticisms of AdultFriendFinder.com
A typical visit to the site finds most new users overwhelmed by the number of people in their area that are looking for adult fun, but this should be taken with a grain of salt. The main issue with AdultFriendFinder is that despite the claim that the site has more than twenty million members, quite a few of the profiles on the site are either abandoned, fake, or belong to "professional" sex purveyors looking to increase their client base. That doesn't mean that the quality of matches were poor overall (especially in the larger metropolitan areas), but users need to be aware that a larger-than-average number of users aren't looking for casual, no-strings sex on AdultFriendFinder but rather, they are looking for new clients.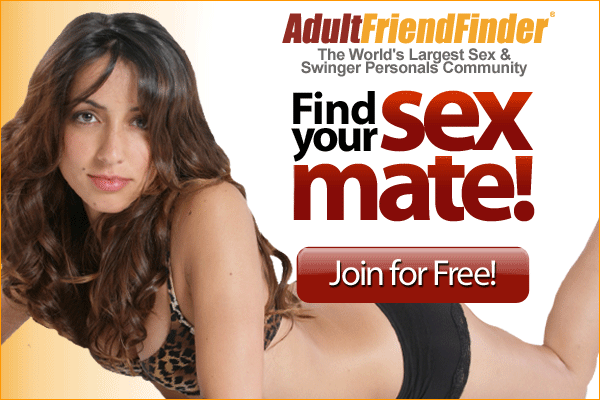 Additionally, the site itself is convoluted and difficult to navigate. It can take quite a bit of time learning how to get to all the places you want to use while online there, but like anything else the more one uses the site the more familiar and better equipped to use the site one will become.
Lastly, the site does a poor job with customer services and profile verification. In a genre that should be policed heavily to help its users feel more safe and secure, the site fails to have a strong customer service presence which can leave one feeling a little discouraged and un-safe. As a result, one must solely rely on his or her own instincts when meeting up with a person from the site, which is why a video chat is highly recommended for profile verification.
Member Communication System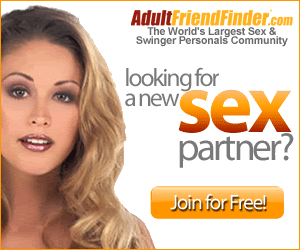 As previously mentioned, the site allows for many ways to talk between other users and members of the community. Whether it is through blogs or actual messages, the site is very conducive to talking to others with similar interests. That said, similar to other sites out there, one can also set up their account to receive notifications via e-mail regarding any updates to the site and also any possible matches. In addition, there is a mobile app version of the site, which allows one to communicate with members anytime, anywhere and makes it perfect for the sex-obsessed individual who even wants to hook up while on the road.
Final Thoughts on AdultFriendFinder.com
As far as adult dating website are concerned, AdultFriendFinder.com is one of the best sites for searching for adult-related sexual encounters. While there are certainly areas of the site that can be a little hard to maneuver or not up to par, the majority of the site adheres to one's needs. With millions of members of all sexual orientations, there really is something for every person looking for sexual, no-strings flings on the site. The site will be sure to keep one occupied for a while and will lead to finding some new friendships and encounters. In the end, AdultFriendFinder gets the job done and will leave one fully satisfied upon completion of its services.