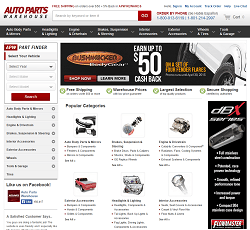 The advantages of online purchasing extend well beyond retail purchases for individuals, and AutoPartsWarehouse is a company that has used the Web to offer auto parts to repair shops and individual do-it-yourselfers, enabling cost savings and the convenience of rapid parts acquisition for both types of buyers. We are impressed with the range of parts that the company covers, and our examination of their customer service left us similarly pleased.

The firm supports after-market parts intended both for repair and for vehicle improvement. So whether you are just trying to get back on the road, want to acquire and install high-performance upgrades for your engine, exhaust, intake, or fuel assemblies, or are interested in something on the cosmetic side such as chrome bars or shiny trim, the company will be able to satisfy you.
AutoPartsWarehouse was started in 1995, and today is one of the leading online auto parts and accessories distributors in the U.S. Their associated website receives an average of two million unique visitors per month. They maintain a catalog of over 550,000 auto parts and accessories, covering all domestic and foreign makes and models. Their website boasts that their customers can get up to 70% off of regular retail prices.

Customers can also benefit from budget offers not available elsewhere, that include a limited price match guarantee, free shipping on orders over $50, and a range of payment plans. We will also take a very detailed look at their warranty. The firm also focuses on fast delivery, and this capability is supported by their use of several strategically located warehouses. They also process orders with great speed, and delivery anywhere in the country. They want you to get back on the road as quickly as possible, so that you can sing their praises to friends, family, and business associates.
Featured Products
Any description of what they have on offer requires a separate look at the models, parts, and part-making manufacturers that can be found on the company's site. In each case, the list is so exhaustive that we can only provide a sampling. When it comes to models, they cover everyone from Acura and Alfa Romeo to Volvo Yugo (we aren't aware of a car maker beginning with Z), and in between they have Daihatsu and Dodge, Jaguar and Jeep, Lamborghini to Lincoln, Peugeot and Plymouth, and Pontiac and Porsche. In fact, we counted a grand total of 52 vehicle manufacturers, a fairly comprehensive list.
When it comes to parts, it's hard to see what they've left out. They have A/C compressors and condensers, air filters, alternator, and Axle assemblies, and that's just the A's. Brakes, catalytic converters exhaust systems, fuel injectors, light assemblies, mirrors and mirror glass, motor and transmission mounts, mufflers, shock absorbers – basically the works.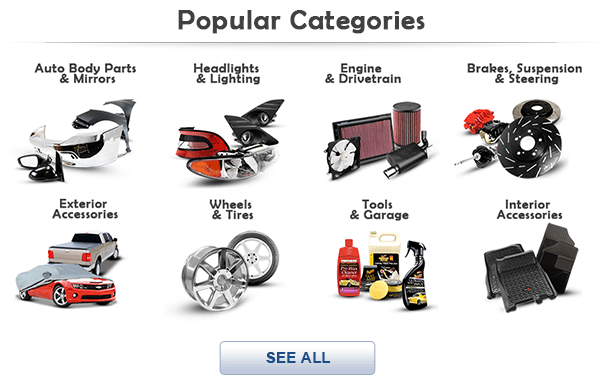 And the firm offers solid quality, OE components engineered, as their website says, from "top quality materials that can stand up to extreme forces and elements." Because the components have OE fit, they allow for easy installation, optimum efficiency, and 100% compatibility with other neighboring parts. AutoPartsWarehouse further asserts that they partner with leading manufacturers to offer only the best online parts, sourced from trusted companies, and at very affordable prices.
The parts makers they work with include 4-Seasons, A1 Cardone, AC Delco, and ACI to start with, and extend to over 100 parts makers listed on their site as contributing to their inventory.
The company also offers a full range of tools to help do-it-yourselfers begin doing it themselves. They also carry supporting devices such as seals, bushings, o-rings, and other tiny components that often will break down and require replacement.

Prices
We decided to look at headlights as our way of sampling the firm's pricing, and we found replacement headlights for under $50 (admittedly on sale), as well as replacement headlight bracket for under $30. You can shop by parts maker, or by price range, and of course by part, and the website search function appears to be very thorough and granular. And after all, they need to have that kind of extensive search capability to enable searches of over a half of a million different parts. We found the pricing to be quite affordable, driven largely by their remarkably extensive sourcing.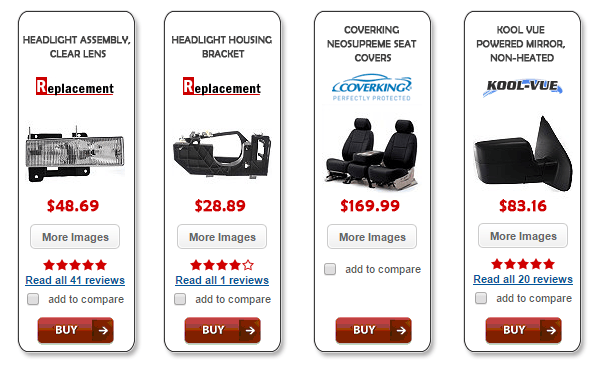 Customer Service
This is a critical factor in a field where parts frequently need to be examined for defects, and where incorrect order fulfillment can result in angry customers and lost sales for repair shops, and in vehicle down time for individuals.
While the firm tries to remain fully stocked with all listed parts, if they do discovery something is out of stock after you order it, they will provide a full refund and immediate notification via email. If you find a manufacturer's rebate for an eligible part, download and print the rebate form, fill it out and follow its redemption instructions, and mail those materials to the manufacturer (not to AutoPartsWarehouse), and they will be able to honor the rebate.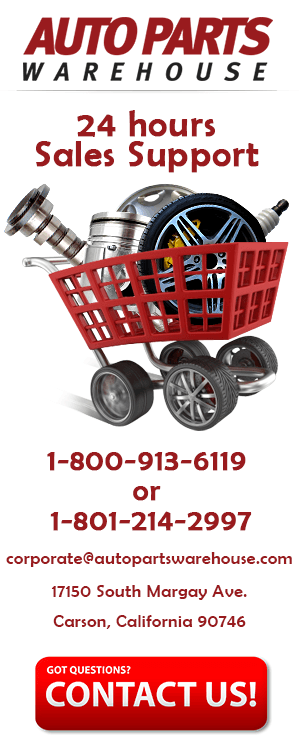 The company will ship anywhere in the United States, including Hawaii and Alaska, but is not able to ship to APOs, FPOs, or PO boxes.
The firm uses Bongo International to support its overseas shipping. The service involves shipping the product first to a destination provided by Bongo, and then reshipment to you, but at least you can successfully receive critical parts when overseas.

The firm allows manufacturer warranties to stand alone, and offers no additional backing. However, if a part is not covered by a manufacturer warrant, the firm offers a limited, 90-day warranty that runs from the date of purchase. The warranty covers replacement of a defective part, provided a replacement can be sources. If no replacement can be sourced, you will get a full refund. For any access to the warranty, you will need to retain, and present, the original sales invoice. And as usual, the parts must be in their original condition and not damaged as a result of incorrect installation.
The warranty is non-transferable, and the firm limits its liability under its warranty to the amount of the original sale. Also, it does not cover airfreight, labor, towing expenses, or rental car expenses arising from installation errors. Return shipping is also the responsibility of the buyer, and will not be reimbursed. You will also need to produce the return authorization number, but customer support will help you identify this number if you need such assistance.
We have described their warranty in some detail, because we expect that this will be a critical factor in selecting an auto parts supplier. We think their policies in this area, while not the most generous possible, are comparable with their peers in the industry and perfectly reasonable.
Criticism
Most of the online commentary indicates that consumers recognize the comprehensive nature of the company's offerings. A number of car owners complimented the firm for having in stock just the needed part for a fairly uncommon vehicle. There were also very few complaints, and those that were registered concerned delivery times and did not criticize parts quality or customer support.
Final Thoughts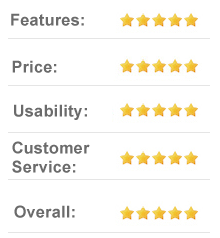 There certainly is a huge market for car parts, and customers will clearly benefit from an online resource that attempts – and in large part succeeds – in providing encyclopedic parts coverage for the universe of makes and models that are out there. Our evaluation of AutoPartsWarehouse persuaded us that they are a solid and reliable supplier in this space, and vehicle owners and repair shops alike will benefit from the parts and service that they provide.