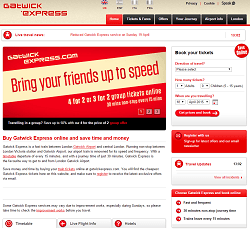 Anyone that lives in downtown London knows that traffic can be a nightmare. For commuters on a tight schedule, even a short delay can throw off an entire trip. Missing a flight can lead to hours of unnecessary frustration.
GatwickExpress.com is dedicated to helping commuters travel quickly and easily between downtown London and the Gatwick Airport. Commuters can buy tickets to ride on the Gatwick Express, a train service that helps travelers to avoid traffic delays and make their flight with time to spare.

About GatwickExpress.com
The Gatwick Express is a nonstop train service that is popular amongst UK commuters. The train operates between the London Gatwick Airport and the Victoria Station in downtown London. The train departs every 15 minutes and saves commuters from having to deal with traffic jams or delays. Customers can relax during a nonstop 30-minute journey between downtown London and the airport. The Gatwick Express is cheaper than using a cab and easier than trying to drive in downtown traffic.
Customers can choose between purchasing an Express Class ticket, which offers access to climate controlled cabins and a variety of light refreshments, or a First Class ticket. First class seating is slightly more expensive, but gives commuters a more spacious and accommodating environment. First class customers that purchase an anytime return ticket through the GatwickExpress.com website also receive complimentary access to the Gatwick No. 1 Airport Lounge.
Tickets can be purchased ahead of time by using the GawickExpress.com online booking service. This is a convenient and cheap way to arrange transportation between Gatwick Airport and downtown London. Online customers can choose from a variety of ticket types, the most popular of which include: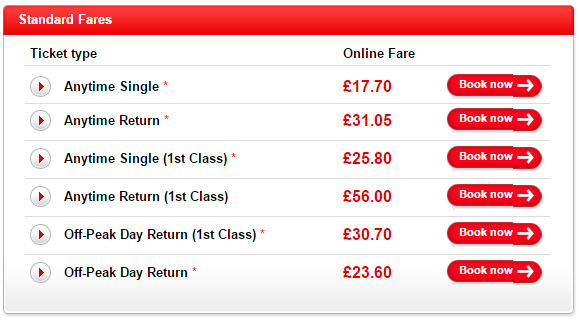 Express Class Adult Anytime Single: £17.75
Express Class Child Anytime Single: £8.85
Express Class Adult Anytime Return: £31.05
Express Class Child Anytime Return: £15.55
First Class Adult Anytime Single: £25.80
First Class Child Anytime Single: £12.90
First Class Adult Anytime Return: £56.00
First Class Child Anytime Return: £28.00

By traveling on the Gatwick Express, commuters can save both time and money. GatwickExpress.com gives customers access to a smooth, reliable and stress-free method of traveling between the London Victoria Station and the Gatwick Airport.
The Best Features of GatwickExpress.com
GatwickExpress.com is fast, efficient and user-friendly service that helps commuters to book tickets for the Gatwick Express train. By travelling via the Gatwick Express, customers are able to avoid the traffic delays that downtown London is famous for. The Gatwick Express also saves commuters time and money over taking a cab to the airport.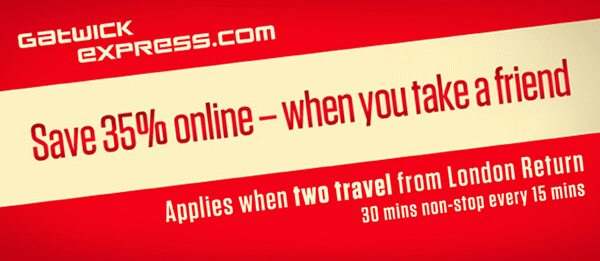 Customers that purchase tickets using the GatwickExpress.com booking service save 10% over customers that purchase a ticket at the train station. The website does not tack on any extraneous booking fees or hidden costs, and offers customers access to promotional coupon codes that can reduce the price of a ticket order.
Multiple people traveling together are able to receive group discounts on tickets purchased through GatwickExpress.com. The website offers both a 3 for the price of 2 discount and 4 for the price of 2 deal. Groups of 10 can purchase 10 tickets for the price of 8.

GatwickExpress.com also offers customers access to 2 for 1 deals on over 150 major tourist attractions. Travelers who book train tickets trough the website can print out a GatwickExpress.com 2 for 1 coupon and redeem it alongside their train ticket at a participating attraction. This promotion is only available to online customers and can save tour groups a significant amount of money on sightseeing trips.
The Gatwick Express team have worked hard to make sure that the GatwickExpress.com website is easy to use for all customers, regardless of any disabilities or impairments. The website is tested across all major browsers to make sure that it runs smoothly and can be accessed across a wide range of devices. Users can also adjust the website's font size or color scheme for better visibility. For the visually impaired, GatwickExpress.com provides audio speaking services through ReciteMe. This program reads text aloud to computer users that have difficulty viewing the screen.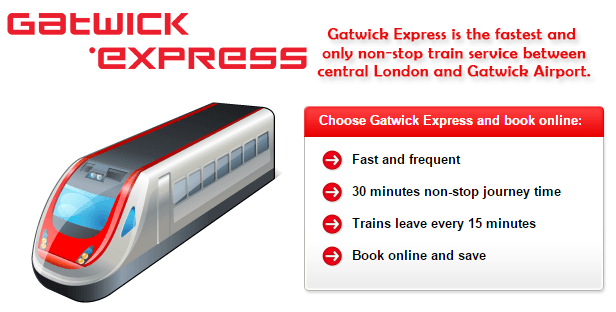 Criticism of GatwickExpress.com
It is difficult for customers to obtain a refund for tickets purchased through GatwickExpress.com. An order can be cancelled before tickets are received in the mail or printed through a self-service ticket vending machine. After a ticket is in the possession of a customer, the only way to get a refund is by applying for one.
Anyone seeking a refund must fill out a form printed from the website and send it in alongside the tickets to be returned. There is a £10.00 processing fee added onto all returns, and there is no guarantee that a customer will receive the full value of the ticket back. A customer that finds him or herself needing to return a ticket will end up losing money on the transaction.
GatwickExpress.com Customer Service
GatwickExpress.com is owned by Southern Railway Ltd., an English railway service. The Southern Railway customer service department can be reached 24 hours a day by phone at 03451 27 29 20. To reach the Gatwick Express customer service team directly, shoppers can call 0345 850 1530 or email customerservices@gatwickexpress.com.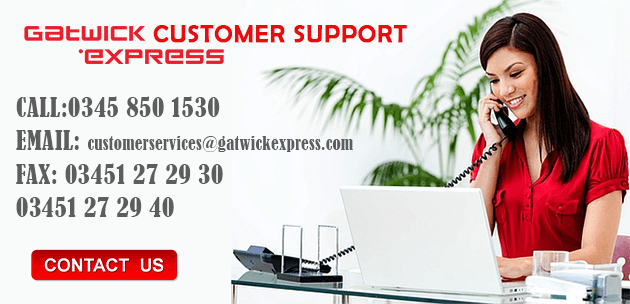 Frequently Asked Questions

Pros of Buying From MidnightBox
Quick and cheap
10% off for online customers
Group deals
2 for 1 tourist attractions
User-friendly website layout
Cons of Gatwick Express.com
Difficult to process returns
Why Should I Use GatwickExpress.com?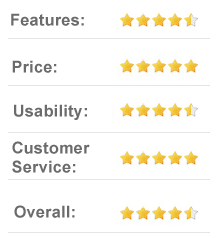 GatwickExpress.com is an online booking service that sells tickets to the Gatwick Express train. This train runs nonstop from the downtown London Victoria Station to Gatwick Airport. Commuters can save a significant amount of cash by travelling with the Gatwick Express instead of using a cab, and save time over driving by avoiding traffic delays. The Gatwick Express makes sure that tourists and locals alike can travel around London quickly.
The services offered by GatwickExpress.com are ideal for frequent fliers. Taking the Gatwick Express can shave off hours of travel time for commuters. The train takes only 30 minutes to transport someone from downtown to the Gatwick Airport, while taking a cab or driving can take up to an hour and a half. Since the Gatwick Express is quick and reliable, using it can decrease the chance of a traveler missing his or her flight.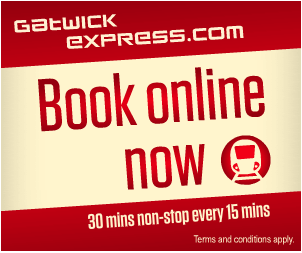 GatwickExpress.com is also the ideal destination for commuter students. Many college and university students travel frequently, whether they are heading home for the weekend or going out with friends. Using the Gatwick Express can save students a great deal of money through discounts for Student Railcard holders and those who hold an International Student Identity Card.
Taking the Gatwick Express is not just beneficial for your wallet, but also your peace of mind. Using public transportation is an easy and effective way for individuals to reduce their carbon footprint. By choosing the train over a car or cab, commuters are helping to conserve the environment.
GatwickExpress.com is the perfect destination for those seeking a ride to the airport. The Gatwick Express is a fast, stress-free and green way to travel between downtown London and the Gatwick Airport. GatwickExpress.com is dedicated to helping travelers to schedule an inexpensive and stress-free trip.