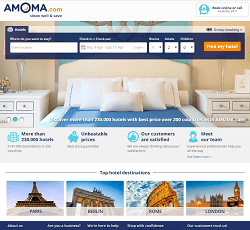 Amoma.com is an established player in the online hotel booking space. The company has relationships with 230,000 hotels in 47,000 destinations around the world, and their website lies like a benevolent high-tech spider at the heart of this immense virtual web. They cover every class of accommodation from backpacker-friendly hostels to luxury chalets, and the globe's major hotel chains utilize their system.
The website provides you with full control of the booking experience, and they have 300 employees dedicated to ensuring that you have a satisfying stay, and that you return to use them again and sing their praises to your friends. The Amoma.com site is highly intuitive, and allows you to search for hotels by destination, price, proximity to a landmark or other desired destination, and you can search by amenities as well. The prices that are shown on the screen are final, with non-included prices, such as VAT and certain fees in European hotels, clearly listed.

Oh, and the site is available in 18 different languages, so after you finish booking a room with it, you can use it to brush up on your French or Italian. Those 300 employees are also an international team, covering quite a range of languages themselves, and chances are they speak yours.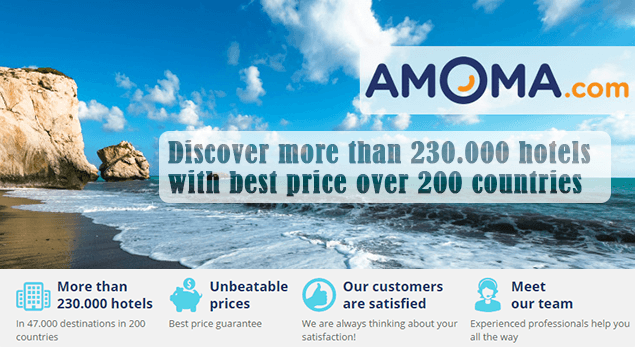 Featured Products
The product they feature is the quality of their hotel information and the ease of operating their search engine, along with the security and clarity of the transactions you conduct through their site. Taking a look at these factors, we find that once you open an account, the software allows you to control your bookings completely, and you can also change those bookings, cancel in accordance with stated policies, and send requests through your account.
In terms of what information they are able to provide on each of their listed hotels, the software goes all the way into such things as whether breakfast is included, or whether parking is included (usually not, by the way).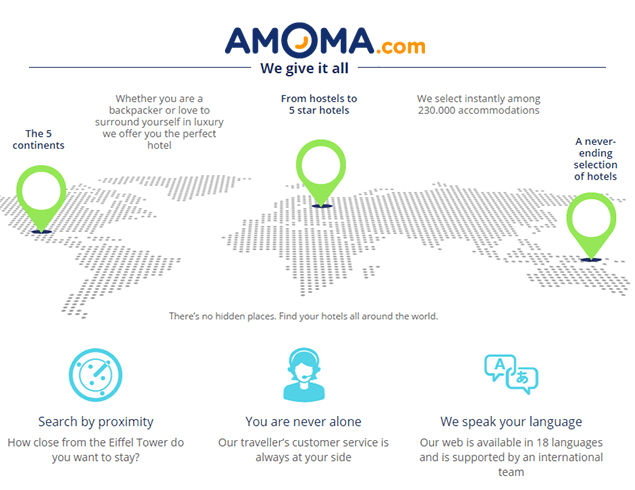 Prices
The prices you are quoted are calculated on a per-room basis for the total duration of your stay, and include local service charges and taxes. For some destinations, however, certain hotels charge city tax or resort fees which the site's software is unable to include, and further details of such charges, as well as "extras" such as phone use, room service and spa use, are provided so that you will not be unpleasantly surprised.
Most rooms involve a pay-when-you-book payment structure, but there are plenty that permit payment of an initial deposit, followed by payment of the balance a few days before check-in, usually by automatic debiting of your account. Be sure to note which method is being used. The site can process Visa cards, Eurocards, Mastercards, and American Express. They can also process the "Debit 3D Secure" versions of those cards, which represents a fairly recent innovation permitting you to conduct a transaction without typing in your card number (you type in a password instead, and only the computer sees your card number). They also support payment by credit cards that carry an international invoicing address.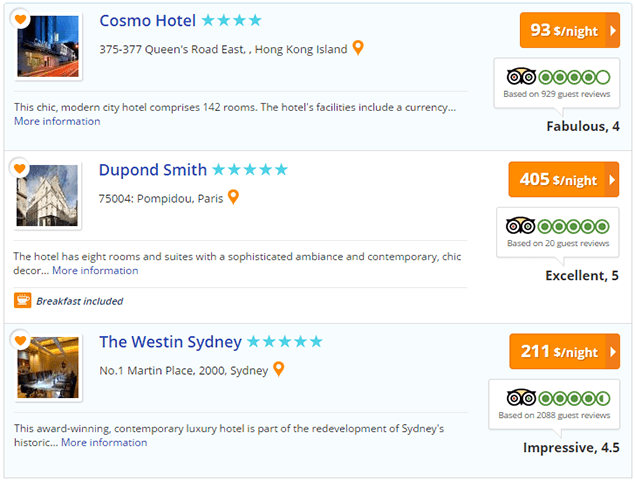 While prices in foreign countries are subject to market fluctuations in currency rates, once you have booked a hotel stay through the site, the currency exchange rate is fixed during payment, even if you add to your current booking at a later stage.

Criticisms
There were some gripes online concerning travel plans going awry, but most of these centered on situations that constituted the kind of bad luck that a booking website and agency could not really correct. These situations included declined credit cards and hotel refusals to change booking dates. Overall, customers have found the site useful and give it credit in particular for its responsiveness to customer inquiries.
Customer Service
And speaking of responsiveness, the firm is surprisingly generous in the provision of individual attention, using its 300 employees not just to manage its relationships with hundreds of thousands of hotels across the globe, but also to respond to their customers' inquiries.
Obviously, they would prefer it if you would book your hotel through the website. They did go to all the trouble of creating it, after all. But if you are a little tech-averse, or even if you just like the reassuring sound of a human voice – a real voice, not one of those computerized ones – they also invite you to go ahead and call. Their staff members are available 14 hours a day on weekdays and eight hours a day on weekends, which represents quite an allocation of resources toward direct customer assistance. They will walk you through the process, complete the booking, and email you a confirmation, and a voucher.
Whether you book through their software or by phone, you will receive not only a confirmation, but also a voucher, which of course is the key to actually being able to stay at the hotel. If for any reason you don't get that voucher, they have layers upon layers of back-up plans to ensure that you do. First, of course, they will ask you to check your spam folder "Voucher" does sound a little like spam to some spam filters, and it may be there.
If not, you can simply go to your account on their site, where you can download, print, or resent the voucher. There's no need to confirm the reservation with the hotel. Just show up, wave the voucher, and doors will be opened for you.
We consider website security an aspect of customer service, since you are being ill-served if a site's security is insufficient. With Amoma, your transaction is 100% secured by Thawte Digital Certification, which is a global standard. In the event you do encounter difficulties in the payment stage, their customer service department will step in to handle such things as failure to receive a voucher, or a hotel's decision to deny your credit card.
And if you want to modify the dates of your booking, or modify the type and/or quantity of rooms you seek to reserve, Amoma supports this with a "change my dates" button located on their site. Click it, and then fill out the online form explaining your desired changes, and the firm's Customer Support team will spring into action and provide you with a detailed answer within 24 hours. While they can't guarantee that the hotel will permit the change, it's reassuring to know that the company will perform that negotiation on your behalf. The hotels do not want to say no to a revenue generator as big as this company, and that leverage will be working on your behalf.
Any special requests? Prefer non-smoking or need a cot or bedrail for a younger child? The site supports these with a dedicated "send special requests" button. Just click it, write in your requests, and they will be sent to the hotel. While such requests are subject to availability and are not guaranteed, it's nice to be able to send them all from the same site, rather than having to switch between your booking agent site and the hotel's site.
Final Thoughts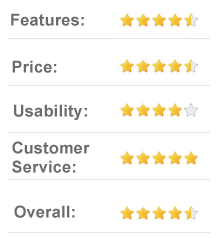 While it may be too soon to say that the days of navigating individual hotel websites are coming to an end, Amoma is now one of the major sites that aggregates a hotel search under one virtual roof, permitting you to examine and compare the full range of hotels that meet your requirements before settling on the one that you are most comfortable with.