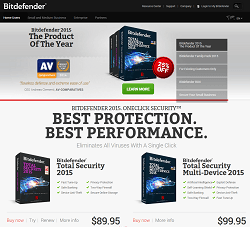 There's another major player in the anti-viral industry space and we're not talking about the medical type of anti-virals. BitDefender is a company that has come up through the ranks based on its aggressive approach to protecting computer from the scourge of computer viruses. While there are certainly better known companies providing these services, this company, by virtue of the proven effectiveness of its technology and software, has earned a respected position in the field, and should be considered by computer owners, and corporate management, looking for the latest and best in computer protection.

Of course, when we talk about protecting computers, today we need to expand that protection to our mobile devices, which, due to their constant interaction with the Internet, are just as exposed to potential damage and infiltration from viruses as are our standard desktops and laptops. The company has responded to this expansion of devices by expanding its protection services to cover them. And besides mobile devices, the firm also offers products for small companies, and has partnered with companies worldwide to enhance security in particular zones across the globe. Let's start with a closer look at their product offerings.

Featured Products
The firm's flagship product for individual and home consumers is its Total Security Multi-Device 2015 offering, which does what its name says – extend comprehensive anti-virus protection to PC, Macs, and Android computers and devices. With this product you get one-click total protection (that's the number of clicks you have to make to install it), a state of the art, automatic defense against existing, new, and even yet-unknown threats, based on behavioral, cloud-based protection.
That "behavioral" protection is something worth looking at. Basically, the software examines not your behavior, but your computer's (or your device's), and if it's not behaving normally or properly, BitDefender will realize that a virus has begun its work, and the software will work its way backwards from the identified misbehavior to the source of that misbehavior, thereby identifying the virus. It will then act to remove or neutralize it. This is clearly a new and advantageous way to strengthen and enhance our virus protection.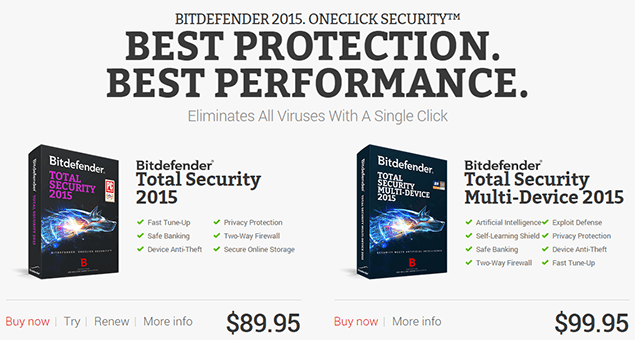 But alongside those advantages, The Total Security Multi-Device product offers safe shopping and banking by defending your personal and financial information from outside threats. The website asserts that this product allows you to pay bills, shop, or bank safely, even on public Wi-Fi's, and also allows you to simplify online payments, by reducing them to one (safe and protected) click. All of that sounds very good to us.
Users of the firm's software can enjoy the further advantages that come with its "Photon" technology, which the site indicates will "eliminate slowdowns," by preventing other apps from interrupting the app you are currently working with. Again, we like this.
Of course, identity protection is a critical issue these days, when a simple online – or in store – purchase at Target can land you in hot water and expose your information to criminal, prying eyes. The company realizes that most privacy breaches hide in plain sight, whether right on your Facebook wall or behind banners. The company's software keeps your entire PC (or device) private, so that such Trojan horse attacks will not succeed.

The company's software extends to the everyday concerns that parents have about protecting their children not from viruses, but from inappropriate Web content. A Kid's Protection service limits access to improper content, and blocks online predators and other bad influences, and also can be set up to restrict Internet access during homework time. Perhaps we adults will want use that option to restrict ourselves from Internet access during our work time!
There's plenty more that the firm's flagship Multi-Device offering offers, and let's get to it. You get two-way firewall, and anti-spam protection which immunizes your Internet connection and prevents data leaks and blocks unauthorized access, and also blocks unwanted emails. In addition, the software will allow users to control lost or stolen devices by letting you track them down, and then lock or wipe them immediately to avoid unauthorized use by whoever has come into their possession. In an era of very expensive smartphones, eReaders, and other devices, this is especially welcome news.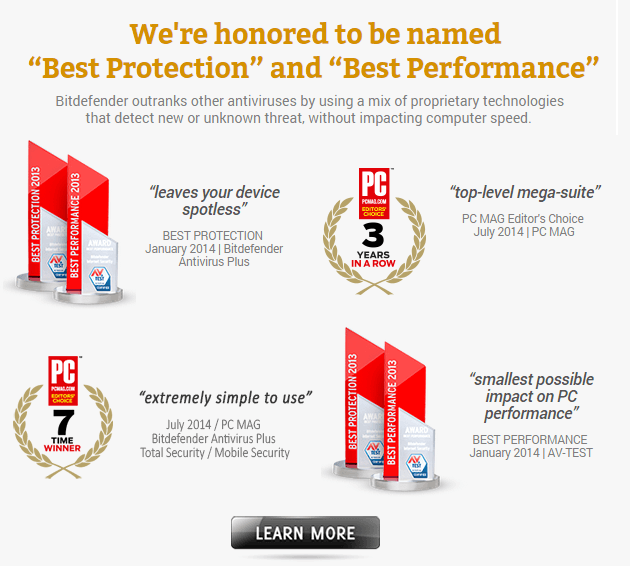 The firm's products also offer secure online backup of your hard-drives and data, not only backing up this critical information but also encrypting it, and permitting quick access from any mobile device, supporting your own personal interconnectivity between your computer and devices. It's protections are also adaptable to Windows, MacOS, and Android systems, and protect each of these from threats that are specific to them.
And when you say hello to BitDefender, you can say goodbye to license keys, because your security will come preactivated, straight from your online account. All in all, we find this suite of services to be about as comprehensive as one could imagine.
Prices
Yes, but how much will it cost? Well, the firm offers its basic Internet Security product for $79.95 as an annual subscription. This product does not offer the backup services, the ability to control lost or stolen devices, or protection across more than one operating system. But if you have only one operating system for all your devices, and a separate backup plan, you may want to consider it. The firm's Total Security product, which sells for $89.95, does everything except that groovy instant activation and multi-operating system protection. And the flagship Multi-Device product, which does everything, costs $99.95. These prices seem reasonable to us considering what you get for them.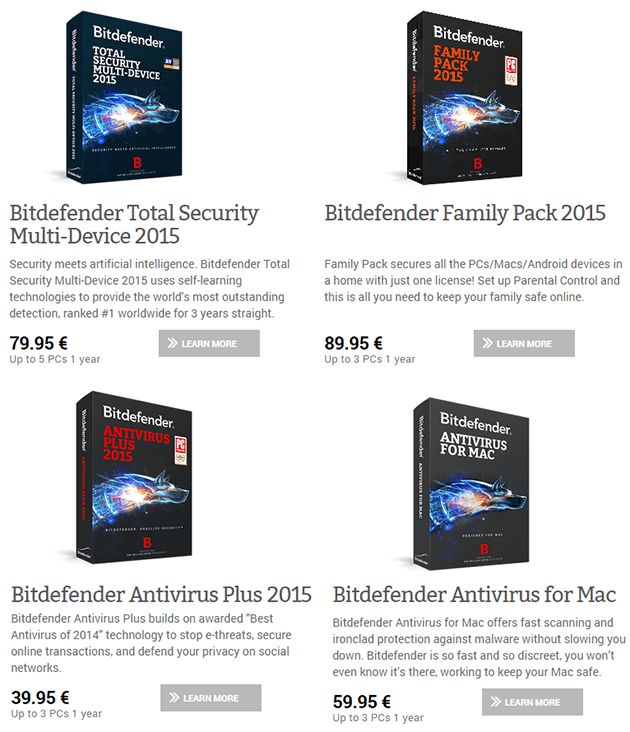 Criticism
We haven't found much in the way of customer complaints. The firm's products rate highly in comparative tests conducted to determine the effectiveness of their protection, and the main trend among customers who have offered comments has been expressions of gratitude at the simplicity of adopting the firm's software, since many of us are indeed tired of struggling to install such software.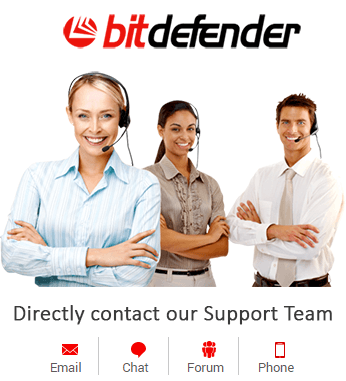 Customer Support
The firm understands that, for its individual and small business clients in particular, who do not have their own tech support department down the hall to rely on, customer support is critical.
They offer 24/7 telephone tech support, and their tech people will work with you until whatever problem you have has been solved. They will open a support ticket, and work with you by email as well.
Remember too that in the computer world, with your permission they will be able to reach right into your computer or device remotely and fix whatever you haven't been able to.
Final Thoughts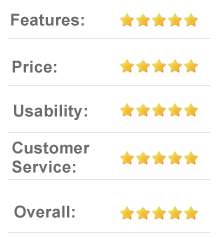 We're glad to see the anti-virus space get a bit more crowded, since it's not all that healthy to have just a handful of major players protecting, essentially, the entire globe's computers from viral harm. What if the big players miss something? Our review of BitDefender has persuaded us that this is a solid, and effective, new competitor in this space that offers truly comprehensive, and very consumer-friendly, services.
Oh, and there is a lot more that they do that we didn't have space for, by the way, including in the corporate space, and their website is waiting to inform you of additional services that they do have on offer. They provide, for example, enterprise support for larger players, and the more entrepreneurial and tech-oriented may be interested in participating in their sales partner program.
There's a new kid in town in the anti-virus and computer and device protection arena, and we're glad to have been able to tell you all about them.