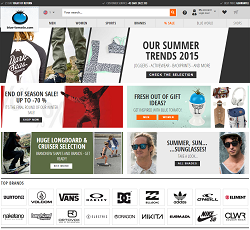 Board sports can get your adrenaline pumping, but can also be dangerous. Skiers, snowboarders and surfers need durable and well-designed equipment to maximize their performance while minimizing the risk of injury.
Blue-Tomato.com is dedicated to bringing top quality gear to outdoor enthusiasts at an unbeatable price. You can find hundreds of well-known brands available that sell the best very best surfboards, skis and snowboards.

About Blue-Tomato.com
Blue-Tomato.com began back in 1988 as a snowboarding school, but soon expanded to include several storefronts. In 1997, the website version of the store was created. The site has since grown into one of Europe's largest online board sports retailers. There are over 400,000 different items available, including equipment for skiers, snowboarders, surfers and skaters. In 2012, Blue-Tomato was taken over by the popular clothing company Zumiez.
The staff of Blue-Tomato.com consists almost entirely of board sports enthusiasts, and each staff member is an expert in his or her field. They are familiar with the products sold through the site and are able to consistently bring customers the highest quality equipment. The Blue-Tomato.com staff personally tests almost every board sold through the site before giving it the stamp of approval.
Staff members are also involved directly with the product development teams of several different companies. They help to test new board models and improve upon design ideas. This allows the company to bring customers the very latest in board sport technology, and gives consumers a say in how new products are being developed.

The Best Features of Blue-Tomato.com
Blue-Tomato.com brings its customers top quality equipment at affordable prices. There are seasonal sales where customers can save money on heavily discounted items, while new 2 for 1 deals pop up periodically throughout the year. Members also receive complimentary free shipping for any orders over 40 euros, and free shipping on returns.
Another way that shoppers can save money by shopping with Blue-Tomato.com is by browsing through the site's assortment of used test items. Blue-Tomato has snowboard testing centers in Obertauern and Schladming where customers can try out a board before they purchase it. If a snowboarder chooses to purchase a test board, any testing fees are deducted from their final total. If they decide not to buy the board, then it is sold to an online customer at a discount.

Blue-Tomato.com is so confident that they offer the best value when it comes to boarding equipment that they offer customers a best price guarantee. If you find a better deal on an item elsewhere within 5 days of purchase, the site will either give you your money back or refund you the difference. This deal is only applicable for legitimate storefronts that operate out of the European Union. Auction sites, such as eBay or Craigslist, are not covered by this guarantee.
For members that are interested in the board sporting community, Blue-Tomato.com operates the Blue World blog. Customers can come here to find news on outdoor sports and travel as well as information about Blue-Tomato stores, staff members and products. The blog also has a section where site sweepstakes are posted. Customers can enter to win prizes such as trips, gift certificates or popular items.
For even more information about board sports and Blue-Tomato news, the site is also active on several social media platforms. Members can find stories about boarding celebrities, brands and products by following Blue-Tomato.com on its Facebook, Twitter, Instagram and Google+ feeds. The website also operates both a YouTube and a Vimeo channel where is posts videos of popular products in action.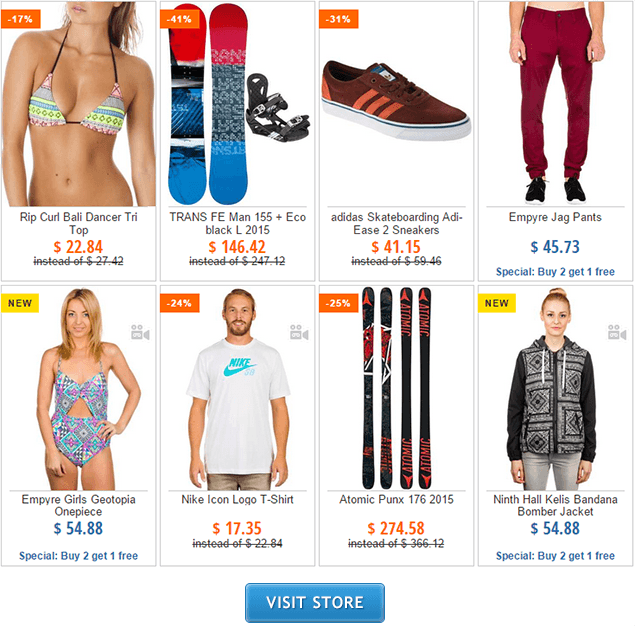 Criticisms of Blue-Tomato.com
Blue-Tomato.com offers free shipping on orders of over 40 euros, but customers do not always find this service to be reliable. Packages often arrive later than promised, and a handful of orders have been lost in the mail. Refunds for missing items can be difficult to acquire.
The website's newsletter also leaves much to be desired. Customers that sign up for the newsletter can receive coupons and deals, but the mailing list is segregated by gender. The newsletter will only convey information to customers about deals for either men or women, but not both.
Blue-Tomato.com Customer Support
The Blue-Tomato customer support team can be contacted by phone on Monday through Saturday from 8.00 A.M. to 10.00 P.M. and on Sundays from 5.00 P.M. to 10.00 P.M. at +4989 4161 4861. Customers can also contact a representative through Skype, live text chat, or by emailing info@blue-tomato.com. Customer service is very helpful when it comes to questions about products, but is occasionally unable to resolve issues regarding payments and returns satisfactorily.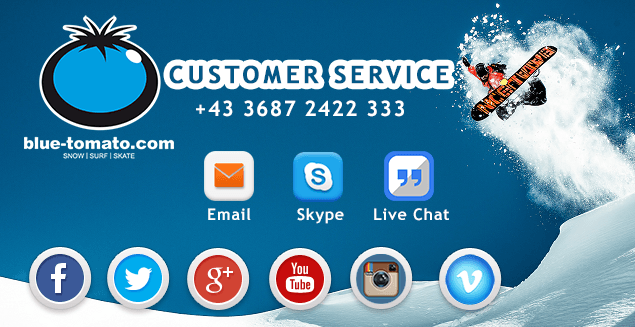 Frequently Asked Questions
Q: Which payment methods does Blue-Tomato.com accept?
A: Blue-Tomato accepts Visa, MasterCard, American Express and Diners. Payments can also be made via PayPal, bank transfers, or cash on delivery.
Q: In which languages can I contact Blue-Tomato.com?
A: The website is written in German, but it is available in a total of 14 different languages. German or English representatives can be reached at any time via phone or Skype, but representatives that speak other languages can only be reached at certain times of the day.
Q: Does Blue-Tomato.com ship internationally?
A: Yes, Blue-Tomato.com ships to locations worldwide in addition to countries inside the European Union.
Q: Do I have to pay to sign up for an account with Blue-Tomato.com?
A: No, accounts are free for customers. Registering for an account is not required for purchasing items, but can make it easier to check out and keep track of your package.

Pros of Blue-Tomato.com
Seasonal sales
2 for 1 deals
Discounted test boards
Educational resources
Social media presence
Cons of Blue-Tomato.com
Unreliable shipping
Sometimes difficult to get refunds
Gender segregated newsletter
Why Should I Use Blue-Tomato.com?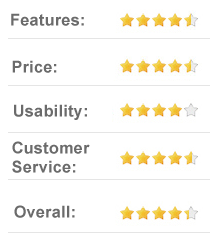 Blue-Tomato.com specializes in selling clothing and equipment for skiers, snowboarders, surfers and skaters. Products are sold at an affordable price and customers are given the opportunity to save even more money through seasonal sales and 2 for 1 deals. Free shipping on orders over 40 euros ensures that any money saved by shopping with Blue-Tomato.com is not negated by delivery costs.
Although the site sells products that span multiple different board sports, Blue-Tomato.com particularly specializes in snowboarding equipment. The company began as a snowboarding school, and still owns snowboard testing centers in Austria where professionals from across the globe come to try out new boards. The center also offers lessons to beginners.
Blue-Tomato's history is reflected by the heavy snowboarding emphasis placed on the website. Many of the clothing items sold are designed for cold weather sports, and the selection of snowboarding equipment is wider than that of other sporting categories. Because many Blue-Tomato staff members are snowboarders above all else, the site is able to find the absolute best quality snowboarding gear to bring to its customers. Certain brands even work with Blue-Tomato to develop new snowboarding products.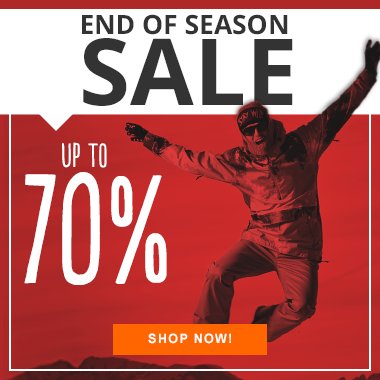 The heavy influence of snowboarding culture on the website's operations makes it the ideal destination for both expert and novice snowboarders alike. There are boards and equipment suitable for customers of any skill level, from cheap beginner boards to carefully engineered professional boards. Budget conscious shoppers can even find heavily discounted boards that have been previously used in a testing center.
Although snowboarding is the primary focus of Blue-Tomato.com, the website also offers high quality products to other board sport enthusiasts. Not every staff member specializes in testing and developing snowboards. The site also employs expert skaters, skiers and surfers to bring in a professional perspective on other equipment that is sold through Blue Tomato. Customers can be confident that they are getting the very best gear available on the market. By shopping with Blue-Tomato.com, members gain access to all of the best board sport brands at the lowest prices.