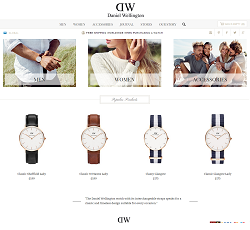 Specialization has its place, and nowhere more so that in the world of watches. DanielWellington.com is a Sweden-based wrist watch manufacturer that has taken this lesson to heart. With all the "everything emporium" online retail companies that have been opening for business recently, it's nice to visit a site that does one thing and does it well.
And when it comes to timepieces, which of course date back to the first lumbering devices that emerged a few hundred years ago in Europe, consumers respond to dedication, craftsmanship, and continuous improvements and innovations. In short, we want our watches to be produced by European obsessives who have been achieving wristwatch perfection for generations. Daniel Wellington fits that bill quite nicely.

The company got its start when its founder, Filip Tysander, went on holiday and met a gentleman in the British Isles who had impeccable style, and who wore his watches on old NATO straps. Tysander was inspired to start a watch company, and for the firm's name, he chose the name of the gentleman who inspired him – Daniel Wellington.
The company sells a range of carefully selected, impeccably stylish and beautifully engineered watches. While not cheap, the firm does take some care to produce products that are affordable. For its own distinctive brand, Tysander developed a watch that was thin, refined, perfectly round, and minimalist. It also has NATO straps, which originated from the British Navy. When you see them, you may decide that that's the style for you.
If not, you can of course also have genuine Italian quality leather straps in black or brown with a silver or gold plated brace. The firm develops all of their watch faces to match seamlessly with their strap collection, and because all the straps and all the watch faces are interchangeable, you can have a different watch for every occasion, without exactly having a different watch.
Featured Products
The company sells twelve men's watches under its "Classic" line, including Classic York, Classic Cambridge, Classic Glascow, and four men's watches under its "Grace" line, including Grace London and Grace Glascow. The Grace watches have Roman Numerals to mark the hours and half-hours (Twelve and Six), while the Classic line offers just a simple, elegant dash to mark each five minute interval.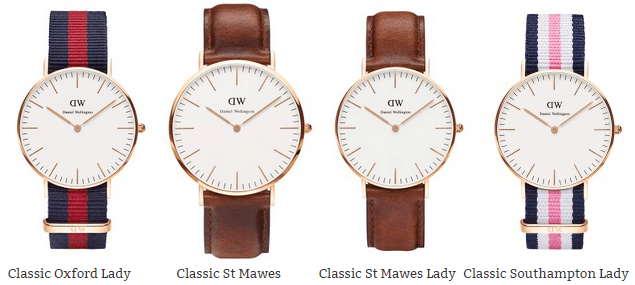 For the ladies, 22 Classic watches are on offer, and four "Grace" watches are offered, with the same two watch face options applicable to each (the differences are focused on the watchbands). Both the men's and women's watches have a striking elegance and charm, while remaining wearable for casual occasions as well.

Prices
The men's watches, which all feature the company' signature circular watch face and elegant minimalist design, run between US$195.00 and US$229.00. This is basically the price range for someone who is willing to pay for style, but not willing to be bankrupted in its pursuit.
The women's watches range from $135 to $229.00, with the "Grace" offerings against being the more expensive. Again, the differences focus on the straps, and those include both a range of elegantly crafted Italian style leather wrist coverings, and the NATO straps which are the company's trademark, and which look surprisingly chic on the wrists of the feminine models that adorn the site's product pages.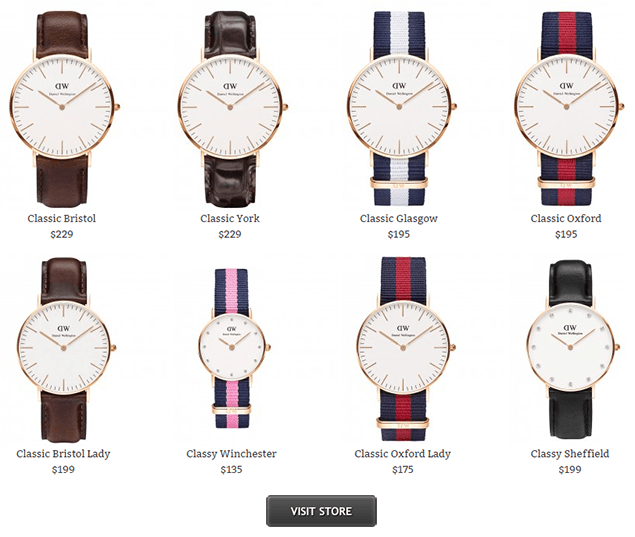 Customer Service
The company supports transactions from all over the world, and does so using webpages that are based in different countries. So before you buy, make sure the page you are on supports a purchase from the country that you are in. Their payment system (wisely, we feel) blocks transactions made from the wrong site in order to minimize online fraud. After paying, you will receive an order confirmation by email. You can also view your confirmation by logging into your user account.
You can track your order as its making its way through space for the purpose of telling you the time. If you are in Sweden, however, your order will be sent by something called Posten Varubrev, and cannot be tracked. Who knew?
Now, what will happen if your watch gets broken? Contact customer service with your order number and they will repair it under their two-year guarantee that, you should know, does not cover damage caused by water, dampness or abrasion. The guarantee is based on the assumption that the watch was subjected only to normal wear and tear.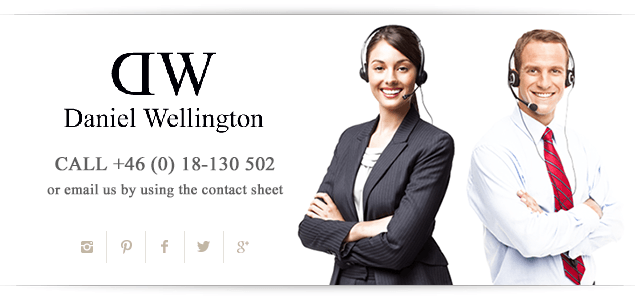 As for returns, be sure to carefully inspect your watch when you receive it, and if you find a defect, contact customer service within 14 days, and they will respond to you. Chinese and Hong Kong orders are not given a tracking number because the company has a warehouse in China, and those orders will therefore be local.
If you order a watch from their EU warehouse, and you are outside the EU, the price you see listed will not include the value added tax (VAT) applicable to such a transaction. As a result, you will be charged that tax at delivery by UPS.
Discount codes are made available occasionally on the site, and through the firm's marketing (try a web search if you're interested in locating one). Once you have one, you can add it to your cart through the "to cart" tab on the site's screen, and the discount amount will immediately be applied to your total.

Orders to Europe, North America, and South America are shipped from Sweden (not quite Switzerland, but close enough), and orders to Asia, the Middle East and Africa are shipped from Hong Kong. For a Swedish manufacturing firm that focuses on producing one line of highly distinctive, elegant watches, they certainly have achieved a global reach.
One other aspect of the firm's customer service involves the actual, physical stores that display their watches, permitting you to simply swing by and pick one up. Recognizing the quality and affordability of Daniel Wellington's wares, Bloomingdales has just recently agreed to host their watches in all of its department stores. With the addition, there are now nearly 750 retail outlets that feature the firm's watches in the United States, and so if you want to avoid those Europe VAT headaches, the firm's website will direct you to one of them.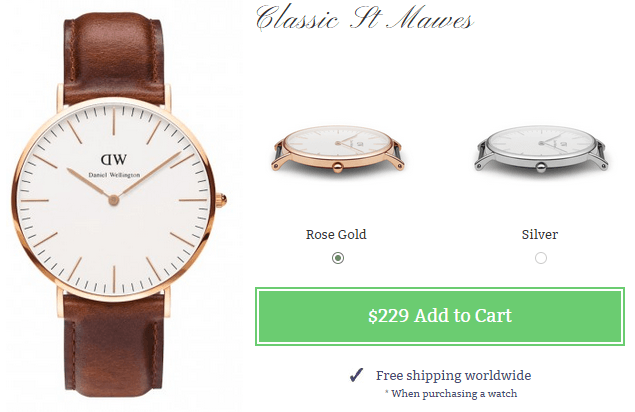 Criticism
Most customer comments amount to pleasant gossip over which watch the customer bought and which straps he or she uses for which occasions. There is precious little in the way of criticism, and what criticism there is centers on those pesky European tax issues. The basic takeaway from our time spent lurking and listening in on the company's patrons is that these are mechanically sturdy, elegantly designed, and affordable wristwatches shoes straps can be customized for different occasions. Basically, a thumb's up from a knowledgeable chorus.
Parting Thoughts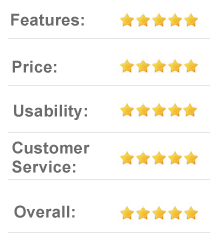 Yes, you can use your smart phone to tell the time. You can even use it to find your GPS coordinates and for any number of other science fiction-like functions. But a wrist watch is functional jewelry that offers the world a glimpse of your own personal style. And Daniel Wellington has satisfied the desire of today's watch wearers for a slim, elegant timepiece with a hint of transatlantic flair. The Nato straps, which of course are optional, offer a hint of Bohemian nonchalance that has attracted many, and that we find irresistible as well. The Swiss, traditionally the leaders in this field, may begin taking a page out of the Swedish playbook, rather than vice-versa, as Daniel Wellington gains attention for its fashion-conscious, slim, stylish, and affordable wrist watches.