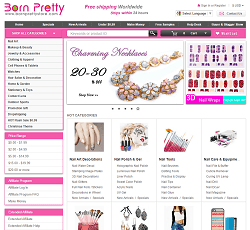 Beauty products are a common staple in many women's bathroom cabinets, but makeup and cosmetics can get expensive. It's difficult to keep your collections stocked without breaking the bank.
BornPrettyStore.com is dedicated to bringing women high quality beauty products at a low price. There are thousands of items available to suit everyone's tastes.

About BornPrettyStore.com
BornPrettyStore Import & Export Co, Ltd. was founded in back in 2010 and is based out of Guangdong, China. The store was originally designed to sell nail art, but has expanded over the past few years. You can now find a variety of cosmetics and fashion accessories available for sale such as makeup, jewelry or even cell phone cases.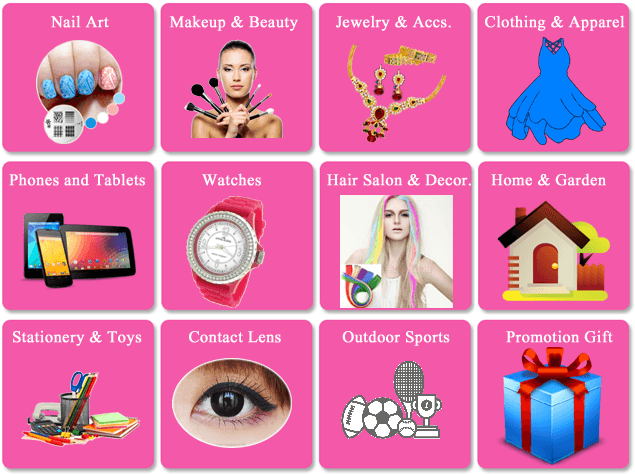 An account is required to purchase anything from the site, and registration is completely free. Having an account also allows you to actively participate in the BornPretty community. You can review products and even submit your own images of a purchase to the site.
Any information that you provide for your account, such as an email address, won't be sold to unrelated third parties. BornPrettyStore.com may use your email to communicate with you about an order status or to tell you about deals and promotions, but you can opt out of this email notification system at any time.
The Best Features of BornPrettyStore.com
BornPrettyStore.com specializes in selling cheap, high quality beauty products for women. It's the ideal destination for the fashion conscious shopper on a budget. There is an entire section of the store dedicated to items under $0.99, and most products available don't cost much more than $20.
Dedicated patrons are reward for their loyalty by a point system that was introduced in 2011. By buying products, writing reviews and submitting product images, customers can earn rewards points to be used towards a future purchase.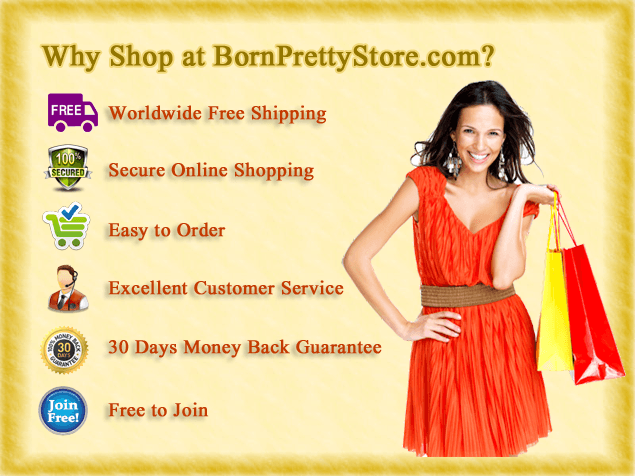 The reward point program incentivizes BornPretty shoppers to offer feedback, which can help other customers to choose the right product. There are also other resources available that will help shoppers to make informed decisions about their purchases.
BornPrettyStore.com operates a blog that is updated on a fairly regular basis. It tells customers about new products and emerging trends in the beauty and fashion market. Following the BornPretty blog, Facebook and Twitter accounts will keep you up to date on the world of cosmetics and let you know the site's latest deals and offers.

BornPretty also has a YouTube channel with videos that show customers how to use different products. There are guides on nail art application techniques, reviews of the hottest new eyeliners, and hours of other helpful videos. Fashion novices can benefit from the expert opinions of beauty experts and professional cosmetologists.
Criticisms of BornPrettyStore.com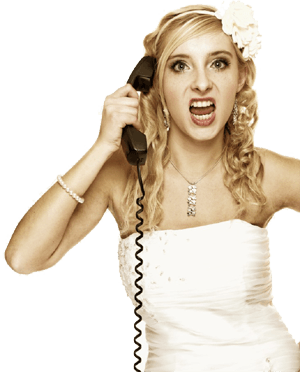 BornPrettyStore.com does not accept many different payment methods. Pretty much the only way to purchase goods is through PayPal, which may be inconvenient for someone without access to a PayPal account. Bank transfers are accepted for bulk orders of over $500, but a $12 transaction fee is tacked on.
One of the perks of shopping with BornPretty is that the company offers free worldwide shipping, but this comes with a trade off. Goods are shipped out of China, and so deliveries to Western locations can take from two weeks to over a month to arrive.
Express shipping is available, but it is only free for orders over $200 or those weighing over 2.2kg. If you are ordering in small quantities, you will be charged a shipping fee for any expedited delivery.
There is also an additional surcharge of $3 added to your order if you wish to have your item shipped via registered mail. This is the only way to get tracking information on your package. Considering that all standard shipping is free, $3 is a relatively small price to pay for delivery confirmation.
BornPrettyStore.com Customer Service
The customer service team for BornPrettyStore.com can be reached from anywhere in the world by emailing cs@bornprettystore.com. You will receive a response from a courteous and helpful representative within 48 hours of sending your email.
Any issues are generally resolved quickly and painlessly. If an item is defective or if you are unhappy with it for any reason, contact customer support within 3 days to get a full refund. The site doesn't pay shipping costs for refunds, so returning an item will unfortunately cost you money.

Frequently Asked Questions
Q: How fast should I expect my package to arrive?
A: How quickly your package gets to you depends on which country you live in. Countries in Asia receive their packages within 1-2 weeks. The U.S., Canada, Europe and Australia can expect packages from between 2-4 weeks, while South American countries may have to wait up to 9 weeks for a delivery.
Q: Can I see what colors and patterns are available before I buy?
A: Yes. Everything that BornPrettyStore.com sells comes with close up pictures of the different colors and patterns available, along with information about sizing and materials.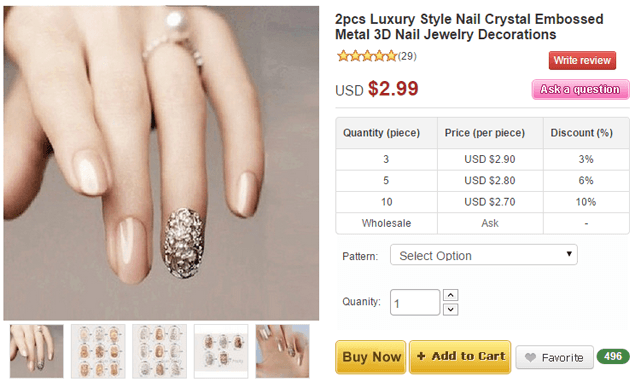 Q: Does BornPrettyStore.com offer free product samples?
A: If you run a beauty blog or operate a fashion based YouTube channel, BornPretty will send you $10 to $50 worth of free samples every month to use and review. You can also make money by using your blog to refer customers to BornPrettyStore.com for their shopping needs.
Q: Does BornPrettyStore.com offer ways to save money on orders?
A: Along with the site's low prices and constant sales, BornPrettyStore.com also has discount coupon codes available. Depending on how much money you spend on an order, you can use a coupon code to save a small amount off of the final total.
Pros of Using BornPrettyStore.com
Low prices on fashion and cosmetics
Over 10,000 items available
Excellent customer service
Strong social media presence
Many informational resources available
Cons of Using BornPrettyStore.com
Long shipping times
Only PayPal is accepted
Additional charges for sending your package via registered mail
Why Should I Use BornPrettyStore.com?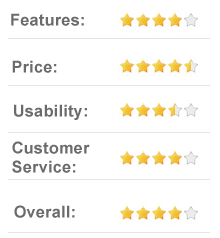 BornPrettyStore.com offers a wide range of high quality clothing, cosmetics and beauty products to women on a budget. Almost everything sold by the site is under $20, and a lot of goods are less than a dollar. The low prices combined with free worldwide shipping make this site ideal for the shopper who is both fashion conscious and financially savvy.
The main drawback of BornPrettyStore.com is its lengthy shipping times. Since the shipping is free, this may not be much of an issue for many people. If you absolutely need your items delivered quickly, it is possible to order express shipping. This costs extra, but you will receive your package within a week.
It isn't very cost effective to pay for express shipping on multiple orders. If time and money are issues, then you may want to consider buying in bulk. Orders over $200 receive free expedited shipping, so it may be worth your while to order a year's supply of nail art all at once instead of as needed.
Bulk shopping will also knock some money off of your total. BornPrettyStore.com offers coupon codes on its site that help you to save even more on its already low prices. The more money you spend at once, the larger your final discount will be. Someone only spending $120 can get $10 off, while someone that spends over $500 would receive $60 discounted from his or her total.
BornPrettyStore.com is a one-stop shop for high quality, inexpensive beauty products for women. The site sells everything from hair extensions to home goods, and is the ideal destination for any buyer with an eye for a bargain.