DigitalOcean Review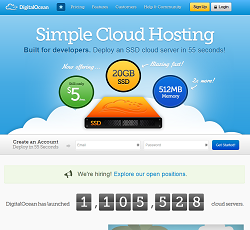 The hosting game has changed in dramatic ways within the past few years. Once upon a time, you had to sign up for traditional shared or dedicated hosting from a provider. This required paying a set monthly rate for a set quantity of real-world CPU power, RAM and space. These days, cloud hosting is the way to go.
Cloud meanwhile is based off virtual servers that exist anywhere and everywhere. Not only are they more affordable (as you only get charged for what you use, versus what you rent), but they are also more reliable, more scalable and more customizable. And you never once have to worry about the underlying real-life infrastructure that lies beneath.
Our goal today is to talk about DigitalOcean, a relatively new but incredible cloud hosting provider that is slowly but surely revolutionizing the industry.

Introducing DigitalOcean
DigitalOcean first appeared in the hosting game back in mid 2011, exactly four years after CEO Ben Uretsky realized the potential of combining virtualization with traditional server hosting. It has since morphed into a well-recognized powerhouse that is quickly taking the industry by storm.
The first thing to know about DigitalOcean is that it operates virtual private servers (virtualized hosting environments) on high-tech SSD servers. Each VPS deployment is referred to as a droplet. Together (Droplet + SSD), you get a slew of benefits by choosing DigitalOcean:
SSD drives function at ridiculously fast speeds. This means that you can have a virtual cloud server set up and operational in under one minute.
You can quickly and efficiently change the server's configuration because it's on a cloud. This is not possible with a traditional shared or dedicated setup.
Every plan offers fast bandwidth speeds of 1Gb/sec. You get a total of 1TB of bandwidth that you can use, with each additional GB costing $0.02.
The type of VPS used are known as Kernel-based Virtual Machines. These offer significantly improved levels of security and performance.

Every real-life machine contains super-fast hex-core processors, as well as dedicated ECC RAM and RAID redundancy.
You can take a snapshot of a server if and when you reach some milestone. You can then deploy that snapshot as its own droplet.
Actual servers are located around the world in places like New York, San Francisco and Amsterdam. This provides enhanced redundancy.
The data centers that hold these physical servers contain physical security, redundant power and even onsite energy generators.

DigitalOcean Service Plans
Before we get into the details of which plan, we want to note that you are billed per hour of usage until you hit your cap. Also, as we stated earlier, you get 1TB of bandwidth by default. That is more than enough for the average user, but in case your content goes viral and you exceed it, you only need to pay $0.02 per additional GB.
Another thing to know is that you are charged if your droplet exists. It does not matter if the droplet is turned on or off. What you can do though is take a snapshot of the droplet at any time and then get rid of it altogether. Then you can create a duplicate droplet whenever you need to access the VPS again.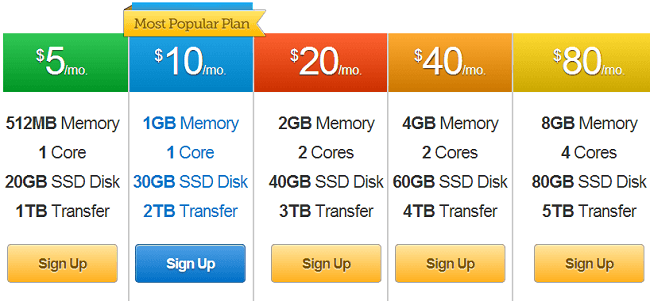 $5 Plan: This plan costs $5 a month or $0.007 per hour. Unfortunately, you only get access to 512MB of RAM, a single core CPU, 20GB of online space and 1TB of bandwidth. It's a great option for setting up a brand new website for ridiculously cheap.
$10 Plan: This plan costs $10 a month or $0.015 per hour. For this, you get 1GB of memory, 30GB of space and 2TB of bandwidth, though the CPU remains the same. It's the most recommended option for the average, everyday user. It gives you more than enough resources to handle most tasks.

$15 Plan: This plan upgrades to $20 per month or $0.030 per hour. For this, you get a whopping 2GB of RAM with 2 CPU cores, which means better processing speeds. You also get more online space (4GB total), as well as a greater quantity of bandwidth (3TB).
$40 Plan: This plan runs for $40 a month or $0.060 per hour. It's certainly pricier, but it entitles you to 4GB of memory, 2 CPU cores, 60GB of drive space and 4TB of bandwidth. It's much more optimal for high-performance applications and high-traffic websites.
$80 Plan: This is the most expensive plan. It costs $80 a month or $0.119 per hour. It's quite expensive, but you get a mammoth amount of resources: 8GB of RAM, 4 CPU cores, 80GB of SSD space and 5TB of bandwidth. Even Mark Zuckerberg would be impressed with those stats!

Note that these are not the only plans. These are just the recommended ones. You can actually upgrade all the way to a $960 plan that costs a whopping $1.1411 per hour. As you can imagine, this plan offers you an astonishing amount of resources. To get one of these advanced packages, however, you'll need to contact the company directly. If you are just starting out, we recommend going with the $10 plan. Remember that you can upgrade at anytime because of its DigitalOcean's flexible cloud system.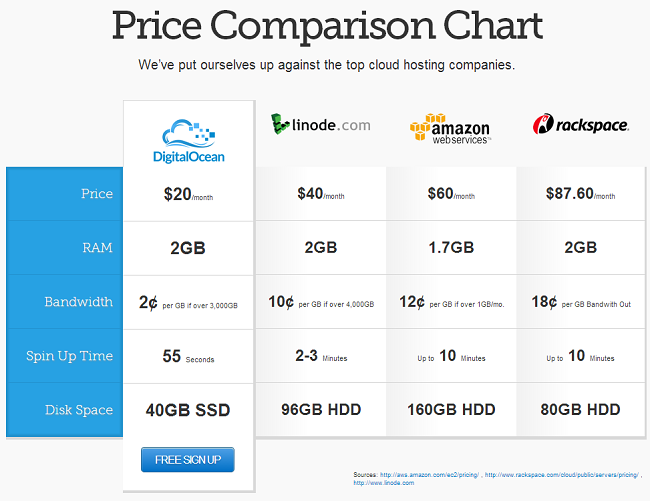 Unordinary Customer Service
The customer service at DigitalOcean is anything but average. You can send an email at any time. The only other way to get direct help is to log into an IRC chatroom. That's definitely different, though it's not necessarily bad. Other than that, you also get access to a huge help forum, as well as countless articles and tutorials. It's definitely more upscale, meaning that it helps if you come into DigitalOcean as someone with some degree of past experience with computers and hosting.

What sort of payments does DigitalOcean accept?

DigitalOcean offers all credit cards, as well as PayPal. We appreciate the inclusion of PayPal, as it's become a very popular in the past couple of years.

Are cancellations allowed?

Absolutely. You can cancel at anytime.

How about refunds?

Nope. Because everything is pro-rated, refunds are not accepted.

How does billing work?

There are about 672 hours in any given month, give or take some. This means that if you sign up for a $5 plan, you can stay online 24/7 and never pay a dime over $5. If you remove the VPS for a couple days in the middle of the month, you would wind up paying less.

Where are the companies data centers located?

Great question! The data centers seem to be located in San Francisco, Amsterdam and New York City. Furthermore, the companies managing them (or at least providing the Internet connectivity) are numerous and include NTT, Level3, Tinet, nLayer, Telia and Cogent. These are high-grade connectivity providers that go way beyond your typical providers like Verizon and AT&T.
Final Impressions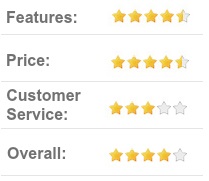 Overall, we were very impressed with DigitalOcean. We'll be perfectly honest — we'd never before encountered a 'cloud hosting' service. However, we liked everything we saw. We're so used to paying exorbitant fees for resources that we barely use. With DigitalOcean, you only pay for what you use, and this amounts to significant long-term savings. And you also get plenty of bandwidth. Plus, the bandwidth is unlimited, meaning your site or app will never suddenly go offline because of too much traffic.
We understand the risk of switching from traditional hosting to cloud hosting, but if you are tired of high fees and horrible service, then we definitely recommend you give this provider a chance!