iWeb Review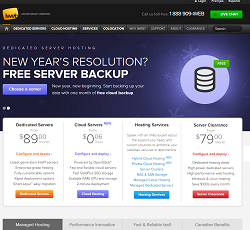 Technology is constantly expanding. Every year, infrastructures evolve and new technologies cascade through the market. Businesses must go through leaps and bounds to keep up with all these changes. This requires spending boatloads of money reassessing network infrastructures, upgrading IT equipment and retraining employees.
Imagine being able to bypass the hoopla and instead focus on your core business. This is certainly possible, but it requires entrusting your IT functions and tasks to a reliable, professional-grade provider like iWeb.

World Of iWeb
iWeb has quite a story to tell. It originally started as a general Web services company. Then in the latter part of the 90s, it merged with several small- and medium-sized businesses into a full-fledged Web hosting provider. It now provides reliable, scalable and corporate-grade Web hosting infrastructure services and solutions. The types of solutions it offers are listed below:
Dedicated Hosting
Cloud Hosting
Colocation

Note that this is just a top-tier list. Each specific solution can be divided into numerous mini-solutions, all of which we hope to cover today for your benefit.
Before we even dig that deep, however, we first need to take a look at some of the awesome benefits of choosing iWeb as your provider:
iWeb operates 33,000 servers scattered through four datacenters located in Montreal, Canada. Access to these datacenters is controlled by biometric verification and two-door entrances. Furthermore, each datacenter contains topnotch cooling technology, power supplies and monitoring equipment.
This company has been recorded as offering an uptime rating of 99.999% to 100%. This means that it is extraordinarily improbable that your server, website or application will suddenly go offline due to some sort of hardware of software malfunction.
All datacenters and centers rely on fiber optic networks to provide 100Mbps WAN or 1Gbps LAN network speeds throughout the world. These ultra-fast speeds ensure that your employees and clients are able to access your Web assets without having to contend with a smidgen of lag.
In case a hardware malfunction does ever occur (which is very rare, mind you), iWeb guarantees that it will be fixed within 4 hours maximum. It doesn't matter whether the malfunction occurs on Christmas or New Year's Eve. It will be fixed right away and without delay!

We want to quickly note that we were impressed with iWeb's own technology infrastructure. We wish it operated more datacenters, but we understand that it's a growing company. Furthermore, we appreciate that the company is more concerned with running a few top-of-the-line datacenters versus many mediocre ones.

Dedicated Hosting Solutions
Dedicated hosting through iWeb comes in many flavors, including dedicated servers, Smart Layer, managed servers and server clusters, to name a few.
Dedicated Servers
The company offers ready-to-go servers, storage servers, performance servers and customizable enterprise-grade servers. Prices range between $89 to $999. You can customize each server by adjusting its operating system, changing its control panel, adding SQL servers and setting up cloud backup. There are a ridiculous number of choices available, so we definitely recommend you check out the page for yourself.
Smart Layer
Smart Layer is a server add-on that makes it much easier to manage the server. It basically replaces the standard interface with a drag-and-drop one known as the iWeb Control Panel. We definitely recommend investing in this, because it makes it much easier to train your employees on how to correctly manage and maintain your servers.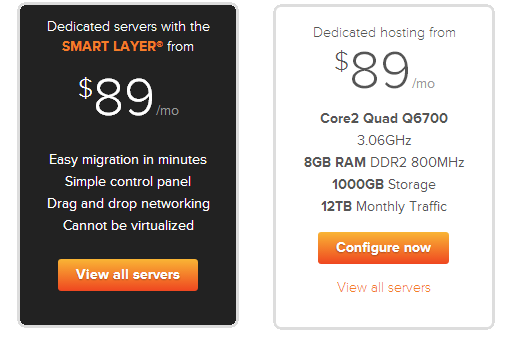 Managed Servers
All dedicated solutions come with a limited quantity of backend support. However, you can also sign up for more comprehensive support. As an example, Rapid Response support allows you to obtain 5-minute alerts in case of some sort of failure, while Managed On-Demand support comes with professional systems administration.
Server Clusters
Server cluster let you piece groups of dedicated servers together into 'clusters' that perform certain functions. It's a very high-end solution only meant for big time corporations.
IWeb also offers hypervisors, Cisco firewalls and more. It basically includes every dedicated solution possible, which is a rarity, as most Web hosting companies (even enterprise-grade ones like this) only cover a few niche areas.
Cloud Hosting Solutions
iWeb offers public cloud servers, managed cloud hosting, private cloud hosting and hybrid cloud hosting.
Public Cloud Servers: These are easy-to-setup and highly scalable servers designed for apps and websites. They are based on the OpenStack platform.
Managed Cloud Hosting: This solution includes professional monitoring, maintenance and administration by the IT specialiasts at iWeb.
Private Cloud Hosting: This hosting solution offers the type of customization and IT control required by hardcore corporate entities.
Hybrid Cloud Hosting: This is considered the future of IT, because it combines the best of public and private cloud computing technologies.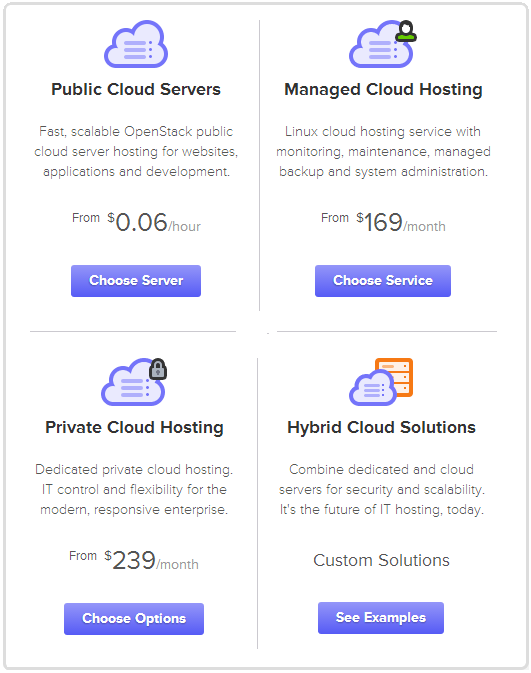 We want to take a moment to look a bit more closely at iWeb's notorious and well-renowned hybrid solution. It contains three separate components — a dedicated one, a virtualized one and a public one.
The dedicated solution gives you a high-end private infrastructure that you can finetune to meet strict regulations. You can also customize it so that it can meet the needs of extremely extensive applications.
The virtual solution adds VMs to the previously mentioned dedicated infrastructure. This gives you the flexibility required for front-end apps and systems pertaining to order processing and transactions.
The public solution can be linked directly to the dedicated solution and is an absolute must-have for scalability. It allows you to keep growing your business nonstop.
These three solutions come together to form a hybrid package that is optimal for growing corporations looking to one day compete alongside giants like Amazon, eBay and others.

Colocation Hosting Solutions
Colocation is a solution geared for businesses with midlevel IT requirements. The majority of the company's logistical functions are taken care of by iWeb. This gives the company more time to focus on its core work. We highly recommend this option for business professionals who are not all that interested in learning all the intricate complexities of dedicated and cloud computing.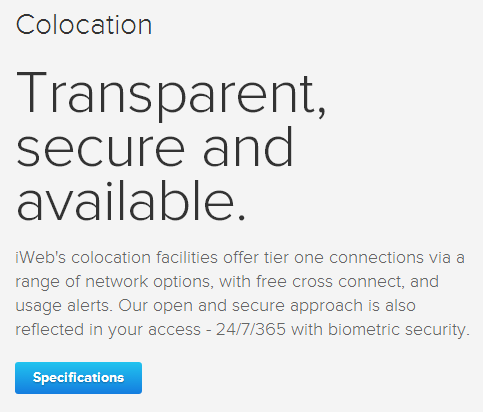 It comes with numerous benefits:
On-site troubleshooting specialists are ready at all hours to deal with any and all hardware and software malfunctions.
You never need to worry about expanding your own infrastructure, because everything (bandwidth, power, etc.) will be based on the datacenter's own capabilities.
All collocation facilities are thoroughly protected from not only hackers and thieves, but also natural disasters as well.
It can be much cheaper in the long-run to go with a colocation solution, as you need far fewer IT specialists on your own staff.
All-Day, Everyday Customer Service

Because iWeb provides such a comprehensive suite of services, it operates a 24/7 customer care line. You can contact agents at anytime by phone and by live chat. You can also start a ticket. Plus, iWeb's website is brimming with step-by-step guides and FAQs.
Final Review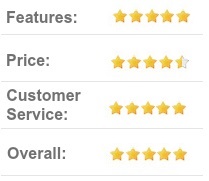 Within a matter of years, iWeb has grown into one of the largest Web hosting infrastructure providers in the world. Yes, it's true that all its datacenters lie in Montreal. However, these datacenters also happen to be some of the best in the world. Furthermore, iWeb has gone out of its way to make these datacenters and their capabilities available to you in every way imaginable — via dedicated solutions, public cloud solutions, private cloud solutions and even hybrid cloud solutions.
We worked with iWeb for about half a year, and we have come to believe that it deserves an A+ rating. It's an extraordinary provider that can completely revolutionize your company's IT, regardless of whether you are just starting out or you already have a full-fledged system in place.