Rackspace Review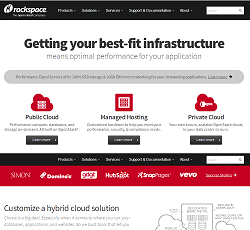 Cloud hosting is on the rise. Businesses are tired of conventional hosting solutions and have thus begun migrating to the world of cloud hosting.
It offers a much more expansive and flexible platform for hosting high-performance business websites and applications. Plus, it's extraordinarily cheaper.
Speaking of which, Rackspace happens to be a top provider of business cloud hosting services, and it's the company we want to talk about today.


Best of The Best
RackSpace started way back in 1996 as a tiny Web service provider known as Cymitar Network Systems. Fast forward two decades and it is now a global leader in hybrid cloud solutions. While it operates its own expansive network of servers, it also relies on a bevy of high-performance public clouds. The result is one of the best-fit infrastructures for up-and-coming businesses that want to provide their clients with the best, all without having to pay an arm and a leg for it.
The company offers a ridiculously huge list of services and products ranging from simple website hosting to public, private and hybrid cloud servers, databases, platforms and more. This doesn't even include its long list of consultative services.

Basic Web Hosting
We want to start by covering this company's basic options.
E-Commerce Websites: This solution offers you a Magenta- or Oracle-based e-commerce website ideal for selling producers directly to consumers. It also gives you access to the Payment Card Industry Data Security Standard, which is pivotal for maintaining your customers' information in strict confidence.
Simple Websites: This solution, which starts at $150/month, provides you with 50GB of space and 500GB of bandwidth on a Linux or Windows cloud server. Rackspace takes care of all backend work (security patches, backups, platform maintenance), while you get to deal with applications, databases and security.

Corporate Websites: Built for high-end clients, this solution lets you utilize dedicated, cloud or hybrid servers to perform a variety of tasks: host e-commerce websites, test/host business applications and host corporate media. It's best suited for the latter two functions.
CMS Websites: With this solution, you get to use an Adobe Experience Manager client (in conjunction with Rackspace engineers) to construct a professional content management system. This isn't useful for simple blogs. We are talking about expansive CMS sites like Wikipedias and whatnot.
As you can see, even the simple website solution is not built for an ordinary website. The target audience is professional businesspeople.
Cloud Computing
Where RackSpace shines is with its cloud computing options. Three are three primary categories of cloud computing, including public cloud computing, private cloud computing and hybrid cloud computing.
Public clouds are best suited for businesses that want to bring a product or service to the market quickly without having to contend with too many regulations. It's also useful for businesses that plan to outsource some (if not all) of their IT duties.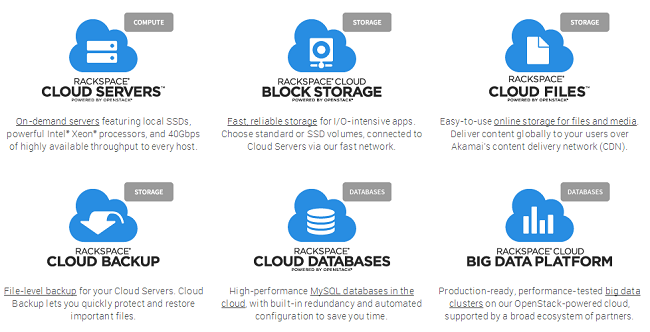 Private computing is the reverse — it's for businesses that inherently deal with lots of regulations, not to mention highly critical business apps. With this option, the business must be ready to install and manage its own server.
Hybrid computing is best suited for e-commerce. It combines the legal factors of private computing with the flexibility of public computing. It basically handles order processing the public way and account management the private way.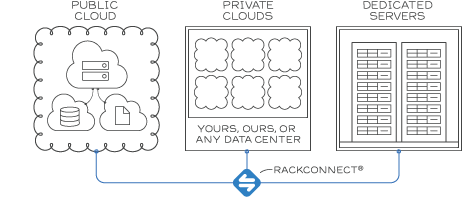 The specific types of public, private and hybrid solutions available are quite extensive:
Standard cloud servers that feature SSD drives and Intel Xeon processor.
Cloud block storage for I/O-intensive business applications.
Cloud files spread across a high-redundancy content delivery network (CDN).
File-level cloud backup services for quickly storing files.
Automatically configured cloud databases.
Huge production-ready data clusters on an OpenStack cloud.
Easily configurable load balancers for high-traffic sites or apps.
Modifiable cloud DNS services for domains and sub-domains.
Single-user cloud networks that support IP addressing.
Scalable cloud message queues for connecting multiple apps.
24/7 cloud monitoring for remaining alert of all changes.
They basically cover every single potential IT need a business might encounter.

Dedicated Solutions
Not surprisingly, the all-in-one Rackspace also offers dedicated solutions for businesses not quite yet ready to enter the world of cloud computing. These come in six different flavors:
Managed Dedicated Servers: These start at $499/month and offer you hardware firewalls, 24/7 monitoring, customized configurations and topnotch SLAs.

Managed Colocation: With this solution, the business need not worry about deployment. Rackspace takes care of all the backend work.
Managed Virtualization: This solution maximizes resource utilization while maintaining a redundant infrastructure and a flexible computing environment.
Managed Storage: This option entitles you to up to a whopping 1920TB of storage space. It's good for companies that accumulate a huge quantity of files.
Managed Databases: This particular solution provides you with the best backend infrastructure for handling all the data that your applications process.
Managed Security: This is a must-have solution that ensures your apps & sites rely on the best security features, including firewalls, SSL certificates and more.

Advisory Services
The second-best set of services available from Rackspace deals with consultations. It should be obvious by now that Rackspace is an expert in hosting. Its employees know the industry well and are more than capable and ready to assist you.
IT Evolution Workshop
This workshop with senior IT strategists is designed to help you piece together an actionable plan that defines your IT infrastructure, pinpoints required/desired changes and then sets forth steps to achieve them.
TCO Analysis Workshop
This workshop focuses on the financials required to implement a cloud solution. The strategies help you determine exact costs and figure out which sort of investment option would work best for you.
Application Profiling Workshop
This workshop is geared for already established businesses that already utilize a slew of applications and technologies but need assistance adopting and transitioning to a full cloud solution.
Cloud Readiness Assessment
This is a six- to eight-week assessment wherein consultants closely analysis the legacy systems in place at your business. They then provide the tips needed to minimize risks during the actual transition phase.
Final Architecture
This is the final solution and can only be achieved if you first take advantage of the previous solutions. It is during this phase that the consultants piece together the very best cloud solution for you.
Best-In-Class Support
The support provided by Rackspace can only be described as best in class. You get access to individualized phone lines for cloud, dedicated and email services. You also get access to a community forum, as well as email support, live chat and a whole lot more: API guides, FAQs, articles, blogs and more. The company even offers cloud case studies that let you look at how the whole process (from analysis to implementation) fared for other companies. Among these companies are the likes of Zendesk, Erasmus University and even Domino's Pizza.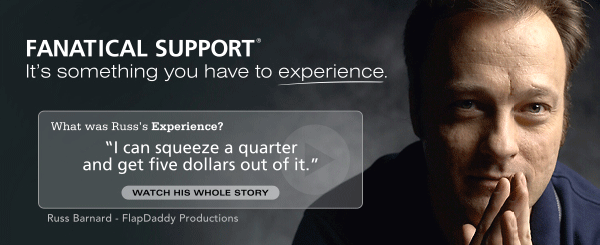 Conclusion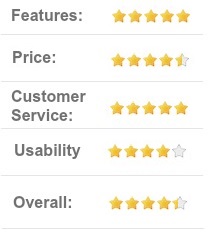 Overall, there really is nothing negative we can say about Rackspace. We will warn you though that Rackspace is not for beginners. This is a hardcore, world-renowned hosting provider best geared for serious business professionals. The type of features, support and performance this company offers is no joke!
If you operate a business and you are interested in taking advantage of the amazing technology behind cloud computing, then we highly recommend you work with Rackspace. They can do a lot more than just set you up with hosting — they can analysis your business and build it into exactly what you envision!