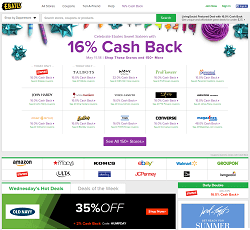 Customers that shop online are able to take advantage of exclusive offers that can't be found anywhere else. Shopping smart means sniffing out the best discounts and the lowest prices.
Ebates.com is committed to helping online shoppers to easily find deals and save money on everything from clothing to electronics. By shopping with Ebates.com, customers all over the world are rewarded juts for shopping at their favorite stores.

About Ebates.com
Ebates.com was founded in 1998 and is based out of San Francisco, California. Ebates members are able to receive cash back on orders at over 1800 participating retailers. All a customer has to do is start his or her shopping trip at Ebates.com in order to earn rewards. Members have collectively earned more than $250 million in cash back to date.
Ebates.com services are completely free to use with no upfront costs or hidden fees. Customers don't have to pay a cent in order to take advantage of cash back bonuses. Instead, the website helps online businesses to expand their customer base while helping shoppers to snag the best deals. Ebates.com earns a commission on every sale that they direct to a participating store, then immediately returns some of that commission straight to the customer's pocket. With Ebates.com, everybody wins.
Ebates.com is partnered with over a thousand popular stores, including retailers such as JC Penney, Nordstrom, Sephora and many others. Both merchants and customers alike trust Ebates to consistently deliver reliable and superior services. The company's popularity has caught the attention of the media, and Ebates.com has been featured in several major publications including the New York Times, Good Housekeeping, and the Wall Street Journal.

The Best Features of Ebates.com
Ebates.com customers can receive up to 40% cash back on purchases just by shopping at their favorite stores online. Members also gain access to over 100,000 exclusive coupons that can't be found anywhere else. New deals are featured daily and weekly. The website's daily double deal gives customers double the cash back on purchases made at a particular store for a 24-hour period.
Shoppers that choose to sign up for a membership with Ebates.com automatically earn a $10 gift card as a welcome bonus that can be used at select popular stores. Members receive their gift card after spending their first $25 in qualifying merchandise. Sign up is quick, easy and free. Customers can also easily connect through Facebook with just the click of a button to discover and share new deals.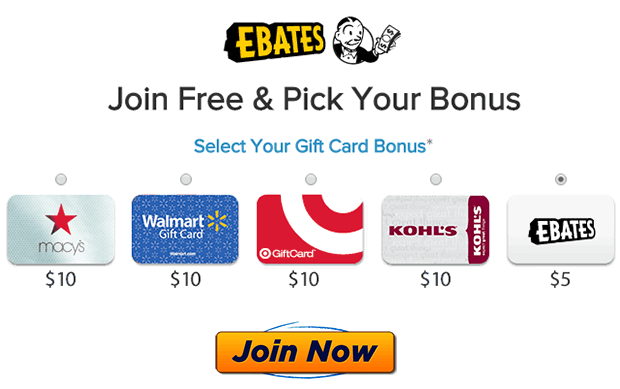 When members refer their friends to Ebates.com, they earn a $5 reward the first time their friend makes a qualifying purchase. During seasonal promotions, customers are able to earn additional bonuses and rewards for driving web traffic to Ebates.com.
It can be a hassle to sign into Ebates.com before every online shopping trip. To streamline the entire online shopping experience, Ebates.com has introduced the Cash Back Button. This is a browser extension that is currently available for Google Chrome, Safari or Firefox. This handy tool automatically notifies a customer of cash back offers at participating websites. The extension even displays deals on store and product search engine results so that customers can quickly find the best prices.
All Ebates.com members are eligible to apply for an Ebates Cash Back Visa credit card. By just using this card to make purchases at participating stores, shoppers can earn an additional 3% cash back on top of existing cash back offers. Customers also receive 1% cash back when using this card at retailers that are not partnered with Ebates.com. Once a customer is approved for an Ebates credit card, they will receive a $10 reward after making their first purchase.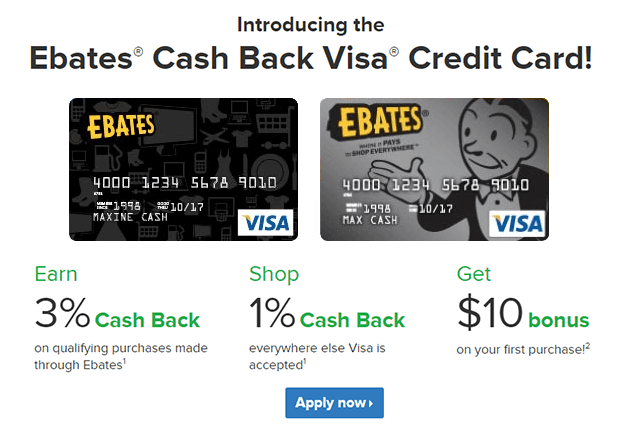 For more information about the hottest new deals and the latest website news, members can follow Ebates.com on one of its social media pages. The company is active on Facebook, Twitter, Google+ and Pinterest. Customers can also visit the official Ebates blog to find articles about the latest trends in fashion, beauty and housekeeping.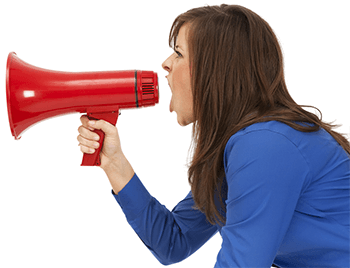 Criticism of Ebates.com
A small handful of Ebates.com members have complained that they were not credited cash back for purchases made at participating stores. Only qualifying orders that are initiated through Ebates.com are eligible for cash back rewards. Customers should make sure to read the fine print on every offer and go over website policies in detail. This way, members can avoid any confusion or miscommunications regarding cash back on purchases.
Ebates.com Customer Support
The Ebates.com customer support department can be contacted by filling out an online form through the website. Shoppers will receive a quick, polite and professional response from one of the expert Ebates.com customer service representatives.

Frequently Asked Questions
Q: Does Ebates.com have a mobile app?
A: Yes, Ebates.com customers can download a mobile app for iOS or Android devices. Shoppers can request a download link via text through the Ebates.com website.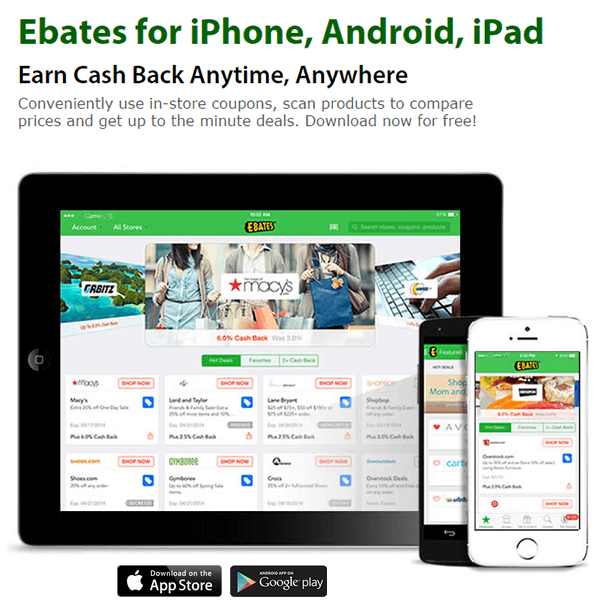 Q: How quickly is cash back added into my account?
A: Most cash back rewards will be credited into your account within 48 hours. Some participating retailers will not confirm a purchase until their return period has passed, and so occasionally customers will have to wait up to 30 days to see cash back from a purchase show up in their account.
Q: Which currencies does Ebates.com make payments in?
A: Ebates.com only makes payments in U.S. dollars.
Q: How can I take cash out of my Ebates.com account?
A: You can either request to have a check sent to your home address, send the money to a friend or charity, or receive a payment via PayPal.
Q: When do I receive my cash back payments?
A: Ebates.com customers receive lump cash back payments four times a year. Payments are sent on the 15th of February, May, August and November.

Pros of Ebates.com
Up to 40% cash back on purchases at participating stores
1800 participating retailers
Access to over 100,000 exclusive coupons
Welcome bonus
Rewards for referring friends
Ebates Cash Back Button
Ebates Cash Back Visa credit card
Social media presence and company blog
Cons of Ebates.com
Very occasionally difficult to claim cash back
Why Should I Use Ebates.com?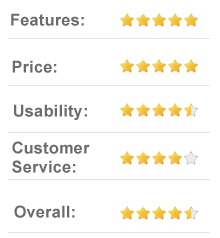 Ebates.com is dedicated to helping customers save money when shopping at over 1000 popular online retailers. Website members are able to receive up to 40% cash back on purchases and gain access to exclusive offers and coupons. Customers that sign up for a free Ebates.com membership are rewarded simply for shopping at their favorite online stores.
Ebates.com provides thousands of shoppers with a convenient, hands-off way to save both time and money. Customers don't have to wait all year for a special sale or make a time consuming trip to the local mall. Instead, Ebates.com members can find everything they need at unbeatable prices without ever having to leave their living room. By starting their shopping trip at Ebates.com, customers can automatically receive cash back and find incredible discounts.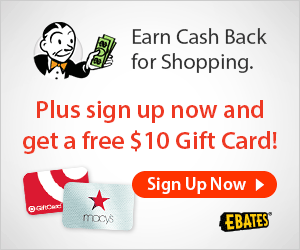 The hassle free Ebates Cash Back Button makes it even easier to earn cash back on online purchases. This browser extension streamlines the Ebates.com shopping experience. Instead of spending time logging into Ebates.com before every online shopping trip, customers can dive right into browsing their favorite retail sites. This tool also lists available Ebates deals on search engine results so that customers can quickly find the lowest prices.
Ebates.com members are able to save a significant amount of money by taking advantage of cash back offers and exclusive discount coupons. Shoppers that lead hectic lives can save time by taking advantage of the Ebates Cash Back Button to find the best offers available at thousands of popular stores instantly. Ebates.com is dedicated to providing an enjoyable and stress free shopping experience to thousands of online customers.