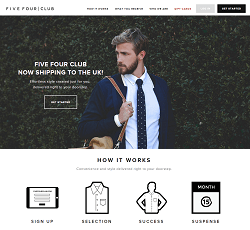 Shopping for clothes can be time consuming and expensive. Many men either can't spare the hours or simply don't want to deal with the inconvenience of a shopping trip.
FiveFourClothing.com is committed to helping men create inexpensive and trendy everyday outfits with zero effort. Customers that subscribe to the Five Four Club can save both time and money over shopping in stores.

About FiveFourClothing.com
Five Four Clothing is a contemporary men's fashion brand that was founded in 2002 to provide men with high quality, trendy apparel. In 2012 the company launched the Five Four Club, a convenient subscription service that helps men to expand their wardrobe easily and affordably. For just $60 a month, Five Four Club members regularly receive packages of clothing that matches their style profile and personal preferences.
The Five Four Club provides men who lead busy lives with an easy way to curate an attractive style. Customers all across the U.S., U.K. and Canada trust the FiveFourClothing.com team to handpick high quality clothing suited to their particular lifestyle. Men are able to choose from the following looks:
Business Casual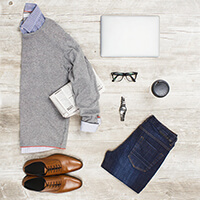 Look great in the office or out on the town in a sophisticated yet relaxed ensemble.
Dress to Impress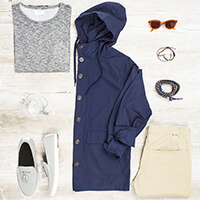 Get noticed with trendy outfits and unique accessories.
T-shirt and Jeans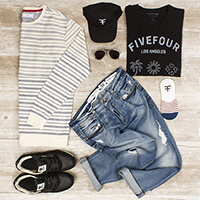 Feel comfortable and look stylish in designer jeans and fashion t-shirts.
Mix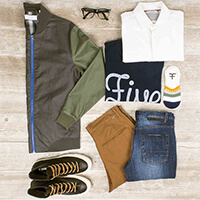 Be adventurous and mix different styles to create outfits that are truly outside of the box.

The Five Four Clothing Club has been featured in reputable publications such as TIME Magazine, the Wall Street Journal, the Los Angeles Times and many others. Dozens of well-known celebrities and thousands of students, professionals and other men take advantage of the Five Four Club's superior stylistic services.
The Best Features of FiveFourClothing.com
For just $60 each month, Five Four Club members receive a new and exclusively curated style package valued at a minimum of $120 on a regular basis. In addition to access to savings of at least 50%, Five Four Club subscribers are also eligible to receive 25% off clothing at the Five Four Online Store. Many available items are unique contemporary designs that are exclusively available to Five Four members. The company's LookBook shows guests the latest seasonal collections to give customers an idea of what they might receive in their next Five Four style package.
The FiveFourClothing.com website makes it easy for members to build a custom style profile so that the expert stylists on staff are able to put together the ideal wardrobe for every customer. Sign up takes just 60 seconds or less with the user-friendly style profile creation tool.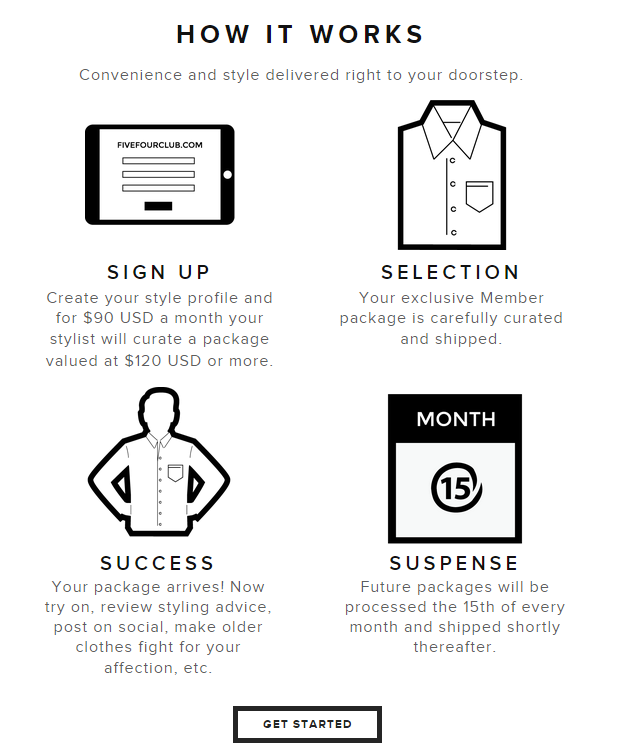 To build a profile, users first must choose one of the four available style options. Customers can pick from a business casual look, jeans and t-shirts, the trendy dress to impress option, or a mix of all three. Once a customer has settled on a style, he can choose whether he prefers monotone colors, neutrals or a more vibrant pop look. If a customer prefers graphic t-shirts to plain, he is also able to indicate this in his style profile.
FiverFourClothing.com provides a convenient sizing chart and instructions for customers on how to take accurate body measurements. This helps shoppers to figure out what shirt size and waist size they should list in their style profile in order to receive the most comfortable clothing. Customers are also able to indicate whether they prefer slim fit, straight or relaxed bottoms. If an item doesn't fit, FiveFourClothing.com offers easy size exchanges with free shipping for U.S. customers.
All website members receive complimentary advice on how to wear and match different Five Four clothing items and accessories. For more advice about men's fashion, new products and website news, customers should check out the company on one of its social media pages. Five Four Clothing is active on Facebook, Twitter, Instagram and YouTube. The company also operates a blog that posts men's lifestyle articles and trending stories.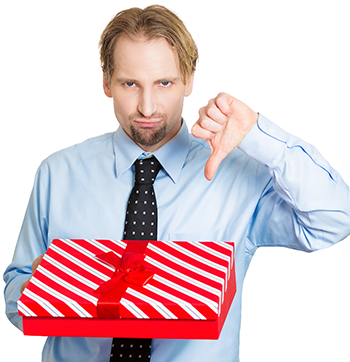 Criticism of FiveFourClothing.com
Customers that shop at FiveFourClothing.com have very limited payment options. Only select credit cards are accepted. Shoppers are not able to pay for a subscription using personal checks, money orders or PayPal.
Once a customer has subscribed to the Five Four Club's services, he cannot return any items that arrive in his monthly style package. Ill-fitting items can easily be exchanged for a different size, but unwanted items cannot be sent back for a refund.
FiveFourClothing.com Customer Support
Customers can contact a representative in real time using live chat support for assistance navigating the website, signing up for a Five Four Club membership, or building a style profile. For general issues, shoppers can contact the technical support department at service@fivefourclub.com. Club members can contact a customer service representative for questions regarding specific orders, shipping, returns and exchanges by calling 1-888-341-2381. Shoppers that simply need a size exchange are able to fill out a convenient request form within 15 days of receiving their Five Four Club package.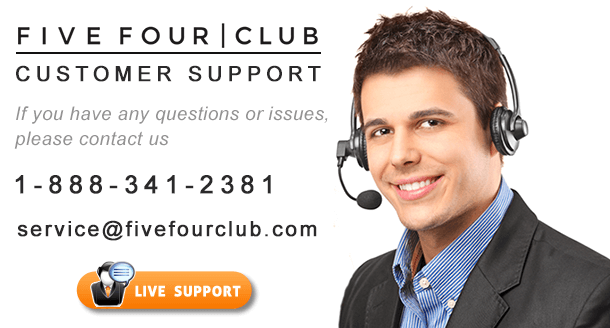 Frequently Asked Questions

Pros of FiveFourClothing.com
Style delivered straight to your door
$60 a month for a package worth $120 or more
25% off for members at the Five Four online clothing store
User-friendly custom style profile builder
Social media presence and blog
Cons of FiveFourClothing.com
Limited payment options
No returns
Why Should I Use FiveFourClothing.com?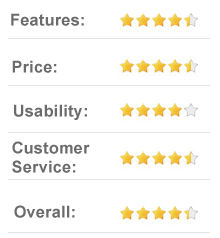 FiveFourClothing.com delivers personally curated style packages to men all across the U.S., the U.K. and Canada each month. Thousands of customers trust the website to help them build a unique and sophisticated style. The Five Four Clothing Club takes all the hassle out of shopping for a new outfit. Customers can expand their wardrobe with zero effort without breaking the bank.
The Five Four Clothing Club is designed for customers that live busy, active lives. Many students, business professionals and other consumers don't have the time or don't want to spend the effort making a long and exhausting trip to the mall. FiveFourClothing.com members save countless hours and a significant amount of cash by avoiding overpriced department stores and clothing outlets.
Part of the appeal of FiveFourClothing.com is the element of suspense for each member. Customers are surprised every month by new and exciting handpicked items. Members that subscribe to the Five Four Clothing Club can anticipate the arrival of an entirely fresh look on a monthly basis.
FiveFourClothing.com is dedicated to helping men easily and inexpensively cultivate a unique look. For a low monthly subscription fee, customers receive regular packages of high quality, fashionable clothing. FiveFourClothing.com members save valuable time and money while effortlessly creating a distinctive personal style.