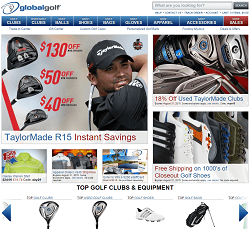 Global Golf got its start in 2006 as a golf equipment store dedicated to ecommerce options. Instead of focusing on building a customer base in a specific community, Global Golf, as the name suggests, started using the Internet to reach golf enthusiasts all over the world.
Global Golf even manages to stand out in this specific industry. Most online golf stores just sell merchandise produced from other companies. They might have large selections of clubs from companies like Titleist, Callaway, and TaylorMade, but they can only sell items that they buy from manufacturers.

Global Golf distinguishes itself by designing and manufacturing its own designs. You can still buy your favorite Titleist and Calaway clubs, but you also get the option to buy innovative designs made by the professionals at Global Golf. These aren't cheap, poorly designed clubs, either. Many of them are equal to clubs made by the world's top manufacturers.
The company was started in Raleigh, North Carolina and still keeps its headquarters in the home town. It is all about commitment to giving golfers all over the world access to the equipment they need to improve their games. If you want to improve your game quickly, just browse the items and equipment available on the Global Golf website. You'll probably improve your swing, knock a couple points off your game, and save some money.
Top Features of Global Golf
I grew up playing golf with hand me down equipment. To tell you the truth, the clubs weren't even that good before they made their ways down to me. By the time I got them, they were usually a wreck.
As a result, I really like nice equipment. Now that I get to decide what I buy, I buy the things that I want. With that said, price is always an issue. If price weren't an issue, then we'd all be out on the course playing with a Five Star Honma Golf set that costs about $76,000, right?

Used and On Sale Clubs
This gets to what I appreciate most about Global Golf. When I shop on the website, I can always find quality clubs sold at reasonable prices. Sometimes, I may want a club that's a little out of my price range, so I focus on the site's Used Golf Clubs and Golf Sales sections. Over the years, I've easily saved thousands of dollars by purchasing used and on sale clubs.
That wouldn't impress anyone much if the clubs arrived in poor condition, but that has never happened to me. Some of the used clubs I've bought look they've maybe been taken out to the range a few times. That's it. None of them have been in bad shape. As much as I like saving money, I'm not about to return to those childhood days of bent wedges and scuffed putters. Forget that!

Custom Clubs
I also like that I can buy custom clubs without any hassle. I just choose the base club that I want and select options that turn it into the perfect option for me. Let's say I want to buy a custom wedge from Mizuno. I select the:
The type of club I want (lob, sand, gap, etc.)
Whether I'm right or left handed
The type of lie and loft angles I want
The I choose the color of the shaft and choose a grip that I will like.
It's that easy, and you don't have to deal with any salesman who's constantly trying to convince you go with a more expensive club.
One Stop Shop for Golf
Global Golf is a one-stop shop for all of your golf needs. In addition to clubs, you can buy: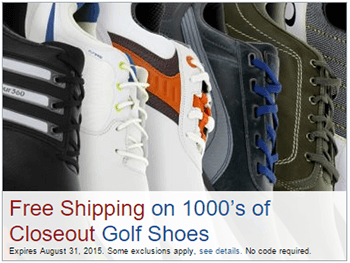 Golf gloves
Bags
Shoes
Apparel
Personalized balls
Accessories like sunglasses, ball retrievers, and swing analyzers
Personally, I would rather buy everything from the same place. That way, I don't have to worry about keeping track of five orders from five different companies. I just check out and wait for my order to arrive in one package.

Global Golf Prices
It's hard to describe Global Golf's prices. Most of the clubs that I've looked at are slightly lower than what you would spend at most pro stores. If you're buying a new club, you'll save a little, but probably not much more than 10%, which is still pretty good.
If you are interested in savings, then you have to check out the site's used equipment and sales pages. That's where you will find inexpensively priced clubs and other types of equipment.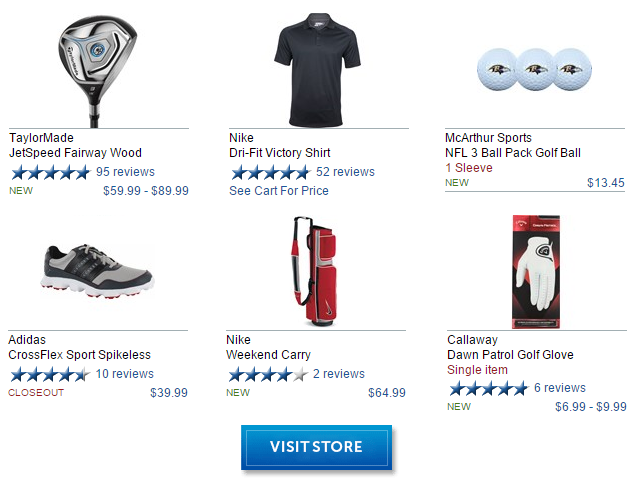 Always make sure you read the description and look at the picture when buying a used item. It's probably obvious to most people, but some of those clubs are in better condition than others. You can usually get a good idea of what condition they are in just by reading the product descriptions. At least, I've never gotten a club that I thought was misrepresented on the website. It's always been fair.
Criticisms of Global Golf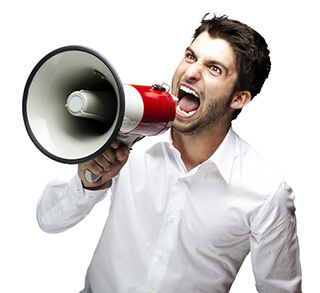 I've had great experiences using Global Golf. I do, however, have a couple friends who have been disappointed with the used clubs that they have bought. They've complained to me that they didn't really get what they thought they were getting. Sometimes they complain that the club isn't in great shape.
I guess that can happen. I mean, there is some risk in buying anything used.
My guess, though, is that one of two things caused this. It's possible that my friends didn't really take enough time to make sure they were getting the clubs they wanted. I understand. It's easy to get excited when you see an awesome club at a low price. But you have to check the details. Sometimes prices are cheap for very good reasons, guys!
There's another possibility, and this more Global Golf's fault. A lot of the product images don't show everything. It might show the club's head, but not the grip. I understand that they show the head because that's the most important part. But I also understand why someone would feel frustrated after getting a club with a frayed grip. You're all excited to use it the next morning, and then you have to get the grip replaced. That's not great.
Customer Support at Global Golf
You can contact Global Golf via email, phone, fax, or mail. The customer service center is open Monday through Friday from 9AM until 7PM EST. On Saturday, it's open from 10AM until 5PM EST. It's closed on Sunday. They're probably all out playing golf with each other.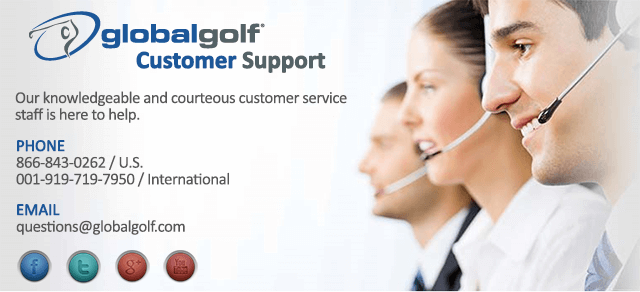 Frequently Asked Questions About Global Golf
Pros of Using Global Golf
Good prices
Plenty of used and sale items
Diverse inventory
Plenty of customer service options
Cons of Using Global Golf
Doesn't accept members from the United States
Used items may not match your expectations exactly
Conclusion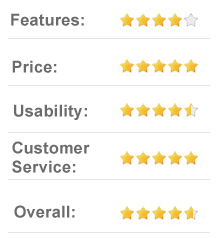 I've been golfing for most of my life. I like to think that I know what I'm talking about when I share tips on everything from proper form to buying affordable clubs. In my experience, Global Golf is one of the best ways to buy top notch golf clubs without blowing your whole budget. Personally, I don't mind buying used items as long as they are in good condition. That's where I save the most money with Global Golf. Even the non-sale items, however, are pretty affordable.
Having all of the golf accessories that I could possibly want in one store is also nice. That's a big plus for me. Plus, it means I only have to hide one credit card charge from my wife. Just joking, guys. She does most of the bills, anyway.
If you want access to a huge range of clubs and golf accessories, I recommend checking out Global Golf. There is a good chance that the site will have the item you want. If it doesn't, then you can get a custom club that's about the same.
If you want the absolute most expensive club in the world… you're probably not going to find that on Global Golf. Then again, if you're spending that kind of money, you probably don't worry a whole lot about saving a few bucks here and there.