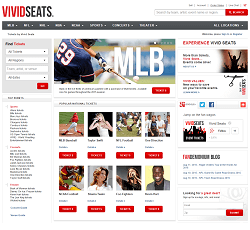 Vivid Seats is a company that specializes in connecting consumers with ticket sellers. It was started in 2001 by two Chicago residents who had met at the University of Iowa. VividSeats.com gives buyers online access to tickets sold through the company. The company headquarters is still in Chicago.
VividSeats.com is different from most ticket sellers. Unlike companies like TicketMaster, VividSeats.com focuses on ticket resales. Tickets on the site are often listed by independent ticket sellers that want to reach a wide audience of buyers. Other sellers are individuals who have tickets to events that they cannot attend. Instead of losing money, the current owners can list the tickets on VividSeats.com. Even if they only make a portion of their money back, at least they don't lose it all.
VividSeats.com has enjoyed rapid growth. It has been listed as one of Chicago's most successful startups. StubHub is one of VividSeats.com's biggest competitors.

Top Features of VividSeats.com
VividSeats.com's top features depend on how you want to use the site. If you want to sell tickets, then you will appreciate that the site does not charge you to post your listing.
If you want to buy tickets, then you will like how easy VividSeats.com makes it to find events in your area. Like most websites, VividSeats.com knows what city you are in when you visit the site. It uses this information to show you some of the most popular events in the area. There is a good chance that the event will show up on the front page, so you don't even have to search. If you want to attend a more obscure event, then you can use the site's search feature to find available tickets.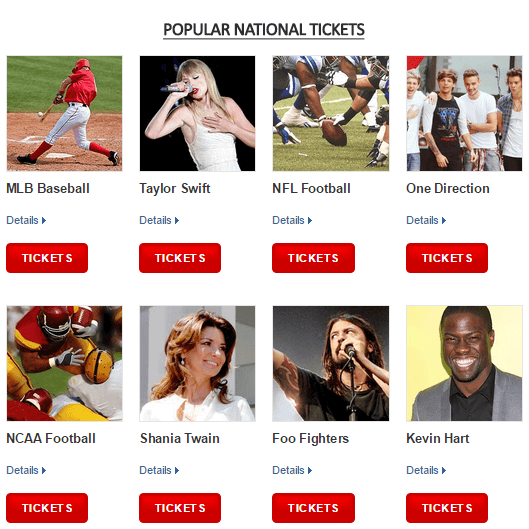 VividSeats.com has been noted for its excellent customer services. (More on that below.) A comparison shows that it also has slightly cheaper prices than StubHub. That's a feature everyone will like.

VividSeats.com Prices
Since VividSeats.com gets tickets from many retailers and individuals, prices can vary significantly, even for the same event. You should look over the ticket listings to find an option that matches your budget.
Keep in mind that you will also have to pay a service charge in addition to the price of your tickets. Service charges also vary depending on the event's popularity and location. You may also have to pay extra charges for services like will call or having your tickets emailed to you.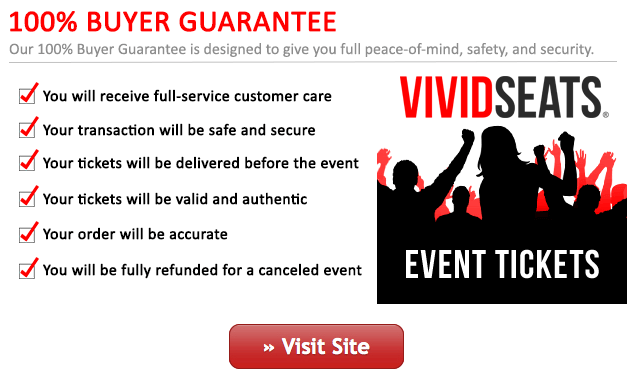 These fees can seem pretty steep to customers who only know the face values of tickets. In reality, all companies charge these fees. The price listed on a ticket is rarely the price that people pay to attend events. These companies have to make money, after all. Overall, I'd say VividSeats.com is a little cheaper than other sites.
If you want to sell tickets on VividSeats.com, then you can post your offer for free. The site, however, will take a 10% commission when your tickets sell. You should price your tickets accordingly.
Criticism of VividSeats.com
There are a couple criticisms that I think are important to note here. None of them are deal breakers. In fact, you could make the same complaints about practically all ticket sellers. Still, you should know about them before giving your money to VividSeats.com.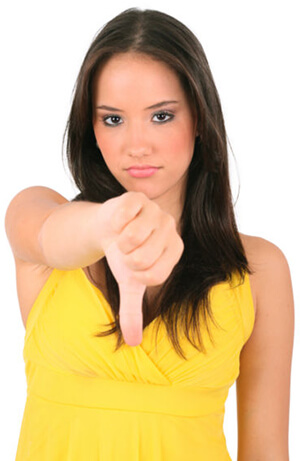 I think the fees are what most people dislike most. No one likes paying fees. Unfortunately, there aren't other options. Companies have to charge fees to make money. It makes customers mad, but what else can they do? At least VividSeats.com tells you exactly how much you're paying. Plenty of ticket sellers don't even want to tell you their prices until you're placing your order.
Another criticism is that VividSeats.com doesn't help buyers find specific seats. This is something I see people complain about online, but I can't think of a time when I felt like I didn't know what I was buying. Maybe I go to a lot of general admission events, so I haven't had to worry about it. My guess is that VividSeats.com can't tell you exactly which seat you will get because it doesn't have access to the latest information from retailers and venues. In other words, VividSeats.com probably doesn't know exactly which seat it is selling. If the venue doesn't offer continuous updates, then there isn't a way for VividSeats.com to know what seats are even still available.
I can see how this would be a slightly frustrating situation. Really, though, it's not that bad. I've been using the site for years and I've never even noticed that I didn't get to choose. As long as the seats are in the same area, I don't see what the big deal is.

VividSeats.com Customer Support
You can find answers to most questions on the company's website.
If you need to communicate with a customer service rep, then it's best to pick up the phone or send an email. Direct your emails to info@vividseats.com. If you want to speak with someone, then use the toll free number (866-848-8499). The customer service center is open from 8 AM to 8 PM (CST), seven days a week.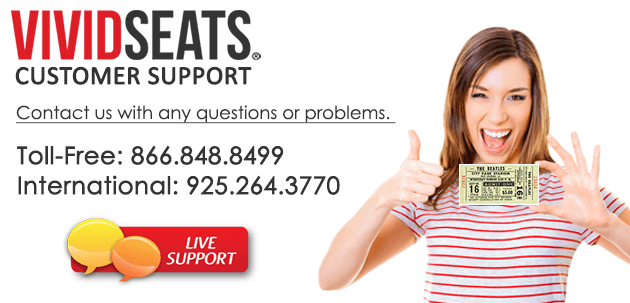 The only time I've ever needed to talk to customer service was when I didn't get an email to print my tickets. I was kind of mad about it because the service costs extra. I spent the extra money because I worried that the tickets wouldn't arrive in time. It turns out that I had accidentally changed the email in my account. VividSeats.com had sent them to the address I provided. I had just made a mistake. The woman I spoke to was very nice. She helped me identify and correct the situation without making me feel more sheepish than I already did.
FAQ About VividSeats.com

Pros of Using VividSeats.com
Rewards program can help you spend less money on tickets
Offers tickets to a diverse range of events
Options for printed, mailed, or will call tickets
Free listings for sellers
Cons of Using VividSeats.com
Charges extra for printed and will call tickets
All sales are final, so you cannot cancel orders
You won't necessarily know which seats you are buying until you get the tickets
Conclusion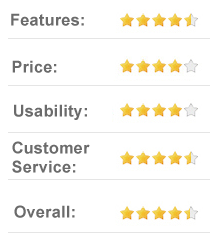 My family and I make a point of attending a cultural event together at least once a month. One time a month may not sound like a lot, but the expense adds up when you're footing the bill for the kids. The bill has gotten even higher now that they've become teenagers and want to bring their girlfriend an d boyfriend along.
VividSeats.com has helped me save a lot of money on these events. Even if a ticket is only $1 cheaper than it is from another ticket seller, that means I save at least $5 a month. Who doesn't want to save $50 – $100 a year? It's not like you get worse seats by using VividSeats.com. It just makes sense to use the site when it means I can save a few dollars here and there.
Over the years, I've gotten to know this company pretty well. I'm not going to say that it's perfect. There are times when I feel like the service fees are higher than they should be. I also dislike paying extra just to have them send me an email with my tickets attached. The pros, however, outweigh the cons by a long shot. Besides, all of the ticket sellers charge high fees. Most of the time, VividSeats.com is actually a little cheaper.
If you like sports, music, and theater, then you should give VividSeats.com a try. If you don't find tickets at prices you want, then you don't have to buy them. My guess is that you will find something you want.