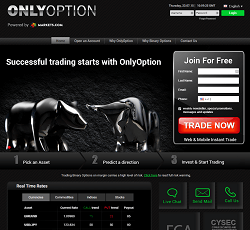 Only Option was one of the newest binary option brokers. The company just started accepting members at the beginning of 2015. Despite the brokerage's youth, it has its own trading platform, a vast library of useful information, and features that make it just as attractive as established platforms.
Only Option is owned by Safecap Investments, Ltd. That might help explain why the company was able to make such a big name for itself so quickly.
As a newer brokerage, there isn't much that we know about the company other than the services it offers. Looking at it from that perspective, Only Option definitely deserves your attention.

Top Features of Only Option
The main thing to know about Only Option is that it uses a proprietary trading system. If you have experience with other trading platforms, then you'll pick this one up easily. Just know that it is a little different from the ones you have probably used before.
Only Option has a lot of useful features. Whether you get to take advantage of them depends on the type of account you sign up for.
A started account will introduce you to Only Option and some of its most important features. Some people use this account to decide whether they like Only Option. If they do, then they upgrade to other accounts. Other people stay with the Starter account for as long as they use Only Option's platform.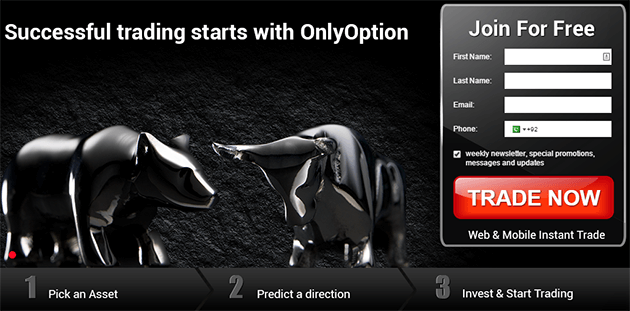 Some top features from the Starter account include:
A bonus up to $250
No fees or commissions
Access to an e-video library filled with educational content
Risk management tools that will help you decide whether you want to place a trade
Alerts for the latest alerts and important research
A starter guide
One-on-one training to get you started

A Pro account gives you access to the features included with the Starter account. Since it is a higher level of membership, though, Pro accounts have some extras, including:
A bonus up to $500
Access to a professional account manager
Three hours of one-on-one training every month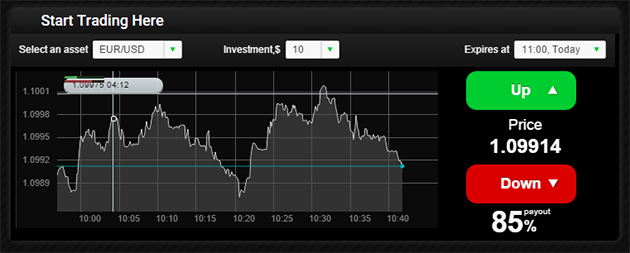 Traders who want to earn a lot of money should consider signing up for a VIP account. This will give you access to every feature offered by Only Option. Some of the most useful features include:
A bonus up to $2,500
Access to a specialist account manager
Unlimited one-on-one training
Access to member assistant services during off trading hours
SMS signals to keep you informed of important updates
A trading central report that offers plenty of useful information
A VIP account is clearly the best option. Of course, you will have to pay more money to take advantage of those extra benefits.
Only Option Prices
Only Option prices vary depending on the type of account you want. If you prefer a Starter account, then you need to deposit at least $250 into your account.
$250 is the minimum deposit.
If you want a Pro account, then you need to deposit at least $1,000. If you want a VIP account, you will need to deposit $5,000 or more.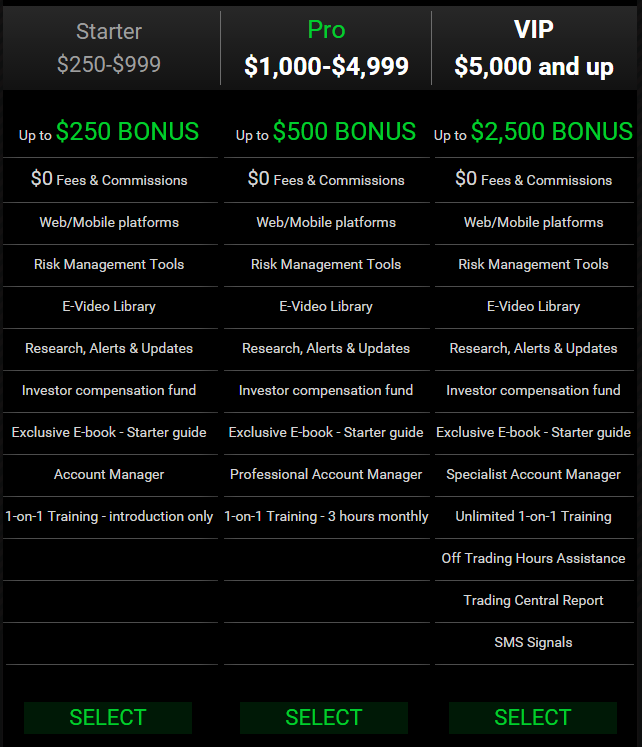 $5,000 is obviously a lot of money for some people to spend on trading. If you're a professional, though, you might as well take advantage of the extra features. After all, you're not really losing money. You're just dedicating a chunk of money to your Only Option account. This option could actually help you increase your profits.

Criticisms of Only Option
Only Option is a great online broker with its own trading platform and plenty of perks. As far as online traders go, this is one of the best I've ever used. There's just one problem. And it's kind of a big one. If you live in the United States or Canada, then you can forget about using Only Option.
Only Option is regulated by the Cyprus Securities and Exchange Commission (CYSEC). CYSEC has strict regulations that make brokers follow rules of fair play and transparency. Unfortunately, that isn't enough for the U.S. or Canada.
I suppose this isn't really Only Option's problem. I travel a lot, so I have been able to use a lot of online brokers that don't comply with my country's rules. My experience has shown me that there isn't a big difference between security, assuming that the regulatory organization is doing its job, of course. The parts of North America that won't accept CYSEC regulations just seem silly to me.
On the other hand, it seems like Only Option could make some changes to fit demands by Canada and the U.S. There are some platforms that accept traders from these countries. Why can't Only Option be one of those platforms? I'm sure it's a pain, but it would really help traders who want the Only Option experience.
Only Option Customer Support
Only Option gives their customers several support options. You can contact your account representative by phone, email, or Live Chat. Unless you have a VIP account, though, you will only have access to customer support during market hours. That's pretty standard in the online trading industry.
Only Option also has a wealth of resources that can help traders answer their own questions. In addition to a comprehensive FAQ, members have access to an ebook that introduces them to the basics of Only Option's trading system. Members can also access a video library that explains how investors can use the latest research to make smart decisions. After reading the ebook and watching several of the videos, you should have a basic understanding of how you can use certain strategies to make money from Only Option.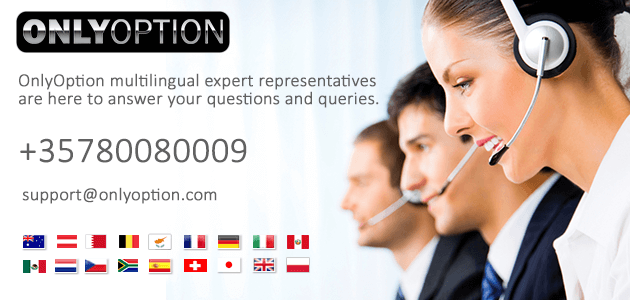 Frequently Asked Questions about Only Option
Pros of Using Only Option

Minimum deposit is reasonable
85% max payout
60, 90, and 120 second options are available
Big cash bonuses are possible
Video library contains useful lessons that will help you succeed

Cons of Using Only Option

Does not accept traders from the United States or Canada

Conclusion

I'm sure that plenty of people will want to stay away from Only Option because it's so new. I can't blame anyone for taking their time. It makes sense to read reviews before funding an account with any brokerage. You'd be kind of crazy not to do your research.

That said, I think Only Option is great. I've been out of the United States, where I live, a lot lately, so I've been able to try this and other brokerages that aren't available back home. I'm a little smitten with it. To some extent this could be because it's new and I have limited access. But I think it's more than that. I genuinely like the interface. Given a chance to use it or one of the more popular platforms, I'd take Only Option every time.

Of course, that's my personal experience. You may dislike how the platform works. I'd urge you not to make a brash decision, though. A lot of times, people don't like new things. They don't have legitimate reasons for their dislike. They simply do not like change. Give Only Option a few tries before you decide whether you want to keep using it. My bet is that you'll end up liking it more than you expect.

Binary traders have hundreds of brokerages to choose from. Only Option is easily as good as the more popular services that I've used. The only real difference is that Only Option hasn't been around very long.

If Only Option can maintain a commitment to the level of service that it offers today, then I will certainly use it whenever possible. It's a fun experience and I've already made some cash. Win-win!