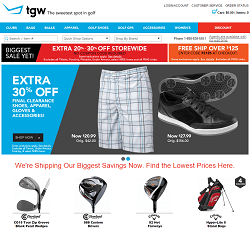 TGW.com started in April of 1998 as a small business called The Golf Warehouse. At the time, the Wichita, Kansas-based family business only had four full-time employees. The company, however, offered similar services as it does now: customers could access a wide range of golf equipment online, choose the items they wanted to buy, and have them sent to their homes. This gave golfers a more affordable way to purchase the equipment needed to improve their games.
The Golf Warehouse has grown considerably since 1998. Today, the company runs warehouse with over 230,000 square feet of space. The number of employees has also grown from four to over 250.

Over time, The Golf Warehouse has added a lot of products to its inventory. The current list includes over 40,000 golf products. Shoppers can purchase a wide range of items, such as golf clubs, golf balls, GPS devices, bags, shoes, and clothing.
The company's website has also evolved with Internet technology. The current site gives shoppers access to several customer service options, order status and tracking, and secure payments.
In addition to its website, TGW runs a retail store in Wichita, Kansas.
Top Features of TGW.com
The best thing about TGW.com is that the site helps passionate golfers find affordable equipment that they can use to improve their games. No matter what type of golf equipment or accessory you need, the Golf Warehouse almost certainly has it or something very similar. The company is an authorized dealer of so many important golf brands that you don't have to worry about missing out on an important item. TGW sells products from Titleist, TaylorMade, Callaway Golf, Adams Golf, Adidas Golf, and several other brands. That means the stuff you find in your local store is usually available online. Buying your equipment from TGW, however, means you save some money.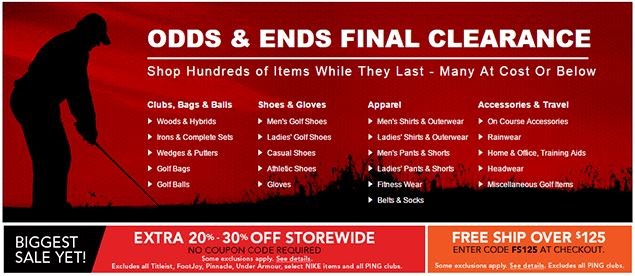 The company is also very aware that it has a diverse customer base. Not everyone you meet on the golf course knows how to use the Internet well. A lot of the retirees, for instance, had entire careers without so much as email. TGW addresses this diversity by giving their customers the tools they need to buy products. If you don't want to order online, you can place your order by phone. If you don't even want to look at the online catalog, then you can request a paper version that gets sent to your house.
I like that TGW has kept itself so open to older and newer golfers. Some companies seem to think that everyone wants the same thing. Sure, most people want a website that they can use to browse products, compare information, and place orders. Just because that's become popular, however, doesn't mean that everyone prefers that. Some people out there still want to get a catalog in the mail. Of course, it takes a little more time to order through the mail. It's just great that TGW recognizes that there is a market out there that still needs attention even though the people in it don't spend much time online. It shows a commitment to customer service that a lot of companies don't even come close to matching.

TGW.com Prices
TGW.com has a price match guarantee that ensures you get a good deal when you buy items from them. The chance that you will actually need to use that guarantee, however, is pretty low. The company already has extremely affordable prices. It's unlikely that you will find better deals elsewhere.
The Golf Warehouse runs frequent sales and discounts. Depending on the specific sale, you might qualify for 20% off certain items or get free gifts.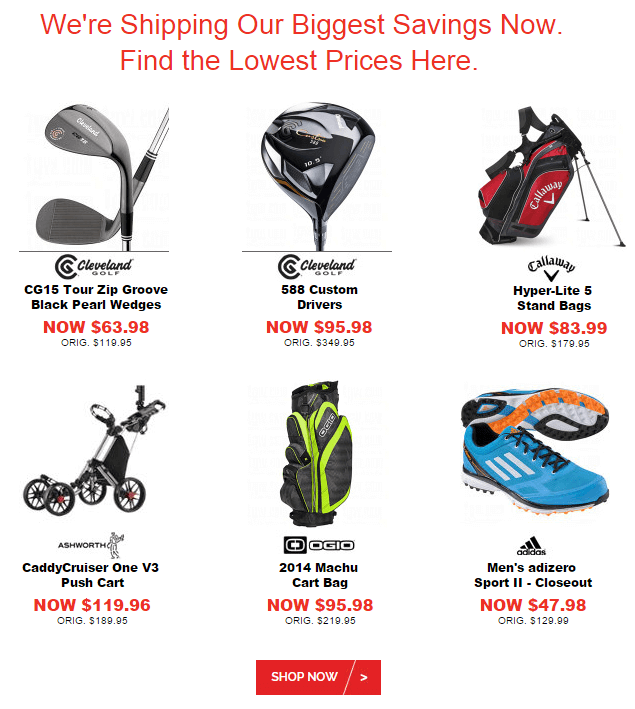 Most orders of $100 or more qualify for free shipping. That can add up to huge savings for customers who want to buy large or heavy items like golf bags and clubs.
TGW has a discount section on its website that makes it really easy for buyers to find low-cost items. Many of these items are on clearance, so you can get them at huge discounts. Despite the low price, all of the items work well. The company gives customers a 30-day playability guarantee that it calls TGW Mulligan. If you decide not to keep the item, you can return in for store credit within 30 days.
Criticisms of TGW.com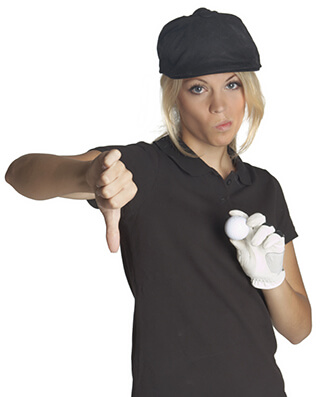 Some people think that TGW has grown too quickly for its own good. They argue that the company hasn't invested in the technology required to keep up with demand. Perhaps that's why you'll sometimes order something from the online catalog and find out later that TGW doesn't currently have that product in the warehouse. I haven't seen that happen, but I've heard other people complain about it. I would feel pretty annoyed if that happened to me, especially since you don't really know when the item will come back in stock. It could tomorrow just as easily as next month. If I order new golf shoes, I expect to get them within a few days. Since it hasn't happened to me, though, my guess is that it's pretty rare.
If this is a problem that affects a significant number of people, hopefully TGW will upgrade its software to keep track of how many items it has in stock. Given that so many other sites do it, it doesn't seem that hard. I actually wonder if the company has already fixed this problem. Maybe that's why I've never seen it happen.
The other major criticism is that TGW doesn't give you cash refunds for returned items. I think this is a more serious concern. Getting store credit isn't terrible, but I'd like to just get my money back or have it refunded to my credit card. As long as there isn't any damage, it's hard to understand why TGW has this policy. It's annoying, but it hasn't prevented me from using the site. Realistically, the site's product descriptions are good enough that you probably won't need to return anything.

Customer Support From TGW.com
Customers have several options for contacting representatives at TGW.com. The website offers 24-hour Live Chat, so customers can get their questions answered at any time.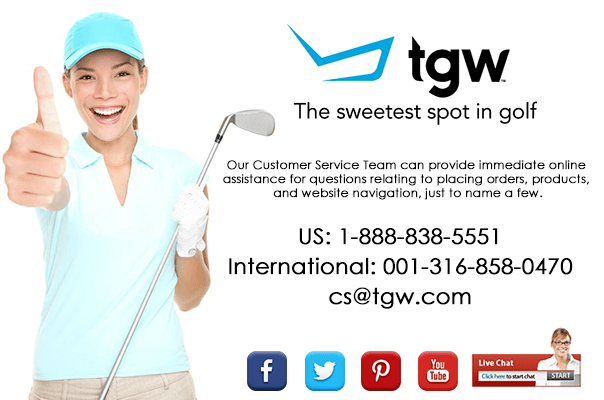 Those who prefer talking to someone on the phone can use TGW's toll-free number. International customers can use the international customer services line to avoid long distance rates. The customer service center is open from 7 a.m. until 11 p.m. CST, Monday through Friday. The center is open from 7 a.m. until 8 p.m. during the weekend.
Customers can also contact the company via email or snail mail. TGW maintains several active social media profiles where customers can direct questions and concerns.
FAQ About TGW.com
Pros of Using TGW.com
Huge selection of golfing products and accessories
Strong commitment to customer services
Low prices on golf equipment
Price match guarantee
Cons of Using TGW.com
The website occasionally lists items as available even when they are out of stock
No cash for returns. Store credit only.
Conclusion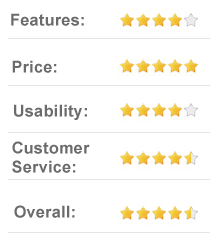 If you're a golfer, then you owe it to yourself to check out TGW.com. You will likely find some clothing, equipment, and accessories to add to your collection. Since The Golf Warehouse has such heavily discounted prices, you can actually buy them instead of just dreaming about it.
TGW.com has grown a lot in recent years, but it still feels like a small, family-run business. The company offers great customer services and a surprisingly large stock of merchandise. If you like the personal experience of buying from a small company, but you also want a huge selection of products, TGW is probably the perfect option for you.