About GCM Forex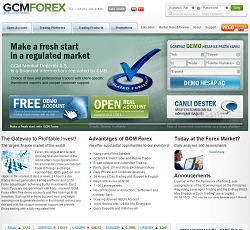 GCM Forex is a financial intermediary licensed through compliance with all the requirements specified in CMB that is equipped with the state of the art technological infrastructure. It aims for the mission of becoming the leader in financial intermediation services in Turkish Capital Markets, and in particular in the leveraged trading processes.
Founded in 2008 and headquartered in the British Virgin Islands, the company prides itself on its organizational structure with a professional and strong staff, and is able to provide quality services to clients. The employees in the service have advanced proficiency in capital and derivatives markets so as to allow them to convey reliable and complex financial data to clients, and it is able to do this in some of the quickest ways possible. GCM Forex is a standout in the Forex trading service market specifically because it offers:
42 currency pairs
Newly designed website
And More
Educational resources on Forex trading
Free demo account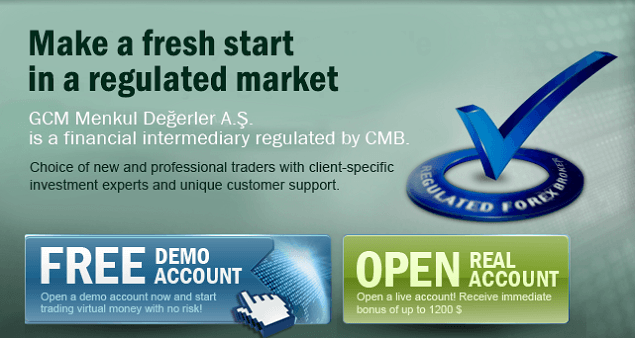 With everything that the service has to offer there is no question that this broker is leading the way in the marketplace. Investors come to GCM Forex to put their savings to use, which means that the company makes sure that all their efforts are devoted to making the route to higher profit margins shorter. Each inch of needless red tape, each communication problem, each delay is an obstacle GCM Forex intends to avert on this route. But what else makes this site one worth watching and perusing? Let's delve further into some of the key features of GCM Forex.
Top Features Of GCM Forex
Forex, the largest and fastest growing financial market of the world, which means that there are tons of players in the space trying to get in on all the action. The reason for the quick growth of Forex is because it offers huge opportunities for all investors. With GCM Forex, just about anyone can get in on all of the trading action. The site is very well organized and laid out so it makes it super easy and simple to utilize for anyone. The trading market is available 5 days a week, 24 hours a day, thanks to next generation trading platforms and GCM Forex advantages, achieving fruitful investments.
The site is very easy to use for just about anyone as well. Whether you are new to the Forex trading world or have some experience here, you need not to worry. GCM Forex offers free demo accounts and free trainings to its investors as well.
Like many other Forex brokers, GCMForex.com offers the MetaTrader4 platform for all of its account types, including the free demo account. Although the platform is fairly standard compared to others in the space, there are also enhancements that help set it apart from the standard MT4 trading experience. Specifically, users who take the time to connect the MYFX console will be able to be able to enjoy one-click trade executions, and partial take-profits among other things. The broker's custom indicators are also helpful in easing the technical complications of the Forex trading process.

While the broker's website may look rather simple, it is actually chock full of helpful Forex resources. Among the most useful features that exist on the site include advanced charting tools, expert advisors and instant scripts that enhance the trading capabilities and speed up the trading process. Of special note is a free VPS which can offer support for traders who wish to maximize the efficiency of their expert advisors. Specifically, traders who deposit the $2,500 required for a standard account will also get free access to the MYFX console, a system that thousands of other users have used and really enjoyed!
GCM Forex Prices
While you are able to receive a free demo account of GCM Forex, there are also a number of paid subscription models that allow users to handle different forms of trading. There are a number of different types of trading accounts, which make it easy for anyone at any budget level to take advantage of these types of accounts.
The types of trading accounts are classified as "cent" which requires a minimum deposit of $1.00. This is perfect for those who are new to Forex and just want to get an overall feel of the trading environment. The next account level is "mini" and requires a minimum deposit of $10. This option is really perfect for beginners, but with improved trading conditions.
Moving on to the more expensive options, there is the "classic" which requires $5,000 minimum and the "ECN" which requires a minimum of $1,000. Both of these options are ideal for professional traders who want a trading condition where there is no conflict of interest between them and their broker. These also provide a full range of useful tools and trading facilities.
Criticism Of GCM Forex
From a technical standpoint, the MT4 platform offered by GCM Forex works just as every other MT4 platform works. However, users have had some issues and a bit of difficulty opening a practice account because the page for this is somewhat hidden on the site. This is likely because the service wants users to pay instead of simply riding out a free service. That said, opening a live account is generally easier, but can still get a little pricy if you are serious about trading.
The last main criticism of the site is the use of the ID uploads form. As all regulated Forex brokers do, GCMForex.com requires the upload of one form of ID, which can be either a valid driver's license/state ID, passport or voter registration card. There have been complaints that the service does not do a good job of reading these ID cards since on multiple accounts people have been rejected for a non-valid license when in fact the license has been legit. This is clearly a glitch that hopefully GCMForex can get resolved soon or otherwise it may turn away viable and eager customers.
Customer Support
The customer support center offered by GCMForex is actually quite extensive. There are literally 13 different ways to contact the company, which ensures that help is never far away. Phone support is available in 8 different country codes, and traders can send emails to directed departments for the quickest and most relevant responses.
Live chat is also available during the business week only and not on the weekends. During the week general inquiries are only answered from 9-5 EST. The support team at GCMForex is usually able to get back within a timely manner and has received strong praise in this regard. Of special importance is the ability to email yourself the chat transcript so that you can refer to it later if necessary.
Final Thoughts
With the Forex market starting to really take off, there are so many options in the Forex trading world to choose from. A crisp web interface and straightforward registration process will make traders that visit GCMForex.com comfortable from the outset. Reasonable trading conditions and EA tools make this broker a solid option for those looking to trade.
The company offers users everything that they could ever want or expect to receive from a Forex trading platform. The interface is truly next generation, user friendly and provides real-time financial analyses, news, and access to actual market terms with fixed and narrow spreads.
There are also a number of key educational resources and materials to those who are new to the space. The company is also always trying to improve and never stops in its quest for innovations to maintain continuous improvement of our technological infrastructure. So take some time to check out GCMForex.com and start your quest to trade today!