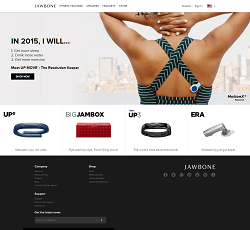 Jawbone.com is the online home of Jawbone, one of the world's leaders in wearable and portable technology. The company is particularly well known for its fitness and sleep tracking wristbands as well as its portable wireless speakers and Bluetooth headsets. Jawbone's mission is to build hardware products and software platforms powered by data science. They strive to help people live better lives by providing personal insight into several vital daily areas.
Below is our review of Jawbone.com as well as a few of the company's most popular products. We cover the history of the company as well as its top features and customer support. We also provide a brief look at what little criticism Jawbone products have received. If you are interested in purchasing a Jawbone product, then the review of Jawbone.com below is for you.

About Jawbone
Jawbone has a very interesting history as a company. It was founded in 1999, under the name Aliph, by Alexander Asseily and Hosain Rahman. Aliph's initial purpose was to develop noise-cancelling technology for use by the United States military.
A few years later, in 2002, Aliph won a prestigious contract with DARPA, the research arm of the U.S. military. Their goal was to develop technology that would allow combat soldiers to communicate clearly with one another, especially under difficult and adverse conditions. It was during their research into this that the company's two founders realized the same technology had valuable consumer potential.
Aliph went to work on a mobile headset design that mimicked the technology being developed for the military. This product hit the market two years later as the Jawbone headset. The headset greatly suppressed background noise for the listener.
The company continued to produce wireless headsets, under the product name Jawbone, over the next couple of years. The wireless headsets were met with highly positive reviews and the company started gaining commercial steam. They simultaneously began to develop a software platform that was designed to allow users of the Jawbone headsets to customize their devices.
It wasn't until 2011, however, that the company dropped the name Aliph and made Jawbone its official name. It was around this time that they added their popular jambox (portable wireless speakers) and wearable lifestyle tracking wristbands to their line of products.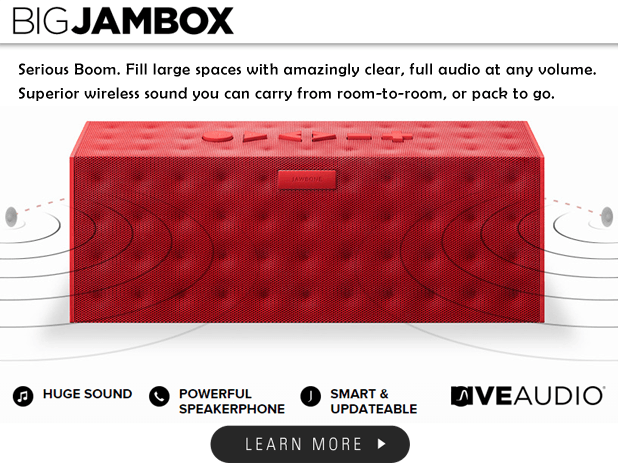 Today, Jawbone is headquartered in San Francisco, California. They continue to develop and produce top-of-the-line wearable technology and portable audio devices. The company has won numerous awards over the course of its history (including the 2010 Design of the Decade from the IDSA) and owns over 240 patents related to its wearable technology.
Top Features of Jawbone
The first thing you will notice upon visiting Jawbone.com is its great design. The website is laid out intuitively and is very welcoming. It is easy to navigate to find the information you are looking for. It just makes sense that a company that is highly regarded for the design of its products will have an expertly designed website.
Jawbone.com makes it easy to find the particular product you are looking for. The website is divided into four main sections. These primary webpages are listed along the top of the landing page. They include "Fitness Trackers," "Speakers," "Headsets," and "Store."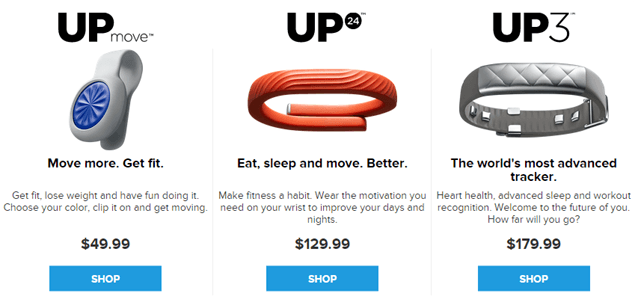 Navigate to the Fitness Trackers page and you are greeted by a number of Jawbone products. These include the UP System, UP Move Tracker, UP24 Tracker, and the UP23 Tracker. Each product is explained in detail with handy visuals. There is even a comparison tool so you can see how the different products stack up against each other. The Jawbone UP System is particularly highly regarded in the tech world for its beautifully simplistic design, amazing battery life, and one of the best fitness/lifestyle apps on the market today.
Visit the Speakers page of Jawbone.com and you will be able to take a look at their Mini Jambox and Big Jambox. Each of the products is discussed in detail and includes a high-quality video showing all of their best individual features.

The Jawbone.com Headsets page currently features only one product, the Era Headset. Once again, the page discusses almost everything you need to know about the product and includes great videos and pictures. You can learn about the Era Headset's design, technology, and specs as well as about the NoiseAssasin technology and the Jawbone App. FAQ about the product are also included.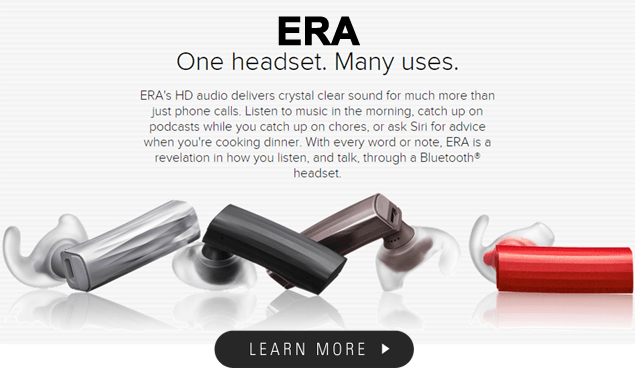 Finally, you come to the Store section of Jawbone.com. As you might guess, this page of the website acts as a store for those looking to buy Jawbone products. Like the rest of the website, the Store is easy to navigate and perfectly designed. It is easy to find any new Jawbone product you want and you are able to easily customize them to your personal preferences as well. Jawbone accessories and refurbished Jawbone products are also offered.
Customer Support
Jawbone.com not only offers great features and products – it also offers some of the best customer support around. Visit the website and you will notice a link to their Support webpage right away.
The Support page of Jawbone.com is intuitively broken down so you can quickly find the specific type of support that you need. They have a Product Support section that is broken down by the type of product you need help with. They also have an Order Management section that will help you track your order, start the return process, and much more. Each of these sections offers numerous FAQ and answers.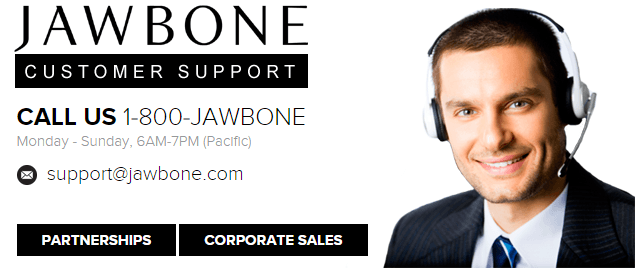 If you don't find what you are looking for in the two support sections, then the customer support phone number and customer support email are easy to contact. Jawbone customer service is open from 6am to 7pm (Pacific Time Zone) on Monday through Sunday. It is easy to get through to a support staff member on the phone and all of the representatives are friendly and professional. The email support is likewise effective and you are sure to receive a response to your query in as little as one hour.

Criticism of Jawbone
Like any company, not everyone loves Jawbone. There have been some minor criticisms of the company's products. The primary ones revolve around the cost of Jawbone products. Some people feel like they are too expensive for what you get. However, when you factor in the simply amazing design of each Jawbone product and their incredible durability, it is hard to argue paying a few more bucks than for competitor's products. We personally found nothing wrong with the Jawbone.com website or their products.
Final Review of Jawbone.com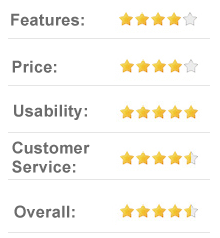 So what's our final verdict on Jawbone.com? Well, it's hard to argue with the company's success and popularity. They've won numerous awards and have countless fans around the world. They're obviously doing something right.
From their website and the products we've reviewed, Jawbone.com deserves its recognition as one of the top names in wearable and portable technology. The design of their products is nearly flawless. They are all durable and rugged without sacrificing anything in the way of style. Furthermore, the Jawbone app is one of the best around, especially in the fitness/lifestyle tracking industry.
We have nothing but good things to say about Jawbone.com. The website is easy to navigate and intuitive. Their products are top-notch. And their customer service is second to none. If you're looking for a new headset, portable wireless speaker system, or fitness/lifestyle tracker, then Jawbone is one of your absolute best bets. Jawbone.com makes the kind of products that hold up for the long haul and that you won't cast aside anytime soon.