Jimdo Review
Web hosting services are a dime a dozen in today's marketplace. They all seem to have the same features of varying quality. Unfortunately, it is simply impractical to try out each of the services to see which live up to their claims and which fall short. To help with this, we are reviewing many of these hosts and providing you with the information you need to make an educated decision. In this installment, Jimdo is under the magnifying glass.
About Jimdo
Jimdo is a web hosting service that uses "what you see is what you get" web design tools. It was founded in February 2007 in Hamburg, Germany (where it is still headquartered) by Matthias Henze, Christian Springub, and Fridtjof Detzner. Jimdo also has an office in San Francisco. In 2013, Jimdo's 10 millionth site went online.
Jimdo's number one goal as a website builder is to make everything as simple as possible. Regardless of your industry, Jimdo wants to remove any barriers between you and your own professional site. This is made them one of the leaders in the industry.
Jimdo developers spend a lot of time working on the features that go into their packages. The online store is incredibly easy to get up and running, taking only a matter of minutes before you can start receiving orders for around the world. Since its e-commerce functionality opened in 2010, there have been over 80,000 small businesses that have utilized it. Even with these great advances, Jimdo is careful not to over complicate things.
Top Features of Jimdo
JimdoFree is the fastest way to get a website up and running. And, as its name suggests, it is free of cost. Of course, with it being free, it has the least features of any of Jimdo's packages. We are going to first go over some of JimdoFree's features, which are also present in the pay packages, before going more in depth into the packages that actually cost money. JimdoFree's features include
Varied designs – There is less customizability and templates than the pay versions, but even the free designs are professional and modern.
Fast support – As the low plan on the totem pole, the JimdoFree users get support once the paying customers are helped.
500 MB of storage
Search engine optimization (SEO) – Jimdo automatically optimizes its websites to rank high on search engine result pages.
XML sitemap – This allows different parts of your website to show up in search results, so users can get to where they want more quickly.

Password protection – With JimdoFree, you can password protect one section of your website, this allows VIP access to one area.
Online store – This is one of the most surprising features of JimdoFree. Jimdo offers an online store for free. This is almost unheard of. With the online store, you can list five items and accept PayPal payments (including credit card.)
Unlimited data transfer – Even with the free service, Jimdo includes unlimited bandwidth and up to 3,000 webpages.
Blogging – A free blog comes with every Jimdo account. This is a must have for any website interested in climbing the search rankings.
Guestbook – Visitors to your site can give feedback and submit inquiries through your site. CAPTCHA helps you avoid spam.
Additional features include: custom layout, widgets, photo galleries, file downloads, RSS feed, and flash

JimdoPro
JimdoPro is the least expensive pay plan Jimdo offers, is marketed toward athletes, freelancers, photographers, and others of that ilk. There is a wider array of designs available, including customizing your site using specific colors, fonts, or background photos. For SEO, JimdoPro offers advanced options that allow the creation of SEO friendly URLs and meta tag editing. JimdoPro has 5 GB of storage, and the online store allows you to list up to fifteen items.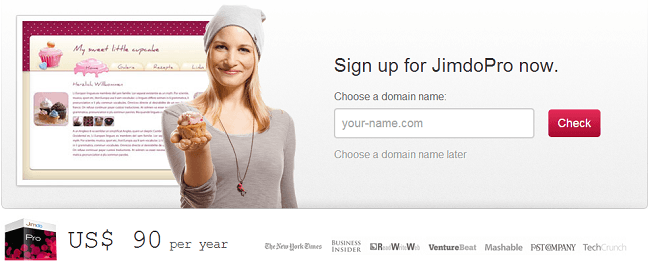 Unlike the free package, JimdoPro lets you register a domain name that does not include .jimdo. You also can have email addresses associated with this domain. Also, there are no ads, no Jimdo logo, and no other distractions, like the ones found on the free site. The site will also be easily shareable on all of the social media sites. Finally, JimdoPro sites are optimized to automatically be readable on mobile devices, such as the iPhone and Android platforms.
JimdoBusiness
JimdoBusiness is the top of the line, all inclusive business website builder. It is amazing what you can do without needing a coder or having special skills. Basically, it takes the grunt work out of your hands. JimdoBusiness provides measurable results with detailed statistics, professional design, your own online store with unlimited items and plenty of payment options, and top search engine rankings on Bing and Google.
JimdoBusiness users get the most tender love and care from the Jimdo support staff. Also, these sites get unlimited traffic and web space allowing them to grow unfettered. Any part of your site can be password protected. This allows you to create subscriber only or employee only areas. JimdoBusiness comes with two domain names and twenty email addresses to use with those domains. If you are not sure if JimdoBusiness is right for your business, they even give you a free 30 day trial.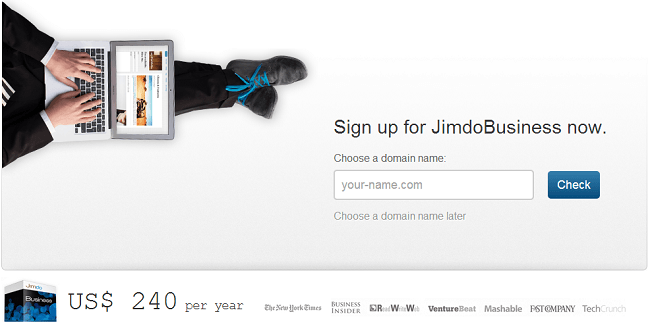 In addition to all of this, you can upgrade at any point without losing anything already on your website. So, really, there is nothing to lose from trying it out.
Jimdo Plans and Prices
We have covered each of the plans in great detail above. Now, it is time to get down to the pricing. As is readily apparent, the JimdoFree package is absolutely free. JimdoPro, their most popular package, is $90 for a year, which works out to $7.50 per month. JimdoBusiness costs $240 per year (which is $20 per month).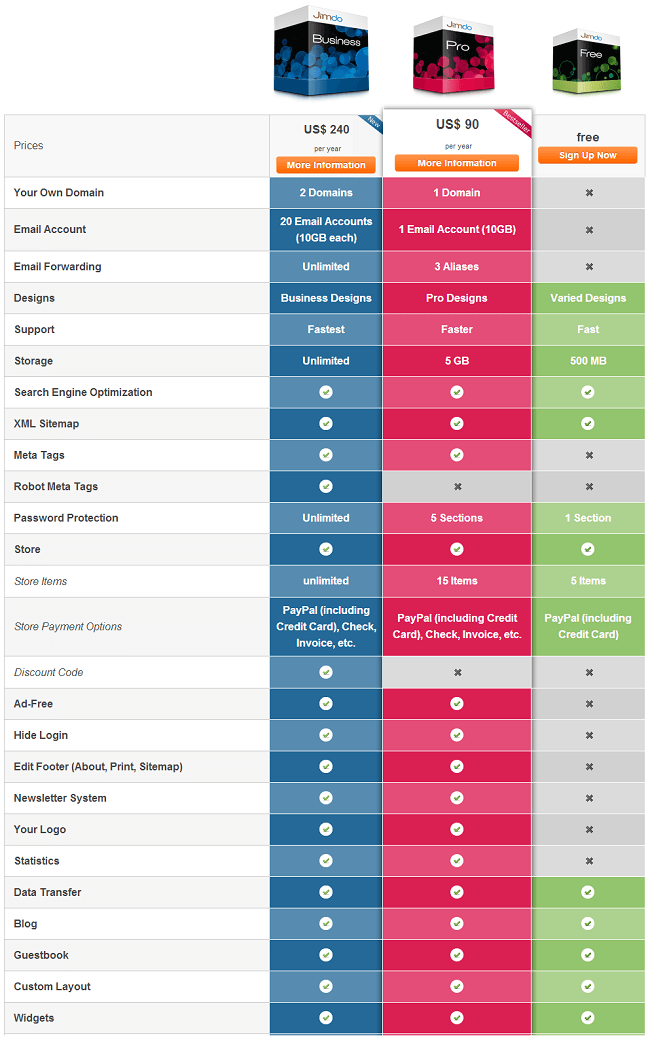 The Downsides of Using Jimdo
During our experience using Jimdo, we did not really have any problems. We tried out the JimdoFree and then the JimdoBusiness package. The transition was seamless between the two. The JimdoFree package seemed fairly limited in its online store, and it was a bit annoying having advertisements on our website. But, you get what you pay for. These issues went away when we switched to JimdoBusiness.
A search of the site building discussion forums turns up a lot of people complaining about the same things we disliked about the free websites. There was only positive feedback about the JimdoPro and JimdoBusiness suites.
Jimdo Customer Support
We should preface our preview of the support by saying that building the website was so stupidly easy that support was never needed. Plus, there are plenty of forums, FAQs, tutorials, and wikis to consult for answers. That said, there is no phone number to call, and the live chat is only available from 9AM to 5PM Pacific.

We utilized the live chat when we were just JimdoFree members and then again when we were JimdoBusiness users. We received quick responses both times. The customer service rep was incredibly knowledgeable, patient, and was able to point me to documentation to help answer my questions.
Conclusion
If you want to start a personal or business website, Jimdo is the best all in one package for building that site without hiring a developer. We strongly recommend getting JimdoBusiness, but you may be able to get by with JimdoPro. To us, it is worth the extra 42 cents a day to go with the business plan. Of course, if you are still unsure about whether you want to go with Jimdo, start out with the JimdoFree plan, and upgrade once you see how useful it is…and get tired of the ads on your website.