LiveChatInc Review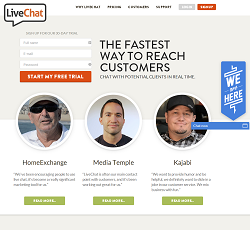 When you need help with a service or product as a customer, there is nothing more frustrating having to wander an automated maze unable to get in touch with a real human voice to help with your unique problem. Businesses need live chat support software to give your customer support an edge over your competitors.
You can give your customers the instant assistance they need with online chat software. To give you an edge in retail, a number of live chat options have entered the marketplace. Many of them also offer customization and a vast array of analytic tools. You can typically achieve the feel of a physical, brick and mortar store through the use of live chat software.
I have had the opportunity to test out some of the more popular live chat software in the past few years. Some of the best ones provide personalization and information that is relevant and easy to use. Some of the bad ones leave your customers in limbo. I have learned to spot the good, the bad, and the ugly. In this entry, I am going to put LiveChatInc to the test and see if it is a good option for your enterprise.

About LiveChat
Offering a variety of different options with their software, LiveChatInc is a live support, web analytics, and online marketing application for businesses of any size. LiveChat was first launched in 2002. With the software, you can talk to customers in real time through your website. According to their website, LiveChat has over 6,000 clients in 60 countries who use their software on a daily basis. Some of their big name clients include Maybank, the Better Business Bureau, Unicef, Kaspersky Lab, and Adobe Business Catalyst.
LiveChat is based in Wrocław, Poland, but they also have an office in Chapel Hill, North Carolina. LiveChat believes tools to communicate with customers must be available on every company's website. Emails tend to be slow, and phone calls tend to get expensive. So, their solution is live chat. To support their online customer service tool, LiveChat has a team of 28 people. Their stated goal is to make the online sales process easier by providing easy and quick communication between potential clients and ecommerce owners.
Top Features of LiveChat
LiveChat has so many features, I cannot list them all here. But, below are some of the highlights:
Monitoring – You can approach users in a personal way using the personal details provided by the LiveChat application. There is also useful sales information at your fingertips to help you with conversions.
Ecommerce – With the software, you are able to tell what links or keywords visitors used to find your site. You can also see how many of your chats led to sales.
Reports – Pretty much any report you could possibly want is available. You can see how your operators are doing, how satisfied your visitors are, and how many chats you had.

Integrations – To increase your followers, you can connect your live chat to Twitter, Google+, and Facebook. Desk.com, Join.me, and Zendesk are just a few of the popular desktop sharking and help desk platforms that integrate with LiveChat.
Engagement – You can invite users to chat using automated greetings. There are also many eye catching graphics to choose form for catching the attention of website visitors to make them aware that chatting is an option.
Applications – There is no need for installation or setup. You can start chatting with clients immediately with the web based app. You can use LiveChat on pretty much any device. It works with the iPhone, Mac OS X, Android, iPad, and Windows.

Archives – Using the chat history, you have a simple tool for browsing past interactions with customers. Also, if you allow the chat function after hours, it keeps track of any missed chats.
Chats – You can transfer chats to other team members, use canned responses to immediately respond to customers, and use the timeline to start each chat prepared.
Security – LiveChat keeps data safe with the most sophisticated SSL security available. They use the same 256 bit encryption that the United States military uses. You can also control who can access the application.
Management – To help with training agents and to ensure the best possible quality, you can supervise all chats. There are owner, administrator, and normal agent roles.

Tickets – To handle more complex cases, you can keep the communication going by creating a ticket from the chat. You will be able to manage the help desk ticket resolution time, user satisfaction, and other valuable data.
Languages – You can offer a chat window with 34 different languages with LiveChat. Plus, to fit your specific needs, you can modify existing translations.
Feedback – Customers have the ability to rate their chats as thumbs up or thumbs down. You can see which of your agents is the best at providing good support.

LiveChat Prices
LiveChat offers three different plan levels depending on the needs of your organization. The Solo Plan costs $36 per month and is geared toward startups and "solopreneurs." It comes with enhanced security, unlimited chatting, basic reports, and the ticketing system. The Team Plan is the most popular plan available. For $39 per agent per month, you get everything offered in the Solo Plan plus groups and chat routing.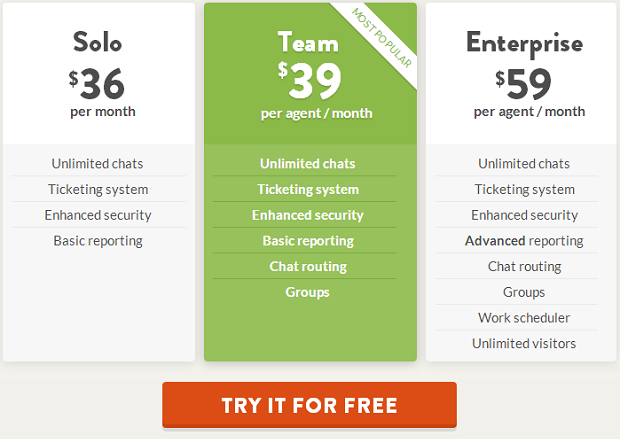 LiveChat's most comprehensive plan is the Enterprise Plan. This is for companies that want all of their online customer support in one place. For $59 per agent per month, you get all of the same benefits as the Team Plan plus work scheduler, unlimited visitors, and advanced reporting.
With all of the plans, you can use LiveChat on all of your websites for no additional cost. You pay for the maximum number of agents logged in at the same time, and everything comes with the package you selected. This is great for when you have multiple shifts of people working. You can customize the chat window with your company's colors and logo. This is important for really building your brand.
Criticism of LiveChat
I had a very seamless experience with LiveChat. Once payment went through, I was quickly able to access the user interface. There were detailed instructions on how to get started, but I am never patient enough to follow the directions. Luckily, all of the functions were very intuitive, and I was up and running right away. I did feel like there could have been more customizability. I did not have complete access to the programming code.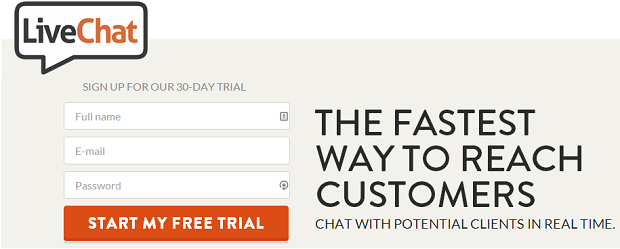 Customer Support
Customer support, as you might expect, was simply phenomenal. You cannot really offer customer support software and not be on top of things in that department. I was able to talk to knowledgeable agents over live chat and over the phone. Both times, it was at weird hours when many companies are usually gone for the day. They also offer an extensive FAQ.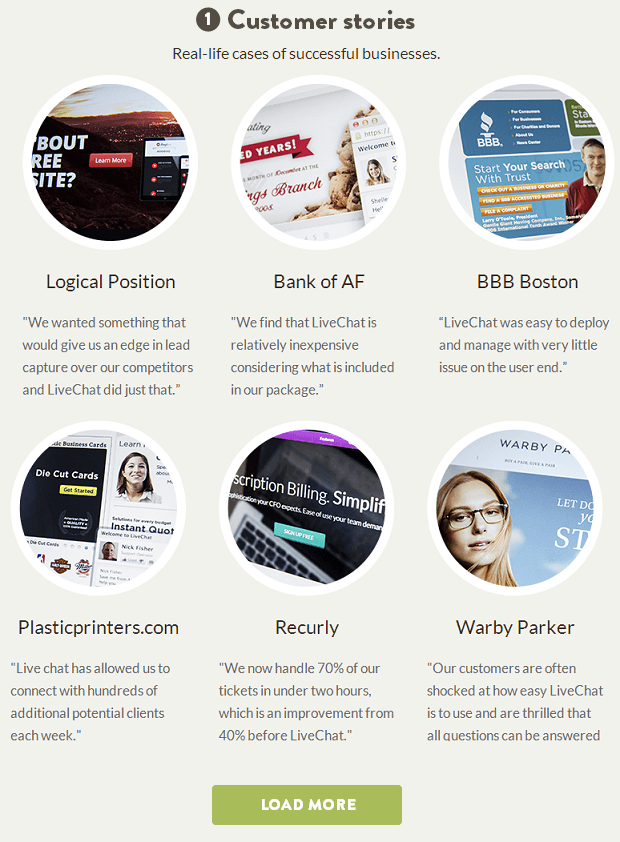 Final Thoughts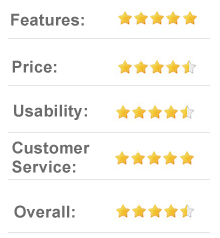 LiveChat has some of the industry's best tools, live help features, capabilities, and functions. Using the chat as an administrator was easy and very helpful. The reports gave me information that really helped me improve my site and keep customers returning. LiveChat's website was really helpful with plenty of information for getting the most out of the software, but the actual live chat support abilities were unrivalled. I strongly recommend this to anyone who runs an ecommerce site that includes those who already have live chat. LiveChat is worth switching to due to its advanced features, great price, and high reliability.