lynda.com Review
We are living in the Information Age. Knowledge is power, and your ability to learn new skills quickly and keep up with the constantly changing business world is imperative. At one time, to gain the new skill, you needed to sign up for a class at a community college or take a workshop. This could drastically delay your learning process to the point of making it impractical. This is where lynda.com saves the day.
About lynda.com
Headquartered in Carpinteria, California, lynda.com was founded in 1995 by Lynda Weinman and Bruce Heavin. Since then, they have exploded into an international powerhouse with over 400 employees spread across four countries. They have more than 2.5 million members that run the gamut of industries: federal government, state government, media outlets, Fortune 100 companies, military, universities, and more.
To achieve professional and personal goals, anyone can learn creative, software, business, and technology skills using lynda.com. Industry experts lead video tutorials that are current, engaging, and high quality. Members receive unlimited access to this library with their lynda.com subscription. And, the learning environment is totally customizable.
lynda.com has a content team focused on staying on top of current trends in technology, so that they can seek out authors who are at the top of their field. If members want a tutorial on something specific, lynda.com tries to create those tutorials.


Top Features of lynda.com
lynda.com has too many features to go into all of them in great detail here, so we will just cover some of the best. Some of lynda.com's features include:
Searchable transcripts – You can quickly find information contained within a tutorial, or you can follow along reading the transcript while watching a course.
High quality videos – The videos keep you engaged with graphics, smart boards, narration, audio, charts, live action, and screenshots.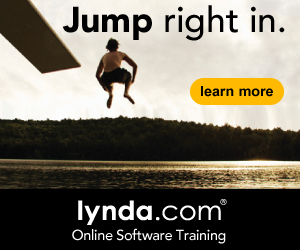 Cherry pick what you want to watch – You can watch entire courses from start to finish, or you can find the small chunk you need and just find answers to a specific question.
Works on mobile devices – You do not have to worry about losing your place as you switch between a PC, laptop, or any of the free apps available for the iPad, Android devices, and iPhone. You can also download the courses for viewing without internet access.
Full access – You get access to 109,000 tutorials and 2,269 courses with any of their membership plans.
Completion certificates – You can show friends, potential employers, and coworkers that you have completed training in a specific area with the available certificates of completion.
Documentaries that inspire – Go behind the scenes with industry veterans and creative professionals to see how extraordinary ventures, careers, and products come to be in the Creative Inspirations series.
Expert teachers – The instructors have a passion for sharing their expertise, and they are all respected professionals in their fields. There are over 250 different authors.
Prioritize and save courses – You can manage and create a list of the courses you want to watch with the playlist feature. You can also bookmark specific videos for future reference.
Each week there are new courses – Since technology is always changing, lynda.com adds new courses every week. They also update older courses when necessary to keep them fresh.
There are plenty of free online tutorials available online, but the beauty of lynda.com is that you can be sure you are getting accurate information. lynda.com only uses recognized experts. Also, most of the other tutorials online are not broken up into smaller digestible segments.

Their main subject areas are video (including video foundations, shooting video, keying, and more), developer (includes programming, mobile apps, game design, etc.), computer aided design (featuring rendering, product design, modeling, and others), audio (remixing, music notation, microphones, and more), web (web fonts, responsive design, interaction design, etc.), photography (restoration, compositing, high dynamic range, and others), design (print production, page layout, illustration, and more), business (social media marketing, presentations, iPhone, etc.), and 3D and Animation (including previsualization, modeling, game design, and others).
lynda.com Prices
For individuals, there are essentially two plans. For the basic plan, it costs $25 per month if you do not make a long term commitment. Otherwise, if you commit for a year, it is $20.83 per month. This plan includes access to all of the tutorials at any time. The Premium plan is $37.50 per month, or $31.25 if you commit to a year-long membership. As far as I could tell, the only benefit to going with the Premium plan is that you can download all of the lessons. This is great if you want to watch them when you do not have internet access.

There are also three plans available to businesses: lyndaKiosk, lyndaPro, and lyndaEnterprise. I was not able to get prices on these as they appear to cater the quote to the company. Basically, they vary on how much access employees can have to the tutorials.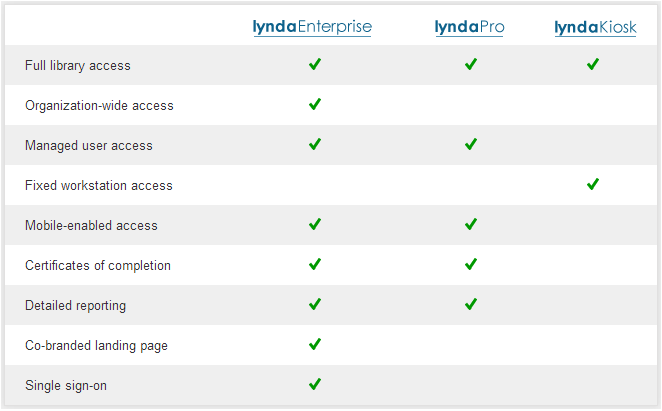 The Downsides of Using lynda.com
In my use of lynda.com, I did not have any trouble or see any downsides. I was able to get started as soon as my payment went through. And, learning was incredibly easy. I did comb the discussion forums for any sort of negative comments toward lynda.com, but it appears that people were happy with their experiences for the most part.
lynda.com Customer Support
Customer support representatives are available from 6am to 5pm Pacific, Monday through Friday and 7am to 4pm on Saturday and Sunday. You can reach them by phone or by email. We found that email was a pretty slow way to get answers, but when we called, we were greeted immediately by a real person who was friendly and knowledgeable. lynda.com also offers an extensive FAQ. And, of course, there are plenty of tutorials!

Conclusion
If you find yourself only using a few features of the software you have, lynda.com is the best way for you to go. It is also a crucial tool if you need to know how to quickly find out how to use software at any time of the day or night. We strongly recommend lynda.com to anyone who wants to expand their knowledgebase and stay ahead of the curve.