EZTrader Review
One of the newer ways to invest your money is binary options trading. Websites giving you the ability to trade these options first became available in 2008. You can now choose from hundreds of sites for trading binary options. We are reviewing some of these, so you can know which ones you can trust with your money and which ones are scams. We put EZTrader under the magnifying glass in this entry.
About EZTrader
EZTrader is located in Cyprus and first opened its doors in 2008, soon after binary options became available online. They are owned by Win Gaming Media Inc. EZTrader is one of the leaders in the industry. In the market, they are recommended by traders around the world as a reliable and safe broker.
EZTrader owns and operates their own proprietary trading platform. This sets them apart from other online brokers. Many trading sites have tried to replicate their trading platform because it is so user friendly, popular, and simple to understand. This aligns with their overall goal of making trading online easy.
EZTrader was the first company to launch a trading platform for binary options online, and they have a full staff located across the globe that focuses on staying ahead of the curve. They aim to offer the best service at all times with their easily accessible, account management team. They provide trading strategy advice and tackle customer service issues.
Top Features of EZTrader
Let's first talk about one of EZTrader's best features: their trader platform. The platform was recently revamped. After their purchase by Win Gaming Media Inc. in 2011, they have stepped up their game in making the platform the state of the art tool it is today. One of the big changes was reducing the lock out time. Originally, it was fifteen minutes, but now, it is only five minutes.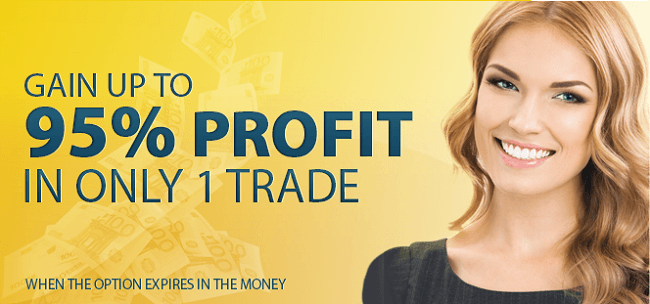 EZTrader no longer has spreads. This means the price of execution is exactly the same as the price they pay for either a put or a call option. This leads to greater profits for traders. Another great addition in the past couple years is a sell option. Now, you do not have to wait until the expiry time before liquidating a trade. Again, this allows for greater profits and reduces any potential loses.
Starting to trade is incredibly easy. There are five basic steps:
To open your account, enter your contact information and payment source
Using a drop down menu of options, choose which option or financial instrument you want to trade
Pick either put, the current price will be higher than at expiry time, or call, the price will be higher at expiry
Enter the currency you are using and how much you would like to trade
Finalize and execute your trade
There are over 100 different assets to choose from on EZTrader. Included are commodities (copper, gold, oil, silver, etc.), stocks (BMW, Sony, Apple, and more), forex (EUR-USD, USD-CAD, GBP-JPY, etc.), and indices (FTSE, S&P 500, Dow Jones Industrial Average, and others).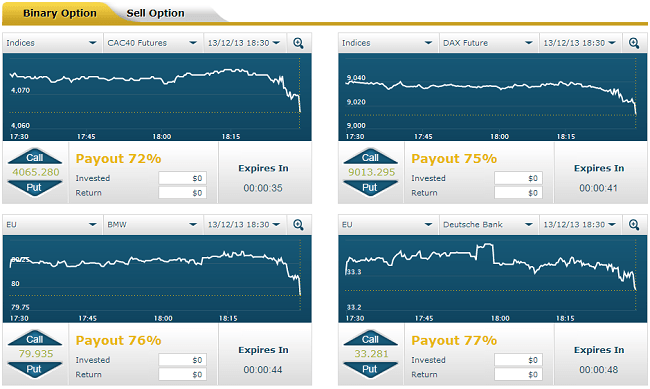 As mentioned above, EZTrader is located in Cyprus. This means that they are regulated closely by the governing bodies there. A lot of brokers are based out of Cyprus, so the authorities there know how to handle these companies and assure that your money is secure. EZTrader has had a strong track record there since 2008.
I like to be able to trade easily while I am on the go. I do not want to be forced to find a WiFi hot spot to use my laptop to make a trade. EZTrader has a simple solution to this. They have their own application for mobile devices. This includes iPhones, tablets, smartphones, Android devices, and so on. So, you do not have to worry about missing out on trades or trying to look at a tiny web browser on your smartphone.

EZTrader Payouts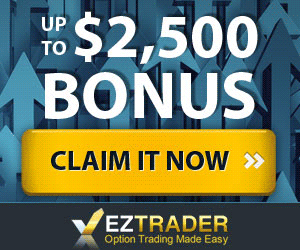 EZTrader's payout ratios received a lot of complaints prior to their purchase by Win Gaming Media, Inc. The complaints focused on how their rates were much lower than other brokers. Specifically, most of the time they were below 50 percent and rarely were they above 65 percent.
Management under Win Gaming Media Inc. has significantly changed the payout ratios. Nowadays, the average payout hovers around 80 percent with some assets paying as much as 95 percent. This puts EZTrader ahead of most of its competitors.
The Downsides of Using EZTrader
EZTrader does not offer a demo account for traders who are looking at breaking into the binary options trade. They do offer a very comprehensive help section full of tutorials that can bring newcomers up to speed. But, it still does not compare to actually getting one's hands dirty using play money.
We had a pretty enjoyable experience using the platform. We have no complaints there. We searched the discussion forums for others' complaints regarding EZTrader, and all we could find were outdated comments about their low payouts. As mentioned above, that has been fixed.
EZTrader Customer Support
If you need to reach EZTrader, they provide you with a wide array of ways to do so. Among these options are email, telephone, and online chat. There is also an all-encompassing FAQ section. In the support section, there are numerous step by step tutorials as well. There are customer service representatives available to help you 24 hours a day, Monday through Friday.
I called them very late on a Friday for help. The customer service agent was very knowledgeable and friendly. I was able to even get some very useful trading strategies that earned me respectable little chunk of change.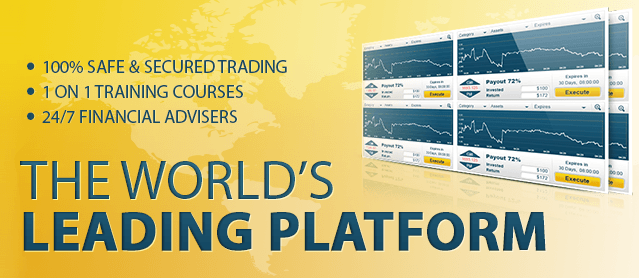 Conclusion
EZTrader was the first to produce its own platform. They have been in the game for a while, and they clearly know what they are doing. As the binary options trading industry has changed, they have changed with it. And, their acquisition by Win Gaming Media, Inc. has only made them a stronger broker choice. I strongly recommend EZTrader to anyone interested in trading binary options.