Olark Review
Having a tool available to interact with customers online can be a great why for small businesses to make visitors to your website feel welcome and to also get to know your target demographic. Websites that provide great services are able to win over online shoppers, who in general are very loyal. To provide this personal user experience, a live chat tool is a must. There are many out there, but here we review one of the best: Olark.
About Olark
Olark is run by a small but dedicated team of tech wizards. Launched in 2009, they are located in the Silicon Valley, San Francisco to be precise. Their number one focus is building state of the art software to fit their customer's needs. And, according to their website (olark.com), when they need some time away from the computer, they climb some redwoods.
Top Features of Olark
The beauty of Olark's features is that, rather than just stopping at providing what companies need, they have taken the extra step of developing useful tools for companies that most businesses had never thought about.
Let's talk about appearances first though. Olark gives you the ability to choose exactly how your chat widget looks on your website. This is crucial because you do not want it to clash with your overall design. Olark can also help you integrate instant messaging services with their chat program to give you and your customers more options.
Olark also give you the opportunity to track what visitors are doing on your site in real time. With this tool, you can see the user's status, which page on your site they are browsing, and where the user is located. With this data, you are able to improve UX (user experience), and with a little tinkering, you can keep tabs on how busy your website is at specific times.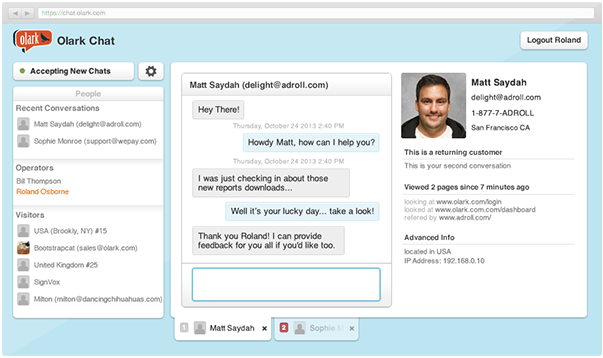 Without losing the conversation you are having with the customer, you are able to use Olark to redirect users to different areas of your site. Even more incredible, you can circle specific items for them and even scroll the page. I felt like a Monday Night Football announcer using the teleprompter when I used this function.
The chat also works great for team members within a company to talk to each other. We do not really have time to talk over the phone these days. Chat makes it easy to answer questions while still multitasking. Chats can be saved as transcripts, routed to different groups, sent to a CRM system, and transferred to other operators.
In a word, the installation process was seamless. All you need to do no matter which web host you are using is to copy and paste some JavaScript. There is no need to unpack some zip files or do any sort of downloading. Plus, there are many tutorials for WordPress, Blogger, Shopify, and many others if you do have any trouble.

Olark Prices
Olark offer five plans that vary based on price, number of operators, and what premium features you will have access to. You have the opportunity to try out any of the plans for fourteen days before spending any money. Also, the prices listed below are for two year commitments. If you pay for a year or on a monthly basis, it is more expensive.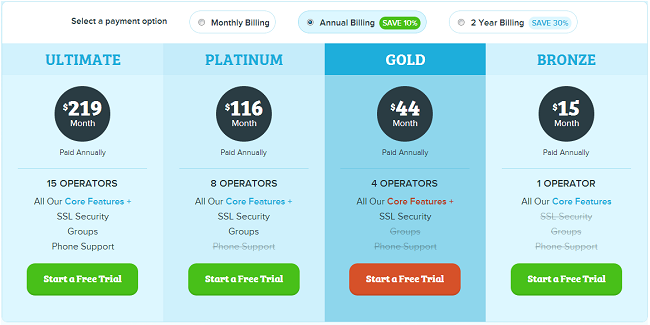 Free – If you are a newer business that will not likely need to do much chatting with customers early on, Olark offers a Free Plan that gives you twenty conversations per month and one operator.
Bronze – For $12 per month, you can get one operator and CRM integration with the Bronze Plan.
Gold – The Gold Plan is Olark's most popular plan. It costs $34 per month and includes everything the Bronze has plus SSL security and up to four operators.
Platinum – With the Platinum Plan, you get all the Gold Plan features plus the ability to do group conversations and have up to eight operators. This costs $90 per month.
Ultimate – The Ultimate Plan is Olark's top of the line plan. For $170 per month, you get all of the Platinum features plus phone support and up to fifteen operators.
The beauty with Olark is that you can switch plans to fit the needs of your business. Plus, if you need more operators, they can hook you up.

The Downsides of Using Olark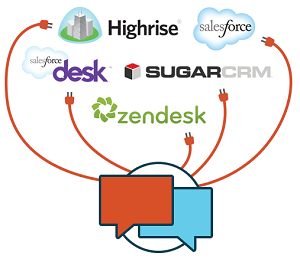 We did not really find any downsides to Olark. We were able to get started quickly without the need for any outside help. It was unfortunate that they do not offer live chat support on the weekends. After all, we like to make changes to our sites on the weekends when it is less noticeable.
We combed the online discussion forums and did not find any negative reviews of Olark. Everyone seemed to have an easy time of getting started and using the service.
Olark Customer Support
Olark offers a wide array of ways to contact them. You can email them, live chat (surprise!), or check out their extensive help guides section and discussion forum. Olark is only available for phone support if you are on the Ultimate Plan. Otherwise, you can contact them via live chat Monday through Friday, from 7am to 6pm Pacific. They really seem to push their email support. They respond to emails within one hour no matter when they are sent.
I tested out their emailing response times at 3am on a Sunday morning. By 3:17, they had responded to me. Impressive.

Conclusion
If you run a small business and really want to engage your customers, Olark is a must have for your website. Any way you can make it easier for a user to contact you, you are improving the likelihood of making more sales. It is really a no brainer. Olark is reliable and packed full of features that are not only fun to play around with, but they give you valuable market research information. Get a leg up on your competitors and take Olark for a test drive today.