OneKingsLane.com Review
A house is not a home without proper home decor. This is a pretty solid rule of thumb to live by. However, this rule does not mention that typically, decorating for a house can be rather expensive. As such, it is important that you find a store that delivers can fill your space up with a lot of good looking stuff, and do so without breaking your bank.
That's precisely why One Kings Lane is such a helpful website. It has a pretty wide array of deeply discounted decor that is perfect for the home. Better yet, the stuff that is discounted does not have price cuts because they are shoddy products – unless you consider a designer like Kate Spade shoddy. Add a little consumer action that feels a little like roulette into the mix, and you have an e-commerce site that shows that virtual shopping can be just as fun as the real thing.

About One Kings Lane
One Kings Lane was founded in 2009, and is run as a flash-sale business. What that means is, unlike other traditional shopping experiences that has the same materials and products for sale regardless of when a potential customer drops in, they will only offer a handful of items for sale for a short period of time. Unlike some e-commerce sites that only list a small handful of items that are available at a given time, the company launches thousands of products that are available, albeit during a specified time interval.
The ensuing shopping experience that One Kings Lane has to offer, then, is one that is a bit nerve-wracking and a bit exciting. Customers that sign up won't know what the inventory on the website holds on a given day, and because the merchandise rotates, it is designed for those who love the thrill of snap decisions and impulse buys.
It's a strategy that may be a bit off-putting for some. Howe, based on the fact that the website has several million registered users all clamouring for the best deal possible, it can be safe to assume that the strategy works rather well with a lot of people.
Top Products of One Kings Lane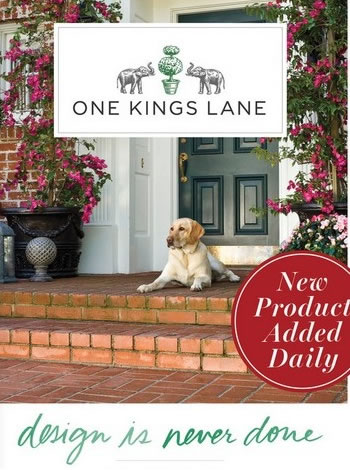 Because of One Kings Lane's business model, the top products that they sell depend on the day that a customer will go on to the site. On one day, it could be a collection of some rather handsome pillows. On another day, it could be a blanket that is made from bamboo fibers. It really depends on time and space. Just know that they do sell a wide range of décor on their website, from bedroom furniture to kitchen accessories and various things in between.
However, the one common thread that the items have – and one of the things that makes customers so loyal to One Kings Lane and its unique business model – is that the range of décor that they do offer touches several different elements of home décor. As much of a cliché as it may sound to refer to a place as a "one-stop shop," such a title is a rather precise fit here. Patient consumers can steadily build a rather impressive home décor collection through the website simply by paying attention to what items are available, and smartly buying up the things that touch their heart or inspire their soul.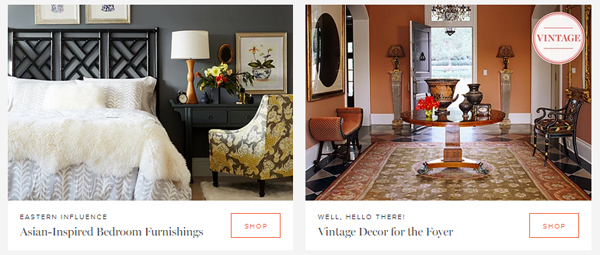 Another thing that separates the One Kings Lane shopping experience apart is the fact that they have products that aren't lousy, cheap knockoffs. They may not be the upper echelon of home décor, but they are in no way, shape, or form considered ramshackle accoutrements that would cheapen the look of your home just by being there. Indeed, you can make your home look rather comfortable and chic, provided that you remain patient and diligent within the parameters of the project.

One Kings Lane Prices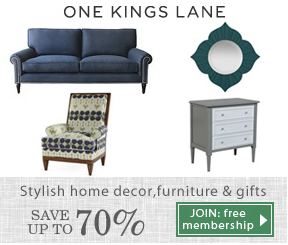 Because One Kings Lane is a discount store – even if it is just a virtual store – you can expect to see some pretty eye-catching prices when you hop onto their website. What is interesting about the site, though, is that the discounted materials do not necessarily mean that everything is cheap here. Yes, they do have really nice smaller items that you can haul in for $50 or less. However, you'll also find pieces that can be sold on the site for thousands of dollars. This may not seem like a deep discount at first glance. However, for the items that may still be deemed by some as being expensive, you must consider just how expensive the product would be under normal circumstances.
They do tend to offer various shipping discounts from time to time as well. These discounts vary from season to season, and they are typically tied with a shipping order that reaches a certain monetary threshold. This practice is somewhat common amongst e-commerce sites that deal in the flash-sale marketplace.
Criticism of One Kings Lane
The big criticism with One Kings Lane is that you cannot merely hop onto their website and start poking around as a guest. As soon as you hit their home page, a large pop-up box will appear in the center of your screen asking you to either register for a new account or log in to your existing account. You will not be able to go any further on the website without accomplishing one of these two actions.
While this tactic has not necessarily hurt their business – again, they have millions of registered customers that are signed up to utilize their service – it can come across as a pretty significant issue for those that merely want to look at what the site is all about. To these people, the initial prompt that prohibits further entry may make the company look off-putting enough to move on and forget its existence. And really, it's not all that difficult to think that these people may feel a little skittish about handing out their e-mail information to a website that they have never visited before.
Perhaps a solution to this would be for One Kings Lane to allow guests a restricted timeline to visit their site before presenting them with that registration requirement. It may end up providing them with an even wider customer base than they already enjoy.
Customer Support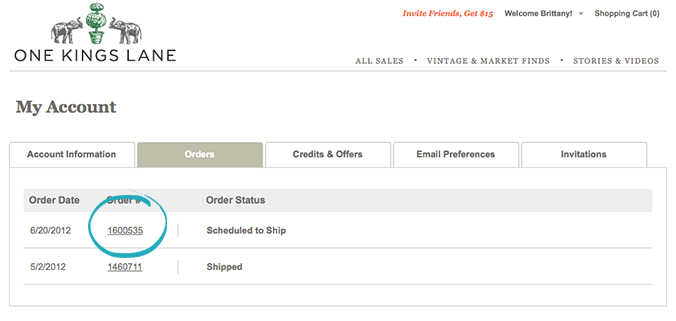 Once you get onto the One Kings Lane website, you will find that the site does have a few customer service friendly tools available to you. For example, the shipping service allows you to track the status of your order on its website, which is a nice touch. The site also contains a dedicated FAQ section that can help you seek out quick info on common issues when you need it. And if you should find yourself in a position where you need to speak to someone, you can call up their customer service team Monday through Friday during normal business hours.
Conclusion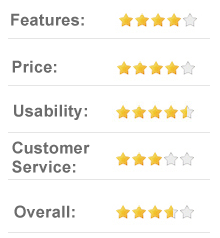 The flash-sale shopping model is one that is here to stay, because there is enough of a thrill factor involved to keep those that live for impulse buys and exciting daily deals on their toes. One Kings Lane does a great job of demonstrating that this unique method of shopping can be accomplished through some pretty big ticket items – and through some pretty big ticket names to boot. While the fact that you have to sign up before you can check out their "store" may rub you the wrong way, if you can get past this quibble, you will find yourself immersed in a home décor shopping experience like no other.