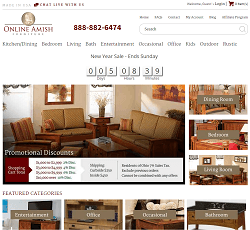 Shopping for furniture is not one of my favorite activities. While I certainly enjoy a nice sofa, I'm far from a furniture expert. This makes it difficult to know whether I'm getting a good deal or not. Fortunately, there is a furniture manufacturer I trust, mainly because they've been making furniture longer than I've been alive: The Amish.
Ironically, technology makes it easy for anyone to buy hand-crafted Amish furniture. One of the most popular sites is OnlineAmishFurniture.com. I bought some furniture from this site, and the following review details my experience.

Why is Amish Furniture so Special?
Amish furniture has been around as long as there have been Amish people, but the quality of the craftsmanship wasn't really known outside of the Amish community until the early 1920s. At first, Amish furniture didn't really resemble what most people think of today – the pieces were brightly colored and had a heavy Germanic influence. It wasn't until Pennsylvanian craftsman Henry Lapp started creating simple, undecorated pieces that the "Amish style" began to be popular.
What makes the furniture so desirable? I assumed it was the old-fashioned methods used. Originally, I was under the impression that Amish people didn't use electricity at all. This isn't the case, however. There are differing beliefs among various Amish communities regarding the use of electricity. Indoor lighting is relatively common, as is the use of modern medicine. Most woodworking tools don't use electricity, however. Instead, tools are powered by hydraulic and pneumatic devices run on diesel compressors.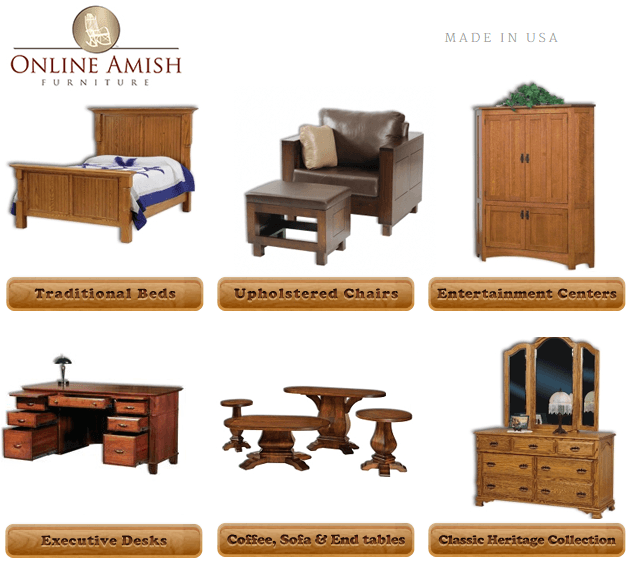 This lack of electricity isn't why Amish furniture is so well-regarded. Rather, the Amish themselves are simply expert wood-workers. Most Amish people stop going to school around the eighth grade, and dedicate themselves to helping their family and community. For many, this means learning the skill of wood-working. Creating objects with wood isn't just a nine-to-five job for the Amish; it's a way of life.
This expertise, not the lack of electricity, is really what makes Amish furniture so special. The artisans who build the furniture carefully select every piece of wood, using the imperfections in the grain as a way to highlight the natural beauty of the material. Most Amish families even specialize in a specific type of furniture, such as outdoor, bedroom, living room and so on.

Top Features of OnlineAmishFurniture. com
I'll be honest – I had no idea how buying Amish furniture was going to work. Some of the Amish do use electricity in certain instances, but they weren't running their own websites, were they? And how would I actually get my furniture? I didn't think a horse and buggy were going to deliver anything to my house, but would modern shipping methods be a problem?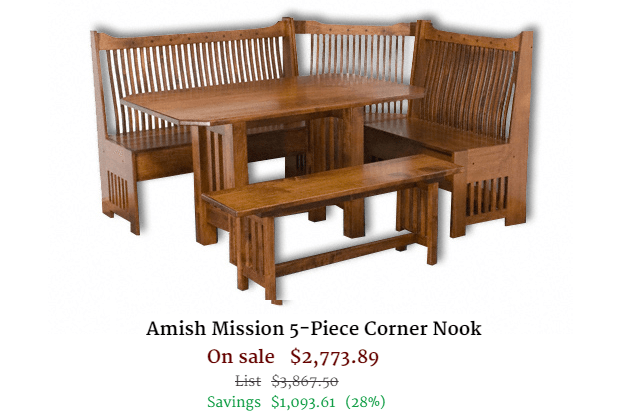 As it turns out, Online Amish Furniture acts as a middle-man between the artisans and the customers. One hundred and eighty Amish craftsmen in Ohio and Indiana create the custom furniture, while Online Amish Furniture handles the ordering, shipping and customer support.
With over 10 years in business, they have a dependable network in place. Obviously, anyone can claim to be whoever they want online, so I'm always a bit wary dealing with any unknown company. With Online Amish Furniture, however, you can be assured you're dealing with a trusted company, and that actual Amish craftsman will personally make your furniture. Their reputation is impeccable.

Furniture Selection
Each piece is fully customizable. You can choose from oak, 1/4 white sawn oak, maple, brown maple, hickory, elm, rustic hickory, walnut and cherry.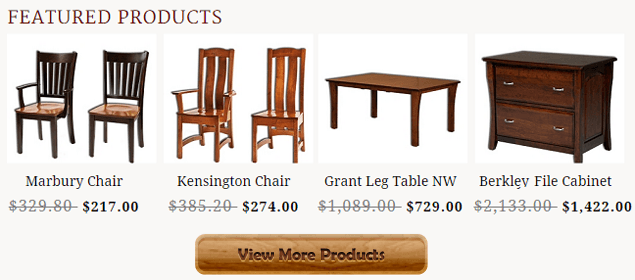 Inventory changes over time, but you can always expect to find dining room tables and chairs, bedroom sets, hutches, bookcases, desks, bookcases and knick-knacks. Custom orders are also possible – you just email your idea to the company to start the process. (Note that a custom order can be up to 40% more than the cost of a traditional item.)
Prices
When it comes to furniture, you get what you pay for. Trust me on this – I once owned a $50 futon I bought from Craig's List. So I was expecting the prices to be on the high side. To my surprise, they were actually very comparable to what can be found in a department store. Except, in this case, the quality of the Amish furniture is much higher than anything I've bought from a department store.
Armoires cost about $1500 to $2000. Traditional beds average between $1000 to $2000. Bowback chairs, such as what you'd place around the kitchen table, are about $200 each. Outdoor furniture is similarly priced. One of their most popular items is an outdoor glider, which averages about $300.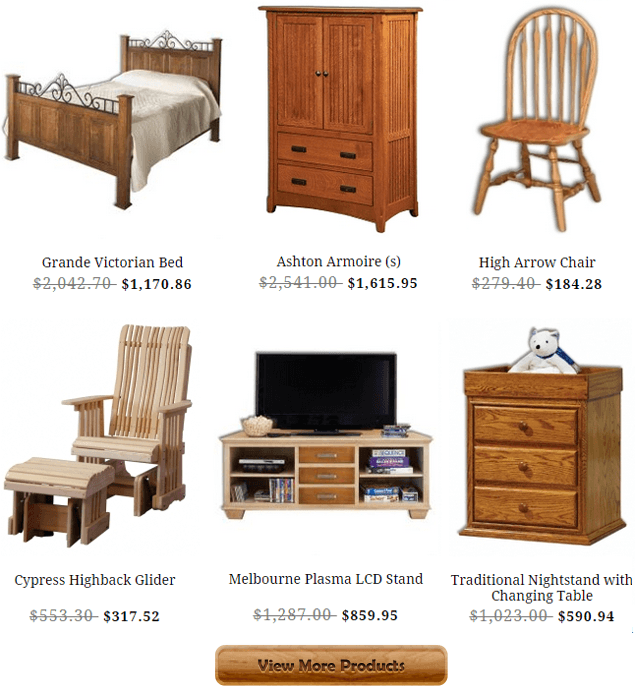 I ended up buying a red oak TV stand for $818, which was almost $500 off the regular price. Based on my searches for a similar item elsewhere, this was a pretty great deal. Plus, I know the TV stand will last for decades. My purchasing experience was smooth and secure.
OnlineAmishFurniture.com accepts major credit cards and PayPal. When you pay with a credit card, 50% of your order total is charged as a deposit. The remaining cost is charged once the shipper takes possession of the order. If you pay with PayPal, the entire cost is charged upon ordering.
Shipping
I expected that having a giant item of furniture shipped would be a logistical nightmare, but it was actually pretty easy. Furniture can be shipped through UPS, common carrier or via a specialized blanket-wrapped shipping company. I opted for this specialized delivery, figuring it was worth the extra cost.
Since each order is custom-made, I was only given an estimated delivery date. They said my TV stand would be finished anywhere from ten to 16 weeks. The Amish craftsmen aren't easily reached, so updates aren't even available until around the ninth week. I admit, it was pretty cool to think that a bunch of Amish artisans were hand-crafting an item especially for me.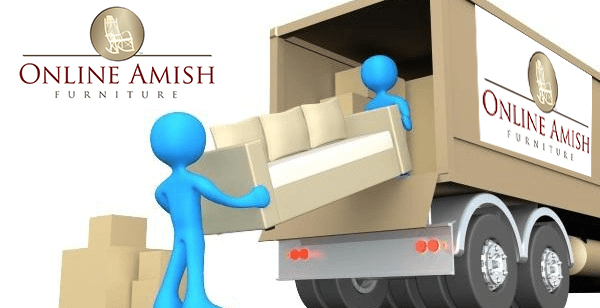 To my surprise, my order was ready in about 11 weeks. During the 12th week, I was contacted by the shipping company. We scheduled a date, and the delivery guy was right on time. The delivery guy waited while I unpacked the furniture and inspected. This was an important part of the process, since I had to sign off saying the furniture arrived unharmed. Fortunately, the delivery guy understood this and had no problem waiting.
Criticism of OnlineAmishFurniture.com
There wasn't much criticism to be found. Most of the complaints centered around the length of time between placing an order and delivery. Some of this is simply a lack of understanding on how long custom furniture takes to make. However, if you're planning on giving furniture as a gift, or otherwise need it to arrive at a certain time, be sure and order well in advance.
Return Policy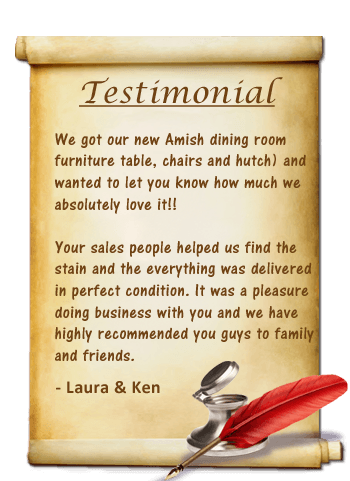 Customers have 72 hours after ordering to completely cancel and get a full refund. After that, if you wish to return the item, you can do so within one year, but a 25% restocking fee will apply. Plus, you have to pay all of the costs associated with shipping the item back.
Basically, returning an item is a hassle and can be expensive. My advice is to do your homework before you buy anything. Double-check the measurements of whatever you plan to order, and thoroughly inspect the item when it's delivered.
Even if your delivery guy isn't as patient as mine was, you want to make sure the item isn't damaged. A return at a later date could cost you quite a bit.
Each item comes with a one-year guarantee covering all the materials and workmanship. However, there's one big caveat to this guarantee – the furniture must be kept within a humidity level of 35% to 45%.
Final Thoughts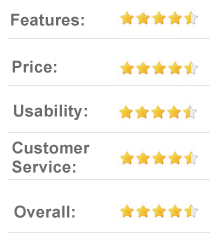 I don't have to be a furniture expert in order to find high-quality furniture. Thanks to Online Amish Furniture, world-renown artisans are only a few clicks away. My TV stand is truly a wonderful addition to my living room. The entire experience with OnlineAmishFurniture.com was so smooth and easy, I've already gone back to the site in order to check out some other pieces I plan to buy.