About Half Price Drapes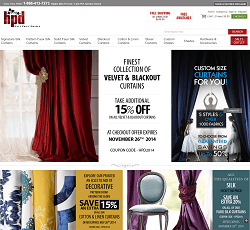 Part of making your home feel warm and comfortable is to make sure that you have it decorated properly to fit your likings. Since everyone has different tastes and styles, it's good to know that there are places where you are able to browse through the type of drapes styles that you are in search of. One such company that has been helping people dress their windows for the better part of a decade is HalfPricedDrapes.com. Half Price Drapes is in a business of Ready Made Curtains & Custom Draperies operating in the Bay Area since 2004.
While there are multiple drape companies out there on the Internet, what makes Half Price Drapes unique is that they:
The company, which is based out of California, makes all these drapes in a 15,000 sq. ft. workshop where there is a dedicated staff of seamstresses manufacture quality standardized and custom curtains & drapes. As a result, the company is able to eliminate all mark-ups and provide high-end luxurious customized curtains & drapes at a cost that is unmatched. Let's delve further into what makes Half Price Drapes a company that is one worth checking out further!
Top Features Of Half Price Drapes
Half Price Drapes is really all about making luxury as affordable as possible. The company is committed to providing high-end luxurious fabric stitched with quality and care to create extravagant drapes at a price that is affordable and matches every customer's budget. The site is really a turnkey place for anyone who wants to save money while still purchasing a high-quality product.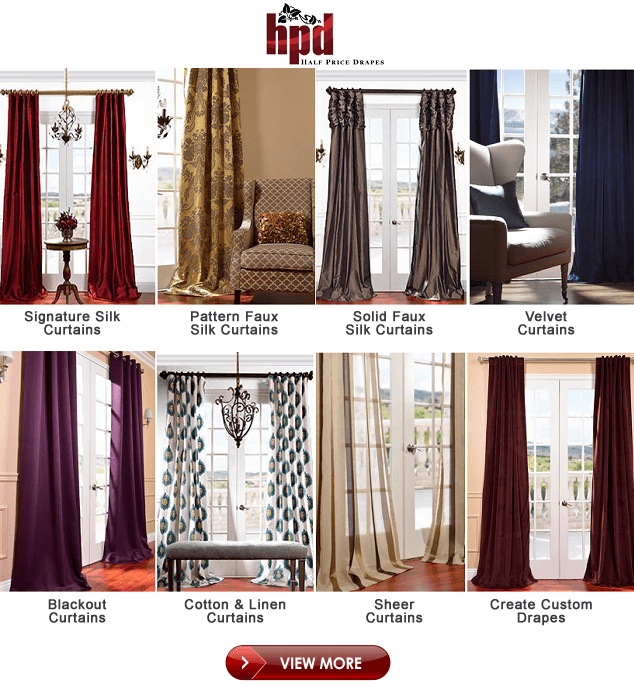 In order to make sure that the site is providing the upmost service possible, it has equipped itself with a team of professional designers that keeps abreast of the latest trends, colors, patterns, and styles to ensure that you have the most current choice of fabrics to select from. The site weaves their own cloth, and are constantly introducing new designs. As such, they have an extremely high rate of repeat customers who are looking for a change or upgrade.
If you are looking for selection, then you certainly won't have to look much further than Half Price Drapes. The rolodex of fabrics available on the site is quite extensive and while you are able to browse through the different materials on the site there is nothing like actually feeling them first hand. As such, the nice part about the site is that you are able to select a few fabrics that you are interested in and have the fabric swatches shipped to your home in order for you to see them in person.

Once you've made a decision on the type of fabric that you want to move forward with it can be tailored in many different Header Styles from pole pockets to inverted pleats and goblets. That's not all. If you have a specific design in mind, you can let the company know and they will customize the fabric to your specifications.
Once you know what you want to order, you won't have to wait too much for the fabrics to arrive either. The company keeps a stock of standardized curtains in the workroom which can be shipped within 48 hours of placing an order. Most of the custom curtains and drapes are shipped within 3 to 4 weeks of ordering.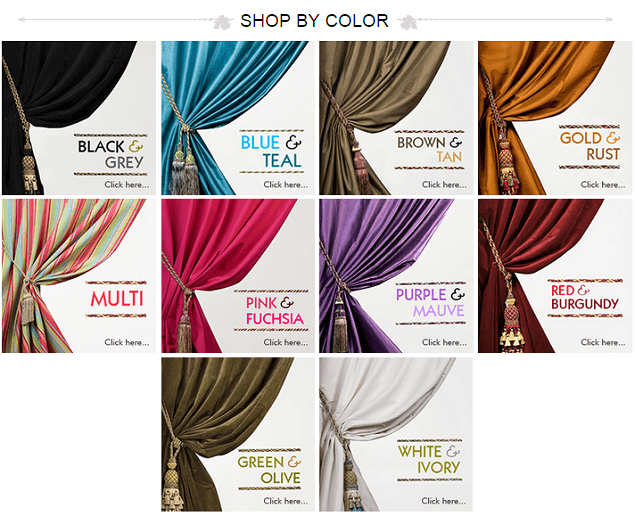 The site is also very nicely designed and very user-friendly. It's very conducive to finding the exact style that you are looking for and makes the entire process less frustrating. Users can browse through the site and see the wide array of Silk, Linen, Taffeta Silk and Velvet, Cotton Satin, Exclusive Italian Cotton Silk and Sheer curtains and drapes in breathtaking colors and embroidery. All of the colors and fabric styles will surely be a treat for your eyes.
Half Price Drapes Prices
When it comes to the costs for the drapes on Half Price Drapes, it really depends on what drapes you are looking to purchase. The site offers free shipping on orders over $249.00 but in general all of the prices on the site are very competitive and won't break your bank account at all. The price of your purchase also depends on how much of the fabric is purchased.
The company also offers some overall great deals and sales such as buy one get one and can also offers as much as 50% on certain styles and designs. When you shop on the site you can also shop by price point which is really beneficial for those who are on a budget. In this filter you are also able to see what your money can get you and what type of design, quality and size you will be able to afford.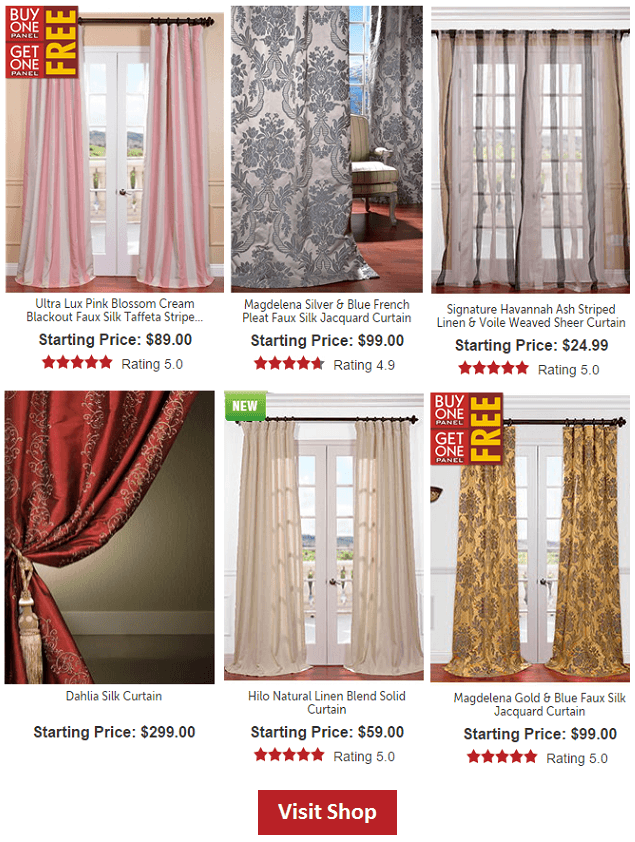 In short, the company really lives up to its name of Half Price Drapes because much of what you will find on the site is way cheaper than you would be able to find at any other drape retailer. The site also offers tailored appointments which is a nice way to get a design expert to come to your home, do some measuring and also provide some tips. The cost for this varies depending on where you live and how long the appointment runs for.
Criticism Of Half Price Drapes
There is quite a bit of positive buzz about Half Price Drapes, mainly because the drapes cost less compared to other competitors in the marketplace. However, there have been some criticisms of the site, with the most widespread criticism being that some of the qualities of the drapes and shades on the site not being up to par. Previous customers have noted on blogs and forums that you can tell that the fabric is made cheap which means that it is prone to ripping, tearing or wearing out quickly. There have also been complaints that the cords to the shades break and fall apart after only a little bit of wear and tear. Ultimately it comes down to which product you are purchasing, but it's definitely something to keep in mind prior to making a purchase.
Customer Support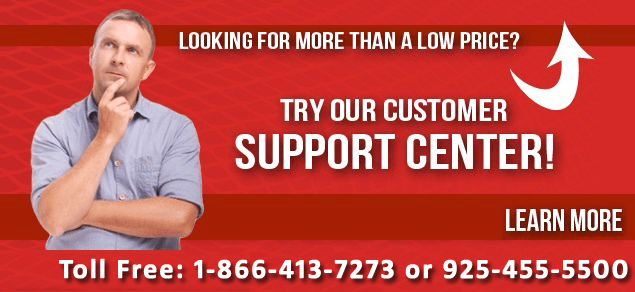 Half Price Drapes is very good when it comes to customer support. They have a telephone support line that you can call should you need further assistance. The customer support team is available to guide you through any issues that you may have and they are also able to advise if there is ever an issue with you order. It is through the customer support that you are also able to schedule an appointment or consultation. It's quite easy to get through to the support hotline. They are available during normal work hours and you can also leave a message and they will get back to you after hours. You can also send e-mails to the company inquiring about any possible issue, comment or suggestion.
Final Thoughts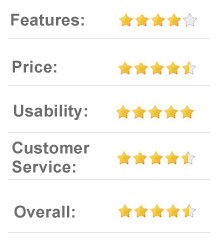 A naked window is really no fun, not to mention it just looks plain boring and is not practical at all. You really should look to dress up your window and a good way to do this is to buy some draperies or shades.
With HalfPricedDrapes.com you will be able to find a number of good window coverings to fit your every need. The site is very easy to navigate, the quality is first-rate and the customer support is also very good. So don't hesitate to visit the website and your windows will be very happy that you did!