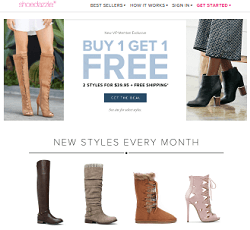 ShoeDazzle is a web-based women's fashion company and subscription service. In 2009 founded three recognizable names, Kim Kardashian, Robert Shapiro, and Brian Lee founded the business. Rachel Zoe, a well-known celebrity fashion designer, joined the ShoeDazzle team in 2013 as their Chief Stylist.
The company was created to give women the same experience they receive in high-end retail stores and boutiques at the comfort and convenience of their home computer. Customers receive customized "Showrooms" each month based on their personal styles and preferences. The customization mimics a salesperson giving you suggestions as if you were shopping in a physical location.
ShoeDazzle has a commitment to helping charities that directly benefit women. They create limited edition shoes, and proceeds from sales get donated to organizations such as the Susan G. Komen for the Cure, Orange You Happy to Erase MS, WomenHeart: The National Coalition for Women with Heart Disease, the Kidney Cancer Association, and the American Heart Association.

Many celebrities including Kristen Bell, Carmen Electra, Jenny McCarthy, Ashley Tisdale, Denise Richards, and Kristen Cavallari participated in the "Celebrity Shoe Design Program for Charity."
In the years 2011 and 2012 ShoeDazzle grew from 3 million to 10 million members, signing up a record 1 million members in July 2012 alone. JustFab, a rival online subscription-based service, acquired the company in August 2013. Both companies still run as independently separate brands.
Top Features & Products
ShoeDazzle specializes in women's shoes and only sold shoes in their first three years of operation. Although shoes are still their specialty, they also sell clothing, handbags, and other accessories.
The online shopping experience is unique compared to other websites. Even without being a VIP member, you still fill out a quick survey to customize your shopping needs. The survey asks questions such as "Which boot do you see yourself in?" and then shows three pictures of similar length, but different style boots.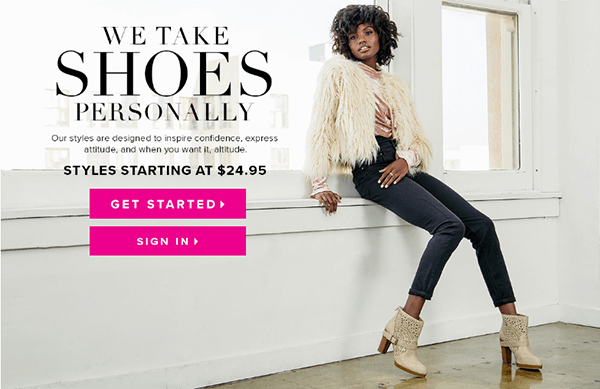 The questions get even more detailed as you continue to fill out the survey. Each of these follows the same 3-picture option for you to select. A few additional inquiries that caught my attention are:
"For a night out, what do you see yourself rocking?"
"What style would you wear to make a statement?"
"What's your go-to black style?"

Next, questions switch from pictures of shoes to pictures of people! The pictures are all celebrities you are likely familiar with; each dressed in three very different outfits. Examples of these questions include:
"Which of Sofia Vergara's ensembles would you want in your closet?"
"Which of Emma Stone's outfits are the most you?"
"Which of Beyonce's outfits would you most like to wear?"
The final step of the questionnaire asks for your age, shoe size, clothing size, and preferred heel height. ShoeDazzle asks for your name, e-mail address, and password on record, so your preferences are saved for future shopping. Once you provide all this information, it's now finally time for you to experience some customized shopping options.

A final prompt saying, "Welcome to ShoeDazzle! 1 Hour Only for New VIP Members – 75% Off Any Item Site Wide" is their last effort to entice you for the VIP option, and it's a great deal.
The layout of the website is well organized and legible, which makes it super easy to shop for exactly what you need. When you select an item, you'll see several images of the product alone, as well as on a model. A "How to Wear" guide gives advice on combining this with the rest of your outfit. A menu bar at the top of the screen displays different categories and subdivisions within each category for easy navigation.
Some of the standout categories on the navigation menu are: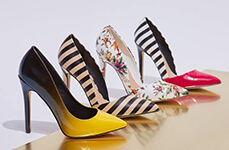 My Showroom
All the products on this page are recommended specifically for you, based on the preferences you selected in the questionnaire.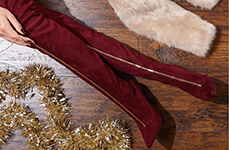 Winter Shop
Styles changed based on the season, so this page changes accordingly. The seasonal shopping page will direct you trendy options for the specific time of year, which is currently winter.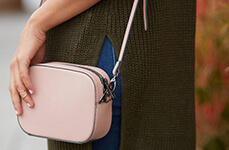 Handbags
Satchels, cross-body, clutches, shoulder straps, backpacks, and totes are all available choices for you to choose. You can also browse trending handbags such as mini bags and shades of blush.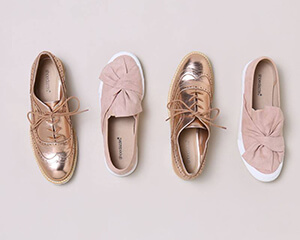 Shoes
Since ShoeDazzle is best known for their shoes, (hence the name!) this page is extensive. You can narrow down your choices by selecting from new arrivals, best sellers, booties, flat boots, heeled boots, over-the-knee boots, wide half boots, pumps, dress heels, sneakers, flats, wedges, and flat sandals. They also give you the option to select from popular categories that are currently trending such as boots and booties with straps, casual, laser cuts, peep-toe booties, denim shoes, and lace-ups.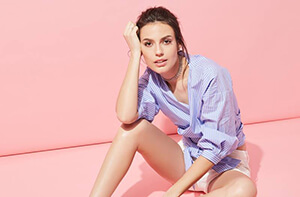 Clothing
There are a wide variety of clothing options offered by ShoeDazzle.
You can shop all clothing or by specific products such as dresses, jumpsuits, denim, jackets, vests, tops, bottoms, and sweaters.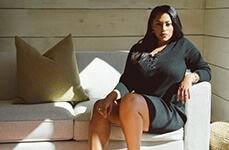 Plus Size
The plus-sized clothing section is a new category for ShoeDazzle. This category is for women who don't necessarily fit the unrealistic standards of models seen on TV and in magazines. All these clothes are designed to look flattering on your body, regardless of your size.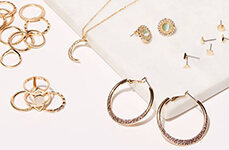 Accessories
No outfit is truly complete without some accessories, so it's only right that ShoeDazzle provides these finishing touches as well.
They offer bracelets, earrings, necklaces, chokers, rings, key chains, and hats.
Prices
Everything on the site has a discounted price, from accessories as low as $5 to boots at $49. To give you an idea of how beneficial the discounts are, you'll find a pair of $49 boots discounted as low as $12.49 with the VIP membership.
VIP Elite Membership customers who pay a monthly fee of $39.95 have access to members-only pricing. The membership fee converts to shopping credits towards purchases. If you know that you won't be making any purchases in a given month, you have the option to opt out for that month and will not be charged. You can skip as many months as you want, so there is no long-term commitment.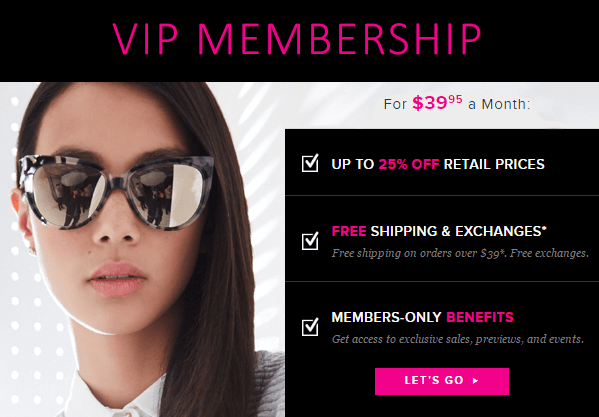 VIP members also benefit from free shipping and exchanges, access to previous exclusive sales, and additional discounts of up to 25%. Another incentive for trying out the VIP membership is 50% off your first item. Between the first item discount and your monthly membership free converted to purchasing credits, I would definitely recommend trying it out; the membership basically pays for itself.

Customer Support
ShoeDazzle has a team of over 100 member service specialists to assist customers with any questions or concerns before, during, or after their purchases. The average time for a representative to answer your phone call is 25 seconds. The customer service satisfaction level is rated higher than competitors such as Forever 21, Target, H&M, Amazon, Macy's Aldo, DSW, and Zappos.
Since inception, ShoeDazzle has sold over 7 million shoes and accessories. Their customer reviews speak for themselves. 94% of customers would recommend ShoeDazzle to their family and friends.
Women rated the quality of the products purchased as 4.7/5, and over 80% of these customers are repeat customers. In short, these numbers translate to satisfied shoppers who are happy with the quality, shopping experience, and continue to make purchases through the website.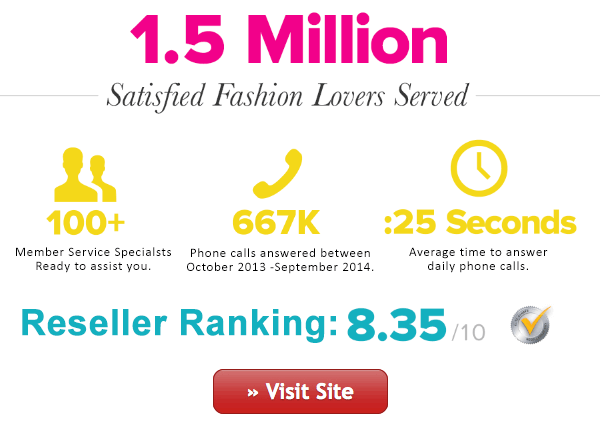 Although ShoeDazzle has extremely high ratings and reviews from their customers, there is always room for improvement. With millions and millions of products sold throughout over an 8-year period, there is bound to be a couple of mishaps.
The only negative reviews online involved an order cancelation or exchange that did not go super smoothly. However, these negative reviews are very limited and seem to be isolated incidents. For the most part, it appears ShoeDazzle customer support replied directly to these comments saying they would follow up with the customer and find a resolution. There are plenty of other positive customer reviews about their cancelations and exchanges process.
Final Thoughts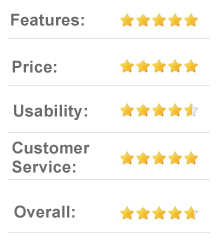 Everything about the ShoeDazzle website is customer oriented. The suggestions option in "My Showroom" based on your customer profile is something you will not find on competing sites. The best part about this feature is that the suggestions are relevant to your interests! You can find all your wardrobe necessities in one place with simple navigation. They deliver high quality products at very low cost.
Most subscription-based services lock you into a monthly fee. The fact that ShoeDazzle allows you to put a hold on your membership on a month-to-month without charging you is a nice touch. Plus the monthly membership cost automatically transfers to credits for your next purchase.
Overall, I confidently recommend giving ShoeDazzle a try. The website was created by celebrities; so their high quality and customer service shopping experience will make you look and feel famous too!