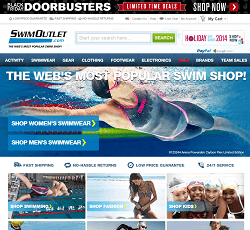 Finding quality swimwear and water-related activities gear is difficult to find in most physical stores during many parts of the year. Therefore, online swim stores are important for providing you with everything you need to meet all your water needs, whether you are an individual or part of a team.
In this review, we'll take a look at SwimOutlet, which claims to be "the web's most popular swim shop." We'll look at exactly what makes SwimOutlet stand out from the rest to determine if they really offer everything you need for your aquatic needs.


About SwimOutlet
SwimOutlet is an online aquatics store that was founded in 2000, and they are located in San Jose, CA. They are the largest online specialty store for aquatics in the United States, and they have the largest selection for swimming and other water-related activities and beach fashion. SwimOutlet focus on providing the best goods and services compared to any other aquatic store. Because they rely so heavily on word of mouth recommendations, their entire business relies on providing the best online shopping experience with the best value.
SwimOutlet is also focused on creating healthier lives for people thought sports and fitness. The company has even been recognized by the American Heart Association as a Gold-Level-Fit-Friendly Worksite because SwimOutlet encourages employees to eat better and get more exercise and activity to stay at a healthy rate and improve the overall health of your body.
Top Features of SwimOutlet
The top feature of SwimOutlet is the wide selection of products offered on the website. This company has everything you need for your water enjoyment. Swim may be in the title of its name, but SwimOutlet isn't just about swimming. They sell clothing, gear and other products for many water-related activities, including swimming, water polo, beach activities, lifeguards and surfing. SwimOutlet offers swimwear for men, women, girls and boys. Products include but are not limited to:
Performance swimwear
Fitness swimwear
Two piece swimwear
Fashion swimwear
Swim shorts
Board shorts
Wetsuits
Lifeguard suits
Wraps and cover ups
Swim trunks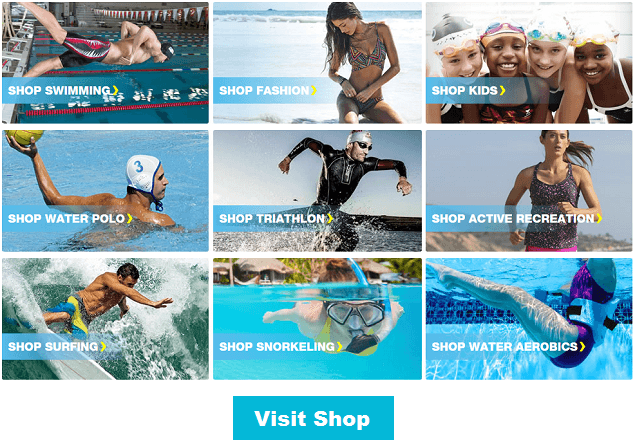 In addition to swimwear, they also sell gear for different water-related activities, including swimming essentials, water sport gear, recreation, safety and pool equipment. When you're out of the water, SwimOutlet keeps you warm and dry with many different types of clothing. Clothing ranges from casual attire like sweatshirts to team clothing like jackets and coats. They also sell footwear: sandals, water shoes, athletic shoes and casual shoes.
Whether you're in the water or on dry land, SwimOutlet offers many great electronics and electronic accessories. Products include water-proof audio, watches and cameras to let you have fun while you're in the water without damaging your equipment. You can also keep your non-waterproof electronics safe with waterproof cases and packs. However, they also offer non-waterproof deck electronics like megaphones and lane timers.
Lastly, if you are part of a team, SwimOutlet offers sales and customization for your team. You can purchase swim equipment and clothing that is customized to your team. Customizations include screen print, embroidery and heat transfer. To make it easy for your team, you can also create your own team store though SwimOutlet. That way, it's simple for all team members to find the product they want that is customized and approved.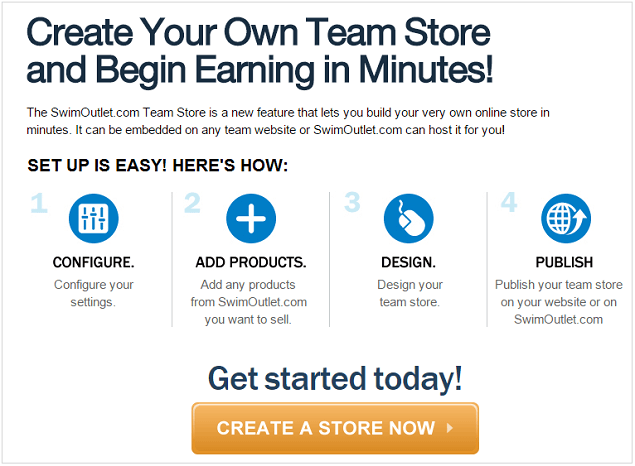 If you are looking to earn some money for your team, SwimOutlet offers an affiliate program. Refer people to shop at SwimOutlet. If they purchase something, your team gets 8 to 10 percent from every item purchased. You can share your SwimOutlet link via your team's website, Facebook, Twitter or through many SwimOutlet tools.
Finding the product you need is easy. Everything is categorized in many different ways, including by activity, by brand and by type of product.
SwimOutlet Prices
SwimOutlet features many products from many different brands, so it's impossible to discuss the price of every product in this review. The price varies greatly depending on the brand, size and product. However, some of the most popular item prices include:
On average, the most popular women's competition swimsuits are about $20 to $50
On average, the most popular men's competition swim briefs are about $10 to $35
Popular fashion swimsuits tend to cost more, averaging between $25 to $60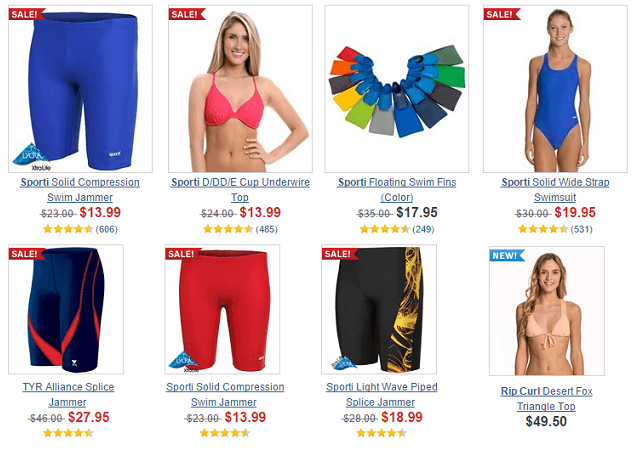 SwimOutlet offers many different top brand names, so some of its products seem expensive. However, they strive to bring you the lowest cost available. Therefore, they offer a 100 percent Low Price Guarantee. If you spot the same product for a cheaper price, simply send them an email within 10 days of your purchase. It must be the same brand, item, size and color, and SwimOutlet will refund you the difference.

SwimOutlet is so sure you won't find a lower price anywhere else that they do not offer coupon codes. Even if you find a site claiming to have SwimOutlet coupon codes, they don't. They don't exist because they don't need to thanks to SwimOutlet's low price guarantee.
When it comes to shipping prices, expect to pay little. SwimOutlet offers a flat shipping rate of $4.99 for Standard shipping for anything you buy under $49. If you do spend over $49, your shipping is free via Standard 2-6 business day shipping. If you spend over $99, you get free Rush 1-2 Day shipping. However, if you don't need Rush shipping, you can choose to Standard shipping with a 3 percent credit on your order.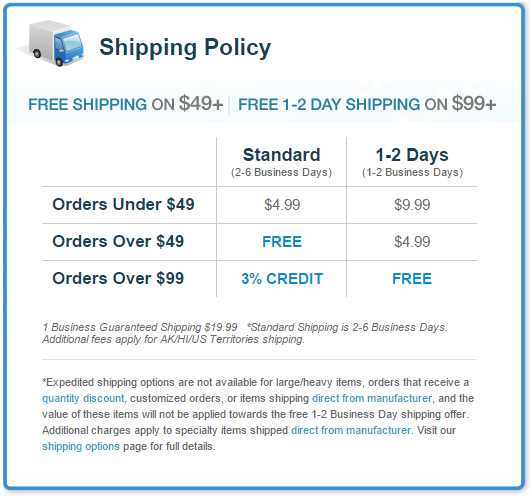 Criticism of SwimOutlet
Tried as we might, we just couldn't find much wrong with SwimOutlet. They offer such a robust selection of products on many name brand items for all kinds of water-related activities. Plus, it offers great features for teams. On top of that, most reviews for SwimOutlet are quite positive. Most people are happy with the selection, the price and the customer service.
Customer Support
If you need assistance with your purchase or product, SwimOutlet is always available to help. SwimOutlet offers assistance via phone, email or by directly live chatting with a customer service representative. Via phone, the service representatives are available 24 hours a day, seven days a week. Even if you have an urgent question at 2:00 AM, someone is there to help. Live chat representatives are available Monday through Friday from 5:00 AM to 8:00 PM PST, Saturday and Sunday from 8:00 AM to 5:00 PM PST. If you choose to send an email, a customer service representative will respond within 24 hours.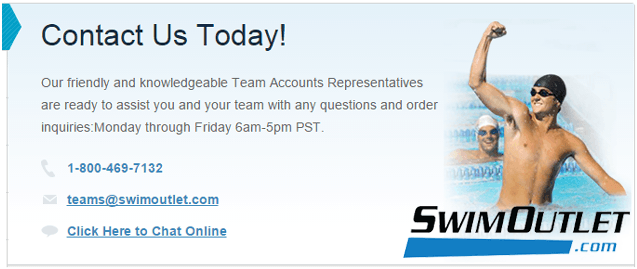 If you don't feel like talking with anyone or sending an email, try to find the answer yourself in the Help Center. The Help Center features information on a wide variety of topics. Information includes answers to frequently asked questions, returns, placing orders, shipping, team division and guides for buying the right product.
The site also offers great customer service for returns. It features no hassle returns if you are not 100 percent satisfied with your purchase. Simply return the produce in new, unused condition within 60 days of receipt. Ensure all tags are intact and packaging included. You'll get a full refund or store credit.
Final Thoughts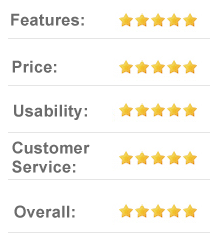 SwimOutlet isn't just about swimsuits for swim teams. They offer a huge selection featuring many different products to meet all your swim and water needs. Whether you're in the water or on land, you'll find what you need.
We recommend SwimOutlet for anyone looking to buy water gear. It doesn't matter if you are just shopping for yourself, or if you're part of a team, SwimOutlet is the perfect store to meet all your needs at low prices and great customer service.