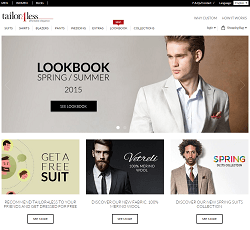 Tailor4Less.com is a Shanghai-based company that specializes in providing its customers with perfectly tailored clothing at affordable prices. With this company, you no longer have to travel to Shanghai or Hong Kong (which used to be the center for tailored suits) to have a custom suit constructed for you. And the company's services extend to a broad range of apparel, very much including women's clothing.
The only size they want to work with is your size, your exact size. This allows them to provide you with a perfectly fitting garment. All you have to do is provide them with your measurements, and they have a unique process for collecting those. Then you can select a garment and preferred material from the remarkable selection offered on their site. You can't order a garment from the company in a standard size, because they don't have garments. What they have are materials, and the desire and capability to produce form-fitting garments that will fit you like a glove.

The firm began operations in 2008, and it is dedicated to supporting its customers' desire to design their own clothes by choosing from a wide range of styles and fabrics. They will even tailor their tailoring by responding to customer inquiries in the event that you can't find the material or style you are interested in.
And what about those measurements? Those numbers are the key to producing a tailor-made outfit, and the firm uses data from over 10,000 prior customers to produce a template that will calculate your measurements to within 2 centimeters. You can then confirm, or alter, these measurements yourself before ordering. The only information they need is your height, weight, age, and "stature," or body type, and their software will do the rest. Your measurements will then be stored in your profile for when you come back for additional tailoring. That's why you'll only need to go through this process once.
Prices
Custom linen and cotton men's suits run for $269.00, and three-piece suits come to $344.00, which certainly compares favorable to hand-tailored suits in the U.S. Custom shirts, whether linen or even tuxedo, cost $69.00, and blazers and jackets are $169.00, with materials ranging from linen to cotton, tweed, corduroy and velvet.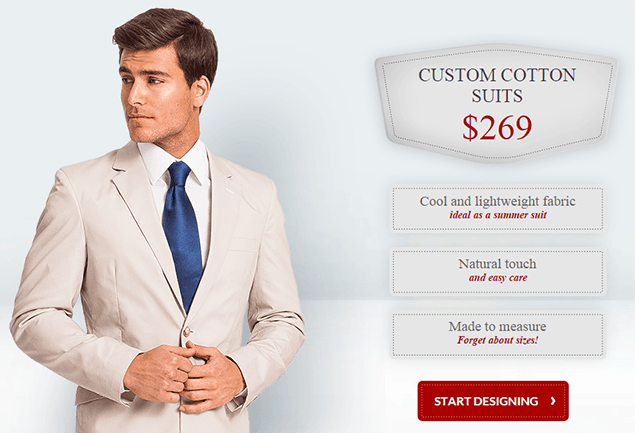 Women's tailored suits cost $229.00, and come with either skirts or pants. The company offer the ladies a cornucopia of style options, covering pockets, buttons, different lapels styles and widths, sleeves, hemlines, pleating, the fit, hemlines, and the back style. Shirts run between $38.00 and $45.00, and blazers start at $149.00, and the style options are remarkable. You clearly get more freedom of choice through your selection of these options than you would ever get at a department store.
Shipping is free on orders of over US$120.00, and fabric samples are a mere $1.00 (in case you want to actually see and feel the material before ordering). The site provides details on shipping costs for orders below that amount.
Payment can be performed using any major credit card, and the company utilizes an SSL-EV encrypted credit card processor, allowing you to transmit your confidential data securely. With this encrypted system, only the computer will see your card number, and computers, of course, have not yet attained consciousness, let alone the desire to commit theft (what would they do with the money?).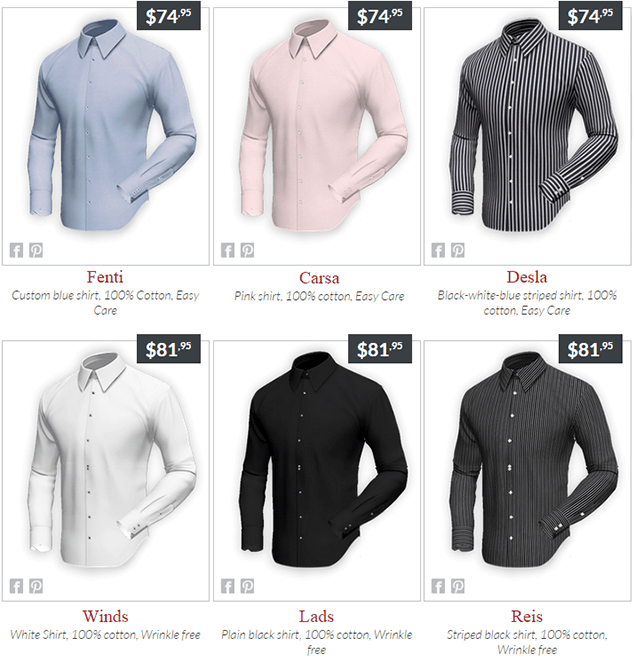 You can also pay using (and not all of these are common in the U.S.) Giropay, Sofort, ELV, Ideal, Bancontact/Mister Cash, Seven Eleven, OXXO, and PayPal. They accept U.S. Dollars, Euros, and British Pounds.

Customer Service
The company serves an international clientele, and they have the linguistic capabilities to match, offering customer service in six different languages. While the firm does not have a call service, they will respond to your email on a 24/7 basis.
Once you send in your order, their tailors get to work fast. So if you want to order a modification, the company asks you to submit the request within 24 hours of your initial order. After that, they will already have cut or tailored the garment, and changes will no longer be possible. As for cancellation, if you haven't paid yet, that is easy – just go to your account and delete the order. If you have paid, however, you can still contact customer service, again within 24 hours (before they start snipping), and they will be glad to cancel the order and refund the payment.
If you are a couple, and you are each ordering something, you will need to open two profiles, one for each of you. If you want to combine the garments in order to save on shipping, however, they will accommodate you and all that is required is an email to customer service.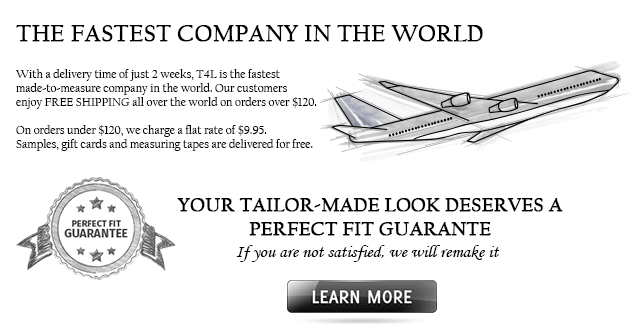 The company states that it is able to ship to every country except for countries in the Middle East, South America, or Africa, and North Korea and the Philippines. Actually, that is a fairly large list of countries that they exclude. They boast that the firm's 15-day delivery time makes it the fastest company in the industry. They use express air with the leading firms of DHL and FedEx. They regret their inability to deliver to PO boxes, military addresses, or APO/DPO addresses.
We admire their commitment, and as you'll see, customers generally affirm their speed.
The company specializes in tailoring, so naturally they want your garment to fit. As a result, if your garment does not fit, they'll cover the cost of local alterations up to 45 British Pounds. Just use their site software to request an alteration refund, and supply the related documentation (a scanned copy of your local alterations shop's receipt). If the alteration costs more, they will produce another garment from scratch using your new, corrected measurements. Now that is a powerful warranty.

Criticism
Most of the chatter arising from former customers is positive, with only a few complaints about delivery outside the 15-day period that the company advertises.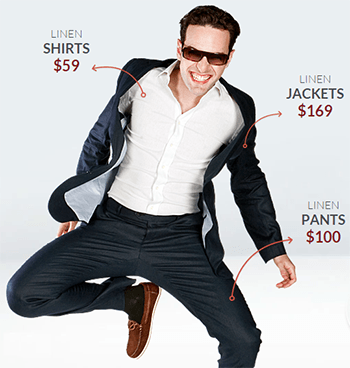 Some customers lamented that after a few years of wearing these perfect-fitting garments, the customers' bodies changed a bit, rendering the clothes unusable. We believe that problem is inherent in human nature, however, and can't be fixed by tailors. Wouldn't it be nice if they could.
One criticism that you will not hear about Tailor4Less is an accusation of unethical practices. The company is highly committed to operating as an Ethical Fashion Brand, and they want their customers to clearly recognize that the clothes they produce involve no sweatshop labor. All of the tailors who work in the firm's Shanghai factory have fair contracts and enjoy medical and other comprehensive benefits for themselves and for their families.
The firm is careful to note that it follows a sustainable business model that does not rely on exploitation. The company states that it offers its workers not just jobs, but careers, and explains that most of the firm's workers have remained with the company since it was founded six years ago. Considering Shanghai's flexible and robust labor market, this fact in itself is a tribute to the company's treatment of its workers.
Final Thoughts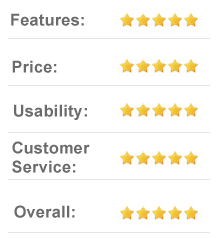 If you want your clothes to be truly yours, tailoring is the way to go, and the affordability of Tailor4Less allows you to create exactly the attire you desire, and have it fit like a glove.
While it might be a surprise that the Internet would permit long-distance tailoring, with a measurement system that has been refined through years of experience, and a tailoring guarantee that assures customers that they can simply start over if the garments they ordered didn't fit, Tailor4Less has found the winning formula for having your tailoring done on the other side of the world.