About Fresh Books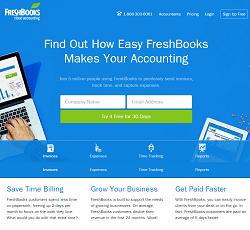 When you own your own business sometimes it can be a challenge to keep everything straight and organized. There is a lot to think about when setting everything up in your business. One of the biggest challenges to owning a business though is keeping all of the expenses and finances organized. In order for a business to be profitable it needs to make some money and the only way to really make sure that the money keeps pouring in is to make sure that every single nickel and dime is accounted for. Luckily there are services that exist that can help any business owner succeed and stay highly organized. One such company that exists in this arena is FreshBooks.com. This website is ideal for any small business owner because it helps you:
The website was founded by Mike McDerment and it came into existence when he accidentally saved over an old invoice in Word. Frustrated with a program, which was never designed for invoicing, he decided to come up with a better solution. He started writing code, and together with computer science whiz Joe Sawada, founded Fresh Books. Operating out of Mike's parents' basement, the two worked to develop software, which would take the pain out of invoicing. The company has really grown and developed since its inception and it now has 122 employees and serves customers in more than 120 countries. In North America, they have more paid subscribers than any cloud-based accounting service except QuickBooks Online.
The company projects a fun and friendly vibe and continues to grow and flourish as time goes on. They're all about staying relevant as well and have made several advances, including the release of an Android app in 2013, integration with ZenPayroll in January, and a journal entries feature currently in beta.

Top Features Of Fresh Books
Fresh Books is basically an online invoicing tool for freelancers and small business owners and it has a number of really key defining features that help it stand apart in the marketplace. After registering an account, you will be able add "Clients" to your account. Those are the people will be sending an invoice to, either for a work that you performed, or for your advertising fees and so on.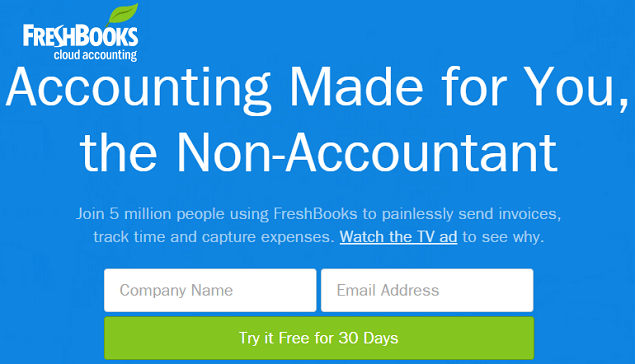 Fresh Books has a simple interface. Tabs along the top of the screen direct you to Home, People, Invoices, Estimates, Expenses, Time Tracking, Reports, and More (Support and Documents). In the upper right hand corner are additional links to the Add-on Store, My Account, Settings, and Help. Finding your way around is pretty easy, and if you need help, the FAQ will open in a new tab so you don't lose what you were doing.
The service is actually quite simple to utilize and really doesn't take a whole lot of effort to get the job done. Once your client is added, you just need to select it and click on "Invoice." You will then see the invoice interface, and there you will be able to add the product or service, its description, the price per unit, the numbers of units and so on. After that you just need to click on "Send" and your invoice will be automatically sent via email to your client. Now that's some pretty quick and easy invoice sending!

Skeptics of the service may wonder what the actual benefits are to using this type of service instead of just writing a quick invoice yourself on a word processor and emailing it to the client by his/herself. However, there are really a good number of reasons to use the service, the main one being that it will help present your business in a better light because the invoice will show up nice and professional which can really do wonders for your businesses growth.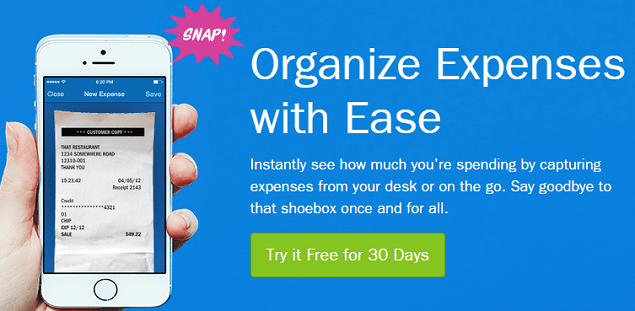 The site also offers advanced features that might come useful either for you or for your clients. For example, they have a live time tracking tool that you can use if you bill your clients by the hour. Your clients will receive a login and password to access their invoices online if they want. You can automate the process of sending invoices and manage them under a single interface too.
Fresh Books Prices
The nice thing about Fresh Books is that it really isn't too expensive to use. The company's basic offer is free. You can try Fresh Books free for 30 days, no credit card required. The limitation with the free version is that you can only manage 3 clients at the same time, but other than that it already comes with all the features that you would get with the paid plans. After the trial, Fresh Books offers 4-5 pricing tiers. There are no contracts; you pay monthly and you can cancel the service at any time.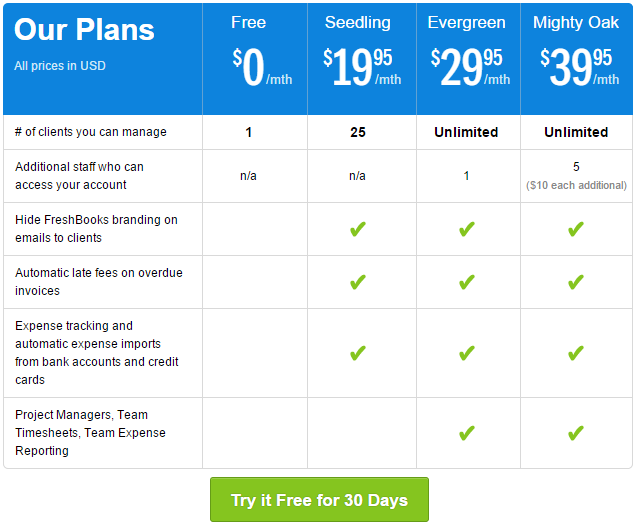 If you give the service a try and find that you like it but need to manage more clients, the second tier plan will allow you to manage up to 25 clients at the same time, and it costs $14 monthly.
Really how you use the service depends on what you ultimately will need it for and this will also affect the pricing plan that you select. If you often need to send invoices to companies and clients then it is definitely worth giving the service a try.
Criticism Of Fresh Books
The general consensus of Fresh Books across the Internet is that the company is a good one to look to utilize. Most user reviews on forums and comment boards are positive. However, that does not mean that the service does not come without its fair share of issues. The most common problems users point out are that the software is not truly accounting software. This is by far the most common complaint, and arises because Fresh Books now calls itself "cloud accounting." It does not use double-entry bookkeeping, and for businesses that need true accounting, it will not be a good choice. Several users feel that the software should be called an invoicing or billing system, sticking to what it does best.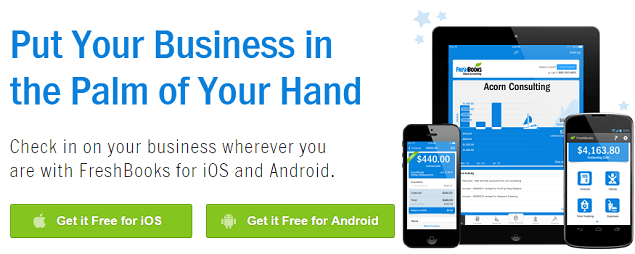 Customer Support
Getting in touch with the Fresh Books support team is really quite simple. The team is readily available to answer any questions that you might have which leads to a strong and stable support team. Ways to get in touch with customer service representatives include a 1-800 number, e-mail support, live chat and there is also a FAQ section of the site for anyone who simply needs to look up a question that may have already been asked by another. In addition, there is a blog, which is an effective way for the site's owners to communicate with its users by providing tips and other how-to manuals. It's also worth noting that in 2013, Fresh Books won gold at the Stevie Awards for "Best Front-Line Customer Service Team," and its iPhone app took home the IXDA Award.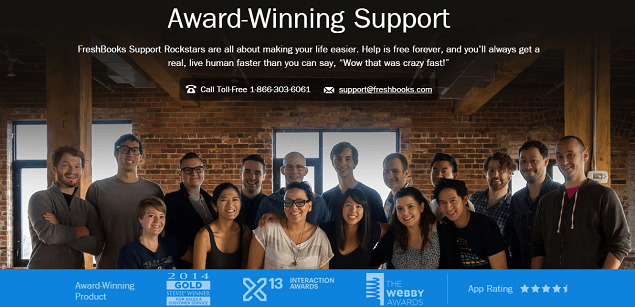 Final Thoughts
For any small business that is looking to get off the ground, stay organized and focused, FreshBooks.com is definitely one worth fully checking out. Fresh Books has a lot of strengths. It offers a good variety of invoicing features, some expense tracking and basic bookkeeping functions, not to mention it also contains a clean and easy-to-use interface. The large number of available integrations and add-ons is a big plus, there are good apps for iPhone and Android, and the customer service is excellent.