Most of us use multimedia software on a regular basis in our daily lives. We touch up photos, we edit videos, or we watch movies through our wireless theater system.
CyberLink.com specializes in producing high quality multimedia software for both casual and professional users. The company sells some of the most advanced audio and video technology available on the market for both PCs and mobile devices.

About CyberLink.com
CyberLink.com was founded in 1996 and is headquartered out of New Taipei City, Taiwan. The company also has regional offices located in the United States, the Netherlands and Japan. Since its beginning, CyberLink.com has grown to sell over 30 products to consumers all across the globe. The company was recently named by Forbes as one of "Asia's Best Under a Billion Companies," and in BusinessWeek as one of "Asia's 100 Hot Growth Companies."
CyberLink.com sells multimedia software that is geared towards both casual consumers and professional level users. The website offers a wide range of different multimedia solutions, including:
Media entertainment: Find top quality media playback software for PCs and mobile devices. Multiple formats are supported, including Blu-ray and DVD.
Media creation: User-friendly applications let you create and edit videos, photos and audio files.
Mobile devices: Bring multimedia to your Android, iOS or Windows 8 mobile device with camera, photo and video editing applications.
Cloud services: Back up and sync files using the Cloud and receive access to the online DirectorZone and MoovieLive communities, where members can share creations and feedback.
No matter what multimedia solution you are looking for, CyberLink.com sells software to suit every need and skill level.


The Best Features of Cyberlink.com
CyberLink.com makes it easy for a customer to decide which application will best suit his or her needs best. CyberLink software varies in price and complexity, and a piece of software geared towards a home user may not be appropriate for a professional. The website offers members free trial downloads of the different applications available to familiarize customers with the program's interface and to demonstrate the software's capabilities.
The company also offers Power2Go 10 completely free of charge. This application is designed to burn and copy disks, allowing users to organize and back up information such as a music library.

CyberLink.com offers most of its mobile apps for free to all customers. These applications are capable of basic camera, photo and video editing. There are entertainment apps such as YouCam MakeUp, where users can touch up selfies with virtual make-up, as well as more serious apps such as PowerDirector Mobile.
For software that is not free, customers can save money by taking advantage of bundle sales. CyberLink sells certain products together in a package for a significantly reduced rate. Buying software suites instead of individual programs can also help frequent multimedia software users to save money. Creative design packs and director suites give customers a comprehensive multimedia experience for a low price.
In order to download software, customers must register with the site. The basic registration package is free and comes with all sorts of perks. Members are eligible to receive registration bonuses, exclusive offers, free software updates and access to a tight knit community of multimedia enthusiasts.
Once registered, members can join the DirectorZone or MoovieLive community for a subscription fee. These platforms let users share video creations, feedback and advice. CyberLink.com members can also join the ImageChef community to upload and share photographs with other users.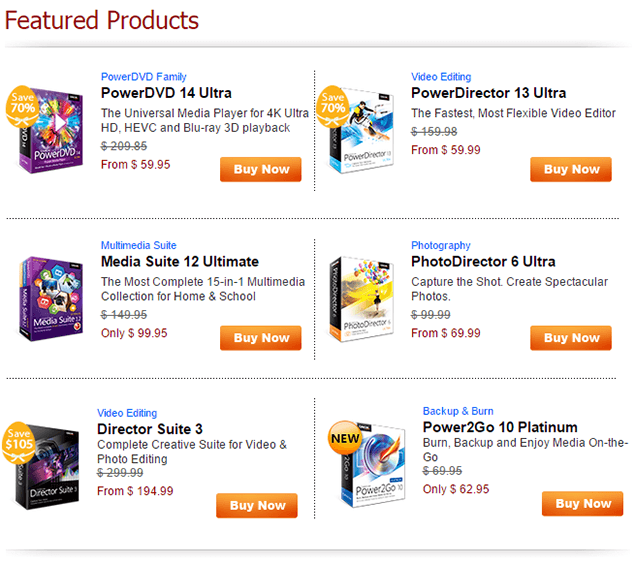 The CyberLink.com website forum is free for members to use, and though it is not a platform for sharing creations made with a CyberLink application, it can help customers to troubleshoot software issues. Users can ask each other questions and share advice on using CyberLink programs.
CyberLink.com also operates a blog along with several social media pages, including active feeds on Facebook and Google+. Here, members can find articles pertaining to CyberLink software and multimedia editing, along with news about new products and upcoming promotions. The company's YouTube channel offers members video tutorials on how to use different CyberLink applications.

Criticism of CyberLink.com
Basic registration with CyberLink.com is completely free, but nonpaying members don't gain access to all of the features that the website has to offer. If a customer does not pay for technical support services, then he or she cannot call the customer support hotline for help using or troubleshooting software.
Premium phone support costs $29.95 for 2 months. Platinum CyberLink.com members also get 1 month of phone support for free. Paying users get priority assistance during calling hours, which can leave nonpaying members with long response times during busy seasons.
CyberLink.com Customer Service
Technical support is only available over the phone to customers who pay for phone support. The phone number to call varies depending on what location a customer is calling from. Nonpaying customers can call customer support regarding only download or installations issues. These members must use a form to email technical support through the website for any other issues.

Frequently Asked Questions

Pros of CyberLink.com
Free demos, software and mobile apps
Bundle sales and suites
Access to DirectorZone, MoovieLive and ImageChef
Forum and blog
Social media presence
Cons of CyberLink.com
Paid phone support
Occasional lengthy customer service response times
Why Should I Use CyberLink.com?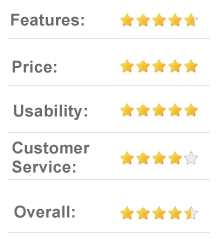 CyberLink.com produces state-of-the-art multimedia software designed for both casual and professional use. The company's programs help customers to create and edit video, audio and image files. CyberLink.com also offers applications that help families to create a home media network so that they can watch videos and listen to music across multiple platforms.
The software produced by CyberLink is fast, intuitive and easy to navigate. Even beginners to multimedia manipulation can easily edit their own creations. The website offers programs to suit all different skill levels, from novices to experts.
CyberLink.com recognizes that beginners have different needs than professionals, and to accommodate this has created stripped down and enhanced versions of several popular applications. Casual users can buy simplified software with no unnecessary features for a lower price, while professionals can purchase more involved versions of the same software.
The CyberLink.com community is unique in its acceptance of both seasoned experts and multimedia novices. Beginners who are learning to create and edit their own productions can turn to the website's YouTube channel for video tutorials or the website forum for tips from other CyberLink members.
Members also have access to DirectorZone, MoovieLive and ImageChef. These platforms let people share their creations with other multimedia enthusiasts on the Internet for advice and feedback. By connecting to other users through these websites, anyone from a complete beginner to a long time video editor can use the knowledge of others to improve upon his or her skills.
CyberLink.com sells high quality software that is capable of helping customers to create, play and share their own videos or images. The company sells over 30 different applications for PCs and mobile devices that are designed to suit all levels of experience.