The clever t-shirt, unusual gift, gadget, and home/office item market is thriving on the Internet. ThinkGeek seeks to fulfill this need in people's lives with unique and authentic products. Although there seems to be a heavy focus on Star Wars and other sci-fi cultural entities, it aims to be a source of imaginative products and gifts of many varieties.
This site provides a secure, simple, and whimsical at times online shopping experience. From silly apparel to novelty home and office décor, electronics and gadgets to outdoor and survival gear, ThinkGeek has a huge catalog of gift items. Some of these might be hard to find anywhere else, but here they're all in one place.
For a site with so many categories and choices, it has a very good layout. We found the choices for navigating are not limited, as the visitor is immediately presented with a number of options. The top bar enables you to Shop by Category via a dropdown menu. Next to this is the Shop by Interest menu. Then again, you can simply enter what you're looking for in the search window.

The log in and shopping cart button links round out the first row. On row two, you can click to view new items, bestsellers, exclusives, holiday gifts, and popular categories such as t-shirts/apparel, collectibles, and electronics and gadgets. Sale items can be accessed on this level as well. So can the GeekPoints program which will be explained later.
Row three navigation leads visitors to popular topics such as Star Trek, Star Wars, Minecraft, Marvel, Game of Thrones, and ThinkGeek's own inventions at GeekLabs. Here you'll find Death Star Chips, Infectious Disease Balls, Flux Capacitor USB Chargers, a USB Squirming Tentacle, and other stuff you'll probably see nowhere else.
If anything, ThinkGeek aims to be up and current. We took a look around the ThinkGeek 2015 Holiday Gift Center, which featured top holiday gifts, décor, and was chock full of gift ideas. These included gifts for him, gifts for her, items under $10, gift certificates, stocking stuffers, and many more in major categories. Once again there were a multitude of navigation options, letting us simply enjoy looking through the selection of unique product offerings.
About ThinkGeek
ThinkGeek has been around since 1999. Its self-proclaimed mission is to help anyone embrace their inner geek. Now more than just a clever t-shirt store, it provides a retail outlet for home and office products, electronics, gadgets, collectibles, and sci-fi memorabilia plus its own exclusive inventions.
The owners are indeed sci-fi fans, leading off the manifesto with their belief one "should live long and prosper, with the Force". Catering to those who have crushes on comic book characters, believe humans will colonize other planets, and wearing a cape is fun is big business to ThinkGeek. Its real mission is to sell things that appeal to many people. While being sympathetic to technology-savvy students, engineers, and ordinary folk, it has succeeded in marketing to a dominant and vocal sub-culture.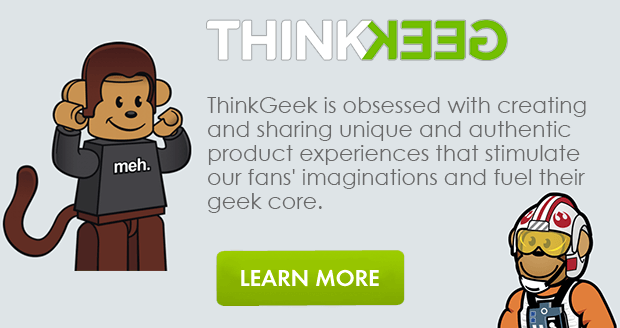 In addition to its online store, the company has physical locations. ThinkGeek opened a store at The Florida Mall in Orlando this past September. It also plans to open at the Palisades Center in West Nyack, New York and North East Mall in the Dallas-Fort Worth area very soon. We're proud to say it's not just an online phenomenon, but an expanding chain that caters to the interests of millions.
Top Website Features of ThinkGeek.com
For a gadget gifts website, ThinkGeek sure stocks a lot of t-shirts. Shirts with sci-fi themes and logos are common. From starship schematics to cool sayings, to glow-in-the-dark shirts and those that make sounds when touched, the choices are diverse to say the least. We could go on about products all day, but this is a comprehensive review so we'll move forward with a look at website features.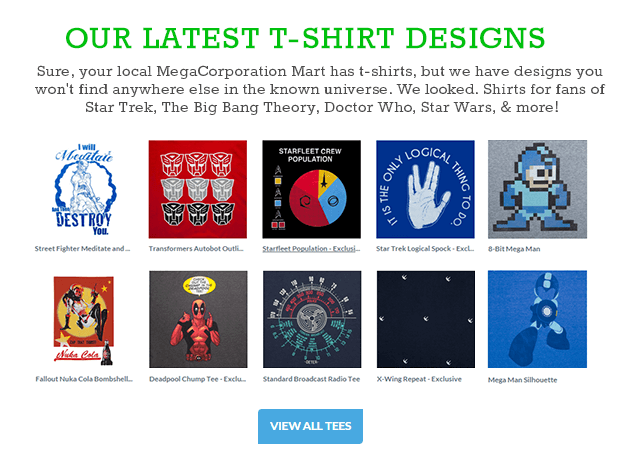 Ease of Use: The layout is fun and entertaining. As stated earlier, navigation is easy and there are many ways to find products. The website is designed for both people looking to find something in seconds and those looking to spend their time browsing everything. Suggested products are related to what's listed to further aid selection. Jump between categories or reach customer service from the side/top navigation bars on any page.
Also, if you want to know something important, like discounts and holiday specials, these are listed on the home page. This is especially good for the holiday season. You'll also find access to extremely limited time discounts, Timmy's Daily Doorbusters, and the 2015 Holiday Gift Center.
Customer Loyalty: While there's no gift registry or wrapping service, the GeekPoints program makes up for any inconvenience. Members can earn points for each purchase, which like other such programs, can be used to buy other products and obtain discounts. Sign up online and earn 10 points for every dollar spent. Select products are listed along with how many points are needed to get them for free.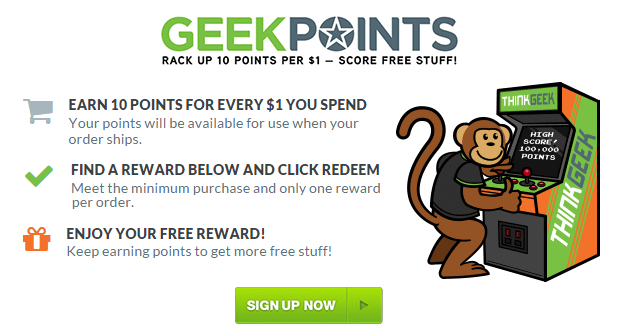 Returns: Products can be returned with 90 days. You don't need a reason unless the product page says so. A Return Merchandise Authorization number is required for returns/exchanges and anything you send back must be in original condition. ThinkGeek is very professional about how it handles this process and letting everyone know its policies by way of yet another FAQ list.
Wish List: If the number of great products is overwhelming you can use the wishlist to select and keep track of products for later purchase. Other users' lists are stored and you can search for them by email or name/location.
Account Features: On the "Not-So-Dark" side (again referencing the founders' Star Wars infatuation), users can make use order management, address book, and return request functions. They can also submit action shots of them using or wearing ThinkGeek products.
Gift Certificates: Fill in the person's name and their email you want to give a gift to. Options include selectable amounts and personalized messages. You can choose whether to send it via email or not and the exact date you want the recipient to get it. All gift certificates expire five years after they are purchased, so recipients have plenty of time to choose something good.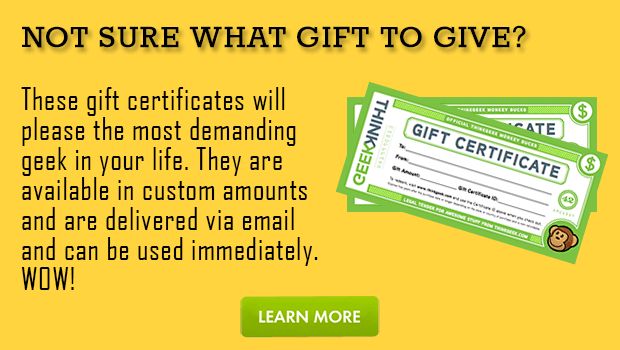 Size Charts: Match up those letters and inches for unisex, women's, and kid's shirts. There are even cool picture/schematic diagrams to go along with each. Not only can you understand sizing. Submit t-shirt ideas in this section as well. The reward for a selected idea is $250 in cash or a $300 gift certificate.
Apparel: Aside from funky t-shirts, the site sells an array of other clothing. You can find hoodies and jackets, tank tops, polos and work shirts, dresses/skirts/leggings, baby and kids products, and more. Jewelry, watches, wallets/purses, keychains, bags and backpacks, luggage, hats, scarves, belts, cosmetics, and more are also sold.
Ordering Instructions: ThinkGeek has a fairly explicit ordering process detailed with descriptions of what availability status means, how to pre-order, whether taxes are charged, available payment methods, and order status. Information on changes and cancellation policy is provided too.
Newsletter: Subscribe to get limited edition items, notices of secret deals and discounts, see Action Shot award winners, and email newsletters twice a week.

Customer Support
Help is a serious concept for ThinkGeek. Live chat is included while phone support is available even if you want a gift certificate that is a non-standard amount. There's also order tracking, plus store FAQs. Separate content sections detail shipping and return/exchange policies. Phone support is also available and you can contact a representative 12 hours a day, any day of the year.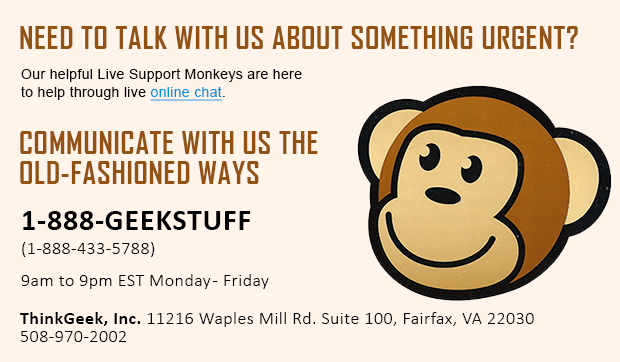 Criticism of ThinkGeek (positive/negative)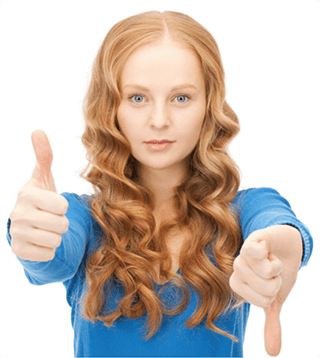 Some users have been vocally critical of ThinkGeek. Further analysis by tracking sites reveals its reputation is actually rather good. Easycounter.com reports 98% reviews are positive.
Complaints included shipment delays, damaged items, and trouble with returns but that can happen with any delivery service. There are many reviews of individual products from ThinkGeek online and these are overwhelmingly good.
It seems the retailer has a very solid search engine presence on Google. We see no reason not to purchase something and see how it goes.

Concluding Remarks about ThinkGeek.com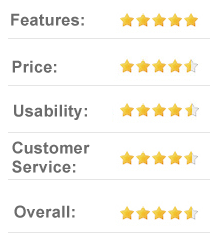 On ThinkGeek.com, it's not only easy to find what you're looking for, but fun. Just browsing the site is entertaining if you enjoy checking out novelty t-shirts or interesting gadgets. The website is also a great place to find sci-fi memorabilia if you're into Star Trek, Star Wars, and other popular cultural phenomena.
Other benefits include a customer loyalty program, wish lists, and various order management features. From gift certificates to size charts and FAQs, you're in luck if you like extra e-commerce features. The site is highly informative when it comes to instructing customers on how to navigate its catalog and features.
ThinkGeek has a pretty high reputation online which is a standout for any e-commerce site. There's little if any hassle, so we recommend purchasing from them if you want the latest collectibles, the-shirts, and other novelties you might not find anywhere else. Even on the Internet.