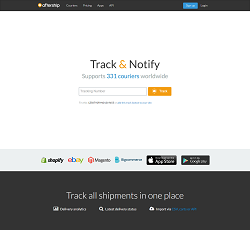 When I started my first company about 25 years ago, we didn't do that much direct shipping to customers. We were building small computer parts that were mostly used by manufacturers. Since we offered low prices on technologies that exceeded their own, we had a strong following of several small manufacturers. It was enough for us to grow slowly over the years.
As the Internet gained prominence, though, we found that more and more individuals wanted to purchase replacement parts directly through our company. At first, this didn't add a whole lot of revenue, but we were happy to accommodate their needs. After all, it was difficult for people to find replacement parts. Most of our clients didn't even sell the parts to their own customers.
We quickly discovered that shipping was a big pain. We were sending parts to people all over the world. This was something very different from sending large orders to manufacturers. These were small packages. We didn't expect it to be a big deal. Soon, though, we were shipping hundreds of individual parts. It became rather difficult for us to keep up with.

We struggle for several years. During that time, we added other products that people could purchase. Doing that helped increase the revenue that we got from individual buyers. If we hadn't found a way to make more money, I think we would have stopped working with consumers. It was becoming that big of a headache.
Luckily, we found AfterShip. AfterShip gave us the tools that we needed to manage domestic and international shipping. It didn't take long before we had improved our practices and streamlined our shipping services.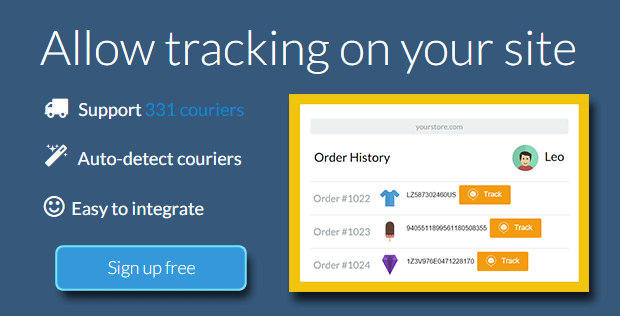 After a year or so of using AfterShip, we had enough confidence to open a sister company that focused on retail services. Now, we operate a wholesale company for manufacturers and a retail company for consumers. We're making more money and expanding to include a lot of interesting new products. I'm not sure we could have reached this point without help from AfterShip
About AfterShip
AfterShip is an online business that was founded in 2011. During this time, more and more companies were establishing themselves online. Since so many companies were choosing online stores instead of brick and mortar stores, the industry needed someone to step in with better shipment tracking services.
AfterShip has already built a client list that includes thousands of prominent online retailers. The company has also kept up with changes in the industry to give its clients more effective services.
Top Features of AfterShip
My favorite thing about AfterShip is that it gives me a lot of details about my shipments. It doesn't just tell me whether the item has been shipped or whether it has reached its final destination. Some of the tags that I find most useful include:
In Transit
Out for Delivery
Having access to this information has helped me give my customers a higher level of service. If someone contacts me about a package they haven't receive yet, I don't just have to say "well, I guess it's on its way." I can say "UPS tried to deliver it this morning, but it looks like no one was there to accept the package."
This level of information can also help me make better decisions about the shipping services I use. AfterShip currently support 319 courier companies. Whether you and your customers are based in Asia, North America, Europe, or Australia, AfterShip can almost certainly track your shipments. (The same goes for some locations in Africa and South America, but I have never had to ship anything there. I'd rather not make a comment that I can't back up with my own experiences.)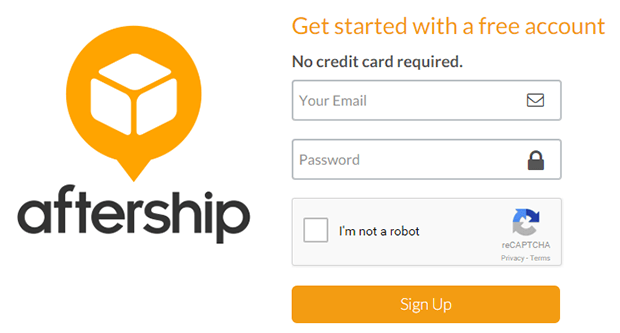 Before I started using AfterShip, I suspected that one of my couriers wasn't meeting expectations. I was getting a lot of negative feedback from customers in India. Everywhere else was fine. There was just something about shipping to India that always got complaints. I worried that I was losing customers there, but I didn't have any information to help me make a better decision.
Once I started using AfterShip, I decided to do some test shipments. I choose about half a dozen couriers and used each one to send a package to a friend in Meerut. I kept a close eye on these packages to see which arrived first. Not surprisingly, the company I had been using didn't make it to first place. Not all of the companies were faster, but several were.
Since these companies seemed to offer faster shipping services, I switched my business to them. Over several months, I tracked deliveries to decide which one I would use exclusively.
Having analytics from AfterShip made it possible for me to choose a low-cost courier that could give my customers better services. In the long run, I think that will help me attract even more customers in India, not to mention other countries. If I didn't have those analytics, then I never would have been able to compare couriers accurately.

AfterShip Apps
AfterShip gives you access to a huge number of apps that will help improve your online retail store. Some of these apps offer basic (but essential) features, like adding a shipment tracking button to your website.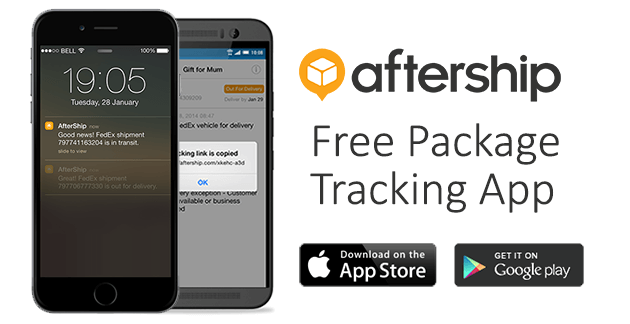 Others are more complex. Not all of them will apply to your business, but I have found that many of them are helpful. For instance, if you sell most of your products through eBay, you can get the eBay Connector app to import your orders into the tracking system. It does this automatically every three hours, which should save you a lot of work.
Apps also exist for people who use Shopify, BigCommerce, CS-Cart, and other services. If your store is based on a third-party platform, then AfterShip almost certainly has an app that will streamline the process.
AfterShip Prices
AfterShip offers straightforward pricing that should make it easy for you to determine whether it is the right service for your business. As your company grows, your shipping costs will actually become a smaller percentage of your budget. That happens because AfterShip gives you price breaks when you send and track more packages.
If your business sends 100 or fewer shipments per month, then you will spend $.10 per package.
Once you exceed 100 shipments, the price drops dramatically. Your next 600 shipments will only cost $.05 each.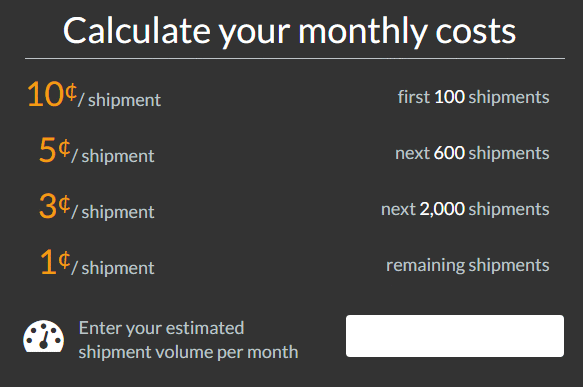 For the next 2,000 shipments you make in a month, you pay $.03 per package. Once you exceed that number, you'll only pay $.01 per package.
Whether you have a small business that rarely sends items through the mail, or you have a growing business that doesn't a lot of shipping, AfterShip can help you save money while giving your customers better services.
Criticisms of AfterShip
I'm having a hard time thinking of a actual criticism of AfterShip. Since I haven't had any problems, it's tough for me to imagine that someone would feel that AfterShip has fallen short of their expectations.
The only thing I can think of is that the service might be harder to use if you have built your very own ecommerce platform. Building your own ecommerce platform, however, is quite an undertaking. Practically everyone I know uses existing platforms that integrate into their sites.
If you are one of the few people who have built their own platforms, I guess AfterShip's apps might not match your needs as well as they do others.

Customer Support for AfterShip
I have never needed to contact AfterShip customer support, but I know you can reach out to them via email and several social media platforms. As far as I'm concerned, never having to use customer service means AfterShip is doing its job right. After all, people only contact customer service when something has gone wrong.
So far, I haven't had a single issue.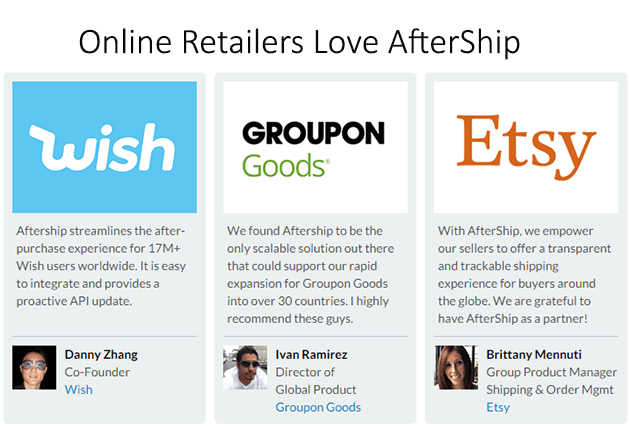 Pros of Using AfterShip
Shipment analytics and tracking features
A wealth of apps to streamline shipping
Good prices
Conclusion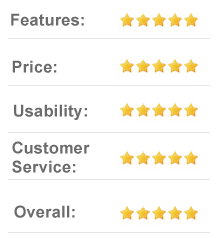 AfterShip isn't one of those companies that your average consumer thinks about. Although buyers expect online retailers to help them track their packages, they don't think about what goes into that service.
If you own or manage an online retailer, though, you probably know already know how important it is to find a service that meets your needs and the needs of your customers.
In my experience AfterShip stands out as the best option. It has helped me transform my business by encouraging me to focus on data rather than intuition.
AfterShip also seems to understand that its clients have diverse needs. In the world of online retail, companies have so many options that it is sometimes difficult to find a service that meets everyone's needs. AfterShip has done that impressively well.
I hold AfterShip partially responsible for helping me expand my business and save money. Take a look at what it has to offer. I bet it can help your business thrive, too.