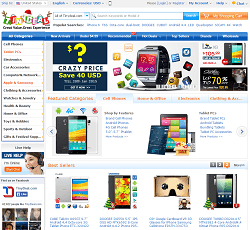 One of the most printed phrases in the English language is "Made in China." The Chinese manufacturing industry has the means, skill, knowhow, and labor to produce top of the line electronics and other goods at a low price. Local retailers then mark up these prices before offering them to you.
With TinyDeal.com, you can cut straight to the sources. TinyDeal has linked up with Chinese wholesalers so you can have access to the same cheap prices retailers get, meaning you save a load of money on every purchase. I'll explain more details about how they achieve this further on. When you realize how it's done, you'll wonder why you should ever paid "full price" for any of these items ever again.

About TinyDeal.com
TinyDeal.com is a company based in Hong Kong that lots of people recognize from their early days of selling items and becoming a power seller through eBay. TinyDeal specializes in electronic goods including toys, cell phones, computers, and novelty items. They are known for their willingness to ship these various gadgets worldwide and being able to accept an array of currencies through Paypal and Western Union.
Interestingly, every month over three thousand new products are added to the online catalogue for your perusal. TinyDeal has basically made it possible for anyone around the world to have access to quality Chinese goods at low Chinese prices. The demand is high and they've been able to keep up the supply while continuing to expand their offerings.
Currently, TinyDeal.com is stocking over 50,000 items from some of the biggest brands in the world, including Apple, Samsung, Maxlum, and more. Because they've stationed warehouses all over the world, shipping takes only 7 to 10 days no matter where you're from and is most often free of charge. Expect your packages to arrive through DHL or EMS as the shipping provider.

Top Products of TinyDeal
The main category of products that TinyDeal carries is electronics. Among their most popular are the wide array of cell phones and accessories. Whatever phone you want, you will likely find along with any cables, holders, headsets, batteries, chargers, and screen protectors you can imagine needing.

The same goes for their list of computers. If you're looking for a desktop, laptop, or tablet, you will find an attractive option on this site along with a carrying case, peripherals, and enhancements. This vast collection of electronics carries into mp3 players, surveillance cameras and recording systems, cameras and camcorders, and even down to microscopes, scales, and specialty batteries. They literally have it all.
Don't think you're only going to find electronics though. Consider a store like Walmart or K-Mart and think of all of the items you can find there. You will find them here as well. Clothing, jewelry, beauty products, home and office supplies, toys, sports gear, outdoors tools… the list goes on and on. Basically, the only items you won't find here are things that are alive or are food.

It should be mentioned that you can browse and purchase like a consumer or you can contact them as a business man and work out a wholesale and drop shipping deal in order to expand your own product line. This company is versatile and experienced.

TinyDeal Prices
Without a doubt, you will be hard pressed to find lower prices for the same products anywhere else. Just to give you an example, the in-ear earphones you pay $20 for in the states can be had on this site for less than $2.50. On top of that, you'll receive free shipping.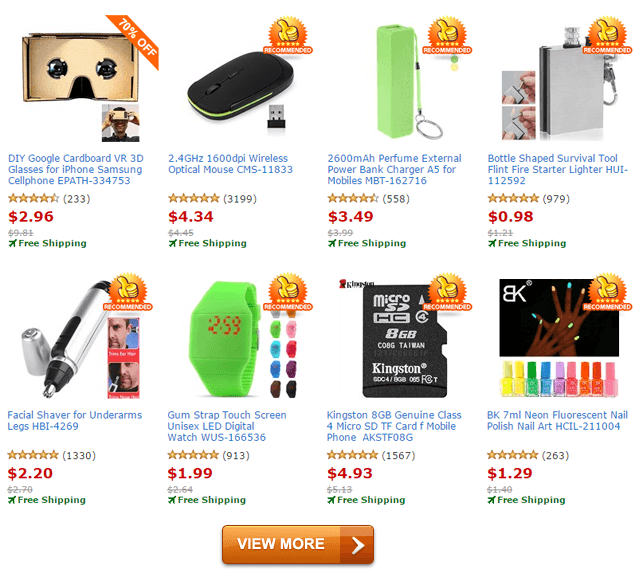 Another example just to share with you how comparatively low the prices are, you can purchase a wireless optical mouse for your computer for $4.15. Yes, you read that right. This pattern continues across every product category. You will pay a fraction of the cost that would normally expect to be charged.
Again, this is possible due to cutting out the extra step of retailers who list higher prices in order to make profit. These are the same products from the same Chinese manufacturers that you find in stores, except you don't have to pay extra to cover extraneous costs related to these other businesses.
Criticism of TinyDeal.com
If you perform a search for reviews on this company, they are neatly divided into two camps. Some people are as satisfied as you could possibly be, but then others have very real and legit complaints, largely surrounding the shipping and the products.
The largest complaint you'll find is that orders can take upwards to 4-6 weeks, despite the claim that they'll arrive in 7-10 days. Other complaints have to do with the return policy. People have claimed that the products simply don't work but the company won't accept it as a return or exchange because it was opened or the original packaging was affected during unpacking.

Some have said that when the item never arrived in the mail, TinyDeal refused to offer a refund. Returns are not offered a return shipping label either, meaning you will pay to repackage and reship the item. The most concerning report is that some people have found that any word with a negative connotation is blocked in their on-site review submission, so that only positive reviews will be posted on the site.
As always, I take any extremely good or highly bad reviews lightly and always test out a company with a small and inexpensive order to see how they perform. Then I can form my own opinion.

Customer Support
What I like about TinyDeal is that they flat out will tell you that occasionally there will be a glitch in the ordering process or in filling in order. Like any company, this is rare, but to actually acknowledge it is pretty cool in my eyes. Their customer service staff have specialists that speak English, French, German, Chinese, and more so that they can accommodate buyers from all over.

Before you have to even bother contacting anyone, you can likely find an answer to your question in the FAQ section of their help center. Questions about shipping, delivery, the company, payment options, dropshipping, and even particular items can be found.
Of course, you can contact a live team member pre-sale or after-sale about anything related to the product or the service they've provided. Office hours are fairly extensive, ranging from Monday to Saturday from 8:30 AM until 6:00 PM. Remember this is Hong Kong time, though, so plan accordingly.
Most conveniently you can email them and expect a response within 24 hours or speak to the customer service department through a live chat that is available 24 hours per day, 7 days per week. That's dedication.
Conclusion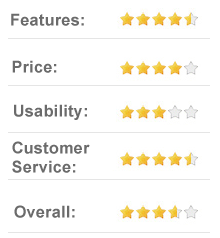 Sometimes when things appear too good to be true, they are still true thanks to the special arrangements being made behind the scenes. In this case, TinyDeal offers you wholesale prices without having to order in bulk thanks to their connections to the Chinese manufacturing market and the number of people ordering the products.
It's amazing how low prices can get when you aren't paying for fancy packaging, marketing campaigns, retailer margins, shelf space in physical stores, etc. TinyDeal.com is the place to shop for basically anything, but especially electronics that are the exact equivalent to the ones you see in other stores, just much cheaper.