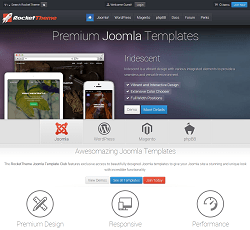 Not to show my age, but I remember when websites used to be a lot harder to build and maintain. I've been in the web industry, in some form or another, for most of my life – and in that time the amount of change has been astounding. Today, basically anyone can use a program like WordPress or Magnolia to create a fully professional website. We're not just talking about small stores, either. Many of the big boys use these programs, too, including CNN and Virgin Atlantic.
The four most popular web application platforms are Joomla, WordPress, Magento and phpBB. There's a downside to these programs, however. As they grow in popularity, more and more websites end up looking similar. It can be hard to stand out from the crowd.
The most effective solution I've found is the use of custom templates. This is a way to add a unique look, as well as custom features, to your site without having to sacrifice the ease of your preferred content management system. Rocket Theme is a popular template subscription service, and one I've used often over the years. Let's take an in-depth look!

About RocketTheme
RocketTheme offers hundreds of both themes and extensions for the four most popular content management systems. New themes are added at about one per month for each CMS. The subscription plans can be tailored to your needs, so the service is suitable for people looking to create just one website, as well as developers who design lots of sites for others.

RocketTheme was founded by a computer engineer named Andy Miller. An original member of the Joomla Project, Miller had moved into doing custom design creations for individual clients. Over time, he wanted to develop themes and extensions which could be used by a larger audience. RocketTheme was then created, with the goal of bringing high-end design and functionality to every website.
Almost immediately, RocketTheme became the number one site for Joomla. After all, Andy Miller was a Joomla expert. At this time, the entire company consisted of Miller, working out of Golden, Colorado.
As the Joomla templates grew more popular, WordPress, Magento and phpBB templates and support were also added. The company grew. Today, RocketTheme's team has grown to 14, with an additional dozen moderators around the world.

Top Features of RocketTheme:
Four separate sections for Joomla, WordPress, Magento and phpBB. Each template can be viewed individually before purchase. There are sample screens, as well as a video demo which explains in detail how each template and extention works.
Versatile designs unique to RocketTheme. Perfect for a wide variety of websites. Designs range from the subdued, such as Nuance, to something with a little more "oomph," such as Oculus.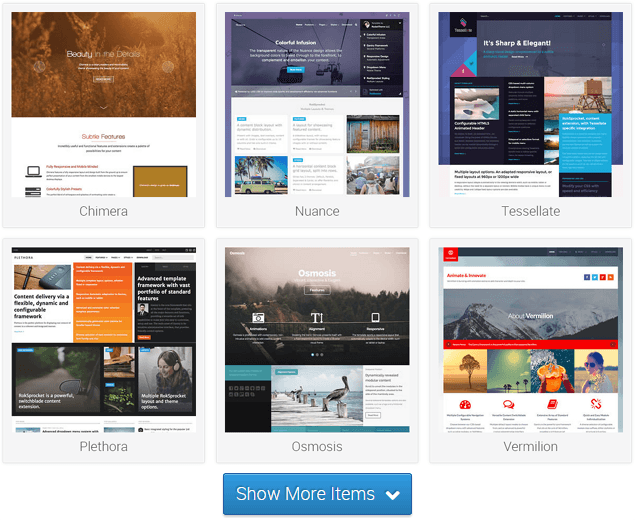 The RocketTheme team also created the Gantry Framework, a template solution for Joomla and WordPress. All themes seamlessly integrate into this framework.
Extensive knowledgebase. Andy Miller and his team know a lot about content management systems, themes, plugins and extensions – and they want to help others learn, too. Even if you never buy a product, their site is still a great educational resource, especially regarding Joomla.
Prices and Subscription Services
There are two ways to use a RocketTheme template. A single template can be purchased, which allows lifetime access to the template, including updates. There is limited support. This is a great choice for someone building just one website.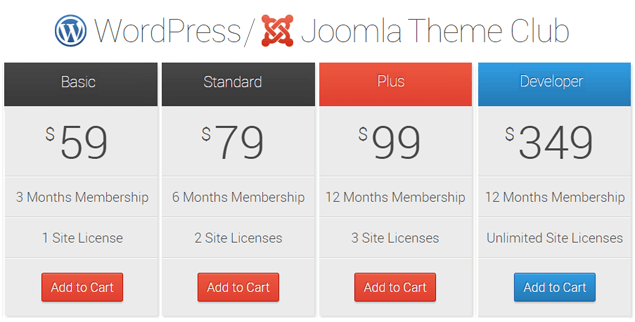 For developers, or anyone else who manages multiple websites, RocketTheme offers the Club Membership. You pick one of the four platforms and choose a period of time anywhere from three months to one year. During your subscription period, you're then allowed to download unlimited templates and extensions, as well as receive updates for products when available. Also, as a Club Member, you'll have access to additional levels of help and support.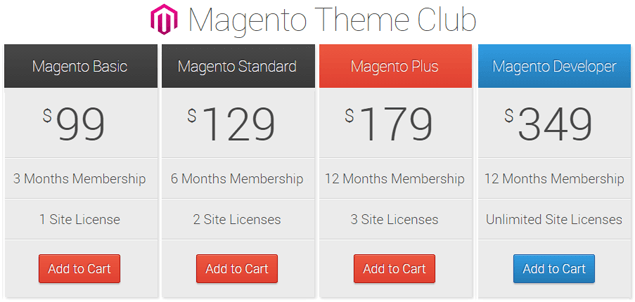 RocketTheme grants a certain amount of site licenses. These allow you to use RocketTheme products even after your subscription period has expired, although without access to updates or support. Based on your membership terms, you'll receive a certain amount of site licenses to use. For instance, with a two year membership, you'll have six licenses.
If you need more licenses, the Developer Club is a popular option among, well, web developers. This Club offers unlimited site licenses during membership. If that's more than you need, you can also purchase additional licenses individually.
Criticism
RocketTheme started as a Joomla site, and Joomla products are still their strongest offerings. While their offerings for the other CMS platforms are also strong, if you have no use for Joomla at all RocketTheme might not be for you.

Personally, I've found RocketTheme to be incredibly useful during times when I've had to design several sites in a relatively short period of time. This has often been during periods when I had many freelance clients, and had to work in a variety of CMS platforms. I think of it as a sort of "jack of all trades" template program. While I might be able to find more templates in a site dedicated to just one CMS, the ability to manage sites across all four certainly has made my life easier.
Customer Service
Support is primarily Internet-based. However, there is a lot of support, including a lot of live support. The Rocket Theme team consists of about a dozen moderators, from all around the world. This ensures there is almost always at least one Rocket Theme team member hanging out in the forums, where their entire job is helping users.

There is also the option for Premier Support. For $79, you can buy a one-time premier support ticket. Once you submit this ticket, you'll hear back from a member of the Rocket Theme team within two hours. They'll spend up to four hours personally walking you through the solution.
I'll be honest. If you're at all familiar with the how to build and manage a website, any of your troubleshooting needs can probably be handled through the forums and the knowledge base. If you're totally unfamiliar with "web stuff," buying templates is probably something best left to someone you hire. My point is I don't imagine many users, of many skill levels, actually need the Premium Support. Still, it's nice to know the option is available just in case there's ever a major problem.
Final Thoughts on RocketTheme.com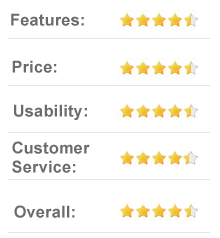 I'm almost hesitant to recommend Rocket Theme. The site is still small enough that I feel their templates help me stand out from the crowd. Still, I also can't help but recommend them because they have so much to offer. The ability to work with the four major CMS systems is great for web developers, and the single use subscription plan is ideal for making a single site look unique.
I've been happy with Rocket Theme whenever I've used them in years past. My recent return to Rocket Theme has only convinced me the company is better than ever, and I plan to use them in the future. I've bought a lot of templates from a lot of different companies over the years, and Rocket Theme is one of the best.