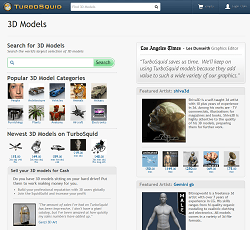 Based in New Orleans, TurboSquid is a digital media supply company. They use stock and custom built three dimensional models used in 3D graphics for architecture, interactive training, computer games, and an array of other industries. They gained notoriety when they were able to broker deals for a percentage of sales for products that use their 3D models.
I had heard a lot about TurboSquid, so I decided to try them out for my last few projects. Keep reading for my honest appraisal of their services.

About TurboSquid
TurboSquid has the largest library of 3D models for sale on the planet with more than 300,000 3D models in their library. They also have more than 120,000 other products available, like textured maps.
Andy and Matt Wisdom founded TurboSquid after having been partners in Chimera Digital Imaging, where they produced 3D animation for TV commercials near the end of the 20th century. They began researching methods for licensing or selling their unused 3D models during this time. Under the brand iPublish, in 1999, they began developing software for a marketplace.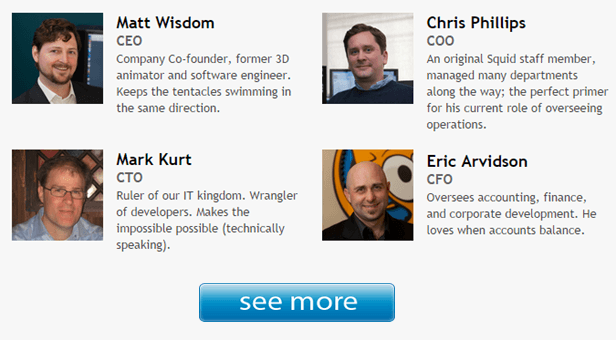 A New Orleans company started by David Avgikos called Digimation was working on a similar project called 3dBay at around the same time. The two groups officially merged to form TurboSquid in April of 2000.
In 2005, all of TurboSquid's New Orleans staff was forced to evacuate due to Hurricane Katrina, yet they were still able to continue to work over the Internet, since their servers were securely located elsewhere. Unlike many companies, they decided to stay in New Orleans after the disaster rather than relocate.

These days, advertisers, architects, game developers, creative professionals, visual effects studios, and news agencies across the globe use TurboSquid models. You have likely seen their models hundreds of times and not even realized it, whether or not you are a 3D artist.
Their mission is to provide artists with great models and thus give them the time to add their own personality to the creations. On average, TurboSquid clients save 27 hours of work time for every model they purchase.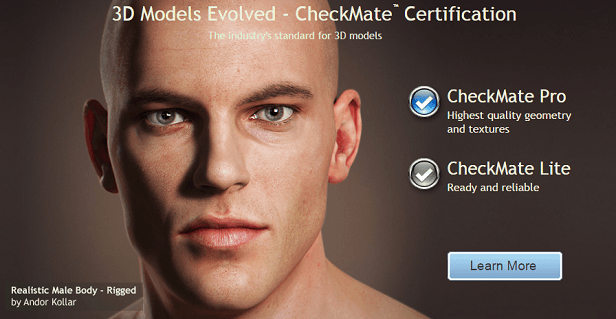 Top Features of TurboSquid
Sure, TurboSquid's 3D models are great. However, beyond their 3D collections and models, TurboSquid also offers a wide array of other products. To save time developing the perfect texture map, you can download textures from their 2D collection. To make certain they will work with your software, the ACAP plug-ins have passed rigorous testing procedures.
To personalize your favorite gmax enabled games, there is a set of one of a kind models, like weapons and vehicles, included in TurboSquid's Turbo Toyboxes.
Artists can sell their own artwork on the website, which serves as a clearinghouse. You get about 50 percent of royalties on sales when you sell your work through TurboSquid. TurboSquid takes care of all of the transactions, marketing, and everything else. Plus, you can list and upload your work for free. If you do not make money, they get nothing.
By setting up your own personalized subscription package, you can subscribe to the model library at TurboSquid.com. For a single price with a certain period, such as annually, you are allowed to download a set number of 2D files, meshes, 3D models, audio files, mocap files, and textures with these packages. You will have your own online 3D library without the hassle.
Also, when you take advantage of the feature that allows you to store your downloaded models for free on their servers, if you lose a disc or your computer crashes, you are not doomed.

For affordable prices, TurboSquid has top quality models that are textured and rigged. The models are available in multiple versions and views. In addition, so you can modify the models yourself, you can find some that have lower levels of detail. You will not find a larger collection of top quality 3D models online. To help you find what you need, each category contains thousands of models.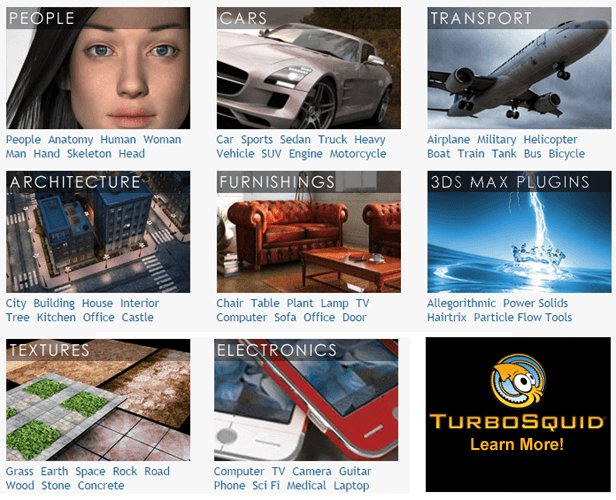 You can use the advanced search tool to search by category, artist, format, user rating, price, keyword, and more to find exactly what you want. You can buy creative collections or individual models. You can request the models in just about any format, but the majority come in the following formats:
Wavefront
DirectX
Softimage
Autodesk
Maya
Cinema 4D
3D Studio Max
Lightwave
VRML
3D Studio
Openflight
Google Sketchup
Flash
Bryce 4

TurboSquid makes it very simple to search their massive database of models. On the home page, images are divided into Vehicles, Animals, Architecture, Characters and Anatomy, Electronics, Furniture, and Landscape categories. Once you choose an item, you get a complete listing of specifications, product description, multiple views of the item, and more.
One of the features I like most about TurboSquid.com is the customer reviews. On a lot of sites, you will see the option for reviews, but no one has submitted any actual ratings or reviews. This is not the case with TurboSquid. Many of the items have multiple reviews.
TurboSquid Prices
As mentioned above, TurboSquid once offered its 3D models on a basis that they would get royalties for any sales associated with the models. This is much rarer now. For the most part, models are sold for a one-time fee without any future royalties. These models are very reasonably priced.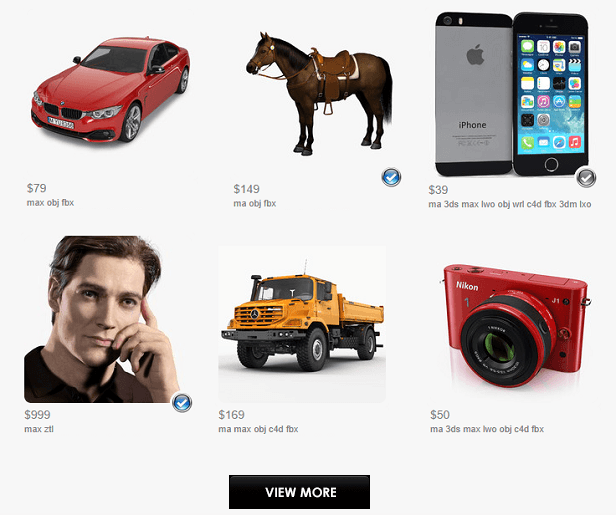 For this review, I priced out a broad range of different products on an array of sites, and I found that TurboSquid not only had better quality, but their prices were the best as well.
There is also an Enterprise plan for those who are working as part of a team. This account is free and makes collaboration much easier. This include budget management options and simplifies the licensing. There is also a special dedicated support team to help with Enterprise clients.

Criticism of TurboSquid
I had a seamless experience using TurboSquid. I was hard pressed to find anything wrong with the site. I guess the biggest downside was that their selection was so massive that I had trouble deciding what I liked most. When I doubt, I just went with the least expensive option.
I visited 3D artist forums to see what the professionals had to say about TurboSquid. For the most part, they loved it because it saved them a lot of time, and the time savings was worth the prices. However, there were a few people who were upset that their models were not selling better.
Customer Support

I was able to get quick responses to my questions when I emailed and called TurboSquid. They have also recently added chat support as an option. The same day I sent them an email, I got a response that was thorough and accurate. Also, from their support page, you can access their complete FAQ and visit the professional user forum.
I liked that TurboSquid offered a toll free number to call, but I did not like that they were only available to answer calls from 9 am to 5 pm, Monday through Friday Central Standard Time. However, I did a little research and found that you are able to easily get a real live person on the line during these hours.
Conclusion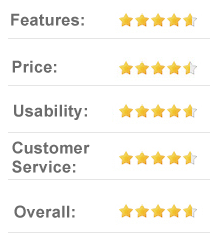 For the best selection of 3D models, plug-ins, textures, and other tools, look no further than TurboSquid. To make your creations as imaginative and efficient as possible, they work with thousands of artists to create a vast variety of design possibilities. If you have a project that requires the use of 3D models, I strongly recommend looking into TurboSquid.